Agriculture slips during third quarter
Battered by drought and higher input costs, many farmers' and ranchers' financial conditions deteriorated in the third quarter, according to the Minneapolis Fed's third-quarter (October 2006) agricultural credit conditions survey. Respondents indicated decreased farm income and capital purchases. As a result, many farmers decreased loan repayment rates, extended loans and added debt while variable rate interest expenses grew. "Drought is going to have a huge impact on income this year," commented a South Dakota lender. The outlook for the fourth quarter of 2006 is poor, as farmers anticipate further reductions in profit.
Farm income, household spending and capital investment
Dry weather and higher input costs hurt producer profits. Over half of the lenders reported decreased farm income, and only 7 percent reported increased income. Conditions in Montana seem bright with a third of the lenders reporting increased farm income and 44 percent reporting stable income. However, reports from the Dakotas and western Wisconsin are dismal. "Drought conditions will have an adverse impact on crop farming operations," reported a South Dakota lender. Meanwhile, capital investment is drying up, as 47 percent of lenders reported a decrease in capital spending during the quarter. "[We] have seen a decline in new machinery due to the conditions," reported another South Dakota lender. Meanwhile, household spending is mixed, with 21 percent reporting increased spending and 20 percent reporting decreased household spending.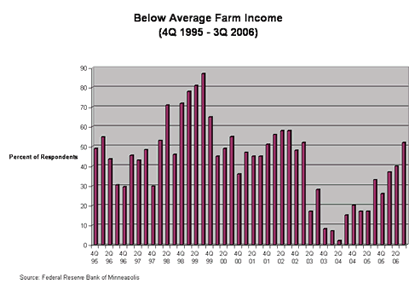 Loan repayments and renewals
The decreased profit levels are squeezing many producers. A fifth of the lenders reported increased renewals and extensions during the quarter, while only 2 percent reported decreases. Meanwhile, 27 percent of the lenders reported a decrease in loan repayments and only 2 percent reported an increase. Lenders from Montana reported the fewest problems in collecting payments, while lenders from Wisconsin reported the most difficulty. "Those that have debt are struggling with dairy prices and higher cost of money," commented a lender from Minnesota.
Demand for loans, required collateral and interest rates
Increased demand for loans was reported by 29 percent of the lenders versus the 16 percent who reported decreased demand. "In a normal year, our producers would keep calves for replacements or to feed out and sell in early spring. Most of our customers will not do this due to lack of feed. Also, several have had to drill wells and so incurred additional debt which they had not planned for," commented a lender from South Dakota.
Meanwhile, interest rates on variable loans increased during the third quarter relative to the second quarter by about 40 basis points. Little change was noted for fixed-rate loans. Only 11 percent of lenders reported increased collateral requirements, with the balance reporting no change. No respondents indicated that loans were refused due to a shortage of funds.
Land values
Land values continued to grow during the third quarter of 2006. Lenders from across the district reported an average 7 percent increase in nonirrigated farmland prices from a year ago, a 9 percent increase in irrigated land prices and a 17 percent increase in ranchland prices. Some lenders are upset with increased bidding up of land prices by nonfarmers. (Note: Land prices can vary significantly, not only from state to state, but also from parcel to parcel. For more detailed information on agricultural prices, see the Minnesota Land Economics Web site.)
Outlook
The outlook for fourth quarter profits is dismal, as 53 percent of the lenders expect decreased income and only 14 percent expect increased income. Respondents in the western portion of the district expressed concerns about the continuing effect of the drought. "Without drought assistance, some will sell out," commented a lender from North Dakota. In addition, input costs have overtaken agricultural revenues. Some lenders reported concerns about higher interest rates and chemical and fertilizer costs. With reduced profit opportunity, farmers are reducing their capital investment. In addition, they expect to have some difficulty repaying their loans. They may extend or renew their loans and slightly increase demand for loans. However, some parts of the district saw nice profits. "We are having above average crops," reported a Minnesota lender.
Appendices: State Fact Sheet | State Fact Sheet-Outlook