Everybody has seen the ill effects of high oil prices. You feel the pain every time you swipe your credit card at the gas pump. Indeed, as plastic, even the card itself is feeling some pain.
Oil is the main ingredient in plastics, and its recent price surge has hit the plastics industry harder than most. And when Hurricanes Katrina and Rita caused even greater shocks, it looked like the perfect storm for plastics producers in the Ninth District.
"When prices are going up so fast and so much, it's obviously a difficult environment to work in," said Melanie Miller, vice president and treasurer for Bemis Corp. in Minneapolis, which produces flexible packaging, primarily for food products.
The Gulf Coast hurricanes had a traumatic effect on the supply of plastics, knocking much of the production off-line in that important chemical-producing region. Prices soared by as much as 70 percent in the months following the hurricanes.
The hurricanes came on the back of a period of continued upward pressure on plastics prices due to the increased price of oil. "There's a very high correlation between energy prices and resin prices," said Kevin Swift, chief economist at the American Chemistry Council. Depending on which plastics they work with, producers have seen their raw materials costs jump by anywhere from 20 percent to 30 percent over the year preceding the hurricanes.
These shocks have placed added pressure on an industry that has been changing dramatically in recent years.
The industry
The plastics industry is divided into two broad categories. At one end are the resin manufacturers, who produce plastic materials to be processed into other products. Resin production is heavily concentrated and is carried out by the large chemical firms around the country.
Big players in the Ninth District include Dyneon, a subsidiary of 3M in Oakdale, Minn., and RTP in Winona, Minn. Wisconsin also has some resin producers, though largely outside the district around Milwaukee. However, as part of the broader chemical manufacturing industry, the activity in the district is dwarfed by states like Texas and Louisiana, which have much better access to raw oil and chemical inputs.
At the other end of the industry are the processors, who buy resin and turn it into useful products, such as film, pipes, auto parts and anything else that can be made from plastic. Common production techniques include injection molding, extrusion and blow molding.
Here, the Ninth District is a big player. Wisconsin ranks 10th in the country in employment, with 30,500 people working in the plastic products industry. The state ranks 12th in shipments. Minnesota ranks 15th in employment with 14,600 and ranks 19th in shipments. Most of the companies making plastic products are small and privately owned. The U.S. Department of Labor's Bureau of Labor Statistics lists 477 establishments in the industry in Wisconsin and 353 in Minnesota.
There are, of course, plastics firms in every district state, but the scale in the Dakotas and Montana is tiny compared with Minnesota and Wisconsin. The plastics industry in Montana, for example, generated $16 million of the gross state product in 2003; in North Dakota, it generated $78 million, and in South Dakota, $83 million. In contrast, the plastics industries in Minnesota and Wisconsin produced $1.3 billion and $2.7 billion, respectively. Michigan has a large plastics industry, but it is concentrated outside the Ninth District in the Lower Peninsula.
There are a number of reasons for the prevalence of plastics producers in Minnesota and Wisconsin. One is simply proximity to a variety of customers, such as food packaging and medical supply companies.
Another reason is historical coincidence. A sizable composite materials cluster, including plastic composites, is centered in Winona, Minn. A producer of composite locomotive brakes located there in the 1940s, and since then, spinoff to other firms, such as We-no-nah Canoe, has been tremendous. In addition, Winona State University's unique composite materials engineering program, which developed thanks to sponsorship by and demand from the industry, provides companies with a regular supply of employees and materials research.
Another plastics cluster is centered in Eau Claire, Wis., and in neighboring Chippewa County, as well as along the Minnesota border in St. Croix County, owing to proximity to manufacturers.
What is striking about the regional plastics industry is its apparent productivity improvements. While the industry has grown in Minnesota and Wisconsin in the last few years, the number of firms and employees has decreased.
Beginning in the mid-1990s, the industry underwent considerable consolidation, but this trend cooled off after 2000 when the economy went soft. A 2003 analysis by Robert W. Baird Equity Research concluded that further consolidation is likely to intensify. That's because consolidation in the industry is driven by long-term factors like economies of scale, automation, production outsourcing and mergers of customer businesses. The decrease in consolidation was largely driven by unfavorable financial market conditions that have cleared up, leading the way to more consolidation, according to the Baird analysis.
Fewer firms does not mean any less growth, however. With products being developed for new uses all the time and with North American plastics consumption predicted by German plastics giant BASF to increase 46 percent over the decade from 2000 to 2010, plastics production will continue to increase inside and outside the district.
But the recent resin and energy price surges are just the latest in a series of industry difficulties. Nationwide, the industry fell into a slump in the late 1990s.
The pace of plastics activity in Minnesota and Wisconsin has mirrored national activity in recent years. Output grew in the 1990s until about 1998, when the industry experienced a few years of overall stagnation and even decreased in size in a couple of years. Growth returned in 2002; however, employment in plastics production has continued to fall, even through the recovery. (See charts.)
The fourth quarter of 2004 was a turning point, when pent-up demand returned and growth soared. Preliminary indicators suggest 2005 followed suit, but the shock in input prices is a question mark on the horizon.
Stretching the dollar
Though resin prices are up, not all plastic product prices have risen. "For example, the plastic bottle PPI (producer price index) is up roughly 7 percent year over year. That doesn't compare to the 60 percent increase in resin costs," said Swift.
Monthly Prices
Price Index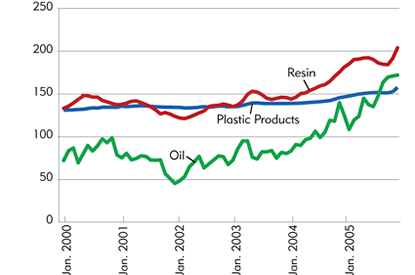 Source: Bureau of Labor Statistics
It might seem, for an industry in which resin costs can account for 47 percent of total production costs, that producers would just have to eat the difference. But it depends on which line of business they are in, and this reflects some of the interesting trends that have developed.
Consider Ironwood Plastics in Ironwood, Mich., an injection molder that makes parts largely for automotive, military and industrial use. "Unlike most of our competitors, we're in a pretty good situation," said Scott Stephens, vice president for administration. That's because Ironwood is a custom molder.
"With our largest customer, which is about 50 percent of our business, they supply us the raw material, so they automatically then are getting hit with that cost," Stephens said. With other customers, demand has been largely unaffected, "because being a custom source for that product, it would cost them a lot of money to try to resource that. And anyone that quotes it new is going to charge them the market price for the material, so they don't really have much of an option there," Stephens said. For this reason, custom molders have prospered in a highly competitive industry.
Not all firms are lucky enough to have their resin costs covered. Those that don't have to come up with strategies to become more efficient. For example, more producers are recycling off the shop floor by reusing resin that, until recently, would have been treated as waste.
Technology can be a savior. Cloeren Inc. of Eau Claire, Wis., has benefited from this trend. The company makes dies through which molten plastic is extruded to make sheet plastics and other products. Doug Darrow, vice president for executive services, said demand for newer automated dies, which are adjusted by computer rather than manually, has been up. The dies allow producers to be much more precise with the thickness of the sheets they produce. "And that results, for our customers, in polymer savings," he said.
"We have a customer in southern Wisconsin that had many manual dies, in several lines. And they were our dies. We started selling them automatic dies," Darrow said. "They claim that their customer can tell, by the quality of the product, what came off the line with the manual dies and what came off the line with the automatic dies, and therefore their customers are saying, 'You've got to buy more of these automatic dies.'"
A number of other technologies can economize on resin. "Gravimetric mixing" is a technique that composes plastics recipes more efficiently, work that used to be done in a cement mixer.
Then there are pricing strategies. Bemis, for example, as the largest flexible packaging producer in North America, has some leverage with suppliers. "We have very strong relationships with all of the chemical companies. We don't buy on the spot market. We have supply contracts with all of the large chemical companies," said Miller.
Not everyone is in such a position. Hedging contracts for resin prices are sold on the London Metals Exchange, but the extent of their use in the district is unknown, and small producers might be wary of getting into the financially complicated hedging game.
Fitting the mold
Resin isn't the only input cost, of course.
"Energy cost is going to play a bigger and bigger role here. All the plastics producers are huge electrical consumers, and if those prices keep climbing, that's going to trickle through, and there's absolutely no way to pass that on to our customers. So that's going to be a big challenge for us," said Stephens.
Electricity is not the only concern. Natural gas prices have also soared, and in fact, that has been a source of the climb in resin prices, since natural gas is a material input for many resins.
Labor is always a concern, which is why sales of automated products like those that Cloeren produces have climbed. Robotics are also useful in injection molding (more so than in extrusion or other methods). A look through trade journals turns up ad after ad for labor-saving devices.
The more well-known strategy to save on labor is to go overseas. Until about 2002, Ironwood Plastics built about 80 percent of its molds internally, and that has now been reduced to about 25 percent. "We cut a lot of our internal workforce and have adopted more of an outsourcing strategy, and a lot of that has gone to the Far East," said Stephens.
A number of other Ninth District firms have moved some operations offshore. However, the extent of those moves is determined by location of other businesses that purchase plastic products. It makes more sense to produce overseas if customers are already there.
"Some of it is going offshore, mainly the stuff that's going to be molded in China and sent back [as a finished product]," said Paul Kenny, product manager for Ticona in Winona, Minn., which makes plastic composites for use in all-terrain vehicles.
Since so much manufacturing has moved overseas, it is necessary for plastics makers to follow suit, and not just to cut prices. "Learning how to use the foreign sources more effectively, that's something that some of our competitors aren't willing to do. They've just drawn a line in the sand and said, 'We're not going to send this business to China,' and unfortunately, that's what the customers are demanding," said Stephens.
Swift is currently working with a group of industry economists to try to gauge the amount of activity that has moved overseas because, he said, producers are concerned with the extent of the trend.
Another method for cutting costs has some in the industry concerned. "Companies are spending less on R&D (research and development). That will lead to less innovation," Swift said. This is particularly prevalent at larger public companies under pressure to increase value for shareholders.
Kenny agreed that the industry standard for research has gone down, but believed it is a temporary phenomenon that "had to do with the recession," which included cutbacks in R&D and other costs, he said.
It's where you're at
What matters most in determining success right now is what sector of the industry you're in. For example, demand for plastics in the industrial machinery sector has been stagnant for the last five years.
The automotive industry is using more and more plastic, although that industry can be fiercely competitive. In that sense, the oil price increase has actually helped, because now manufacturers are facing demand for more fuel-efficient, lighter cars. "That could lead to a lot more product development and new molds and new plastic parts that are coming down the pike," said Stephens. Likewise, given the financial difficulties of major producers like Visteon and Delphi, "maybe in the end this will shake out to be a good thing for the mid-level guys like us," he said.
One of the fastest growing sectors is packaging, "because of the ongoing slow conversion from glass and metal and aluminum cans (and cardboard) to plastic," said Miller, from Bemis. As China and other countries develop, packaged food sales are expected to grow. Bemis recently acquired a Brazilian facility to keep up with demand in Latin America.
But the biggest buzz surrounds the medical products industry. Aside from its growth, the peculiar economics of the sector offer some other attractions.
"Every molder we talk to is saying, 'I gotta get into the medical business, because they don't care what margin they pay,'" Stephens said.
Bemis has also had luck growing in this sector due to its experience in the food industry. The medical device companies are starting to put coatings on medical devices, like drug-coated stents. "Suddenly, you've got medical devices that used to need only to be sterilized. Now, they also have a shelf life. So as soon as shelf life comes into it, we have the expertise in that. So that's been a great advantage for us in the medical device field," said Miller.
Demand can differ based on what materials a firm produces as well as the sector for which they are produced. The "long-fiber composites" Ticona produces are very hot, thanks to a combination of low weight and strength that makes them ideal for replacing steel. The material is primarily used in automotive applications.
At least two other firms in Winona produce long-fiber composites, and the competition is building. "They've projected the growth in this area at 20 or 25 percent a year, so it makes it pretty attractive," Kenny said.
Wrapping up
While the recent shocks have darkened the outlook, a few things are certain. In a dynamic industry, Ninth District plastics producers can't be assured of a secure future without adapting. In the coming years, successful manufacturers will continue to embrace techniques to reduce their material waste and energy costs. In addition to using automation, they will also be moving offshore in greater numbers as a way of keeping labor costs down while keeping up with demand.
The wave of consolidation will likely continue, and might receive stimulus from the current resin price increases. Another way to adapt is to find the right niche. Custom producers typically face fewer direct competitors and, as such, benefit from higher margins and more stable demand.
The decline in research spending might open up some opportunities, albeit risky ones, for firms that can afford them. This can give an advantage to the kind of private firms that dot the Ninth District.
One certainty: The plastics industry will keep growing as consumption and use of plastic products continue to increase.
Will the increased plastics prices hamper demand? Probably not, said Swift. "This happened before with the first oil price shock," he said. "Back in the '70s, there was some concern. [Was] this going to affect, ultimately destroy, demand for plastics used in containers? But the favorable performance characteristics have allowed [the industry] to compete since then."
See charts:
State Plastics Product Manufacturing Employment
U.S. Plastics Product Manufacturing Employment
State Plastics Product Manufacturing Output
U.S. Plastics Product Manufacturing Output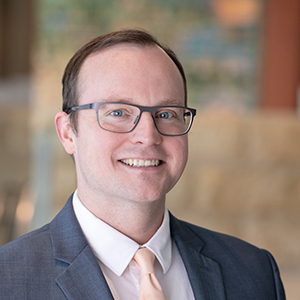 Request as a speaker
Joe Mahon
Director, Regional Outreach
Joe Mahon is a Minneapolis Fed regional outreach director. Joe's primary responsibilities involve tracking several sectors of the Ninth District economy, including agriculture, manufacturing, energy, and mining.