The gender-family poverty gap
As the saying goes, the more things change, the more they stay the same.
Such a theme is emblematic of poverty trends for women. Their poverty rate improved during the 1990s across the United States and in district states. Maybe more socially significant, households headed by single mothers saw a dramatic decline in their poverty rates over this period as well. But poverty rates for these two related populations have risen again in recent years, retaining some of their gains, but also giving back a fair portion of them.
In spite of real economic gains over the past several decades, women still bear the burden of poverty much more often than men. Both nationwide and in the district, women's poverty rates tend to float 2 to 4 percentage points higher than men's. The poverty gender gap closed across the board during the 1990s, when rates for both genders dropped, and more so for women. But by 2005, the gap had mostly returned to 1990 levels—a bit lower than previously in a few district states, but a bit higher in a few others. North Dakota was the only district state to see the gender poverty gap shrink further during the past half-dozen years; in sum, it closed the gap by just one-half of a percentage point, though poverty rates for both genders there are about three points lower today than a decade and a half ago.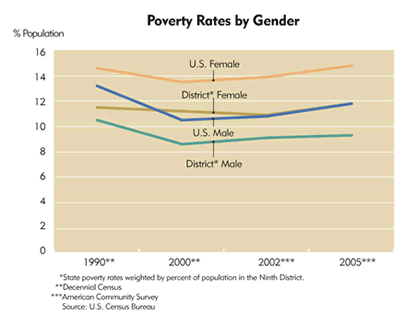 There are many reasons for the gender poverty gap, and like all things having to do with poverty, most of them logically come down to earnings and women's attachment to the labor force. Education levels, workforce participation and average wages for women all lag those of men. Women have been steadily closing the education gap. Females currently dominate both enrollments and degrees earned from higher education. Should this trend continue—and it's expected to—the wage gap (and the related poverty gap) should continue to decline, all other things being equal.
But rarely are all other things equal. For example, whether by choice or by circumstance, women tend to shoulder more family responsibilities, which affects their attachment to the workforce. When babies are young, mothers tend to work less; working less means they are earning less. With less work experience, these women tend to accrue wage hikes more slowly.
Women are also much more likely to be the head of a single-parent household, and such households are significantly more at risk for poverty than married-couple households. Since 1990, the poverty rate for female-headed households has reliably been about five to six times higher than the rate for married-couple households.
The good news is that poverty for female-headed households plummeted dramatically during the 1990s: Michigan, Minnesota and Wisconsin saw poverty rates for these households drop by 10 percentage points or more; Minnesota's inched below 20 percent, and more than one-quarter lower than the national average at the time. The Dakotas and Montana have rates that were higher than the national average for female-headed households, and they saw smaller poverty reductions over this period, most likely due to low average wages in those states. Still, each saw a significant drop.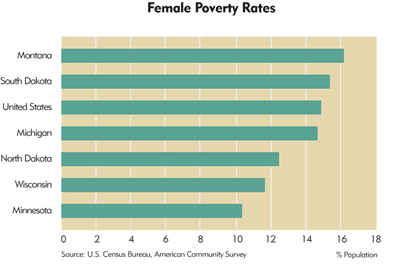 As with overall poverty trends, rates for female-headed households went up across the board from 2000 to 2005, with each district state bouncing up at least 3 percentage points. But for the nation and district states, rates remained below 1990 levels, and this is something of a remarkable achievement given the rising prevalence of female-headed households over this period.
Across the nation and district, the percentage of all households that are headed by single women has risen strongly. In South Dakota, their numbers jumped by 50 percent from 1990 to 2005 (with some caveats; see editor's note). The rate of increase for single-male households has also risen, but their numbers are small, and their poverty rates tend to be lower because they have higher workforce participation rates.
Indeed, Minnesota's improvement among female-headed households—from 29 percent in 1990 to 19 percent in 2000 to 23 percent in 2005—is particularly noteworthy given that the number of female-headed households increased by almost 50,000 (or about 35 percent) over this period.
Editor's note: All comparisons over the period 1990-2005 use two U.S. Census Bureau surveys that are not directly equal, but offer the best available information over the period investigated. Data from 1990 and 2000 are from the decennial census and are the most reliable. Data after 2000 come from the American Community Survey, an annual Census Bureau survey that uses sample data. Research has shown that ACS data have a tendency to be biased slightly higher than decennial figures.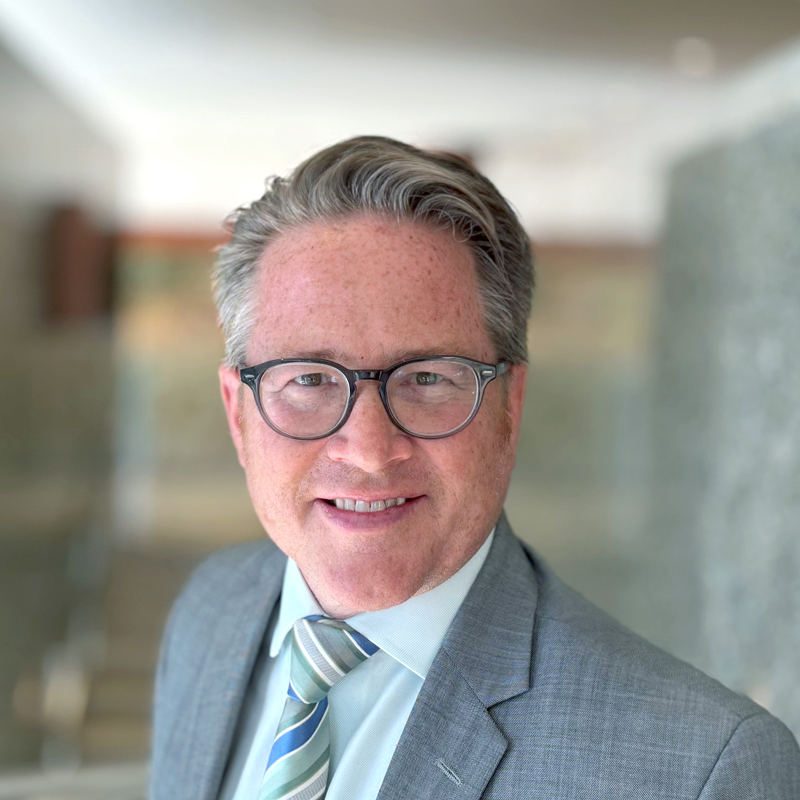 Request as a speaker
Ron Wirtz
Editor, fedgazette
Ron Wirtz is a Minneapolis Fed regional outreach director. Ron tracks current business conditions, with a focus on employment and wages, construction, real estate, consumer spending, and tourism. In this role, he networks with businesses in the Bank's six-state region and gives frequent speeches on economic conditions. Follow him on Twitter @RonWirtz.