The leader of the nonprofit pack
If you want to find out what's behind all of the growth in the nonprofit sector, as the saying goes, you just have to follow the money.
Though individuals provide the bulk of charitable donations, foundations are increasing their influence among nonprofits in a number of ways. Their numbers are growing fast; their endowments are growing (again finally); and because of those factors, their total giving is growing quickly.
From 1996 to 2006, the number of foundations grew by 77 percent nationwide, according to data from the National Center for Charitable Statistics. Four of six states in the district saw the number of foundations rise 60 percent or more. Foundation growth lagged behind that benchmark in the Dakotas, particularly in North Dakota (see chart).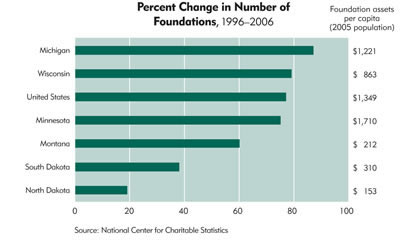 Not surprisingly, foundation assets followed a similar trend line. Despite the rocky investment period during the national recession, every district state except Michigan saw growth in foundation assets either match or beat a healthy national average of 135 percent over the last decade. Michigan, for its part, saw foundation assets "only" double to $12.5 billion.
Such growth appears to strongly correlate with overall expansion of public charities. With just one exception among district states (Wisconsin), the higher the foundation growth in a state, the stronger the growth in that state's public charities (see chart).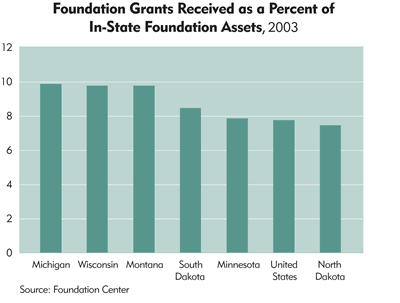 In part, that's because foundations are themselves nonprofits, although they typically make up 10 percent or less of all public charities. Likely more important to the overall growth of the sector, foundations are major contributors to other nonprofits, thanks to Internal Revenue Service requirements that they disburse at least 5 percent of their assets annually in order to maintain nonprofit status. From 1984 to 2004, total giving by foundations nationwide grew by about 350 percent in constant dollars, and it has doubled in the last decade to almost $34 billion, according to the Foundation Center.
(It should be noted that the entry of a single new foundation—the Bill and Melinda Gates Foundation in 2000—has had an outsized effect on the total financial holdings and giving by foundations. With $36 billion in assets as of 2004, the Gates Foundation is the largest foundation in the country. It dispensed $1.5 billion in grants that year, or about 5 percent of all foundation grant-making. Still, even without the Gates Foundation, the overall trend is still strongly upward.)
A philanthropic divide?
Despite the increase in foundation giving, it's not evenly balanced in geographic terms. You might say that some states are well endowed with foundations, others much less so. North Dakota had just one foundation (the Fargo-Moorhead Area Foundation) disburse more than $1 million in grants in 2003, according to data from the Foundation Center. Minnesota had more than 50.
As these figures imply, foundations tend to be proportionately more concentrated in populous regions and states: The number of foundations per 10,000 people and total assets per capita are generally much lower in the Dakotas and Montana compared with Michigan, Minnesota and Wisconsin.
Given the size of some foundations and their annual giving—Minnesota had 14 foundations give away at least $10 million in 2003, led by the McKnight Foundation at $75 million—a fair amount of grant money flows across state borders. In 1986, 68 percent of grants from Minnesota foundations went to in-state nonprofits, according to the Minnesota Council on Foundations. By 2003, that number had fallen to 54 percent. But that doesn't mean that foundation grants flow to states with more modest support. In the district, per capita foundation giving is abysmally low in several states-North Dakota receives about one-tenth the foundation grants per capita as the rest of the nation; South Dakota and Montana fare only marginally better. Foundation giving per capita in Michigan and Minnesota, on the other hand, is well above the national average (see chart).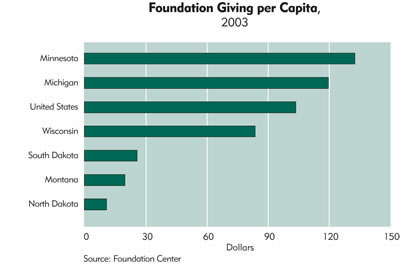 Some are beginning to grumble about foundation haves and have-nots. In a May speech to the annual conference of the National Council of Foundations, Montana Sen. Max Baucus spoke of a philanthropic divide, citing the fact that the 10 states with the least foundation grants (including Montana and the Dakotas) were all small, rural states. He urged foundations to double their giving to such states.
Baucus' observation fails to identify the source of the foundation-grant problem: These states suffer from the absence (even in a proportional sense) of in-state foundations, particularly those with significant assets generating a large grant pool. As a percentage of in-state foundation assets, foundation giving is pretty even among district states—roughly between 7.4 percent and 9.8 percent of total assets (the national average is 7.7 percent).
We'll do it ourselves
Still, there remains a strong perception of foundation inequity, and an interesting market response has sprouted from it: More communities are creating their own foundations to help harness and refocus local giving back to the local or regional community.
Although community foundations constitute a tiny minority (less than 1 percent) of foundations, there are more than 700 nationwide, and dozens in the Ninth District. One of them is the Dickinson Area Community Foundation in the Upper Peninsula of Michigan, which doled out $100,000 in grants in 2004 to people and organizations in Dickinson County and the surrounding area, about 85 percent of it in student scholarships, according to its most recent annual report.
As a group, community foundations are growing in number faster than either independent or corporate foundations, according to the Foundation Center. What's more, their assets have roughly doubled in the past decade, and total giving has more than tripled in inflation-adjusted dollars.
But growth among community foundations won't solve the "have not" problem, at least not quickly. As several sources noted, wealthier communities are more capable of creating their own foundations than communities of more modest means who may have greater needs. Said one community foundation leader, "This means that a wealthy community gets more and more, and other communities have their struggle become more difficult."