New housing on the outskirts of Grand Forks
You can't see the Red River from most parts of Grand Forks. Ten-foot-high levees and even higher concrete floodwalls paralleling the riverbank hide it from view. When the riverside gateway into downtown is barricaded, as it was when the Red became a raging torrent last spring, Grand Forks resembles a medieval walled city.
Scheduled for completion next spring at a cost of $240 million, the system of dikes, floodwalls and pumping stations is the most dramatic manifestation of the city's investment in its future after the Flood of 1997. The system was designed to protect life and property from a comparable flood, with an extra safety margin that may be sufficient to keep the city dry for hundreds of years. Across the river in Minnesota, the smaller city of East Grand Forks took similar steps to build its own circuit of levees and floodwalls, at a cost to U.S. and state taxpayers of about $169 million.
Improved flood protection is just one example of the large footprint left behind by government in the flood's aftermath. Many, many others shaped the new Greater Grand Forks that would emerge from the mud and rubble. For example:
Both cities got involved in real estate and housing markets, hoping to jump-start a population return, or at least stem the outflow. Tens of millions of dollars in flood recovery money was spent on land, new infrastructure and in the case of Grand Forks, a large-scale housing project.
Both handed out federally funded aid to flood-stricken businesses without much consideration given to genuine need, or their prospects for survival.
Both opted to devote large chunks of federal aid to restoring their badly damaged downtowns, which were in economic decline at the time of the flood (see sidebar).
Almost a decade after the flood, it's worth reviewing those actions, and others, that the cities of Grand Forks and East Grand Forks took in response to the disaster. For the good of the local economy, how should government behave after calamity strikes? Do extraordinary circumstances oblige elected officials to direct or facilitate every aspect of the recovery? Or is it wiser to let market forces determine how and to what extent a city recovers from disaster—which devastated neighborhoods and commercial areas deserve to live, where new development occurs, which industries or individual companies flourish and which fade away? Can government steer a middle course, leveraging its unique capabilities to take charge of some aspects of the recovery effort while leaving the rest to private markets?
New Orleans struggled with these questions in the aftermath of Hurricane Katrina. At times, City Hall seemed incapable of taking any concerted action, vacillating between letting destroyed neighborhoods revert to wetland and allowing homeowners and businesses to rebuild in those areas. In coming years that city's leaders will face other decisions that force them to consider how deeply local government should be involved in the healing process.
The Grand Cities' civic leaders have been there, done that. In bringing their communities back from the edge of oblivion, they made hard choices about where to spend their time, energy and hundreds of millions of dollars in state and federal aid. In hindsight, many of those choices, such as leveling riverside neighborhoods to make way for the levees and investing in public infrastructure such as roads and sewers, were clearly wise uses of government power, promoting the common good. Other government actions in the wake of the flood are more questionable, and most stem from its delving into areas in which it has little leverage, knowledge or specialty. Some recovery programs interfered in private markets as well as wasted taxpayers' money, possibly hampering the area's recovery.
David Flynn, an economics professor at the University of North Dakota who has researched the flood's effects on businesses, said that government has an obligation to provide people with emergency food, shelter and medical care after a flood, "but when you're talking about assistance for them to rebuild their lives, rebuild their homes or rebuild their businesses, we need to think very carefully about how we structure that aid."
Sacrifice to the river
After the flood, city officials on both sides of the river resolved to ensure that the Red would never run in their streets again. They realized that if the cities didn't build a flood protection system, residents and businesses might never return, fearful of high water the following spring and the spring after that. In the past, officials had rejected U.S. Army Corps of Engineers proposals to build higher dikes, refusing to pay the required local share for the project. Now, with the Grand Cities in ruins, committing to keeping the river at bay was imperative.
"We knew we had to move back from the banks of the river, and we knew we had to do it in such a way that people felt that the reinvestment that they made would be protected," said John Schmisek, finance director for the city of Grand Forks and a leader in the city's recovery efforts in 1997.
Within a year the Corps had drawn up a flood-protection plan, although the final form and location of levees, floodwalls and pumping facilities wasn't decided for three years after the flood. Downtown business owners and residents of historic neighborhoods such as Reeves Drive in Grand Forks prevailed upon the Corps and city leaders to spare their properties by moving the proposed dike line closer to the river.
The system was designed to protect the community from a 250-year flood. But building it required an immense sacrifice: the destruction of entire neighborhoods, including Lincoln Park and Central Park in Grand Forks and Sherlock Park and The Point in East Grand Forks. For the dikes to hold, the river needed room to expand into its floodplain, occupied by homes in those areas and waterfront businesses in both downtowns. The Corps' solution was to raze those buildings and convert the land into 2,200 acres of green space that would later be known as the Greenway.
Facing political peril, city leaders could have negotiated further with the Corps, or delayed action for years. Presumably, some homeowners and businesses would have tried to stand their ground, flouting Federal Emergency Management Agency (FEMA) rules banning the rebuilding of severely damaged structures in floodplains. In time, private developers may have built housing, shops or office space in riverside areas considered less prone to flooding.
Instead of waiting for the real estate market to show the way, the councils of both cities went with the Corps plan, abandoning areas on the wet side of the proposed levee system. It was a hard choice, but the right one, said Grand Forks City Council President Hal Gershman, a businessman who was not on the council in 1997 but was one of the leaders in the fight to move the dike line closer to the river. For the good of the wider community, people could not be permitted to rebuild near the river, no matter how badly they wanted to. "There has to be a point at which the government says, 'This is where you can build and where you can't, and you really should not be building in floodplains,'" he said.
The wrenching decision to build the levees aided the recovery process, because now residents and businesses knew where they stood; property on the wet side of the dike was doomed, but that on the dry side would be spared, and protected from flooding for the foreseeable future by an earthen and concrete barrier. Not everybody liked the plan (discontent over it was a major factor in the ousting of Grand Forks Mayor Pat Owens and most of the city council in 2000), but at least there was a plan, a road map to guide location and investment decisions.
Through its taxing power, government is uniquely qualified to build flood-control projects—"public goods," like highways, parks and national defense, that benefit the entire community and are therefore difficult to finance by charging user or admission fees. The City of Grand Forks raised sales and property taxes and levied special assessments to pay its estimated $84 million (over $1,570 per city resident) share of the cost of the flood-control system, which includes part of the cost of acquiring land under the dikes, relocating utilities and building recreational facilities in the Greenway. North Dakota and U.S. taxpayers will pay the balance. Minnesota taxpayers are picking up the tab for East Grand Forks' nonfederal share of the project, but city property owners will be responsible for paying an estimated $600,000 annually in maintenance expenses.
Both cities drew upon federal funds to offer buyouts to the owners of property in the floodplain slated for demolition as part of the flood-protection scheme. Many of these homeowners and businesses didn't have flood insurance. As a matter of economic policy, it's not a good idea to reward people for having the foresight not to buy flood insurance; such a policy encourages risk-taking. But the buyouts were effective in persuading property owners to sell, clearing the way for dike construction. Still, some landowners refused to sell or held out for more money. Those properties were acquired through eminent domain.
Postdiluvian homesick blues
The annihilation of several riverside neighborhoods drastically reduced the area's housing stock. Without new homes behind the dike line for displaced residents to move into, neither city had any hope of rebuilding its population. City officials pursued a number of strategies for replacing housing and attracting residents, some more intrusive in private markets than others. Often, governmental intervention that seemed essential at the time didn't achieve the desired results.
Both cities got into the housing business, putting up city-built shelter for flood victims and anyone else who was willing to resettle in town. In the fall of 1997, the Grand Forks Housing Authority partnered with a nonprofit developer of affordable housing to build 193 new houses on the city's western fringe, across Interstate 29. Called Congressional I and II, the suburban-style subdivisions were partly paid for with $6.9 million in community development funds from the U.S. Department of Housing and Urban Development (HUD).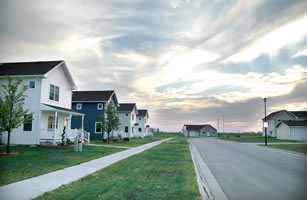 Congressional housing development, Grand Forks
Terry Hanson, executive director of the Housing Authority, said private developers weren't stepping forward to fill what the city saw as a crying need for housing. "They were afraid to initiate large developments because they were afraid the population might drop 20 percent, and they wouldn't be able to sell the houses," he said. "Since they weren't going to build them, the city decided to build them."
But the Housing Authority badly misread the market. Initially priced from $105,000 to $147,000—expensive in comparison with the houses that had been demolished in Lincoln Park and other older neighborhoods—the Congressional houses sat empty for months. By February 1999, only 12 properties had been sold. To move its houses, the city was forced to spend another $1.4 million in HUD funds on "buyer assistance"—$10,000 knocked off the price of each home.
Those incentives undercut prices charged by private developers, who were building smaller numbers of houses on the city's outskirts by 1998. "That was very tough competition for the rest of the market," said Paul Fladland, sales manager of Crary Homes & Real Estate, a leading home builder in the Grand Forks area. The city lost money on most of the houses, selling the last one in 2000.
In providing housing for the general population—not just low-income residents—the city strayed outside its traditional public domain, into an area it had scant expertise in. Flood protection is a public good, benefiting the entire community; private housing is not.
East Grand Forks' foray into post-flood housing was brief, and on a much smaller scale. Dipping into HUD funds allocated to the city by the state of Minnesota, the city spent $1 million to build houses on empty lots away from the river. "We were trying to create housing to stimulate further housing development," said James Richter, director of the city's Economic Development & Housing Authority (EDHA). "We did 10 homes. We lost [money] on every one." He said the city couldn't command high enough prices for the houses to recoup construction costs.
After its Congressional experience, Grand Forks relied primarily on the private real estate market to meet demand for new housing. But the city greatly facilitated home construction by investing in new infrastructure in undeveloped areas. Small, scattered subdivisions were already cropping up on the city's southern edge before the flood. The availability of federal grants for infrastructure improvements in areas away from the river accelerated that development.
Disaster recovery money from HUD paid for brand new streets, sewers and water mains in areas south of 32nd Avenue that had been open fields before the flood. These improvements paved the way for private developers such as Crary Homes and Greenberg Realty to carve out lots and put up houses. "That opened all of this land for development," Hanson said. Investments in other public goods, such as firehouses and schools (the Grand Forks School Board built a new middle school on 47th Avenue) also encouraged residential construction.
East Grand Forks adopted a much more aggressive housing policy, trying to control the local housing market by selling city-owned lots to developers and individuals. Lynn Stauss, mayor since 1996, said that the city was afraid that landowners in the area would "jack the price up" on developable lots, discouraging resettlement after the flood. In partnership with a Minneapolis consulting firm, the city borrowed $730,000 from the Greater Minnesota Housing Fund in 1998 to buy undeveloped land in the city for resale as home sites. Later, after the consultant sold just a few lots while running up more than $1 million in expenses, the EDHA took charge of lot sales and developed new city-owned subdivisions on former FEMA trailer parks.
The city is still selling residential lots, often for less than the going rate in the Grand Forks area. "We keep the price of land fair," Richter said. "We're not profit-motivated; we're development-motivated."
But selling land for less than market value distorts real estate markets. The subsidies undercut developers of privately held land and in effect let city planners, not market supply and demand, determine where development occurs. There's no way to tell whether the city's price controls resulted in more homes being built in East Grand Forks.
Enticements for business
Home builders and Realtors weren't the only businesses to benefit from federally funded spending on new and upgraded roads, sidewalks, water mains and other infrastructure; city investments in public goods in the two downtowns, near the UND campus and at key commercial nodes stimulated commercial development throughout the metro area. In Grand Forks, $1 million in infrastructure improvements on 32nd Avenue near the freeway was followed by the rapid development of a new shopping area called Market Place, home to Target, Old Navy, Best Buy and other national retailers. That development in turn attracted banks, brokerages, fast-food restaurants and other retail and service businesses to the city's southwest corner.
But after the flood, local government felt compelled to do more for the business community than just strengthen the underpinnings of commerce. Intent on helping firms that had suffered losses in the flood to get back on their feet, officials on both sides of the river showered local businesses with tens of millions of dollars in financial aid.
Drawing upon HUD community development funds, the city of Grand Forks handed out "disaster assistance" loans for up to $20,000 to "entice a business to stay in business," said Hanson, who oversaw the loans and other business assistance programs after the flood as a manager with the city's Office of Urban Development. The city also tapped HUD funds to subsidize interest paid on bank debt by businesses, help businesses pay for flood insurance and provide sizable rehabilitation grants to owners of downtown businesses.
The city of East Grand Forks tapped its own pot of HUD Small Cities Development funds to hand out de facto grants to local firms. Under one $3.5 million program, targeted at new construction, the city forgave loans of up to $120,000 to businesses that agreed to stay in town for at least 10 years.
Both cities used FEMA and HUD funds to buy flood-damaged commercial buildings and made space available in city-owned buildings on favorable lease terms.
All this assistance undoubtedly helped many firms rebuild in the crucial weeks and months after the flood, increasing their chances of survival. Revivifying the business community served the public good by restoring the tax base, putting residents back to work and providing essential goods and services.
But a look at financial aid given to businesses suggests that local government could have exercised more restraint in extending a helping hand to for-profit enterprises. In some cases city officials gave taxpayer-supported succor to companies that probably didn't need help or to poorly run small businesses that would have failed even if the flood hadn't occurred. Flood-recovery assistance from the city of Grand Forks, Gershman said, "did keep a number of people in business who today are thriving, and it did some marginal good for others, and for others it just prolonged the inevitable."
Easy money
Arguably, government aid was too easy to get after the flood, squandering resources and leading weak businesses into temptation. Grand Forks' disaster assistance loan program is a case in point. Virtually any business that had suffered physical losses was eligible for the 15-year loans, which offered very favorable terms: no interest, no payments for five years, 40 percent of the principal forgiven if the firm stayed in the city for three years and no collateral requirements. "All you had to do was apply for it, and generally you were awarded the funds," Hanson said. From 1998 to 2000, 158 businesses received over $4.6 million in loans.
Given the program's liberal lending policies, it's not surprising that the loans performed poorly; as of July, 15 percent of the borrowed money had been written off—more than seven times the typical loss rate of commercial and industrial loans. The U.S. taxpayer ate the cost of 35 bad loans to businesses that went bankrupt, left the city or otherwise failed to honor their commitments. Several bankrupt businesses also received other forms of city flood relief, including interest subsidies and flood insurance assistance.
In East Grand Forks, officials dispensed flood aid to all comers in an often-futile attempt to shore up the commercial tax base. Several firms that received forgivable loans and rehabilitation grants—and subsequently shut their doors—were startups that had not suffered physical damage or even financial losses in the flood. One entrepreneur spent $250,000 in city funds to remodel a former drug store into an Irish-themed bar and grill, then closed the business two years later. A succession of businesses given flood-recovery dollars went belly up in Riverwalk Centre, a downtown mall that the city bought and refurbished for $2.8 million in 1999.
Stauss said he regrets giving aid to many small firms that didn't have sufficient financial backing or a solid business plan. "I think sometimes we tried to get [space] filled and looking good to show that we were recovering," he said, "but in hindsight we could have done a little better job of making sure that their plan of action is something that would work."
Flynn, of UND, who is organizing a symposium on the Grand Cities' recovery from the flood, questioned the granting of disaster assistance to types of businesses that stood to benefit from the flood, such as construction and home improvement firms. His research on the response of businesses to the flood has shown that there was so much cleanup and recovery work in its aftermath that some construction workers left their companies to start their own firms. So if the goal of government aid was economic recovery, and new construction companies were hiring people and paying taxes, there was no reason to bail out businesses that couldn't cover their flood losses, he said. "Why not rely on the natural entrepreneurship of your population and allow them to create solutions without interfering with the market?"
To be fair, city officials on both sides of the river were under tremendous pressure to come to the rescue of businesses after the flood. The "political reality" in Grand Forks, Gershman said, was that the city was obliged to help businesses with federal aid at its disposal. But in a market economy, it's not government's job to give money to any business that asks for it or to try to pick winners and losers. Ultimately, performance in competitive markets, not government aid, determines whether businesses succeed or fail. That holds true even after a natural catastrophe.
Flynn agreed with Gershman that city government had to provide some aid to afflicted businesses, rather than leaving them to sink or swim. But he said that officials could have offered another type of aid that helped all flood-affected businesses while minimizing market interference: low-interest, nonforgivable loans. Like Small Business Administration disaster loans, which have rigorous repayment and collateral requirements, such loans would force businesses to spend what they borrowed wisely—or else decline the loan and go out of business to make way for abler competitors.
Crossing the line
If public policy dictates that a city should be saved—not always a given, considering the immense costs of rebuilding and protecting communities vulnerable to floods, hurricanes and other natural phenomena—history suggests that the most important role local government can fill after a disaster is to give some assurance that the community can indeed come back. Residents and businesses alike abhor uncertainty; they require commitment by government in word and deed before they invest resources in putting their lives and livelihoods back together. To the credit of civic leaders on both sides of the Red, they made that commitment. "You can't sit there on your hands and do nothing if you expect people to trust that things are going to be OK," said Schmisek, of Grand Forks.
The two cities made crucial investments in the public realm with their state and federal disaster millions, demolishing homes and businesses to make way for the dike project and installing new infrastructure that would spur residential and commercial growth. They also invested in community assets like schools, parks and public buildings, such as East Grand Forks' new city hall and modern Campbell Library.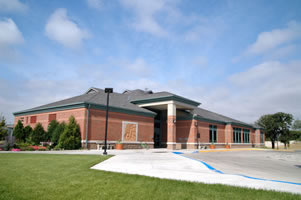 Campbell Library, East Grand Forks
But in some instances public officials wandered into the private sphere on the road to recovery. Many economists would view Grand Forks' Congressional housing project, East Grand Forks' lot sales and both cities' liberal dissemination of financial aid to businesses as unwarranted meddling in private markets.
"More often than not, my perception is that there is some kind of crossing of the line between appropriate government involvement and just outright interference with what's going on," Flynn said. "I think it's always probably well-intentioned—they think they're helping the situation—but it's not necessarily with an eye to the long-term economic health of the community."
In addition to helping local firms cope with the fallout of the flood, city government also dipped into federal flood-recovery funds to lure out-of-town companies with cheap land, low-interest loans, tax breaks and other incentives. To sweeten the pot for Amazon.com, which opened a call center in Grand Forks in 1999, city officials used $1.9 million in HUD funds to pay the company for each worker that it hired.
Such giveaways distort markets by influencing the location choices of companies, and sometimes they're simply a waste of money. After landing Amazon.com, Grand Forks spent another $2 million from its HUD grant to acquire and improve land for an Amazon distribution center that was never built. The tract has sat empty ever since.
Overreaching in a crisis is understandable; civic leaders were desperate to stanch population losses, get residents back to work and replenish their tax bases. But desperation combined with federal largesse can lead to misallocation of resources, setting back recovery efforts. At some point in the process, the local economy needs to find its own way.
In East Grand Forks, the EDHA has come to that conclusion about the restaurant trade. Outside of the popular Restaurant Row on the waterfront, downtown restaurants have struggled to draw customers ever since the flood. Richter said that the Authority won't spend any more public funds trying to recruit and sustain restaurants: "We'd be foolish to do that, because we'd be hammered on it."