Business leaders see growth in 2007
"Things are looking up," wrote a western Wisconsin respondent to the November fedgazette business outlook poll. Many agree with this agricultural producer and are optimistic for 2007 economic growth. The optimism is widespread, as leaders expect inflation to ease, output in the nation to grow and business investment and employment in their communities to expand. However, respondents expect a severe downturn in housing starts, flat consumer spending and a challenge to find workers. "I'm hoping the housing market slows enough that some workers become available for me to hire," commented a manufacturer from Montana. Respondents see expansion in their own operations. Business leaders expect increasing sales, employment, capital investment and product prices for their companies.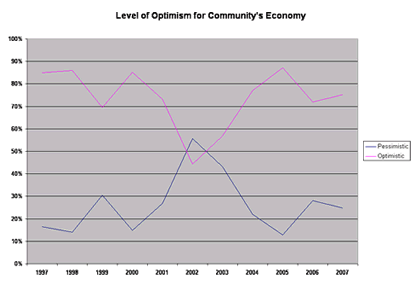 Moderate GDP growth and inflation predicted
"We expect the year to be good," reported a Minnesota respondent. Forty-two percent of respondents expect real growth of 1 percent to 2 percent in U.S. gross domestic product in 2007, and 41 percent expect real growth of 3 percent. Minnesota and Wisconsin respondents predict the largest growth in 2007 GDP. The forecast for national growth is fairly consistent across industry sectors, except for the retail sector, which expects slower GDP growth.
Respondents tempered their inflation outlook from a year ago. About half predict consumer inflation of around 3 percent in 2007. The others are almost evenly split between higher and lower levels of inflation. "Energy costs appear to have made a 'soft impact' on inflation," said a Minnesota staffing agency. The manufacturing and retail sectors expect the lowest level of overall inflation. This contrasts significantly with last year's poll, in which 62 percent of respondents expected an inflation rate of 4 percent or higher, compared with 27 percent this year.
Despite housing, local communities should grow in 2007
Respondents are generally optimistic for their communities' economic health in 2007. Overall, 75 percent are optimistic, with a high of 85 percent in South Dakota and a low of 57 percent in northwestern Wisconsin. Meanwhile, business leaders are generally positive about investment and employment in their local communities. However, they anticipate tumbling housing starts and flat consumer spending in 2007. Seventy-one percent of respondents, including 78 percent from the construction industry, expect housing starts to fall in 2007. The softer housing market may affect individuals' wealth and contribute to flat consumer spending.
Business leaders anticipate that their communities will brush off the slower housing market and flat consumer spending by expanding investment. Over 40 percent of respondents expect business investment to expand, and 40 percent expect no change. Finance, insurance and real estate, and services expect the biggest increase in investment, while construction expects the biggest decrease.
Employment expansion is predicted by 36 percent of the respondents, and only 22 percent expect a smaller workforce in their community. Respondents from North Dakota and the finance, insurance and real estate industries expect the biggest increases in employment, while the manufacturing and construction industries expect more job losses compared with other sectors. The increase in employment is not expected to put pressure on wages, as 72 percent expect wages to increase modestly in the 2 percent to 3 percent range.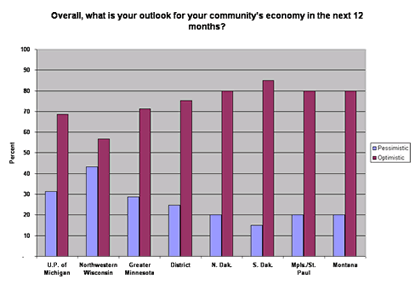 Companies plan to keep on rolling into 2007
Business leaders plan to expand their companies in 2007. Across the district, leaders expect sales increases. The strongest expansions are expected in the services, retail and manufacturing sectors. The expected higher sales levels may reflect not only more orders, but also the ability to raise prices. About 42 percent of the respondents anticipate raising prices on their products and services in 2007, while only 15 percent expect to lower prices. Respondents from Montana and North Dakota appear to have the most pricing power, while respondents from the Upper Peninsula of Michigan have the least ability to raise prices.
To handle more business, leaders expect to increase capital investment. Over a third of the respondents expect increased capital investment for their companies in 2007. Investment plans are strong across the district, except in South Dakota, where investment is expected to fall. The investment in equipment may aid productivity.
Seventy-five percent of respondents reported increased productivity in 2006, while only 10 percent reported decreased productivity. Meanwhile, over a third of the respondents expect to increase employment, while only 16 percent expect decreases for their companies. South Dakota appears stable, as 70 percent of the respondents expect no change and 25 percent expect increases. The construction sector appears the weakest with 30 percent of the respondents from that industry expecting decreased employment for their own company and 27 percent expecting increases.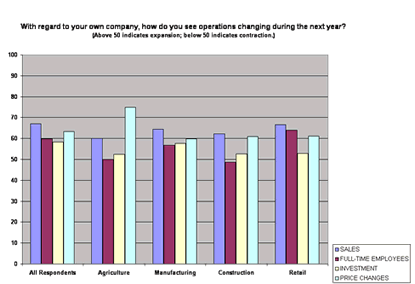 The slowing in the residential housing market is expected to seep into other sectors. Even though respondents expect overall increases for their companies, several companies expect the housing market to negatively affect their sales, employment, investment and profits. Respondents from the construction, retail and manufacturing sectors expect the biggest effect from the housing slowdown.
The slowing housing market is not the only issue facing business leaders. Fifty-nine percent of the respondents reported that securing workers is a challenge or serious challenge. This result was evident across the district, but especially in North Dakota, where 75 percent reported difficulty finding workers. All industries reported a challenge finding workers except agriculture, where only 30 percent of the respondents reported difficulty.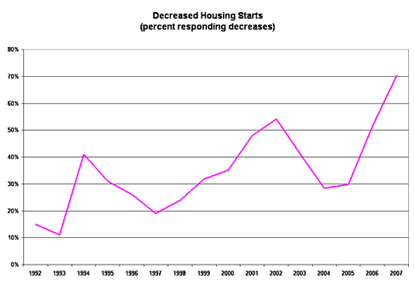 Related articles:
Agriculture slips during third quarter
Ninth District Economic Forecast