District exports expand in 2006
Manufactured exports from five district states grew almost 13 percent from 2005 to 2006, much faster than the annual average rate of growth from 1997 to 2006 (7 percent), but slower than the increase from 2004 to 2005 (18 percent).
Manufactured exports to all destinations except China grew faster than historical averages. Even though export growth to China grew at a torrid 23 percent pace from 2005 to 2006, the annual average growth rate to China from 1997 to 2006 was 27 percent (see chart).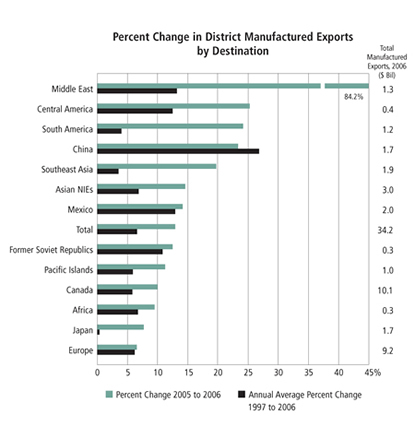 In 2006, manufactured exports to the Middle East, Central America and South America showed the strongest growth, even though all three destinations together made up only about 9 percent of the district total. Exports to the Middle East were led by increases to Saudi Arabia, which comprised 46 percent of district manufactured exports to the Middle East.
Iraq received just over 1 percent of exports destined to the Middle East, primarily transportation equipment and machinery. Exports to Iraq were notably higher in 2006 ($15 million) compared with 2002 ($250,000), the year prior to the war in Iraq, but down from last year ($27.5 million).
Manufactured exports to Brazil made up 35 percent of exports to South America, the largest destination in that region. Despite relatively protectionist policies, district exports to Venezuela more than doubled last year and accounted for about 15 percent of exports to South America. The district's largest export destinations, Canada and Europe, grew more modestly, at 10 percent and 6 percent, respectively. Larger export industries that showed the strongest growth include transportation equipment; electrical equipment, appliances and components; and chemicals. Machinery and computer and electronic products remained the top two export industries in the district.
Smaller states post strongest growth
Manufactured exports from Montana grew almost 40 percent, and exports from North and South Dakota increased about 25 percent each during 2006. Only the states of Delaware and Washington grew faster than Montana. The district's more-populated states of Wisconsin and Minnesota grew 13 percent and 10 percent, respectively. Over the past three years, the less populated district states have grown faster than Wisconsin and Minnesota (see chart).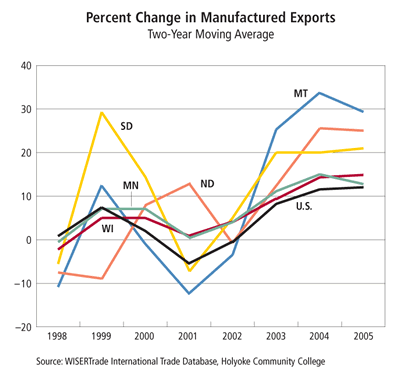 In Montana, exports of primary metal manufacturing more than doubled during 2006. Primary metal manufacturing exports declined to low levels during 2002 and 2003, and while currently making a comeback, in 2006 the industry's exports were still less than half the size of 1997 levels. Transportation equipment also more than doubled, and the state's largest export industry, chemicals, grew more than 60 percent.
Exports from North Dakota to Canada increased 33 percent in 2006. Meanwhile, the former Soviet republics passed the Pacific Islands to become the third-largest destination for North Dakota exports—primarily to Ukraine and Kazakhstan, which combined represent 74 percent of exports to this region.
In South Dakota, transportation equipment increased 69 percent as exports of transportation equipment to the Middle East almost doubled. The state's largest export industry, computer and electronic products, made up almost a third of the state's total manufactured exports, the highest proportion in the district.
Manufactured Exports by Ninth District State
Minnesota | Montana | North Dakota | South Dakota | Wisconsin