Critics of the franchise model often point to loss of local dollars when money is spent at a franchise, because a portion of that money goes to the parent franchisor located elsewhere, rather than to a comparable local independent business. From an economic development standpoint, this overlooks the fact that some places have proven adept at nurturing franchisors or, quite possibly, have been fortuitous in having them set up base locally.
Whatever the case, franchise headquarters are valuable additions to a local economy, as royalties flow to a head office that invariably employs high-skill workers in finance, advertising and marketing, management and other professional areas.
Across the district, FRANdata identified 129 franchisors headquartered in five states. Fast-food outlets are the single largest franchisor type in the district (with 16), and food in general occupies a large share of franchise concepts when the many types of formats and outlets are included, according to FRANdata. But there is relative balance in terms of the different types of franchisors headquartered in the district (see chart).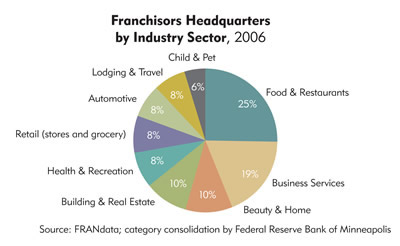 No two states appear very similar in the types or lines of business of franchisors, either. Minnesota has a fair gaggle of food-based franchisors, but also has franchisor niches in automotive, beauty and business services; Wisconsin's largest category is building and construction. All but one of Montana's franchisors are food-based. North Dakota is the only state without a fast-food franchisor.
And like most economic competitions, some states and cities fare better than others. Not surprisingly, franchisors tend to concentrate in larger regions and cities, but here too there are notable exceptions. For example, the city of Aberdeen, S.D., with a population of 25,000, is home to three franchisors. By comparison, Rapid City is a metro of some 120,000 people, yet has no franchisors, according to FRANdata.
Among district states, Minnesota is far and away the leader in franchisors, even on a per capita basis (see chart). With 81 franchisors, Minnesota has 3.4 percent of all franchisors nationwide—double its share of the nation's population. The large majority of them are located in the Twin Cities region. Wisconsin, with a slightly larger population than Minnesota, has just 29 franchisors. Minnesota appears to be a major franchisor state even on a national basis. A 2005 study by two professors at the College of Charleston found that California, Texas, Florida and Minnesota account for the highest concentrations of major franchisors.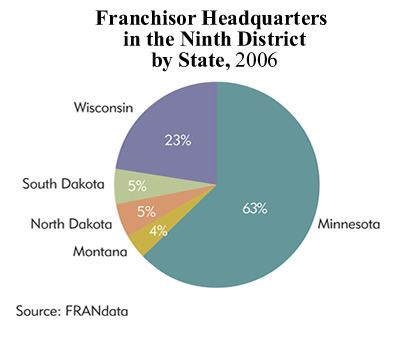 The reasons behind such a concentration—or lack thereof—are not well understood. The College of Charleston study found that a relationship exists between state population and the concentration of franchise headquarters, but it "is not the sole determinant." Alabama has a similar population to Minnesota, for example, yet has a tiny fraction of Minnesota's franchisors.
Why Minnesota has a cluster of franchisors is unknown. No research exists that investigates the phenomenon beyond a recitation of the concentrated states and regions across the country. Two possible explanations: The state has had a few of the big, early franchises—Dairy Queen, National Car and Mister Donut (which no longer exists, save for a few scattered locations, after being bought out by Dunkin' Donuts' parent company). And the state has had a very strong and stable economy, which helps firms of all types grow, including franchisors.
The Twin Cities reportedly also has a large number of franchise lawyers, on par with the likes of Chicago and New York. It's hard to say if that's the franchisor chicken or egg, but it points to the possibility of cluster development, whereby the necessary infrastructure and human capital have become regionally concentrated, making a franchise easier to start up and more competitive because it has access to lots of professional people with experience in the many specialties of franchising support.
There is most certainly a bit of serendipity to becoming the home city of a franchisor. Aberdeen is home to Expetec (a computer-services firm), Kitchen Tune-Up (remodeling) and the motel chain Settle Inn. At least some of this activity traces its roots back to Super 8, reportedly the largest budget motel in the world. In Aberdeen, the roots of the Super 8 motel chain sprouted from a conversation between two guys in a local coffee shop in the early 1970s. Over the next two decades, it grew to more than 1,000 motels worldwide, was bought out by the Cendant Corp. in 1993 and was sold again last year to hotel giant Wyndham. The franchise now boasts more than 2,000 motels.
Technically, Aberdeen can no longer be considered the franchisor headquarters of Super 8, but it has left an indelible mark on Aberdeen, said Mayor Mike Levson. Most noticeable is that it brought significant wealth to the community as the franchise grew. Equally important, it gave other people a firsthand look at how the franchise model works. A handful of folks who stayed on with Super 8 after ownership changes are now trying to do the same with Settle Inn, which has grown to nine locations. "The example of Super 8 led them to think of this," Levson said.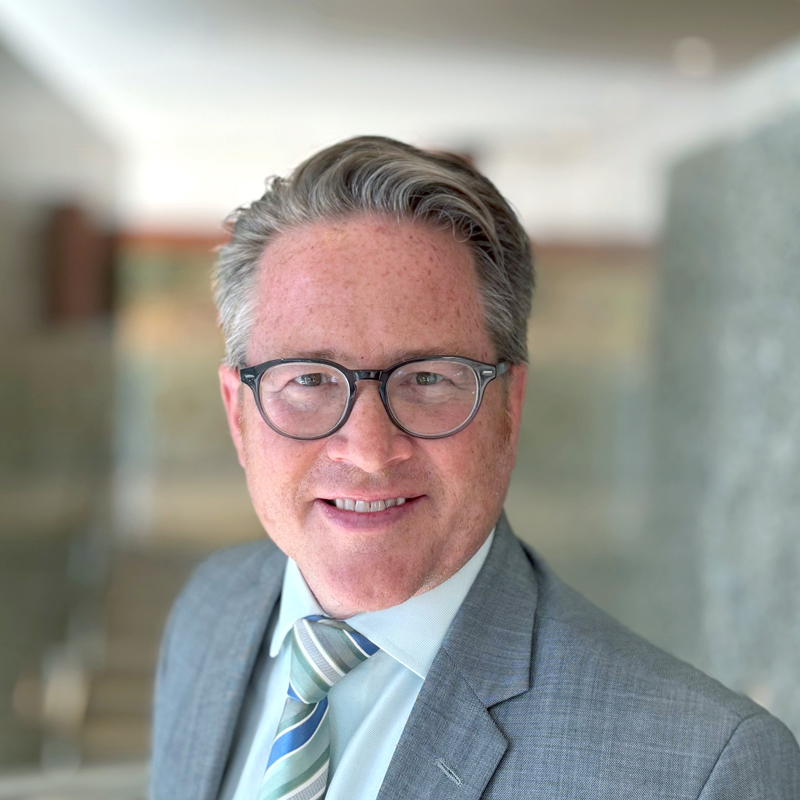 Request as a speaker
Ron Wirtz
Editor, fedgazette
Ron Wirtz is a Minneapolis Fed regional outreach director. Ron tracks current business conditions, with a focus on employment and wages, construction, real estate, consumer spending, and tourism. In this role, he networks with businesses in the Bank's six-state region and gives frequent speeches on economic conditions. Follow him on Twitter @RonWirtz.