This little piggy came home
While the numbers are a bit soft on the matter—definitions differ and data are complex—all parties agree that earmarks in the federal budget have climbed rapidly over the past decade or so, with a sudden drop in 2007. To some extent, those trends are mirrored in the Ninth District, but considerable variation exists among district states in both the level and type of earmark expenditure.
Surprisingly, Montana has pulled in more earmark money than any other state in the district with a sum of over $1.1 billion from 1995 to 2007. (See top chart below. Michigan's tally was higher, at $1.3 billion, but was not included in the analysis because the state lies mostly outside of the Ninth District, particularly in an economic sense.)
But while North Dakota has pulled in fewer earmark dollars, its trend has been steadier than its neighbors'. For example, there were big declines in both the number and the total spending of earmarks in 2007; Montana saw earmark spending drop to just $4.4 million that year. But North Dakota actually received more earmark dollars than all other district states combined.
South Dakota, Minnesota and Wisconsin have had more volatile earmark trends over the years, with a general pattern of a gradual rise, a few spikes and a fast drop-off. South Dakota showed slow increases during the late 1990s, jumped dramatically in the early 2000s to a peak of $144 million in 2002 and then trended down quickly. Minnesota had a similar pattern of slow increases from 1995 to 2000, big leaps each year from 2001 to 2003 and then a drop-off. Wisconsin was fairly slow and steady from 1995 to 2003, leaped from $20 million up to $141 million in 2004 and $188 million in 2005, and dropped to $22 million in 2007. (See charts for annual spending trends and number of earmarks.)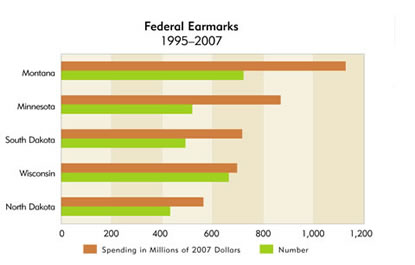 Source: Citizens Against Government Waste
Source: Citizens Against Government Waste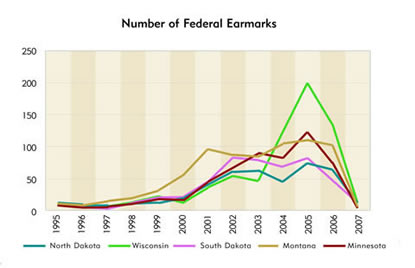 Source: Citizens Against Government Waste
District diversity
On a per capita basis, district states show remarkable diversity in earmarking. Three district states, Montana, North Dakota and South Dakota, receive some of the highest levels of earmarked expenditure in the nation, resting comfortably in the top 10 of all states each year from 2002 to 2006. Michigan, Minnesota and Wisconsin, on the other hand, regularly fall in the bottom half of the nation's states in terms of per capita earmark spending. In 2006, when the national per capita earmark average was $31 (in 2007 dollars), North Dakota's was $126, Montana's was $109 and South Dakota's was $65. Minnesota, Wisconsin and Michigan were well down the state-by-state list, with between $20 and $24 per capita (see data map).
Of course, the small populations of the first three states account for some of this difference, but political clout of the congressional delegations from Montana and the Dakotas also deserves credit. Take North Dakota, number five on the national per capita earmark list. From 1995 to 2007, the state pulled in $562 million in earmarked monies, and about 44 percent of that was for military construction and defense projects, well above the district's 24 percent average for that category. (See detailed tables listing total annual earmarks and earmark spending by district state and by subcommittee.)
North Dakota Sen. Byron Dorgan, a member of the Senate Appropriations Committee, has helped bring home $80 million in defense-related research funding from 1995 to 2007, much of it for North Dakota State University (on projects such as the "Ultra-low Power Battlefield Sensor System" and "Advanced Fouling and Corrosion Control Coatings Technology"). Another $92 million came in for improvements to Minot Air Force Base, Grand Forks Air Force Base and Camp Grafton. As part of the fiscal year 2008 appropriations bill, Dorgan earmarked another $66 million to "support and expand North Dakota's military missions."
Rainmakers
South Dakota has a similar story, with about 29 percent of its earmark money going for military projects. South Dakota Sen. Tim Johnson is a member of the Appropriations Committee and chair of the Military Construction subcommittee. But nearly 20 percent of South Dakota's earmark funds go to Energy and Water Development projects (well above the district's 7 percent median). Johnson sits on this subcommittee as well; Dorgan chairs it, and both Dakotas pull in considerable earmarked monies for water projects.
Between 1995 and 2007, South Dakota obtained $140 million in earmarks for 56 energy and water projects; $92 million of that went to the Lewis and Clark, Mid Dakota, Mni Wiconi and Perkins county water systems. North Dakota's water projects have been small by comparison, but in fiscal year 2008 the state obtained, according to Dorgan, a "record-breaking" $68 million earmark for its Garrison Diversion to "bring a safe water supply to rural communities around North Dakota."
The largest portions of Montana's earmarks have gone to military and transportation projects (23 percent and 20 percent, respectively), but what stands out in the state's earmark profile is the $207 million spent on Interior projects, over 18 percent of Montana's earmark money (well above the 5 percent median for this category for district states). A closer look reveals that 45 percent of this (about $93 million) went for land acquisition by the Department of Agriculture, the Bureau of Land Management or the U.S. Fish and Wildlife Service. Most of the land acquired is forest acreage, some of it placed into conservation easements. Montana Sen. Conrad Burns, chair of the Senate's Interior appropriations subcommittee, was instrumental in obtaining the earmarks.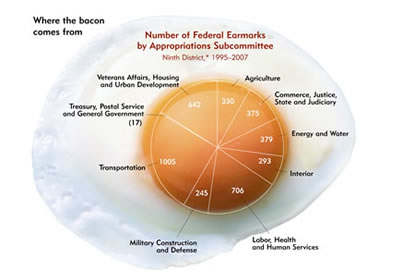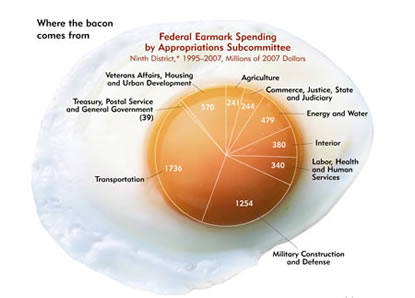 *Does not include Michigan, includes all of Wisconsin
Source: Citizens Against Government Waste
And to the east
Minnesota's earmark profile is a bit unusual. The state's median earmark is over $2.2 million compared to $1.5 million for all district states. This is due in part to the fact that 62 percent of its earmark money has gone to transportation projects (compared to a district median of 28 percent), and transportation projects are big and expensive.
It's no coincidence that the chair of the House Committee on Transportation and Infrastructure is James Oberstar, a 17-term representative from Minnesota's 8th District. Oberstar has long championed major transportation projects throughout the state, from bike paths to airport runways to highway bridges. The most expensive single earmark in the Ninth District was the $67 million grant made in 2003 for the Minneapolis light rail transit system, long championed by Oberstar. The fiscal year 2008 bill contains $55 million for the Northstar Corridor Rail project.
Wisconsin also draws a lot of earmark funds for transportation, about 41 percent of its total; much of that has gone to the statewide bus system. But 17 percent of the state's earmark monies (over $120 million) have gone to Labor and Health and Human Services earmarks, well above the 4.8 percent district median figure for this category. Why? It's probably attributable to the fact that Rep. David Obey is the chair of this particular subcommittee.
Distributed among 251 earmarks, these are small projects, less than $500,000 on average. Typical projects include the three earmarks made to Chippewa Valley Technical Center in Eau Claire between 2001 and 2004 for technology upgrades and renovations or a 2002 grant to educate older Hmong refugees in La Crosse. Wisconsin also has a higher than average portion of its earmarks in agriculture, about $57 million between 1995 and 2007, most of which has gone into research and conservation projects.
While full data aren't available for Michigan's Upper Peninsula, it attracts a fair amount of earmark funding, about $54 million between 1995 and 2007, or approximately 4 percent of the state's total in that period. About a quarter of that amount was spent on nine Army Corps of Engineers projects involving Sault Ste. Marie lock replacement. Roughly $10 million went to acquisition and construction for the Sault Ste. Marie Border Station in 2000 (before 9/11). Two big earmarks totaling nearly $5 million went for forest land acquisition. In 2004, about $3.6 million went to the National Guard center in Calumet. Smaller grants were spent on projects as various as an economic development revolving fund for the U.P. to preservation of the Seaman Mineral Museum in Houghton.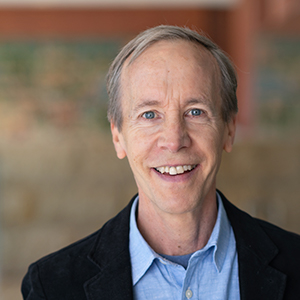 Douglas Clement
Editor, The Region
Douglas Clement was a managing editor at the Minneapolis Fed, where he wrote about research conducted by economists and other scholars associated with the Minneapolis Fed and interviewed prominent economists.