This space for rent. Bring your wallet, unless I know you.
Funny thing, those land markets. Given rapidly rising farmland prices, one would think that rental rates would follow. Alas, rental fees are like the weather: unpredictable and prone to extremes.
Yes, farmland rental rates have been increasing. In fact, there are many reports of speculative rental bidding throughout the district of late. But in general, growth of rental rates has lagged well behind that of farmland prices (see chart). For example, half of all 303 counties in the Ninth District saw owned acreage double in value from 2001 to 2007; by comparison, only four counties saw rental rates double over the same period. In fact, 20 counties saw rental rates decline over this period.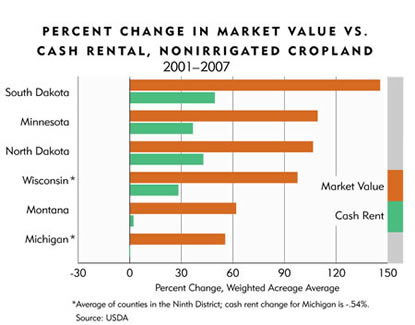 This price appreciation gap stems mostly from the fact that rental markets are complex, with rates varying widely for reasons that might not be immediately obvious to the casual observer. As a result, average rental rates do not correlate directly with what's happening in ownership markets. That's not to say there is no relationship between rental rates and farmland prices. But the link is not particularly tight.
For starters (and as the cover article explains in more detail), farmland values have risen in large part for nonagricultural reasons. Rental rates, however, are linked much more closely to the production value of the land; nobody's renting farmland to hunt on or to use as an all-terrain track for a four-wheeler.
Because high crop prices are a relatively recent phenomenon, only now are rental rates responding to significant upward pressure. The U.S. Department of Agriculture (USDA) estimates that net farmland rent went up 11 percent and 17 percent in 2007 and 2008, respectively.
And plenty of anecdotes suggest that farmers are bidding up prices, dramatically in some cases. Average rental rates in St. Croix County, Wis., were $90 an acre in 2007, according to the USDA. But a banker in Glenwood City, Wis., responding to the Minneapolis Fed's ag credit survey, said that rents of new available land start at $150 an acre.
In Martin County, Minn., typical rental rates rose about 23 percent, to $135 an acre, from 2001 to 2007, according to USDA figures. But recent rental activity has been much hotter. Jerry Fast of Profinium Financial in Fairmont, Minn., estimated that rental rates for average productive land have gone from about $135 in 2006 to $175 this year. "But by this fall I would guess it will jump to $200," he said via e-mail. "It is going wild now." Thanks to the jump in corn prices and the small amount of land available for rent, he said there have been reports of "overaggressive renters" bidding $250 to $300 per acre for what little land came up for bid this spring.
How much such speculative bidding will affect overall rental rates is hard to say. For every anecdote of sky-high rent, there is one of bargain-basement rent. For example, Bob Oleson, executive director of the Wisconsin Corn Growers Association, pointed out that thanks to so-called use-value laws, actively farmed land in Wisconsin is taxed at significantly lower rates than land used for other purposes—$3 per acre versus $40 or more an acre in some cases. As a result, housing and industrial developers sometimes offer free or greatly reduced rent simply to avoid paying higher real estate taxes.
Such factors make rental rates tough for the USDA to predict or model. "[M]uch to the frustration of us economist-types, I'm afraid that the relationship between ag rental rates and land values or even returns is more complex and tenuous than one would hope," said Rich Iovanna of the USDA, via e-mail. He added that USDA officials in the field say that landowners typically know or are related to the operators who rent from them, "making rental rates stickier and lower than they'd be otherwise."
Paul Lautenschlager is just such a landowner. He manages a grain elevator in Beach, N.D., and owns some land with his sister that has been handed down from his grandfather. They rent the land to a cousin. "We could get more rent for it. But we would like to see him succeed, and he's family."
Lautenschlager added that rental rates have not gone up much in the area because most landowners are retirees, often farmers, with some vested interest in the land they rent. "They understand some hardships in farming and remember what it is like" to make a living off the land.
For these and other reasons, rental rates lag the price appreciation witnessed in the farmland purchase market. In fact, through 2007, rent-to-value ratios in North Dakota have been trending downward and are at historic lows, according to data provided by Andrew Swenson of North Dakota State University (see chart). Some believe this is further evidence of a bubble in farmland values. But rental values appear more muddled than land values, and if anecdotes of rapidly accelerating rents are accurate, this ratio might start increasing in short order.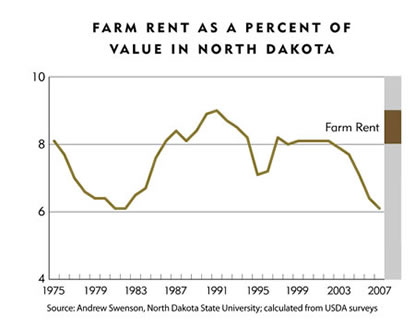 Whether the ratio rebalances will depend mostly on crop prices. Rental prices are tied more closely to crop prices than land values are, and many believe that crop prices are unlikely to hold at high levels.
In Montana, most renters of farmland are hedging their bets by shortening the terms of the leases "so that they are not tied into high rental prices if commodity markets go south again," according to John Youngberg, vice president of governmental affairs for the Montana Farm Bureau. "They have seen us produce ourselves out of prosperity numerous times."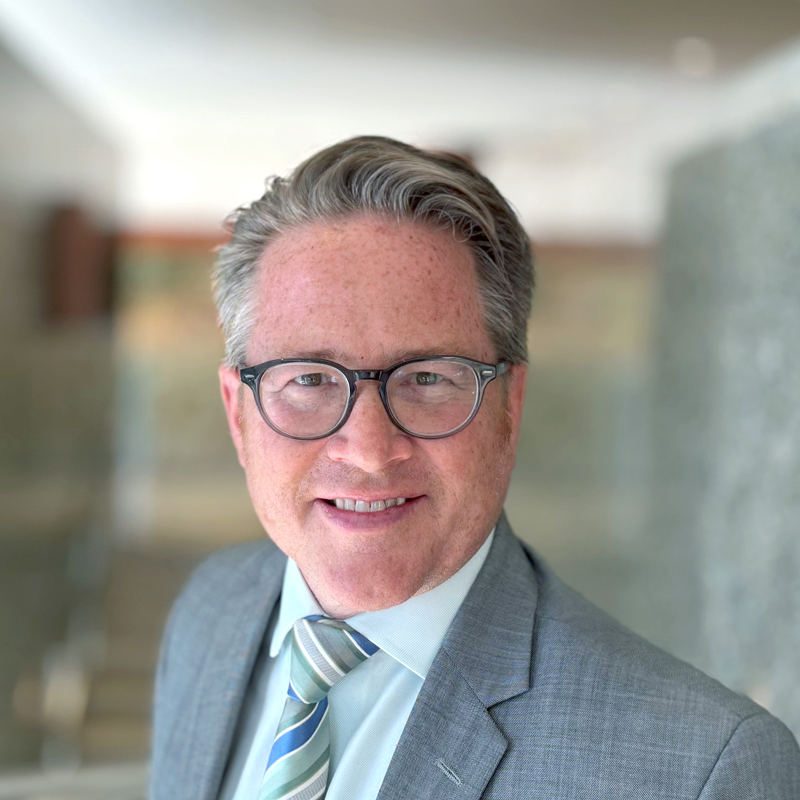 Request as a speaker
Ron Wirtz
Editor, fedgazette
Ron Wirtz is a Minneapolis Fed regional outreach director. Ron tracks current business conditions, with a focus on employment and wages, construction, real estate, consumer spending, and tourism. In this role, he networks with businesses in the Bank's six-state region and gives frequent speeches on economic conditions. Follow him on Twitter @RonWirtz.