Help wanted for the economic helpers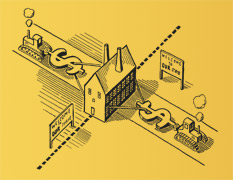 In the intense battle for jobs, economic development organizations across the Ninth District are facing a unique challenge to lure or retain companies and the jobs they support: a shallower toolbox of incentives chasing fewer potential clients.
That's particularly been the case since the recession began, according to a recent survey of economic development professionals in Minnesota, North Dakota and Wisconsin, conducted by the Federal Reserve Bank of Minneapolis in May. The survey, with responses from 138 professionals at public, quasi-public and private nonprofit economic development organizations representing communities of all sizes, found that budgets have been squeezed as competition for new jobs grows more intense and companies with leverage ask for more.
Location also matters. Among the three district states included in the survey, economic development professionals were much more upbeat in North Dakota and Montana, while those in Minnesota appeared to be struggling more with tight budgets and a tough economy.
Let the games begin
The use of public resources to attract or retain footloose firms is controversial; economists generally view such incentives as a zero-sum game at best and an inefficient use of public resources. They typically create few net new jobs and instead shift jobs to the highest bidder while transferring scarce public resources from taxpayers to businesses. But because so many communities do it, local officials believe they have little choice but to engage in an arms race of economic development incentives. (See additional discussion in fedgazette archives.)
Waging that war has become more difficult for many because the recession has made resources scarcer and jobs more valuable. The survey found that economic development budgets, staffing and revenue from local governments were generally flat, but more have experienced a decline—and a significant one—than an increase (see Chart 1).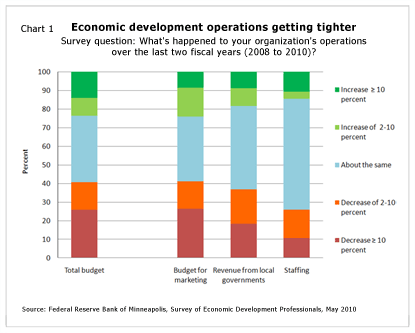 Economic development organizations in Minnesota, however, reported much more difficulty than those in North Dakota or Montana (see Chart 2). Fifty-five percent of Minnesota respondents said their budget had declined since the start of the recession; one of six said it was down more than 25 percent.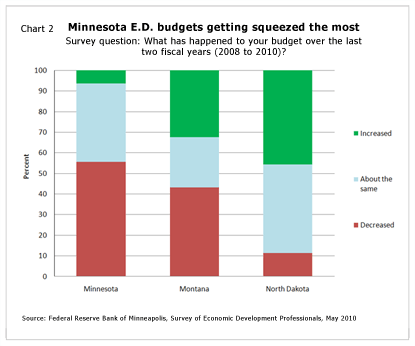 On top of generally tighter resources, organizations are battling over a smaller job pie. According to the survey, the number of development and/or expansion queries from businesses has decreased since the start of the recession. Among several disaggregated groups, respondents reported that local firms have been making more inquiries than nonlocal firms, which suggests that resources are being expended to keep firms rooted in place or to help them expand, rather than to attract new firms.
Those findings mask some stark geographic differences. Respondents from Minnesota almost universally said queries from businesses were lower or unchanged, while they were higher or unchanged in Montana and North Dakota.
One Minnesota organization saw its budget cut by more than 25 percent since the start of the recession and had a total budget of less than $100,000. Any funding previously earmarked for marketing now was being used for general operations and other obligations, which hampers efforts to connect with prospective employers. The respondent was receiving only one or two queries a month from firms, which has "changed dramatically. It used to be much greater."
The lower budget left the organization in a tough spot. "Few business deals happen without some incentive," like a low-interest loan, the respondent commented, and, given limited resources, "the ability to provide incentives has changed. … When we are fortunate enough to have a business interested, they are looking for larger incentives." Firms are finding it tougher to obtain traditional financing from banks, which means "they have larger [financing] gaps to fill and they want cash, which is a very limited resource."
Gimme, gimme
It appears that this case is not unique; firms understand the leverage they hold with the promise of creating new jobs or retaining existing ones. When firms contact agencies for assistance, their incentive expectations are higher than in the past (see Chart 3).
"I expect it is because more communities are desperately vying for the economic activity," said a North Dakota respondent. Commented a respondent in Minnesota: "It is a buyer's market, and so companies looking to expand have the ability to ask for more, since most communities are currently very hungry for any development project."
Sources said firms are not necessarily demanding incentives or holding communities hostage; many appear to be testing the water to see what's available in hopes of finding a generous incentive package to help them float in a volatile economy. Respondents commented that firms looking for incentives often believed agencies were flush with federal stimulus or other public funds targeting job growth, were more frequently young than those from past experience and were often seeking help with financing in a tighter lending environment, including requesting front-loaded incentives in order to conserve their own resources while the economy gets back on its feet.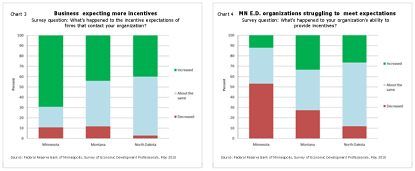 At the same time, there has been a small overall decline among economic development organizations in their (self-reported) ability to provide or otherwise broker the incentives necessary to close deals. But again, respondents in Minnesota were much more likely to report that firms' expectations had risen and that their ability to meet those expectations had fallen (see Chart 4).
Economic development organizations generally have a variety of tools in their incentive box. The survey found that workforce training has become a much more popular incentive—more than 45 percent said its use had increased. Low-interest loans have also become more popular, while grants and other cash-like contributions have become marginally less so. But it's not likely that businesses want less free money than they used to; rather, given budget constraints, economic development organizations are less able to offer it.
Methodology: This survey was conducted with the assistance of the Economic Development Association of Minnesota, the Montana Economic Developers Association and the Economic Development Association of North Dakota. An e-mail alert was sent to about 1,500 contacts identified by these three associations, representing an estimated 650 unique organizations. The e-mail informed members of the survey, its intent and where they could take it online. The survey was conducted from May 5 to May 17. A total of 138 responses were received.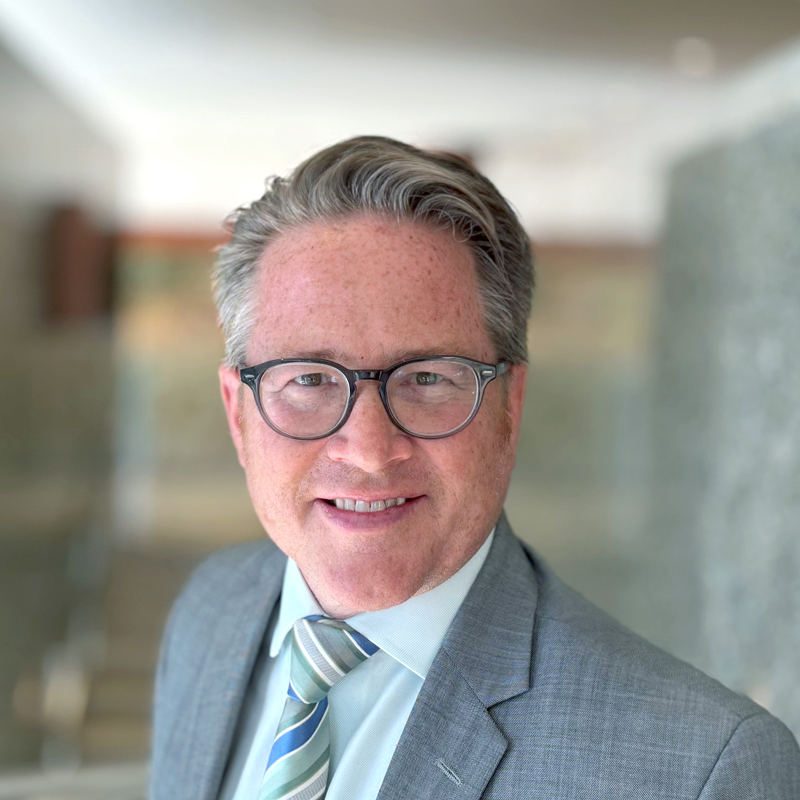 Request as a speaker
Ron Wirtz
Editor, fedgazette
Ron Wirtz is a Minneapolis Fed regional outreach director. Ron tracks current business conditions, with a focus on employment and wages, construction, real estate, consumer spending, and tourism. In this role, he networks with businesses in the Bank's six-state region and gives frequent speeches on economic conditions. Follow him on Twitter @RonWirtz.