North Dakota: The little economic engine that could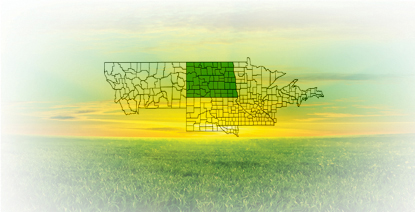 What a difference a decade has made for North Dakota.
Roughly that long ago, the national media were coming to the state to throw dirt on it, curious about what was going on in a state whose population barely grew during the roaring 1990s. The following decade didn't start much better: Through the first half, it was one of only two states to lose population—the other being Louisiana, which had Hurricane Katrina to blame.
Fast-forward to 2010, and there's now a bit of reverse Julius Caesar going on: People come not to bury North Dakota, but to praise it. That's because the state's economy sticks out like a diamond in a bowl of cherry pits. While North Dakota hasn't escaped the national recession completely unscathed, in the big picture it has posted top-of-the-class numbers in unemployment, income growth and other enviable economic categories.
Many point to the oil boom that has gushed money, business and general optimism into the state. But sources say the state's success goes deeper than an oil well.
Nice view from here
The state's repositioning on the economic totem pole is dramatic. A decade ago, the state's per capita personal income ranked 39th in the country; at $23,500, it was about 83 percent of the national average, according to the federal Bureau of Economic Analysis.
Over the next 10 years, annual personal income grew by 5.3 percent—two full percentage points better than the national average. By 2009, personal income in the Peace Garden state had leapt to $39,500—slightly above the national average and good for 19th highest.
For much of the decade, that growth went overlooked—indeed, dismissed—as the rest of the country strolled along with the housing boom. But when the country fell into recession, North Dakota gained more attention for its ability to continue swimming against an outgoing economic tide. While job loss has been rampant across the United States and the Ninth District, North Dakota actually added jobs from 2007 through the end of 2009 (see Chart 2 from companion article, When half-full feels more like three-quarters). With 4.9 percent unemployment in March (seasonally unadjusted), North Dakota had easily the lowest unemployment rate in the country—a fraction of the nation's rate of 9.7 percent and well ahead of second-place South Dakota (5.3 percent).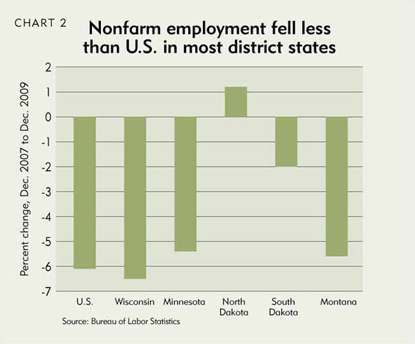 Without doubt, there are still struggles in North Dakota. Some rural areas continue to lose population, and many small towns are caught in an economic death spiral—few economic opportunities, forcing young workers and families to look elsewhere—with no obvious means of reversing the trend. But North Dakota is hardly unique in that regard. Nor has the state been completely immune to the recession's effects. The state's manufacturing base has been hit hard with major manufacturers laying off hundreds; Bobcat, the homegrown maker of skid-steer loaders, closed its Bismarck plant because of the national and international downturn. In all, the state lost 11 percent of its manufacturing job base from 2007 through 2009, as well as 3 percent of jobs in professional and business services.
But that's where many economic similarities end as far as national and most state trends go. In four other major industrial categories—trade and transportation; leisure and hospitality; information and financial activities; and mining, logging and construction—North Dakota achieved net job increases over the past two years. No other district state saw a net increase in any of these categories (see the accompanying table). Even in manufacturing and professional and business services, losses in North Dakota were the lowest of any district state and well below the national average.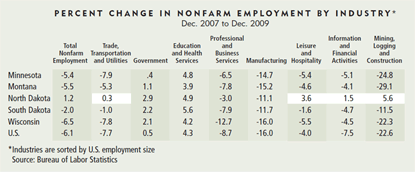 Fuel for the North Dakota fire
There are both obvious and subtle reasons for this success. Most people, for example, are quick to credit the shale oil boom in the western part of the state—the so-called Bakken play.
Though oil prices have been up and down a lot over the past two years (see the September 2009 fedgazette and a Web-exclusive June update), the oil-producing portion of the state has been surging with the rebound in crude prices. Last year, the state pumped 80 million barrels of oil—up almost 25 percent from 2008. Since 2004, crude oil production in the state has grown an average of 17 percent per year. The state is now the fourth-largest oil producer in the United States, behind only Alaska, Texas and California.
The success and impact of the oil industry shows immediately in employment data (see "Mining, Logging & Construction" in the table). Because this category includes construction jobs, most states saw numbers plunge—even more than in manufacturing—because of the collapse in housing. But not North Dakota, which saw sector employment rise by 5.6 percent on the heels of strong growth in the oil patch, a healthy coal market (the state is the nation's 10th-largest producer of coal) and a more stable housing market.
Cole Carley is about as far from the oil patch as a North Dakotan can get as the president and CEO of the Fargo-Moorhead Convention & Visitors Bureau. Despite being on the opposite side of the state, Carley understands the spillover effects of oil production on the broader state economy.
"The oil-gas-coal patch certainly deserves a bunch of credit. It's filling pockets, restaurants and hotel rooms all over the western part of the state," said Carley. He pointed out that North Dakota was the only state to see an increase in hotel rates and occupancy last year, and oil and other energy production "is a large part of that."
Richard Rathge, director of the North Dakota State Data Center, noted via e-mail that the oil exported out of the region brings an even more important import: people. The state had been seeing population loss virtually everywhere except Fargo and Bismarck. But oil production has reversed that: According to Rathge, 20 of 53 counties saw population growth last year, and 15 of those were in the western part of the state. Rathge, the state's demographer for more than 25 years, said that "this is one of the very few times I can recall that the vast majority of growing counties are on or west of the Missouri [River]."
But the state's enviable economic position is not just about oil and mining, Rathge and others pointed out. Agriculture, for example, has been healthy for the past half-decade, particularly in crop sectors where the state is strong, and has helped stabilize local economies in North Dakota and across the Ninth District (see cover article for more discussion).
Stark County lies in an oil-producing region. While oil drilling and production bring additional economic activity to the county, "ag is the historical bedrock," according to Vaune Cripe, senior vice president of American Bank Center in Dickinson, the county seat. "The energy industry has been a thick frosting on the cake."
Michael Solberg, president of State Bank & Trust in Fargo, agreed that the state's success "is more than oil." Despite having no oil production to speak of, the Fargo region's unemployment rate was lower than the state average (that's also the case in Bismarck and Grand Forks, the state's other two metro areas).
Solberg credited Fargo's economic good fortune to the stabilizing presence of three colleges, Great Plains Software (owned by Microsoft), high health care employment and the headquarters of Scheels, a major purveyor of high-end sporting goods. But Solberg also acknowledged that these economic elements are hardly unique to Fargo. One factor for Fargo and the entire state is likely "the housing market never [getting] out of whack here." Solberg said his bank has branches in Minneapolis, "and we see the pain that goes on where housing falls off a cliff."
Jerry Youngberg is a real estate agent with Dakota Commercial & Develop-ment in Grand Forks, and has been in the real estate business for 26 years. He believes real estate sales "are a pretty good indicator of the economic health of an area." The Grand Forks multiple listing service, which covers much of northeastern North Dakota and northwestern Minnesota, had its best years in 2006 and 2007, like the rest of the country, according to Youngberg. But 2008 was the third-best year on record—until 2009 beat it, and the outlook for this year is more of the same.
Outlook: A slice of humble pie
When it comes to the state's good fortune, current economic conditions and the road ahead, most sources across the state exhibit a farmer's mindset—modest, perpetually optimistic, yet conservative.
Brad Schlossman, CEO of West Acres Shopping Center in Fargo, for example, said that "our agricultural-based culture keeps us aware that next year's crop has yet to be harvested."
And Youngberg, from Grand Forks, added, "Our conservative nature inhibits us from tooting our own horn very loudly. But we are working on overcoming that to some degree."
Carley, from the Fargo-Moorhead Convention & Visitors Bureau, was asked about North Dakota's silver spoon, and he replied, "People up here would never use that slogan because Scandinavians never claim to look good or [to be] doing really well. It's got something to do with knowing or being related to farmers … [who] almost never talk positively about their crops because they think it's bad luck."
In other words, many North Dakotans seem to understand that they are doing comparatively well, but also that things can change in a hurry—just as "a good hailstorm or tornado can wipe out a crop in minutes," said Carley. "I think that everyone here is aware that we're better off than many others, but they don't say much about it. It's like being the tallest kid in a short class."
At times the North Dakota vibe can border on fatalistic. Said one source at the University of North Dakota: "I think we are almost at a point of suspicion that others will try to emulate North Dakota and rob us of what made us successful."
Economic performance, it seems, is a matter of perspective. North Dakota might look like the king of the hill right now, but that position is like the adage about a sunny day in these parts—enjoy it, but don't be surprised when the clouds roll in. Schlossman pointed out that the state's lack of boom or bust cycles makes for smaller recessions, "but soon you will see our job growth lag" as the rest of the country rebounds and returns to historical growth patterns. "The comparative prosperity we may enjoy today is only relative."
It's hard to imagine things in North Dakota unraveling too much, particularly in the short term, though a large and extended drop in oil prices would likely cause anxiety. But issues of real economic concern elsewhere—like a serious downturn in commercial real estate and yawning state budget deficits—are nonissues in North Dakota. And if North Dakota does see its fortunes turn for the worse, one doesn't get the impression that there will be a lot of related angst.
Solberg points to "a steady mind frame" among residents when it comes to economic difficulties. "There is a quiet confidence. Our region knows when times are tough, we're going to do better than most."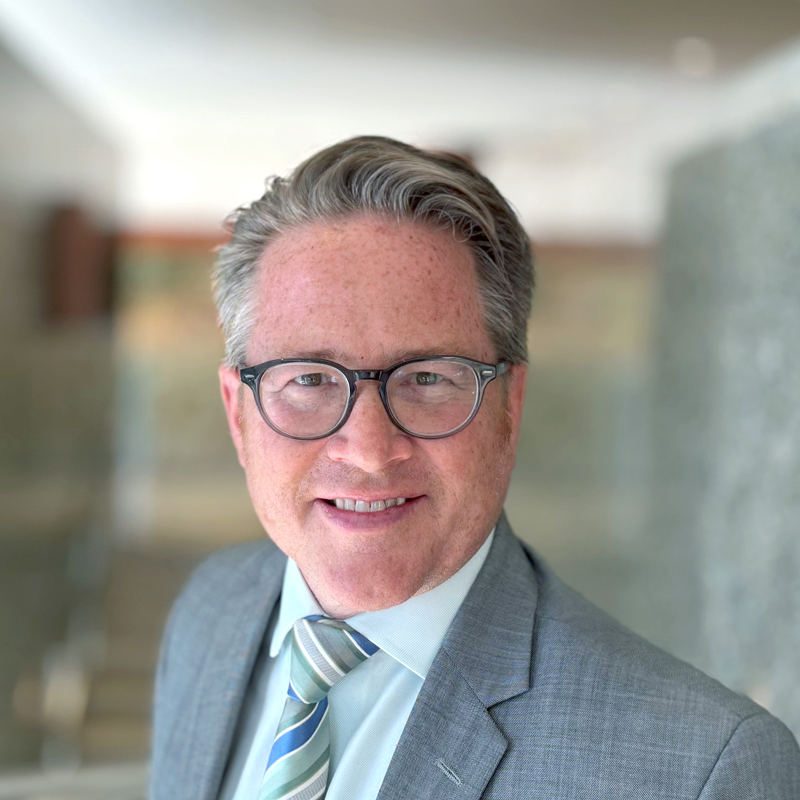 Request as a speaker
Ron Wirtz
Editor, fedgazette
Ron Wirtz is a Minneapolis Fed regional outreach director. Ron tracks current business conditions, with a focus on employment and wages, construction, real estate, consumer spending, and tourism. In this role, he networks with businesses in the Bank's six-state region and gives frequent speeches on economic conditions. Follow him on Twitter @RonWirtz.