A state of entrepreneurship: Careful what you wish for
The entrepreneur is widely lauded for the innovation and energy he or she brings to the economy. States desperately hope to be the seedbed of the next Google, Apple or even Applebee's these days. States often take great effort to be (or at least appear) entrepreneur-friendly and worry when they perform poorly in any nationwide ranking.
The Kauffman Foundation, the largest foundation in the world dedicated to entrepreneurial research, comes out with an annual index of entrepreneurial activity. The index captures new business owners in their first month of significant business activity and then tabulates a score based on a state's adult population.
The bad news for several district states is that annual scores have fallen considerably since 2006. Minnesota, South Dakota and Wisconsin all slipped below an index value of 0.2, while the national average crept up slightly and finished at 0.34 during this period (see Chart 1). North Dakota held its ground; Montana's rate fell significantly, but from very high levels.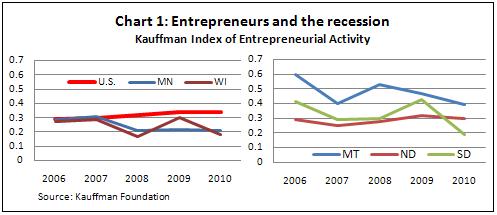 Woe is the Ninth District entrepreneur? Not necessarily. Entrepreneurship encompasses many things, running the gamut from those working out of a basement or back of a truck to a sophisticated high-tech startup. For its index, Kauffman uses consecutive-month reports from the Current Population Survey from the U.S. Census Bureau. It flags people who report working for themselves for at least 15 hours per week during the past month (and, importantly, not doing so in the month before that).
It's difficult to know the direct relationship between the recession and self-employment. But those looking for work often make ends meet by doing informal side jobs, and recessions create conditions that likely increase the amount of entrepreneurship done out of necessity rather than opportunity or desire.
Coincidence or not, high-unemployment states tend to rank high in Kauffman's index. The states with the three highest average scores from 2008 to 2010—Arizona, Georgia and California—all have unemployment rates considerably above the national average of 9 percent in April (see Chart 2). California is world-renowned for its entrepreneurial culture, à la Silicon Valley; less known might be the fact that its 11.9 percent unemployment rate is the second highest in the country.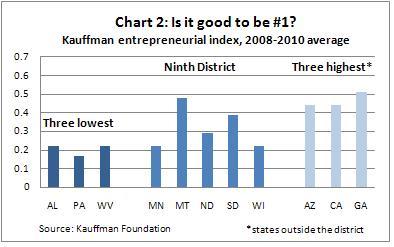 In the most recent single-year ranking (2010), Louisiana and Nevada joined Georgia as the top-ranked entrepreneurial states in the country. Nevada currently has the nation's highest unemployment rate at 12.5 percent. Louisiana's is better, at 8.1 percent, but the state would not be mistaken for an economic hotbed.
In the Ninth District, Montana has consistently scored high in Kauffman's index—its average from 2008 to 2010 was second nationwide—and has long had a reputation for bootstrapping small businesses. But it also happens to have the highest unemployment rate in the district (tied with Wisconsin) and does not rank particularly well on income, poverty and other economic measures that might suggest a high ranking comes with big economic benefits.
Even acknowledging the methodological shortcomings, low-ranking district states don't have much to brag about, either. The lowest ranking states—Alabama, Pennsylvania and West Virginia—don't offer much explanatory bravado for Minnesota or Wisconsin, two states that have seen their scores drop to similar levels.
In the end, it appears there might be something of a Goldilocks effect here—not too high, not too low, but just right … in the middle. North Dakota, for example, has had one of the best economies over the past few years, and its index score has remained steady, generally hovering in the middle of the index range.
Additional research on establishment trends and entrepreneurship will be featured in the July issue of the fedgazette.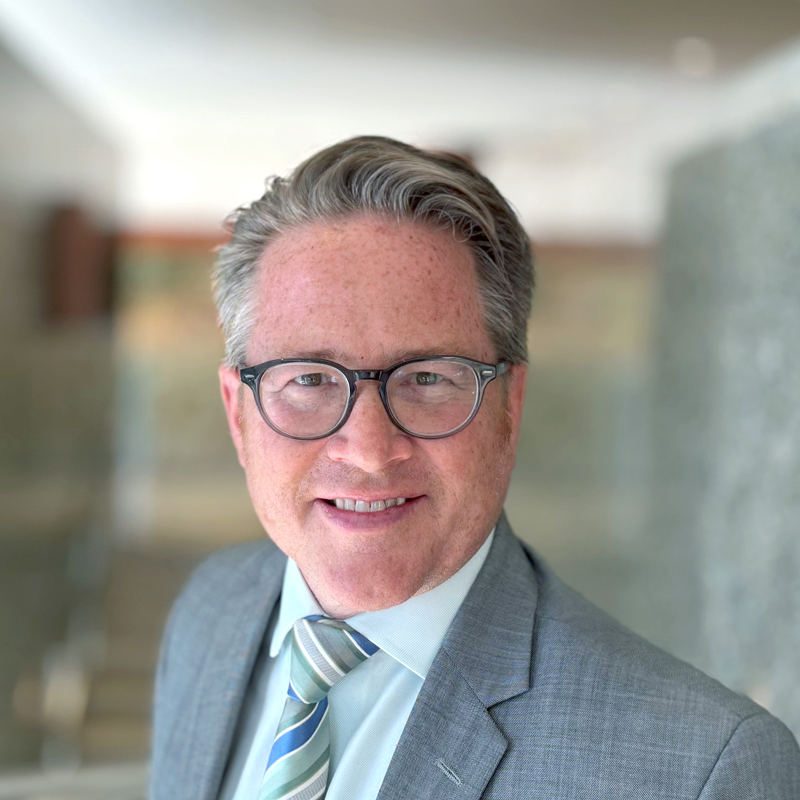 Request as a speaker
Ron Wirtz
Editor, fedgazette
Ron Wirtz is a Minneapolis Fed regional outreach director. Ron tracks current business conditions, with a focus on employment and wages, construction, real estate, consumer spending, and tourism. In this role, he networks with businesses in the Bank's six-state region and gives frequent speeches on economic conditions. Follow him on Twitter @RonWirtz.