District farm conditions are strong
Just about any farmer or rancher will tell you it's a good time to be in their business. Crop prices have climbed back up near the record highs they saw a couple years ago, thanks to crop failures in places like Russia and Australia amid a global economic recovery. International demand for meat and animal products is up too.
Regional agricultural banks are seeing the consequences of this growth, according to a January survey of ag lenders in the Ninth District. The lenders reported an increase in farm incomes, thanks to high commodity prices. More than two-thirds of lenders surveyed said farm incomes increased in the fourth quarter of 2010. This increase was consistent throughout district states (see Chart 1). Their outlook for the coming three months was similarly upbeat, save for lenders in Wisconsin.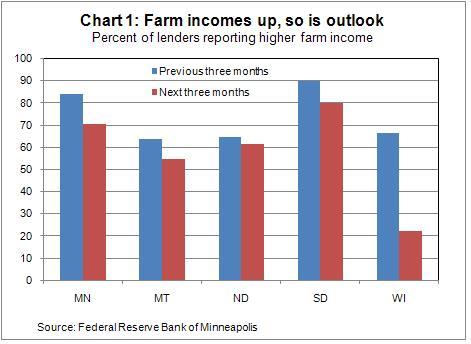 Not only have district farmers' incomes increased, but their net worth has been bolstered by a surge in land values. Values of both irrigated and nonirrigated farmland saw increases in the double digits in the final quarter of 2010 from a year earlier (see Chart 2). Ranchland values and cash rents also rose substantially around most of the district.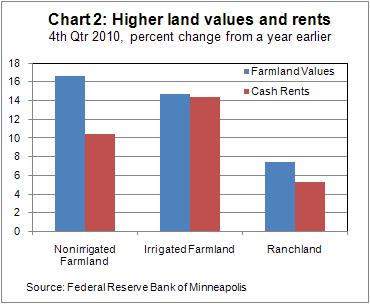 This prosperity has had some ironic repercussions for agricultural bankers. Continuing an ongoing trend, loan demand was mostly flat because farmers are cash-rich, according to district lenders. Repayment rates for loans increased, and most district lenders said there was no change in the number of their customers extending or renewing their loans. Ag bankers are expecting robust market conditions to continue in the near future as well.
The Minneapolis Fed, along with other Federal Reserve district banks, surveys agricultural lenders four times a year. More details and previous survey results are available here.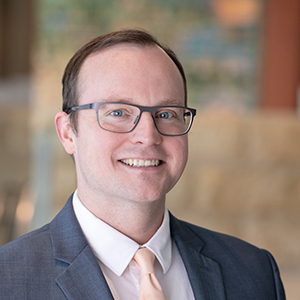 Request as a speaker
Joe Mahon
Director, Regional Outreach
Joe Mahon is a Minneapolis Fed regional outreach director. Joe's primary responsibilities involve tracking several sectors of the Ninth District economy, including agriculture, manufacturing, energy, and mining.