District shipping ports are (mostly) busier
With sluggish economic news of late, it's hard to know what to hang your hat on in terms of the direction of the regional and national economy. Trends in commodities can offer some clues, and recent iron ore shipments from Ninth District ports offer both hope and a bit of angst regarding the near-term economy.
There are six major shipping ports in the district—five on Lake Superior and one on Lake Michigan. Taconite mines on the Iron Range of Minnesota and the Upper Peninsula of Michigan produce the vast majority of the country's iron ore, which means these six ports handle virtually all of the country's iron ore shipments. The port at Superior, Wis., also ships large amounts of coal to ports elsewhere. (There are eight other, small ports in the district, most of which only receive coal.)
Through July of this year, the six ports saw total iron ore tonnage increase by about 10 percent—a nice continuation of the rebound seen last year (see Chart 1). Among the six ports, four saw increases over last year, with big jumps at ports in Duluth, Minn., and Presque Isle, in the U.P. (see Chart 2).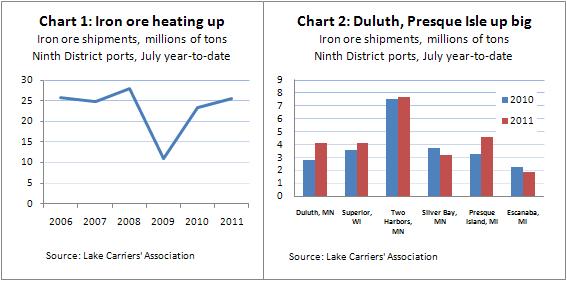 Signs look a little more mixed among other raw materials and the broader shipping industry. The Lake Carriers' Association (LCA) represents 17 American companies and their 55 U.S.-flag vessels carrying raw materials on the Great Lakes. Through July of this summer, U.S.-flag cargos stood at almost 45 million tons, an increase of 3 percent compared with the same point last year. However, coal and limestone—indicators of power production and construction—are down by 5.1 percent and 4.6 percent, respectively, through July of this year.
By tonnage, the twin ports at Duluth and Superior comprise the largest port on the Great Lakes and one of the top 20 ports in the United States, handling an average of 46 million short tons of cargo each year. The port at Superior is the lone major coal exporter in the district, and it handles close to 60 percent of coal shipments throughout the Great Lakes. Shipments there through July were down almost 20 percent over last year, while coal shipments from ports on lakes Michigan and Eerie saw a considerable increase during the same period, according to LCA data.
The Duluth port also handles a significant amount of grain, mostly wheat, and this year's shipments are up almost 50 percent through July. Though total grain tonnage to date—780,000 tons—is a fraction of iron ore and coal shipments, grains have considerably higher value by weight.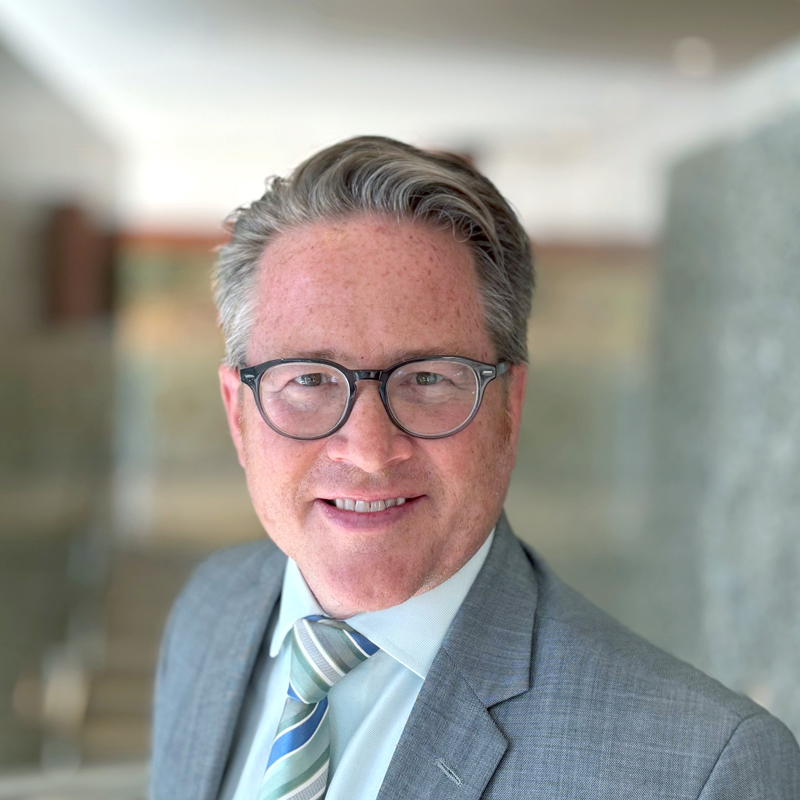 Request as a speaker
Ron Wirtz
Editor, fedgazette
Ron Wirtz is a Minneapolis Fed regional outreach director. Ron tracks current business conditions, with a focus on employment and wages, construction, real estate, consumer spending, and tourism. In this role, he networks with businesses in the Bank's six-state region and gives frequent speeches on economic conditions. Follow him on Twitter @RonWirtz.