Endowments climbing, still in the hole
Despite a nice bounce-back year for most university endowments, many continue to lick financial wounds inflicted by the stock market collapse in 2008 and 2009.
Though they hold a low profile, higher-education endowments possess major money. Just in the Ninth District, there are more than 50 endowments with assets of at least $10 million at higher education institutions, and a baker's dozen have more than $100 million in assets, according to figures from the National Association of College and University Business Officers (NACUBO).
In 2007, these endowments controlled upward of $10 billion in assets before suffering steep losses from the financial collapse and recession. Most saw two consecutive years of investment losses, which were compounded by regular, planned disbursements that support annual scholarships and other higher education programs.
Endowments saw a strong rebound in 2010, with total assets growing by almost 10 percent in the district. (Change in assets includes investment growth plus monetary donations to the fund—say, from alumni—minus disbursements.) A handful of endowments saw growth of 16 percent or better, including those at Carthage College, Northland College and Viterbo University (all in Wisconsin), the University of St. Thomas (Minn.), Minnesota State University-Mankato, University of Mary (N.D.), Augustana College (S.D) and the Montana Tech Foundation.
Yet despite the recent growth, the large majority of endowments are well short of assets held in 2007. Among 31 endowments that reported assets in both 2007 and 2010, collectively they are down 15 percent over this period. The district's largest endowment—$2.2 billion, at the University of Minnesota—is $600 million smaller than it was in 2007.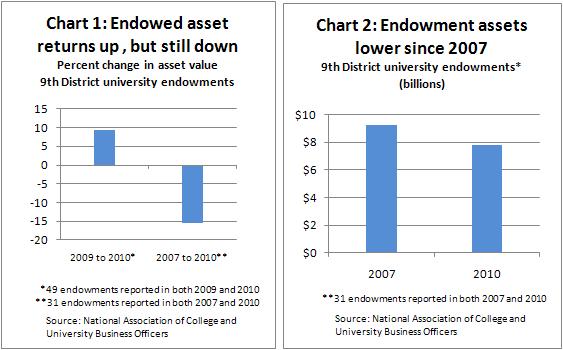 According to NACUBO figures, only two endowments in the district have more assets today than in 2007: the University of South Dakota Foundation (6 percent higher), and the College of Saint Benedict (in Minnesota, about 4 percent higher).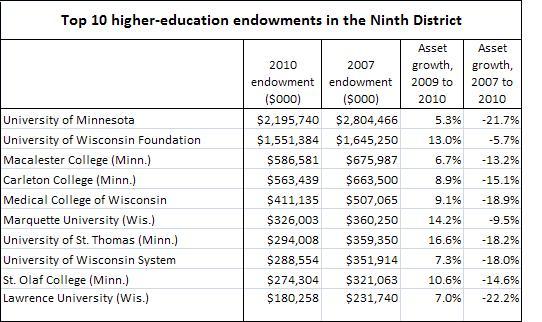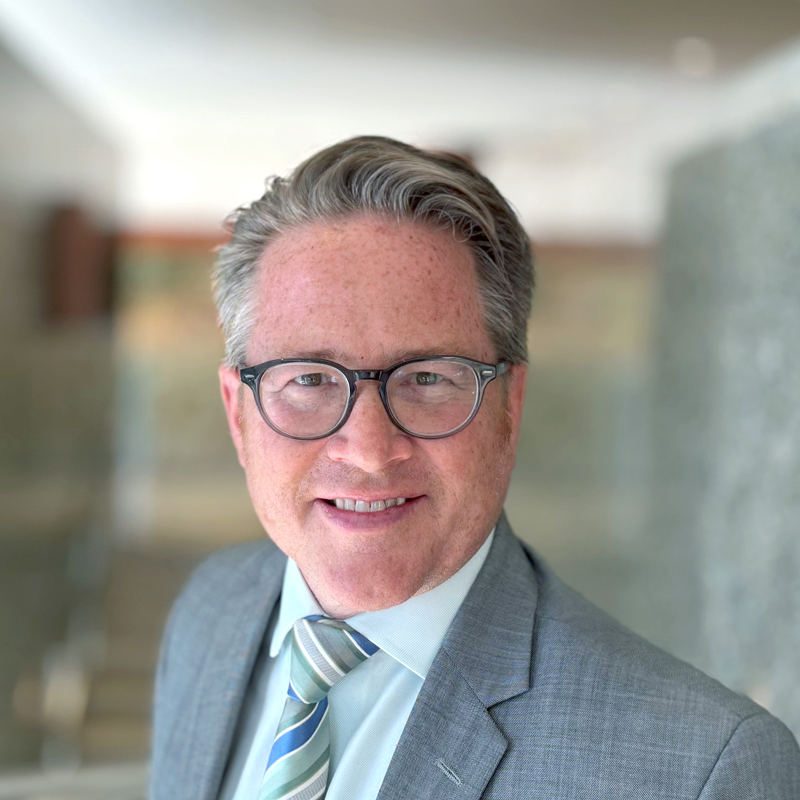 Request as a speaker
Ron Wirtz
Editor, fedgazette
Ron Wirtz is a Minneapolis Fed regional outreach director. Ron tracks current business conditions, with a focus on employment and wages, construction, real estate, consumer spending, and tourism. In this role, he networks with businesses in the Bank's six-state region and gives frequent speeches on economic conditions. Follow him on Twitter @RonWirtz.