Flyover country? Not for Fortune 500 HQs
For most people, the words "Fortune 500" conjure up images of Manhattan, maybe Silicon Valley or southern California, even the gleaming office towers of Dallas. So here's a heart-warming economic stocking-stuffer for the holidays: You should be thinking "Minnesota."
In spite of real and perceived obstacles—from weather to business environment—the Gopher State has been a decades-long powerhouse in nurturing Fortune 500 companies, according to recent research by J. Myles Shaver, a professor of strategic management at the Carlson School of Management at the University of Minnesota.
Shaver is a Twin Cities transplant. He said he was aware of the fact that the Twin Cities metro area was home to a number of major corporations, but once here, "I soon found out that the extent of HQ activity was much more than I thought." So he began to look into the matter "with the recognition that such things evolve over decades. I wanted to start with getting a picture of what this looks like now and what things have looked like over the last 50 to 100 years."
Today, Minnesota has 20 companies on the Fortune 500 list—almost double the number (11) from 1955—and is tied with New Jersey and Virginia for eighth-most in the country. These companies represent such diverse industries as health care (Medtronic and UnitedHealth Group), food (Land O' Lakes and Supervalue), retail (Best Buy and Target), energy (Excel Energy), finance (Ameriprise and U.S. Bancorp), manufacturing (3M) and mining/agriculture (Mosaic).
New York, California and Texas have the most Fortune 500 headquarters, each with over 50. But on a population-adjusted basis, Minnesota is tops in the nation, and by a considerable margin (see table). In fact, flyover country avails itself rather well, with Nebraska, Illinois, Ohio and Michigan also making this top 10 list on a population basis.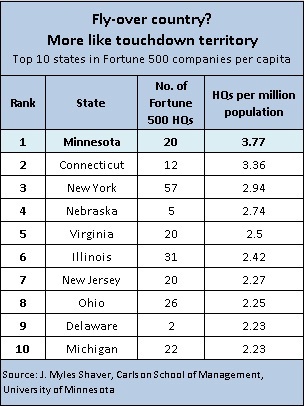 Because of the size of Fortune 500 companies, people tend to think of them as economic mainstays, unchanged over the years. But in fact this list sees significant turnover through the course of decades. Shaver found that only three of Minnesota's 11 Fortune 500 companies in 1955 remain today: 3M, General Mills and Hormel. Others on the list merged with other firms (Seeger Refrigerator, ranked 264th in 1955, merged with Whirlpool the same year) or were bought outright (Pillsbury, ranked as high as high as 61st in 1987 and acquired by General Mills in 2001). Archer Daniels Midland ranked 155th in 1955 and 39th in 2011, but is no longer on Minnesota's list because it moved its headquarters from Minneapolis to Decatur, Ill., in 1968.
Minnesota's net gain of nine Fortune 500 firms over this period—seventh best in the country—also tells a fraction of the turnover story. Since 1955, a total of 51 Minnesota firms have been on the Fortune 500 list, and 31 subsequently fell off the list by 2011, leaving the current list of 20. The state also has 16 firms on the Forbes 500 list of the nation's largest private firms, including the top company, Cargill. That ranks ninth nationally and second (to Missouri) on a population basis.
Shaver pointed out that few companies relocate their headquarters to Minnesota. Combined with a lot of turnover among the nation's biggest companies, he said the state has shown a penchant for "creating and growing new businesses that grow really big." The reasons behind Minnesota's success are mostly a matter of conjecture.
Some cite the state's strong education system or its hard-working Nordic culture. "Most of the answers to 'why' are an individual's pet theories," said Shaver, adding that common explanations may have some merit, "but I think they're incomplete at best."
Shaver expects to tackle the source of Minnesota's success in future research. What he's learned so far is that the state and Twin Cities in particular have "an amazingly dynamic business community. When my colleagues around the world ask if I like being here, this is one of the things I note. Most are surprised by what is here."
A powerpoint presentation of Shaver's research is available here.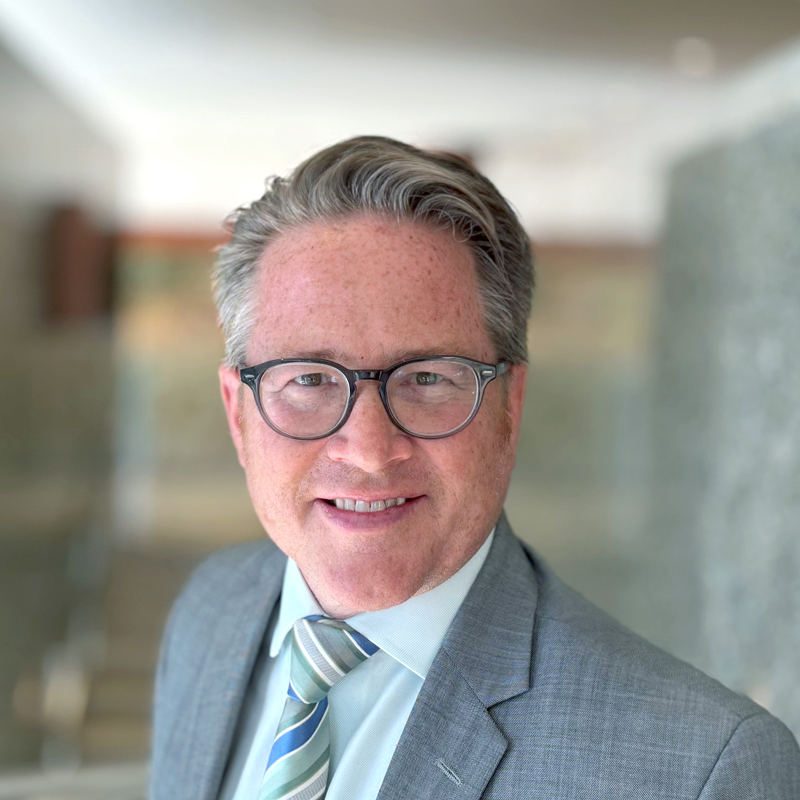 Request as a speaker
Ron Wirtz
Editor, fedgazette
Ron Wirtz is a Minneapolis Fed regional outreach director. Ron tracks current business conditions, with a focus on employment and wages, construction, real estate, consumer spending, and tourism. In this role, he networks with businesses in the Bank's six-state region and gives frequent speeches on economic conditions. Follow him on Twitter @RonWirtz.