Manufacturing activity up again in 2011; faster growth expected in 2012
Overall manufacturing activity increased significantly in 2011 over 2010, according to the November survey of manufacturers conducted by the Federal Reserve Bank of Minneapolis and the Minnesota Department of Employment and Economic Development. The solid increase was evident across most of the Ninth District, especially for medium to large firms. Respondents expect even stronger growth in 2012 for their firms as well as moderate growth for the overall economy.
The manufacturing rebound that started in 2010 continued in 2011. Orders were up in 2011 for 53 percent of survey respondents; orders were down for 28 percent. Over a third reported increased employment in 2011, while 23 percent reported reduced staffing. Manufacturers increased prices and productivity as well. However, profits slid, possibly due to higher input costs. "Commodity costs are high," complained a small Wisconsin manufacturer. The Dakotas reported the strongest growth in 2011, while Montana and the Upper Peninsula of Michigan saw some declines in activity. Large and medium-sized firms saw strong activity, while small employers noted slight declines. Wages and benefits grew about 2 percent in 2011 compared with 2010.
Credit conditions were somewhat mixed. Over the past three months, 19 percent of respondents indicated that access to credit had deteriorated, while 8 percent reported improvement. The biggest improvement occurred in North Dakota, while the greatest tightening occurred in Montana and western Wisconsin. Respondents from large firms noted improving conditions, while respondents from smaller firms saw declining conditions. "Greater collateral, personal guarantees, more paperwork and higher down payment," commented a medium-sized Wisconsin firm.
Manufacturers across the district expect stronger growth in 2012 (see chart). The number of orders and total production are expected to increase, buoyed by solid productivity gains and higher selling prices. As a result, profits should increase. "The future is so bright," commented a Montana manufacturer. These expectations are widespread across the district and across firm sizes.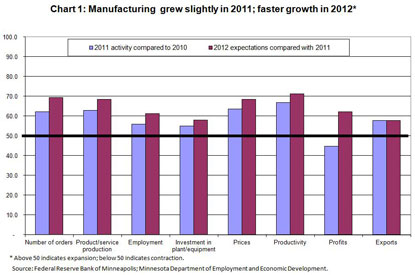 Manufacturing employment is expected to grow in 2012, as a third of the respondents expect to increase hiring, while only 10 percent expect to decrease employment. Wages and benefits are expected to increase by around 2 percent. Increased exports are anticipated across the district in 2012, except in Montana, where respondents predict some declines.
Manufacturers also have a positive outlook for their state economies. They expect modest economic growth and increases in overall employment, corporate profits, capital investments and consumer spending. However, "inflation is a concern," commented a small South Dakota manufacturer. Overall prices may heat up, as nearly two-thirds expect higher inflation, while only 3 percent see lower inflation. "Raw material prices have been increasing systematically for the past 18 months," commented a small Montana manufacturer.
Manufacturing survey data [xls]
Ninth District Manufacturing Business Conditions Survey Methodology - November 2011