Still a (budget) hole, but getting slowly shallower
States continue to scramble to balance their budgets. Revenues have been ticking higher, but some district states are still in a budgetary funk.
The National Conference of State Legislatures (NCSL) recently released a report that looked at current and projected state budgets several years out for all 50 states and Puerto Rico, based on data collected from legislative fiscal directors in March 2011.
State lawmakers faced budget gaps totaling $84 billion in fiscal year 2011, and another $10 billion or so showed up afterward as either tax revenue or costs failed to meet projections. Though huge, it nonetheless represented a 50 percent drop in cumulative state budget deficits from 2010, at $174 billion.
State budgets in 31 states and Puerto Rico find themselves with a deficit totaling $86 billion for FY2012. While that might not seem like an improvement, the coming fiscal year is the first in several that includes very little or no federal stimulus funds. In each of the past two fiscal years, states received about $60 billion or more to help close budget deficits. Major improvements are projected for 2013, when budget gaps are expected to fall to $31 billion among 19 states—less than half of what state budget officials predicted just four months earlier.
Among district states, there is good news and not-so-good news. Minnesota and Wisconsin are in the process of filling budget holes of $5 billion and $3.6 billion, respectively, for the coming 2012-13 biennium. In Minnesota's case, that's an improvement of about $1 billion since an earlier November forecast, but it still represents about 14 percent of the state's general fund.
In March, South Dakota was the first state in the nation to approve its 2012 budget, closing a $127 million deficit with cuts to government agencies, Medicaid and education. Nineteen states did not report a budget gap for 2012, including Montana and North Dakota.
Deficits have resulted mostly from a decline in tax and other revenues; expenditures are politically more difficult to cut in the short term, which creates structural budget imbalances that are often dealt with through temporary spending cuts, accounting maneuvers and other short-term fixes. That's also why budget deficits will linger in states like Minnesota and Wisconsin (see table) unless structural reforms are enacted that better balance future revenues and expenditures. Without structural budget reform, the only hope of not running into annual budget deficits is for the economy (and tax receipts) to grow.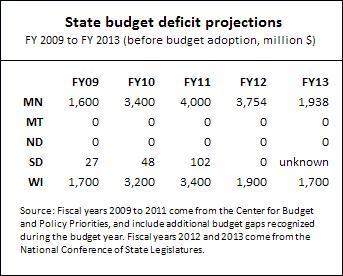 Almost 85 percent of U.S. states saw peak revenues in 2008, including every district state, save for North Dakota, which happens to be the only state that has not experienced a decline in tax collections on a year-over-year basis since the recession began. Wisconsin expects to surpass its peak 2008 revenue in 2012, while Minnesota budget officials predict it will clear that bar one fiscal year later. South Dakota's general fund receipts have dropped only slightly since 2008—hovering within $25 million of the state's revenue peak that year of $1.16 billion, including its projections for 2012. It has not made estimates beyond that date.
Montana is one of just two states (New Mexico being the other) that doesn't expect general fund collections to find their new peak until FY2015, though the NCSL report noted that outlook could change depending on oil production from the Bakken formation on the state's eastern edge.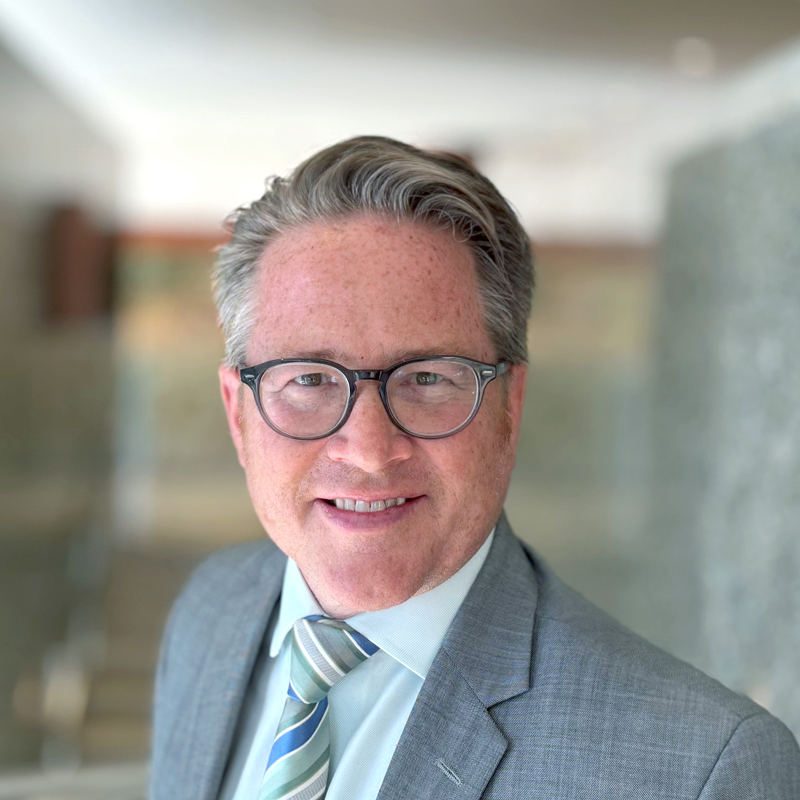 Request as a speaker
Ron Wirtz
Editor, fedgazette
Ron Wirtz is a Minneapolis Fed regional outreach director. Ron tracks current business conditions, with a focus on employment and wages, construction, real estate, consumer spending, and tourism. In this role, he networks with businesses in the Bank's six-state region and gives frequent speeches on economic conditions. Follow him on Twitter @RonWirtz.