The wrong kind of job growth?
The combination of huge federal budget deficits, the recession and the November midterm elections (which saw an unprecedented swing toward Republican and Tea Party candidates) has put the size of government—not only spending, but overall employment—firmly under the microscope.
According to the most recent state-level data available, government's overall share of total employment in the district has risen, from 15.6 percent in November 2007 to 16.4 percent three years later, according to the Bureau of Labor Statistics. It went up even more at the national level, from 16.2 percent to 17.1 percent.
But those figures obscure several tributary employment trends that feed into the broader development. None is more central than the decline in private sector employment (see Chart 1). Government's overall employment share would have increased even if no jobs were added to the public sector.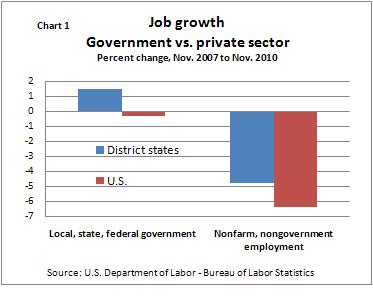 And that was actually the case at the national level; while federal employment increased by 3.6 percent nationwide, those gains were more than offset by employment losses among state and local governments (which are also much larger in terms of total employment size).
The trend is reversed in the Ninth District; there was no growth in federal government workers in district states, but local and state governments added employees, and overall public sector employment grew by 1.5 percent during this three-year period.
There was little consistency among district states in terms of public sector job activity (see Chart 2). The Dakotas saw gains at every level of government during this three-year period, the likely result of having more robust economies during the recession, particularly in the case of North Dakota. Minnesota, Montana and Wisconsin all saw losses at two levels of government (and in different combinations).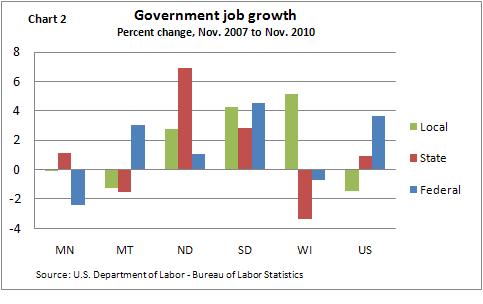 Strong economic growth in North Dakota hasn't made much of a dent in the overall share of public sector employment there (see Chart 3). Montana's public sector employment continues to be high despite losing about 1,000 government jobs since late 2007.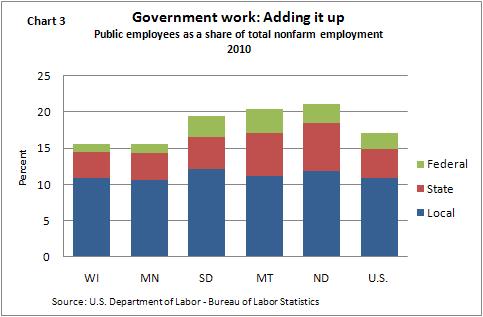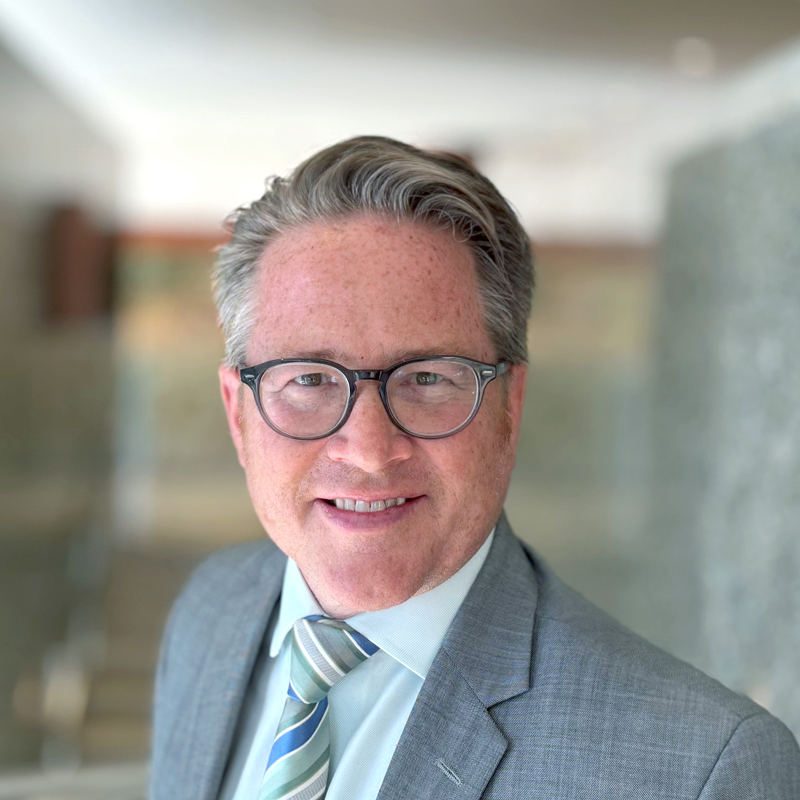 Request as a speaker
Ron Wirtz
Editor, fedgazette
Ron Wirtz is a Minneapolis Fed regional outreach director. Ron tracks current business conditions, with a focus on employment and wages, construction, real estate, consumer spending, and tourism. In this role, he networks with businesses in the Bank's six-state region and gives frequent speeches on economic conditions. Follow him on Twitter @RonWirtz.