District broadband: Digital desert or open highway?
It might feel like Facebook and YouTube have wriggled their way into every corner of the planet. But there exists a place that not even Mark Zuckerberg can penetrate: dead zones—those digital deserts that lack broadband Internet capacity.
Measuring dead zones is an imprecise exercise, but the federal government has made substantial investments in tracking them, mostly via federal economic stimulus funding, to better understand and expand the nation's broadband capacity.
What can be gleaned from existing data and various research efforts is that broadband is more widely available than conventional wisdom and the public debate over the "digital divide" might suggest. Sizable geographic dead zones exist in the district even today, but they tend to affect comparatively few residents. At the same time, federal standards for broadband access are a bit outdated, and a narrow focus on access ignores other important issues such as speed, affordability and, maybe most important, consumer demand.
Got broadband?
Broadband is an umbrella term for telecommunications pipelines that offer more bandwidth, or speed, than the dial-up modems that were prevalent in the 1990s. The Federal Communications Commission has adopted the stance that broadband Internet access, once a luxury, is an economic necessity today. The FCC and other federal agencies have launched programs to accelerate broadband deployment in underserved areas in hopes of not only driving economic growth in rural America, but also expanding the online marketplace nationwide, creating jobs and business opportunities across the country. 
Broadband availability became a federal priority in 2009, when the American Recovery and Reinvestment Act allocated billions of grant dollars to expansion efforts, including $320 million for a few dozen projects in six district states (some projects were outside the district in Michigan and Wisconsin). The stimulus program also funneled almost $300 million to states and U.S. territories to help them gather semiannual data on broadband geographic penetration, capacity and uptake.  
This information, the most granular and comprehensive available, is used by the federal National Telecommunications and Information Administration to publish nationwide data on broadband access. The NTIA has set a download speed of 768 kilobits per second (Kbps) as the minimum threshold for broadband. Measured by population, virtually everyone—about 99 percent of households across the United States and Ninth District—has access at this or higher speeds, according to the NTIA.
On a map, however, the picture looks a bit different. NTIA geographic data show that Ninth District states still have large areas devoid of broadband (see district map). Significant dead zones remain in northern Minnesota, the Upper Peninsula of Michigan, northwestern South Dakota, and central and western Montana.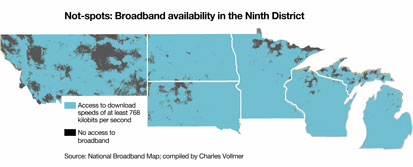 These large geographic not-spots stem from sparse population and rough terrain that increases the cost of broadband coverage; in relatively more populated western Montana, for example, mountains create considerable dead zones.
In fact, most households have access to speeds that are considerably higher than the federal threshold of 786 kbps, which was considered fast a decade ago but is today's dial-up equivalent in terms of utility. Even in rural Montana, 90 percent of residents have access to download speeds of at least 3 megabits per second (Mbps), and rural access rates are even higher in other district states, according to the NTIA (see
Chart 1
).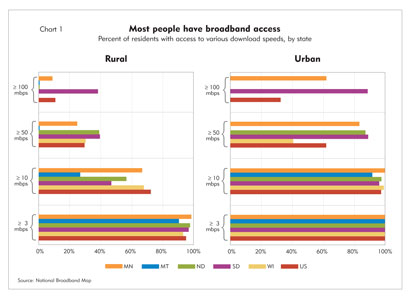 Most of that faster throughput comes from mobile broadband, but wired and fixed wireless also play significant roles in every state (see Montana map for illustration).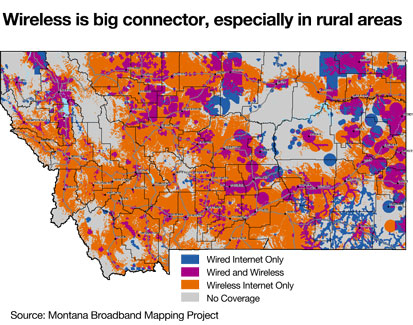 I'll take the slow lane
While broadband access might be widespread, that doesn't mean all states are created equal in terms of capacity. In Montana, rural and urban (see Chart 1) residents alike tend to lag those in other states in access to faster speeds, particularly at the top end, while South Dakotans have exceptionally good access, especially at higher speeds.
But broadband access does not equal usage, and here's where the broadband picture becomes fuzzier, because not all states have looked beyond mere availability. Minnesota and Michigan are two district states that have investigated socioeconomic facets of broadband usage. While virtually all Minnesota households have broadband access, only 72 percent buy the service—though that's higher than the national subscription level of 67 percent.  
Public debate over access often implies that cost limits broadband penetration.  But according to a 2011 survey by Connect Minnesota, 60 percent of respondents who knew the price of their broadband service reported paying less than $50 a month; one in five paid less than $30.
There are 470,000 households in Minnesota that choose not to subscribe to broadband services. Cost is certainly a concern; the Connect Minnesota survey identified cost as a main barrier to broadband adoption for about one-quarter of respondents (see Chart 2). Those found most likely not to subscribe are senior citizens, racial minorities, people with disabilities and those with low income or little education.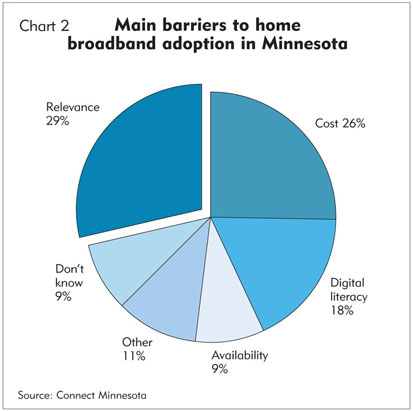 At the same time, even more people declined to subscribe because they didn't view broadband as a relevant service for them. So in the midst of the debate over the need for speedy Internet access, a significant share of households in Minnesota—and probably in other district states as well—prefers to remain in the Internet slow lane.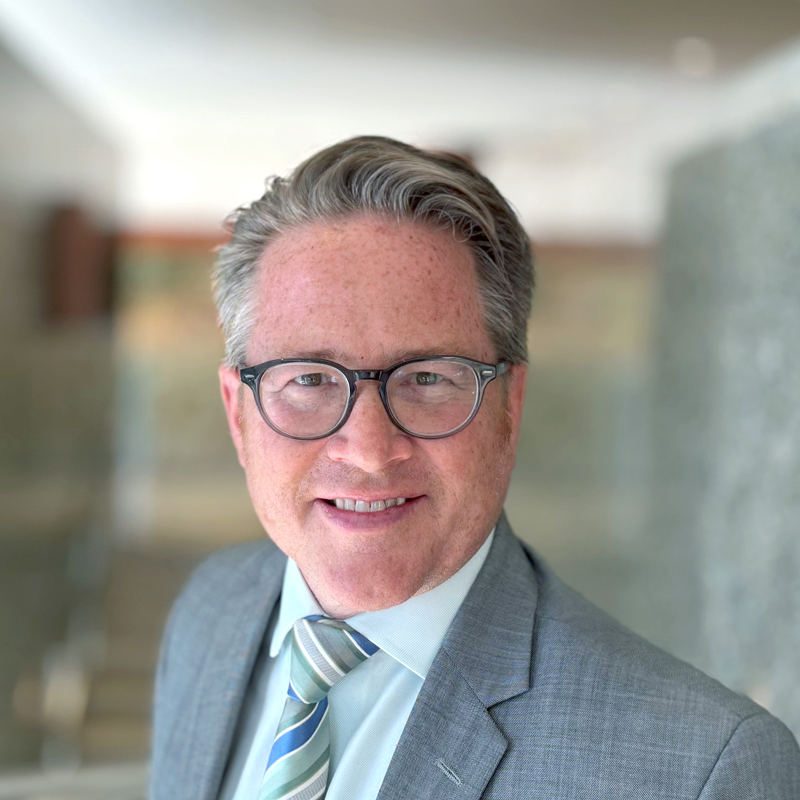 Request as a speaker
Ron Wirtz
Editor, fedgazette
Ron Wirtz is a Minneapolis Fed regional outreach director. Ron tracks current business conditions, with a focus on employment and wages, construction, real estate, consumer spending, and tourism. In this role, he networks with businesses in the Bank's six-state region and gives frequent speeches on economic conditions. Follow him on Twitter @RonWirtz.