New rental available, comes with yard
Anyone following the news knows the saga of underwater homeowners and those even more unfortunate who have already lost their homes to foreclosure.
But as markets and entrepreneurs are wont to do, they have built a new business model—or at least an updated and expanded one—from the wreckage of the housing crash. Many formerly owner-occupied houses are now hitting the market as rental units, taking advantage of low vacancy rates, giving owners a chance to hang onto homes that would otherwise cost a small fortune to unload, encouraging investors large and small to get into the rental property business and providing a badly needed release valve for tight rental markets.
Rochester, Minn., for example saw a boom in single-family housing construction before the recession, and now many of those homes are spilling into the rental market. Since 2008, the number of rental conversions has grown steadily every year—to more than double the number of new multifamily permits over the same period (see Chart 1).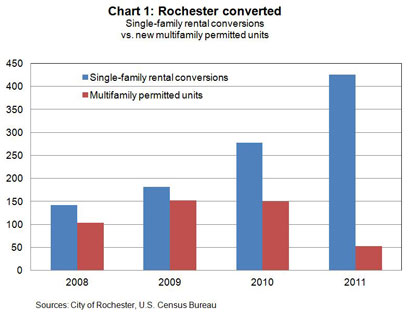 Diana Kling, with the city's permit office, said: "It's phenomenal. We get so many new ones every day." Many are from homeowners who are moving and can't sell their house. Small investors are also buying foreclosed homes and renting them out. Kling said one woman told her "she was getting into this to make more money than she could in the stock market."
Minneapolis has seen a similar pattern, with one-third more new rentals coming from single-family conversions than from new multifamily permits since 2007. That ratio is exacerbated further when multifamily demolitions are included (see Chart 2).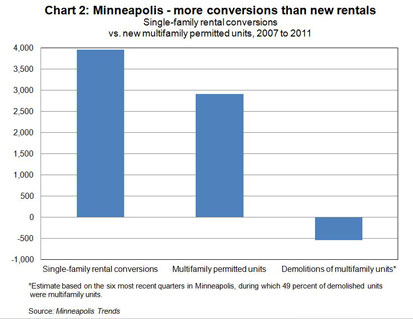 Tracking problem
Despite the apparent influx, no one knows the total supply or the vacancy rates of these wannabe rental units or their effect on the traditional apartment sector. The matter is difficult to track on a large scale because single-family homes have always been part of the rental market, especially near colleges. Many cities do not track transitions, and those that do rarely aggregate such figures or make them publicly available. In the Twin Cities, "it's certainly having an impact, but it's impossible to get your arms around," said Brent Wittenberg, vice president at Marquette Advisors, a Twin Cities real estate consultancy that produces a quarterly review of that rental market.
HousingLink, an affordable housing clearinghouse in the Twin Cities, has started to measure this "shadow" housing market. Its fourth quarter 2011 Rental Revue report estimated that shadow units—single-family homes, duplexes, condos and townhomes not typically tracked by real estate surveys—made up 65 percent of all advertised rental units.
Sue Speakman-Gomez, president of HousingLink, said via email, "This influx of properties is definitely affecting the rental market. We have heard of several cases where duplex or condo rentals have actually reduced rental rates due to single-family and townhome rentals competing for the same renters."
However, HousingLink has little solid evidence of the expansion of this market since the recession because it has market listings for only about the past year or so.
But the conversion trend is certainly big enough to get noticed at city hall; a number of municipalities have recently increased fees related to rental conversions. Duluth, Minn., for example, instituted a $3,500 fee for converting owner-occupied housing to rental.  Minneapolis approved a $1,000 inspection fee for converted homes "so we could hire some additional inspectors to inspect these properties quickly," said JoAnn Velde, a manager with the city's housing inspection unit.
Other communities are fighting the trend in conversions by capping the percentage of single-family homes that can be rented. In West St. Paul, where 40 percent of all housing units are rentals, city leaders capped nonowner-occupied homes on a given block at 10 percent (those already exceeding the limit were grandfathered in). Similar ordinances (though with higher caps) have been passed in the Minnesota college towns of Mankato, Northfield and Winona, the last of which is being challenged by three homeowners.
The fear is that foreclosures-turned-rentals owned by absentee landlords will hurt neighborhoods already reeling from the housing slump. Brent Hayden, CEO of Renters Warehouse of Golden Valley, said that's the wrong way to think about this trend. The company, started in 2007, manages about 1,500 rental units for owners large and small within a 75-mile radius of the Twin Cities.
"We're showing them it's different," Hayden said. For starters, he said, higher credit standards for new mortgages mean that many would-be buyers are still renters, which translates to a higher-quality tenant market with better credit scores than is typical. "It's not for everyone, but renting is a safe alternative for many."
More than half of the units managed by Renters Warehouse are owned by what he termed "unintentional accidental" landlords—people who want to sell, but have been stymied by the slow housing market. Some can't sell their home but need to because of a recent move, a new job, the purchase of a move-up house or involuntary ownership after the death of a parent.
Renting offers a good value proposition for everyone involved, Hayden said. For example, it won't likely pull an owner out of a foreclosure situation. But for an underwater owner, "it makes sense to rent rather than sell." His average customer has an average of $7,000 in the bank. "If they owe $15,000 on the [underwater] mortgage, they can't sell the house even if they want to." Hayden said such homeowners are fortunate if they can charge rent that will cover a home's full carrying costs. Some homes "might cash-flow a little, maybe even cover costs and break even." But given their financial situation, many are happy to stop the bleeding—"a $100 monthly loss doesn't matter," said Hayden.
And getting such homes rented is also better for the neighborhood, Hayden said. "Foreclosures and short sales will hurt [neighboring property values] more than rentals."
A market in transition
The rental conversion trend appears to have considerable momentum, given sluggish home buying, continued high rates of both foreclosure and underwater mortgages and low rental vacancy rates. In Minnesota, 18 percent of all homeowners with mortgages were underwater in the fourth quarter of 2011, according to CoreLogic, a financial services firm.
There is also some evidence that foreclosed homes now owned by banks might hit the rental market in greater numbers. In March, the Federal Reserve issued guidance to banks interested in renting so-called real-estate owned (REO) properties still on their books. In March, Bank of America announced an initiative that allows a small number of homeowners at risk of foreclosure to rent their existing home in exchange for their deed.
This follows a pilot program by Fannie Mae to sell 2,500 REOs to investors willing to rent them out. Fannie Mae and Freddie Mac own the largest number of foreclosed homes—180,000, along with 1.3 million other nonperforming loans, the majority of which are more than a year delinquent. In a memo seeking public comment on the pilot, the Federal Housing Finance Agency, which regulates the two enterprises, said that "as more nonperforming loans move through the foreclosure process and into REO inventories, we need more disposition strategies."
But the tenure switch toward renter occupancy is likely temporary—a transition phase for a recovering ownership market. A study of housing tenure by the Harvard Joint Center for Housing Studies found that hundreds of thousands of homes (single-family as well as condos and townhomes) switch from owner- to renter-occupied and vice versa every year. Net flow favored owner-occupied homes in the early 2000s when prices rose and renters grabbed homes before prices rose further. But the housing crash changed the underlying economics, swinging demand toward rentals.
But most rented homes are unlikely to remain that way over the long term. Already, at least on paper, housing prices have fallen to the point where conventional price-to-rent ratios in many markets favor home buying. Eventually, long-term patterns should reestablish themselves, according to the report. "Given the historically high rates at which single-family homes exit the rental market, many units that are currently for rent are likely to return to owner occupancy once the housing market stabilizes."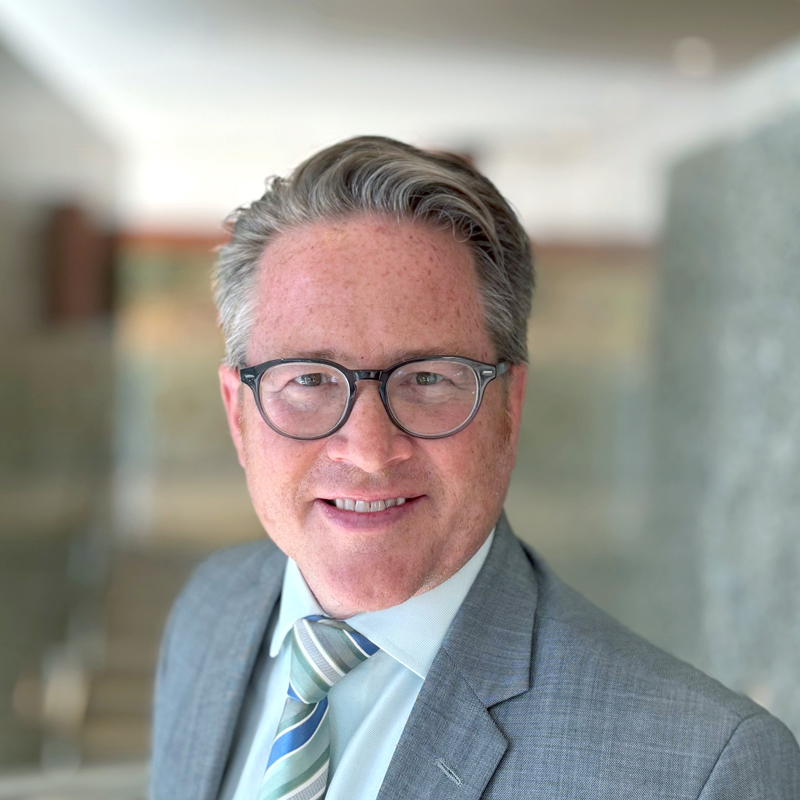 Request as a speaker
Ron Wirtz
Editor, fedgazette
Ron Wirtz is a Minneapolis Fed regional outreach director. Ron tracks current business conditions, with a focus on employment and wages, construction, real estate, consumer spending, and tourism. In this role, he networks with businesses in the Bank's six-state region and gives frequent speeches on economic conditions. Follow him on Twitter @RonWirtz.