Rental prices: On the rise after a nice slumber (for renters)
A tight rental market is likely to be a wake-up call for rents that have been mostly flat for some years.
Mary Rippe, president of the Minnesota Multi Housing Association, said that some MMHA members "see rent levels at roughly the same level as 10 years ago," after considering inflation and annual maintenance costs. Many are viewing the current environment as a chance to catch up on postponed capital investments, she said.
Nationally, rent levels were down about 6 percent (combined) in 2008 and 2009, and have increased about 7 percent over the subsequent two years, according to Mark Obrinsky, from the National Multi Housing Council. "There has been a clear tick up in rents, but [owners] are trying to recapture growth that was lost" right after the recession. Rents now, he said, are only about 1 percent higher than before the recession, and that doesn't factor in inflation. "Renters don't care about inflation adjustments."
But property managers do, because inflation eats into operating margins if rents aren't also rising. Macro data on median rental prices from the American Community Survey (conducted annually by the U.S. Census Bureau) show that on an inflation-adjusted basis, many Ninth District markets saw median rents actually decline from 2006 to 2010 (see Chart 1).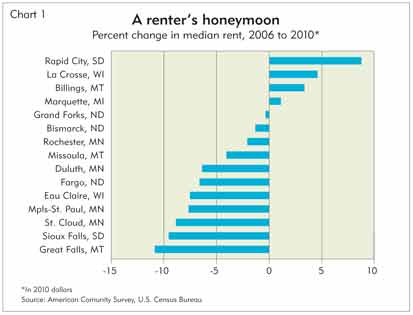 Local data and anecdotes support the stagnant rent trend suggested by the ACS. The city of Duluth, Minn., does an annual rental survey involving more than 2,000 units. It shows that rents in 2011 have mostly declined since 2005 on an inflation-adjusted basis, increasing only slightly for the smallest units (see Chart 2).
In Marquette, in the Upper Peninsula of Michigan, Look Realty manages about 140 rental units. Owner Steve Pelto said he consistently has a vacancy rate of 1 percent to 2 percent, though it's higher regionwide—between 5 percent and 8 percent, depending on the timing of new rentals that have been consistently opening in a western township. Those new units are one reason rent increases have been marginal.
"I might raise the rent from $640 to $650 or $655," said Pelto, and that increase gets eaten up quickly by property maintenance and upgrades, like new windows, carpet replacements and decent appliances, which he said help him retain renters.
At the same time, low vacancy rates are allowing property owners in some markets to finally reel in the rent subsidies and other incentives that were often required to attract and retain tenants over the past decade. For example, in the Twin Cities, so-called asking rents increased a little over 2 percent last year, according to Marquette Advisors, a real estate services firm. But as vacancies have declined, effective rents (asking rents minus any cash-like perks) are slowly closing the gap (see Chart 3). Last year, effective rents in the Twin Cities increased by 4 percent, with a similar increase expected this year, according to Marquette Advisors.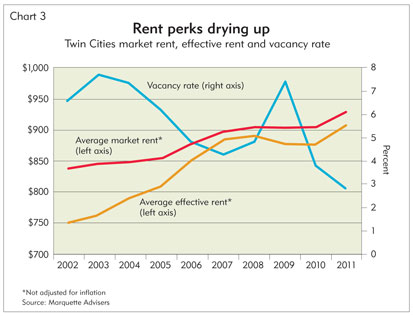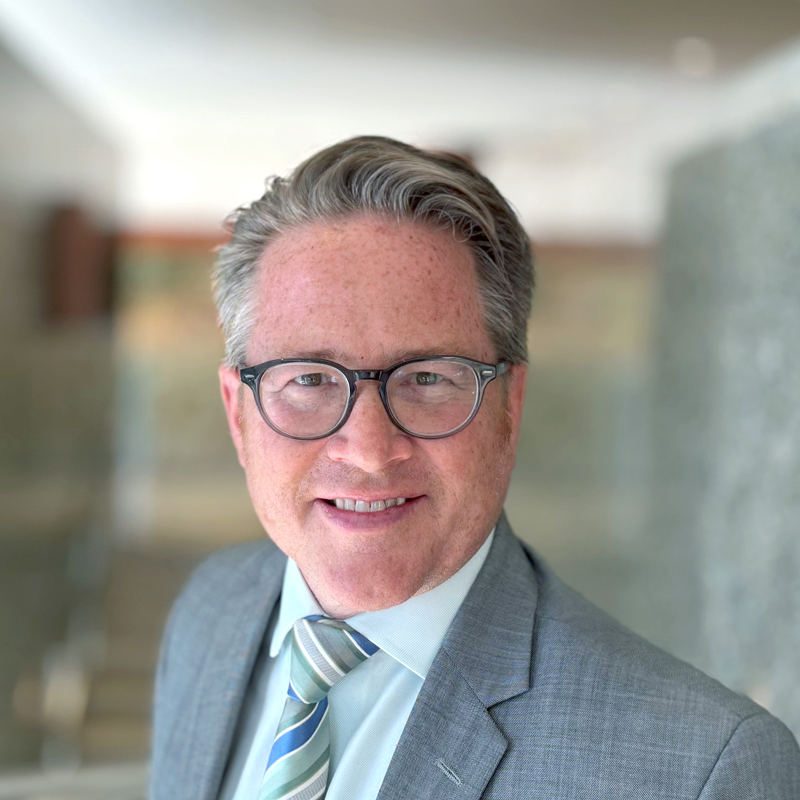 Ronald A. Wirtz
Editor, fedgazette
Ron Wirtz is a regional outreach director at the Federal Reserve Bank of Minneapolis. Ron's primary responsibilities involve tracking current business conditions, with a focus on employment and wages, along with sector-tracking in construction, real estate, consumer spending and tourism. In this role, Ron networks with local businesses in a six-state region, both in person and via various communication channels, and gathers other traditional and nontraditional sources of information to assess current business activity. Ron also gives customized speeches on regional economic activity, and handles advance planning for regular outreach trips to Ninth District communities by Bank President Neel Kashkari. Prior to this role, Ron was the long-time editor of the fedgazette, the Bank's regional business and economics publication, where he conducted research on such topics as employment trends, health care pricing and consolidation, housing, entrepreneurship, public pensions, income mobility, the Bakken oil boom and other topics.