REOs: A speedwagon in Minnesota and Michigan
The sluggish housing story is by now an old one, but there continue to be perplexing elements. Data recently released by the Federal Housing Finance Agency, the regulator of Fannie Mae and Freddie Mac, offer one such nugget.
The latest FHFA report on home foreclosure mitigation efforts by the two government enterprises shows that Michigan leads all states in the number of homes owned by Fannie Mae and Freddie Mac as a result of foreclosure (so-called real estate owned, or REO, in banking parlance). The two agencies held more than 20,000 REOs in Michigan at the end of March, the result of an economy decimated by the recession. The good news is that the state's economy has been rebounding, and the number of REOs there fell by almost 1,700 just since the end of December.
Maybe more surprising, Minnesota ranks sixth nationwide in REOs, at about 8,500—ahead of states with much bigger populations (New York), those more negatively affected by the housing collapse (Arizona, Nevada) or those with seemingly weaker economies (Ohio). California, with seven times the population of Minnesota and an epicenter of the housing crisis, has merely twice the number of REOs. The Gopher State has more than twice as many REOs as neighboring Wisconsin (about 4,000), despite the fact that Fannie and Freddie hold similar portfolios in the two states.
As a percentage of total loans held by Fannie and Freddie, the rate of REOs in Michigan and Minnesota are tops in the country (2 percent and 1.3 percent, respectively; see chart) and almost double the rate of all but six states. The feeder system to REOs—delinquent loans—is not particularly out of whack in either Michigan or Minnesota. The number and rate of seriously delinquent loans (90 or more days past due) are elevated in those two states but well below the national average (see chart) and ranking (positively) in the top half of states.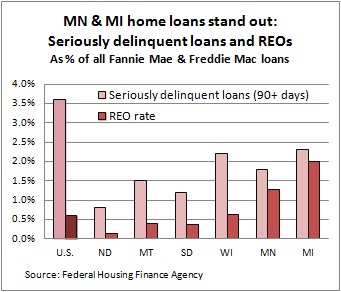 There appear to be few easy answers behind REO rankings. Queried by the fedgazette, officials with FHFA could not pinpoint reasons for Minnesota's high rank, but indicated that elevated loan delinquency rates, a high incidence of both negative home equity and adjustable-rate mortgages, and even fraud might all be involved (a late-June release of the Mortgage Fraud Index ranked Minnesota third-highest in the country).
Another possible reason is regulatory in nature, as Minnesota and Michigan have longer-than-average redemption periods during the foreclosure process. The right of redemption gives an owner a window of time to completely pay off house-related debt (including fees and other costs) and reclaim the house from foreclosure. Typically, the redemption period begins after the foreclosure sale, according to a Fannie Mae handbook on REO sales, during which time the property cannot be marketed, which "puts most of the sales activities on hold" until the redemption period expires.
Currently, only 15 states have any redemption period, and those for Michigan and Minnesota happen to be the longest, running between six and 12 months, depending on the size of parcel. Redemption periods of one to four months are most common; only three states have redemption periods of six months, and the two of them are North and South Dakota, two states that have had neither the economic nor the housing problems seen in the rest of the country.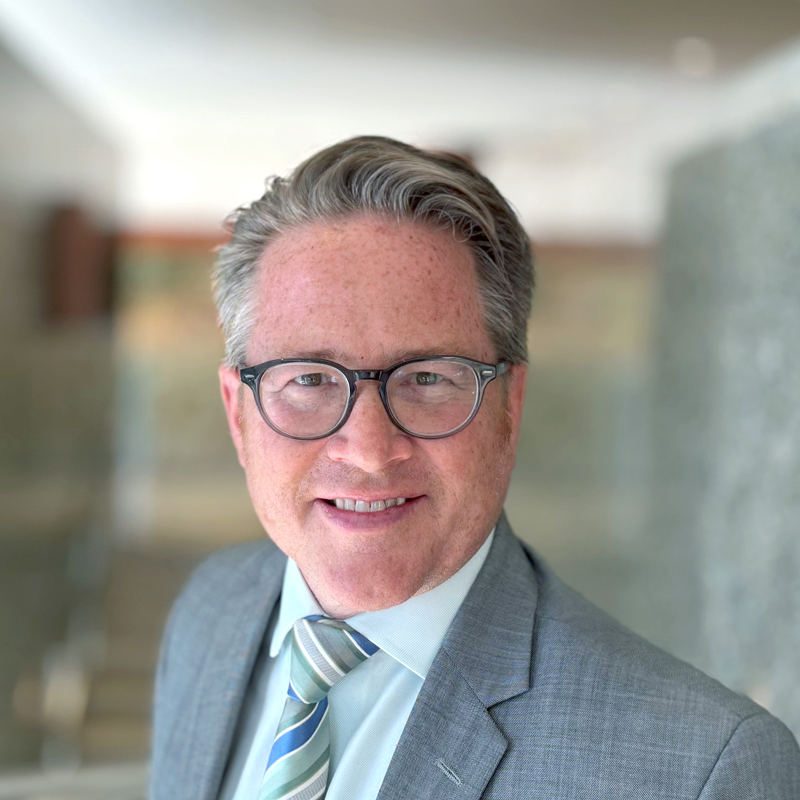 Request as a speaker
Ron Wirtz
Editor, fedgazette
Ron Wirtz is a Minneapolis Fed regional outreach director. Ron tracks current business conditions, with a focus on employment and wages, construction, real estate, consumer spending, and tourism. In this role, he networks with businesses in the Bank's six-state region and gives frequent speeches on economic conditions. Follow him on Twitter @RonWirtz.