A rough road for townships
When springtime comes around this year, the harsh winter effects on roads will become obvious. So too will the effects of lagging state aid for roads to local governments.
The matter is particularly problematic for township governments. Roads make up the single largest expenditure for most of the thousands of township governments that provide public service to the rural expanses spanning the Ninth District. So when budgets get tight, rural roads are heavily affected.
In November, the fedgazette surveyed township officials on the subject of tight budgets and their consequences for public services (see January fedgazette). Among almost 150 respondents (about 85 percent from Minnesota, and the remainder from the Upper Peninsula of Michigan), more than two-thirds identified roads and transportation as the service most affected by tight local budgets (see chart).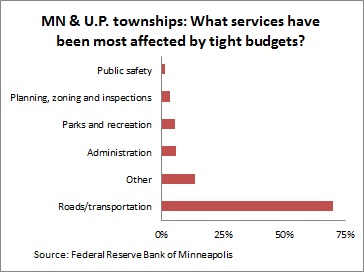 Below are comments that respondents gave the fedgazette permission to share with readers.
"Road work suffers the most, dirt roads don't get as much attention as they should. … (Residents) are not happy; they want the roads smooth but don't realize the money isn't there."Cheryl Lincoln, clerk, Richardson Township, Minn.
"We blade the roads less often and also remove snow less often. We also cannot afford to apply as much gravel to our roads."Jo Ann Kolbaske, clerk, Bismarck Township, Minn.
"With the retirement of a full-time employee, the position was eliminated in our road department. Our former four-person department continues with three people to operate and maintain 63 miles of roads in addition to 90,000 linear feet of sanitary sewer line."Rhonda Peleski, clerk/treasurer, Thomson Township, Minn.
"Our largest expense is roads. There have been no improvements or upgrades. (We're) trying to hang on to the status quo. The public would like to see road upgrades and improvements, such as paved roads, improve drainage issues and dust control. The number one issue would be more gravel for roads. We also have one bridge in jeopardy, (but) no money for repair."Dave Tangen, clerk, Hawley Township, Minn.
"Gravel used for our township roads is becoming scarce, (and) the price per cubic yard is rising dramatically. The price for chloride that we use for dust control is going out of sight."Daniel New, supervisor, Hudson Township, Minn.
"There is not enough money to keep up our roads and bridges the way we need to. There are no pluses when you have to cut services in the townships. Road ditches will fill up with brush and less money for rock on the roads. Soon it will need to be addressed, but what can we do? Still no money. … (T)he budget has to increase to keep up with some of the services, but we can't keep up with them all."Dave Tart, supervisor, Forestville Township, Minn.
"We do not blade our roads as often and only spot-gravel our roads. Snow plowing is important in our township. … The roads have more washboards and are slippery when it rains. If we get a lot of snow, that could be an issue to get the snow plowed off."Lori Handyside, clerk, Clover Township, Minn.
"The cost of road maintenance is always on the rise. Our roads are being hammered by ever increasing size of farm machinery. They were not built to withstand the weights being put on them now."Dale Kulberg, supervisor/chairman, Brookfield Township, Minn.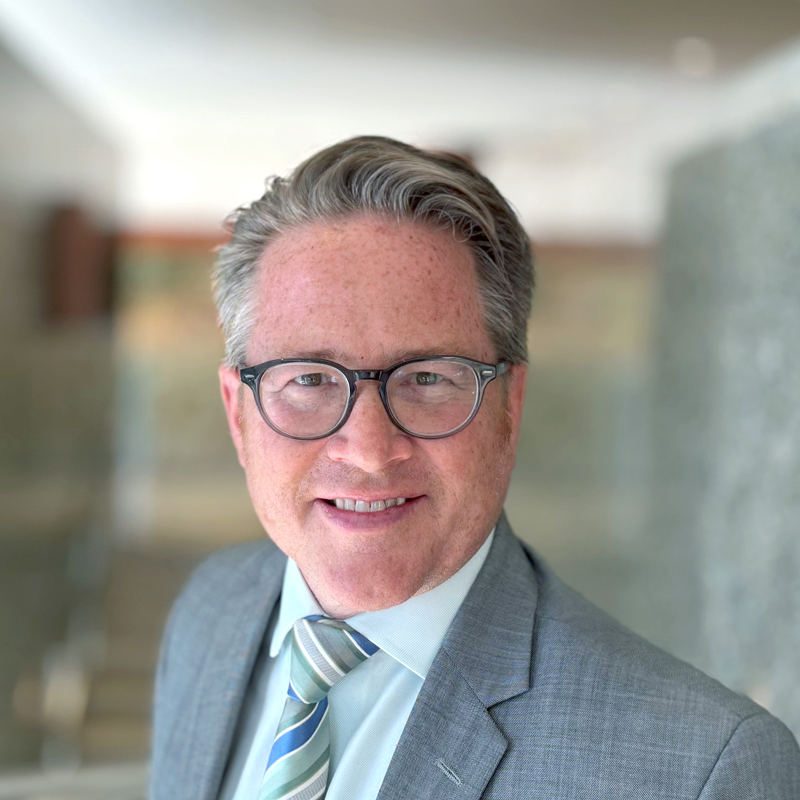 Request as a speaker
Ron Wirtz
Editor, fedgazette
Ron Wirtz is a Minneapolis Fed regional outreach director. Ron tracks current business conditions, with a focus on employment and wages, construction, real estate, consumer spending, and tourism. In this role, he networks with businesses in the Bank's six-state region and gives frequent speeches on economic conditions. Follow him on Twitter @RonWirtz.