Farmland still growing a bumper crop of dollars
It's not exactly news that farmland values are rising. Prices have been on a tear for a decade now, and have even been covered in the fedgazette Roundup before. But just when you think farmland prices can't go higher, they do, and price increases have been especially pronounced in the Ninth District.
According to an annual survey by the U.S. Department of Agriculture, released last week, the value of cropland nationwide increased 13 percent in 2013 from the previous year. The increase has been more dramatic around the district (see Chart 1). The USDA's findings were consistent with the Minneapolis Fed's most recent survey of ag lenders.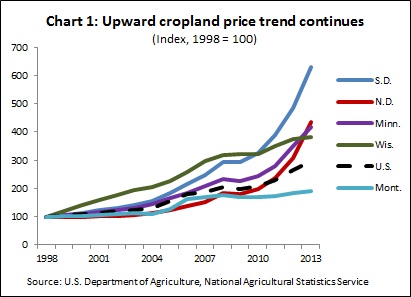 North and South Dakota saw the biggest increases among all states last year, at 42 percent and 30 percent, respectively. The big jump in North Dakota farmland prices is probably driven in part by the oil boom there. But price growth is primarily tied to high commodity prices and strong crop production as the Corn Belt pushes farther west.
Cash rents for cropland, which are directly connected to what can be produced on it, increased by 12 percent in each of the Dakotas and by 18 percent in Minnesota, compared with the 9 percent national average (see Chart 2). Average farmland prices are also lower in the Dakotas—about half the national average in South Dakota—so a dollar increase in these states also has a larger effect in percentage growth terms.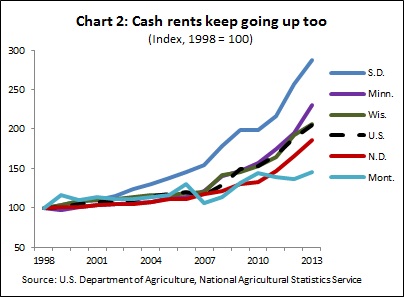 Nationwide, the value of farm real estate, including buildings and other land on farms, went up 9 percent. The slower pace of overall farm real estate growth compared with cropland suggests that crop production is a primary driver of price increases. In Wisconsin, where prices are near the national average and last summer's drought had a bigger impact, both prices and rents saw a much lower rate of increase.
There are whispers of a bubble in farmland values—a disconnect between the market price of land and its fundamental production value. So it's worth looking at the ratio of cropland prices to rents, a similar measure to the price/earnings ratios used for evaluating stocks (see Chart 3).Here the news is mixed.
Price/rent ratios are elevated relative to their levels 10 and 15 years ago, but they've come down nationwide (and in a few district states) since their run-up prior to the Great Recession. However, there was only a short-lived lull in this ratio in Minnesota and especially the Dakotas. It will be interesting to watch what happens to farmland rents and prices if crop prices continue to fall, as they are currently predicted to do.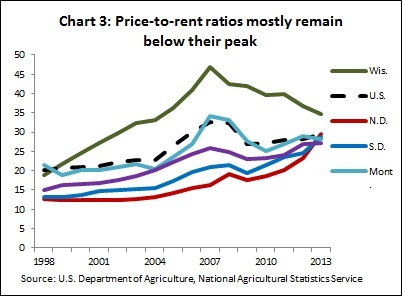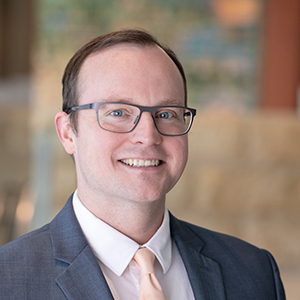 Request as a speaker
Joe Mahon
Director, Regional Outreach
Joe Mahon is a Minneapolis Fed regional outreach director. Joe's primary responsibilities involve tracking several sectors of the Ninth District economy, including agriculture, manufacturing, energy, and mining.