Healthy jobs checkup: Minnesota closing job gap with Wisconsin
Don't look over your economic shoulder, Wisconsin, because the Gopher State is fast catching up on the total number of jobs.
In the years preceding the Great Recession, Wisconsin had a sizable cushion of jobs over its westerly neighbor (see Chart 1), much of it due to the fact that Wisconsin's population is slightly larger. Both states saw a considerable decline in jobs during the recession, but Minnesota has been adding jobs during the recovery at a much faster rate. Since 2005, the jobs gap has been sliced from 137,000 to just 35,000.
Some of the closure has come from faster population growth in Minnesota. Since 2005, Minnesota has added almost 60,000 more people than Wisconsin over the same period, and the population gap shrank to less than 200,000 people. All other things being equal, population growth alone would have sliced the jobs gap between the two states by upward of 30,000.
But Minnesota firms are also simply doing more hiring than those in Wisconsin. A big part of job growth in Minnesota has been in health care, a sector that was already larger in Minnesota in 2005 in terms of total jobs (see Chart 2), according to data provided to the fedgazette by EMSI, a private labor market data firm. Since 2005, Minnesota has added 53,000 more health care jobs (19 percent growth), compared with about 28,000 (about 10 percent growth) in Wisconsin over the same period (see Chart 2).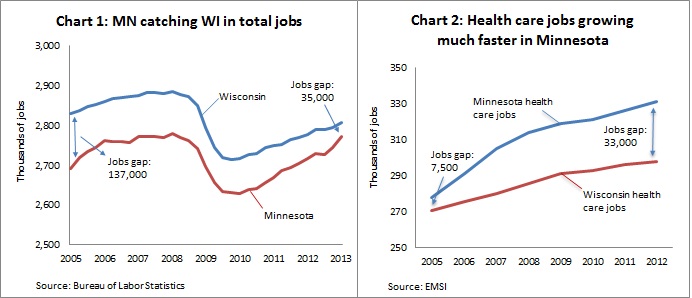 (EMSI data reflect those of the Quarterly Census of Employment and Wages from the Bureau of Labor Statistics. But EMSI also uses other sources and estimates to fill in gaps that can occur from nondisclosure or jobs that are not covered by unemployment insurance, which is the basis for the QCEW.)
Health care job growth in Minnesota was widespread in terms of both geography and subsectors, but not so for Wisconsin, according to EMSI data. Forty percent of Minnesota counties saw health care jobs rise by 18 percent or more since 2005, compared with 22 percent of Wisconsin counties. Hennepin and Ramsey counties (home to Minneapolis and St. Paul) saw health care job growth of 20 percent and 27 percent, respectively. In contrast, health care jobs in Milwaukee County grew by less than 200, or zero percent after rounding. Dane County, home to Madison, beat the Wisconsin average, but still managed just 11 percent growth.
In both states, job growth was robust in areas serving rising elderly populations, maybe ironically with the exception of nursing homes, where job growth was flat (actually negative in Minnesota) as public care programs deemphasize that costly care option. But big differences between the two states came in general medical and surgical hospitals, where Minnesota saw growth of almost 18,000 jobs (22 percent), compared with 6,000 (6 percent) for Wisconsin. Minnesota also saw much faster job growth among HMO medical centers, therapists (physical, occupational, speech) and audiologists, and outpatient mental health and substance abuse facilities.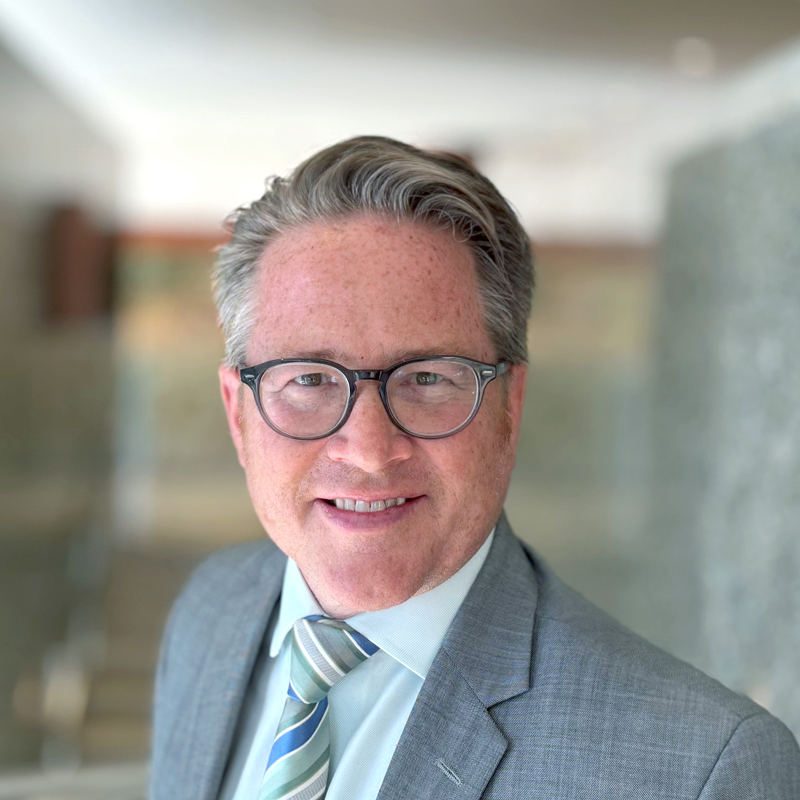 Request as a speaker
Ron Wirtz
Editor, fedgazette
Ron Wirtz is a Minneapolis Fed regional outreach director. Ron tracks current business conditions, with a focus on employment and wages, construction, real estate, consumer spending, and tourism. In this role, he networks with businesses in the Bank's six-state region and gives frequent speeches on economic conditions. Follow him on Twitter @RonWirtz.