Sound the retreat? Credit scores for refinancing home loans come down a bit
As the mortgage refinancing boom ebbs, the refi market is shifting toward borrowers with less than stellar credit, according to new data from the Federal Reserve Bank of Minneapolis.
As the housing market tanked in 2008, average credit scores for those interested in refinancing their mortgage rose significantly, and until recently scores remained elevated, reflecting the stricter credit standards lenders used to reduce their exposure to the struggling sector (see chart). But in recent months, those credit scores have fallen noticeably—to 2010 levels for loans from the Federal Housing Administration and Veteran's Administration and to 2009 levels for conventional loans. The trend is apparent nationwide and in the Ninth District, although the level of average refinance credit scores is a bit higher in the district.
The reasons for this shift are hard to pinpoint with certainty, but could indicate a combination of some relaxation of high credit standards by lenders, growing awareness and ability to respond to refinance opportunities among consumers with lower scores, or relatively sated demand for refinancing among consumers with high scores. For example, rising home prices in the Ninth District may have made it easier for consumers with somewhat lower credit scores to qualify for refinancing. Any expansion in the range of consumers qualifying for refinances would have helped boost the volume of refinancings in early 2013 or have moderated the decline in volume in the second half of the year.
These and other housing trends can be found on the Minneapolis Fed's Housing Market and Mortgage Conditions web page, which gathers data on housing originations, mortgage performance and prices.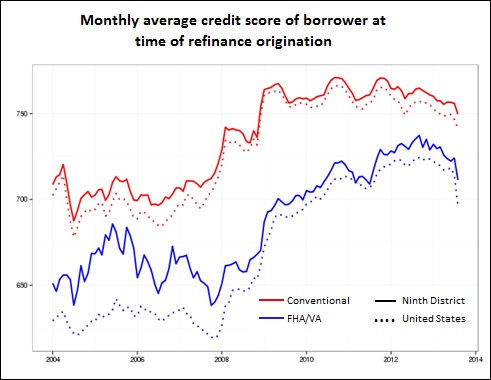 Source: Federal Reserve Bank of Minneapolis staff calculations based on data provided by Lender Processing Services (LPS)