West-central Minnesota is manufacturing strong job growth
While pundits and policymakers loudly mourn the general loss of manufacturing jobs, the west-central region of Minnesota has quietly enjoyed robust job growth in this sector.
From 1990 to 2012, the nation saw a continuation of the downward trend in manufacturing jobs. That trend was exacerbated by the Great Recession, which hit manufacturing states like Minnesota and Wisconsin hard. Minnesota has experienced a small uptick in manufacturing jobs in recent years, but not nearly enough to offset the losses just from the Great Recession.
But a nine-county region in west-central Minnesota—a federally designated economic development planning district bureaucratically referred to as Minnesota EDR4—has seen job growth above and beyond the recession's downturn. These nine counties (Becker, Clay, Douglas, Grant, Otter Tail, Pope, Stevens, Traverse and Wilkin) have seen their manufacturing job base increase by 53 percent from 1990 to 2012. That contrasts with a national decline of 33 percent over the same period (see Chart 1).
Much of that growth occurred during the 1990s; in Minnesota, manufacturing jobs grew by almost 60,000 during the decade, and the "R4" region similarly grew by about 2,500 jobs, hitting close to 10,000. But over the next decade-plus, Minnesota manufacturing saw a steady decline, shedding about 95,000 jobs—about one in four—by 2012. But the R4 region grew another 15 percent over the same period.
Wages have also grown in the region, though their performance is less compelling. Since 1990, average weekly (inflation-adjusted) manufacturing wages have grown by about 36 percent both nationwide and for the R4 region (see Chart 2). However, there remains a considerable gap in actual weekly pay in the region compared with the national average for manufacturing workers.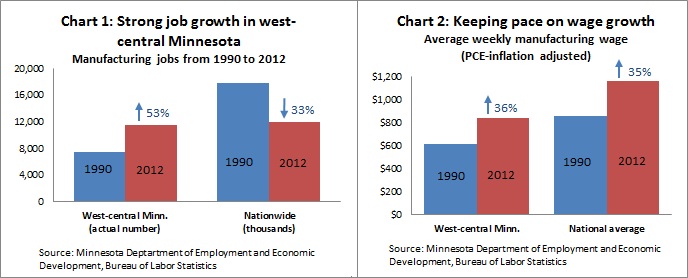 What makes for this island of good manufacturing activity? There are likely many reasons, including industry composition, available labor, transportation access and prevailing wage scales, which are lower in the region compared to the national average.
West Central Initiative (WCI), a nonprofit organization that provides financial support for worker training in the region, credits part of the success to intensive workforce development and training by employers. Regular surveys on business outcomes from employee training are conducted in the region by an independent firm and facilitated by Enterprise Minnesota, a manufacturing consulting organization and one of 59 federal Manufacturing Extension Partnership affiliates. These surveys suggest that training efforts often paid off for companies. Another recent study of labor turnover from 2006 to 2011, commissioned by WCI, also found that average labor turnover among regional firms participating in training programs was lower and statistically significant in 22 of 23 quarters studied. Sources in the region credit organic growth as well as growth from acquisition.
WCI identified about 30 companies with 100 or more employees in the region, and that size has allowed some to grow by acquisition.
"Growth accelerates with growth," according to Bill Martinson, a business development adviser with Enterprise Minnesota. "As companies get bigger, they accumulate more human and capital resources with which to do things. A big boost is the ability to do acquisitions. We didn't see acquisitions until the last few years." Martinson added that many of the companies are now supplying multinational corporations, "which makes them less susceptible to a weakened U.S. economy."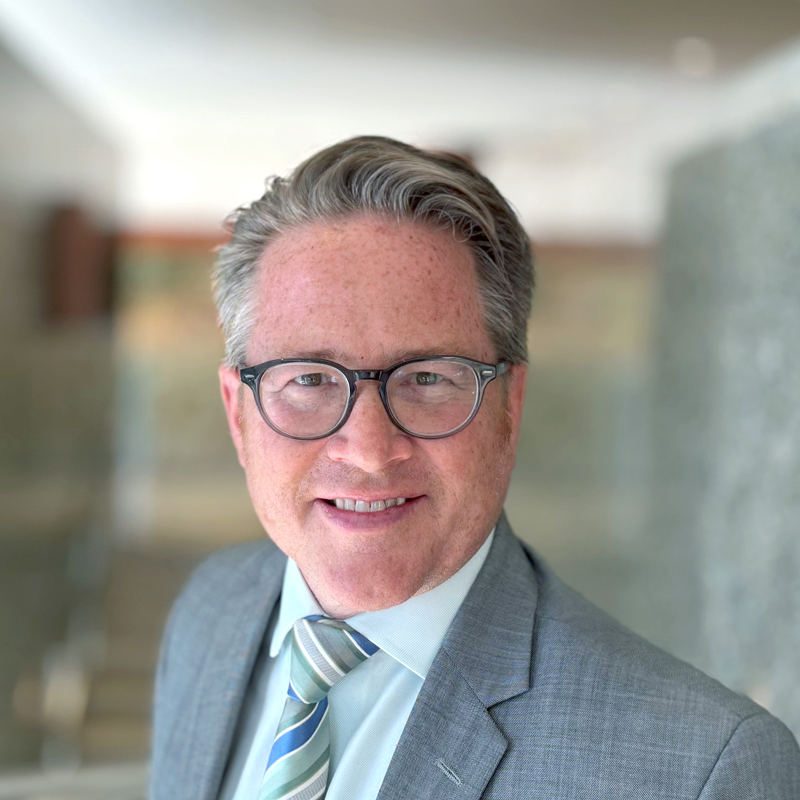 Request as a speaker
Ron Wirtz
Editor, fedgazette
Ron Wirtz is a Minneapolis Fed regional outreach director. Ron tracks current business conditions, with a focus on employment and wages, construction, real estate, consumer spending, and tourism. In this role, he networks with businesses in the Bank's six-state region and gives frequent speeches on economic conditions. Follow him on Twitter @RonWirtz.