Pessimistic outlook for farm income
Though stronger crop production might take some of the sting out of lower prices for Ninth District farmers, the overall outlook is for lower income. In mid-December, the USDA released the latest financial forecasts for 2014, and predicted a 25 percent drop in national farm income compared to last year.
State income forecasts aren't available yet, but there's reason to believe the results will be similar in the region. The decline in crop prices that began in 2013 led to a drop in farm incomes that year in Minnesota and particularly North Dakota. Other district states avoided the drop mostly because of a combination of factors, like recovery from drought in South Dakota and Wisconsin, which hampered incomes in 2012.
Since 2013, crop prices have retreated further, with corn falling by more than a third, for example, and incomes are expected to follow. Respondents to the Minneapolis Fed's third quarter (October) Survey of Agricultural Credit Conditions also predicted falling incomes for the final three months of 2014, an acceleration from an already-existing trend (see chart).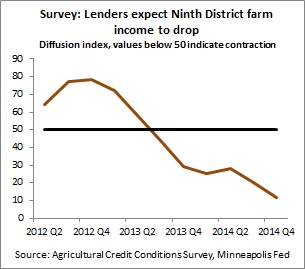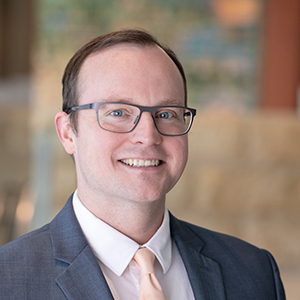 Request as a speaker
Joe Mahon
Director, Regional Outreach
Joe Mahon is a Minneapolis Fed regional outreach director. Joe's primary responsibilities involve tracking several sectors of the Ninth District economy, including agriculture, manufacturing, energy, and mining.