Student loan defaults widespread, and rising
First, the good news: According to the National Association of Colleges and Employers, U.S. firms expect to hire almost 8 percent more class of 2014 grads than they hired from the class of 2013.
The bad news: It can't come fast enough for many attending college, because many are facing unsustainable debt and defaulting on their student loans.
Nationwide, the student loan default rate jumped this year to 14.7 percent (for those starting loan repayments in fiscal year 2010), a significant increase from 13.4 percent (for those starting repayment in 2009; for default rate background and methodology, see description at the end). Every district state saw its cumulative default rate also increase for the 2010 cohort group, though rates are typically much lower than the national average (see table, left). North Dakota's rate of 5.6 percent for the 2010 cohort group is a small fraction of the national rate and has risen comparatively little over the past two years.
But other district states have witnessed large jumps in their default rates, and all but North Dakota are now above or approaching 10 percent, led by South Dakota's 13 percent. Higher default rates are widespread among institutions; for the roughly 250 district schools with students in the 2010 repayment cohort, 182 saw their default rate rise; for 110 schools, it grew by 2 percentage points or more.
In most states, proprietary and two-year schools are bearing the brunt of higher default rates. In Minnesota, for example, default rates have gone up across the board, but the increase and overall rates at four-year public and private universities are a fraction of those seen among public two-year and private, proprietary schools (see chart, right).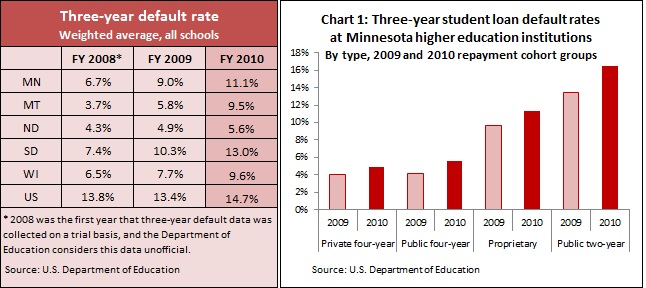 Default rate description and methodology: Student loan defaults at the institutional level are tracked and released annually in the fall by the U.S. Department of Education. Data were gathered for 273 higher education institutions in Ninth District states, including all of Wisconsin. The agency uses a three-year default rate, which tracks those entering repayment (whether graduated or not) at any point during a federal fiscal year (Oct. 1 to Sept. 30) and defaulting by the end of the third fiscal year. Student loans are not in default until they are 270 days late. In essence, default rates measure those ex-students who have fallen more than nine months behind in loan repayments at some point within 24 to 36 months (depending on how close to the end of the fiscal year they started repaying loans). The agency also tracks two-year default rates, but will be phasing this measure out in favor of the three-year default rate.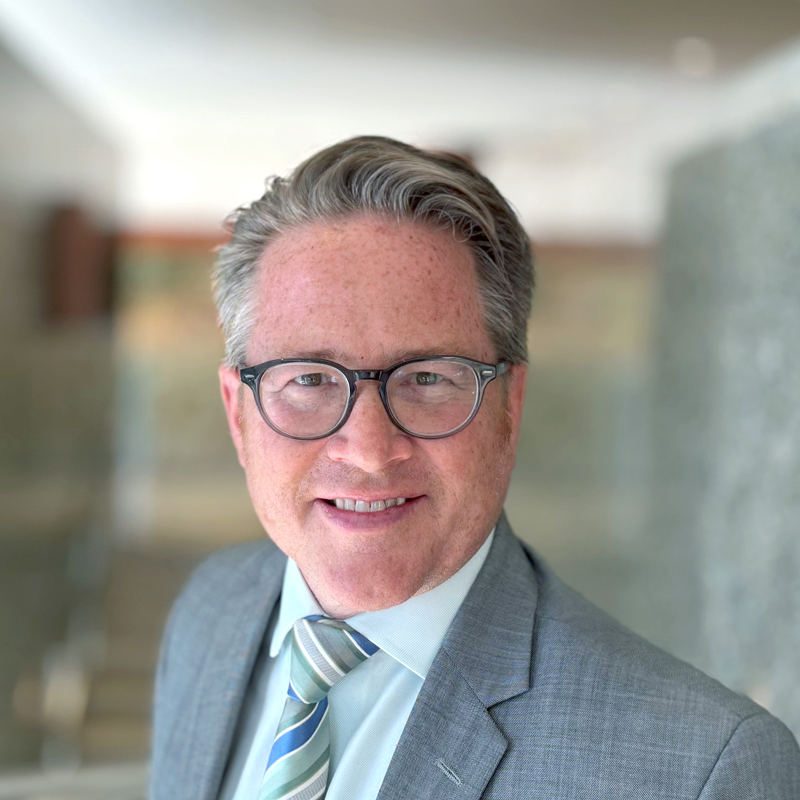 Request as a speaker
Ron Wirtz
Editor, fedgazette
Ron Wirtz is a Minneapolis Fed regional outreach director. Ron tracks current business conditions, with a focus on employment and wages, construction, real estate, consumer spending, and tourism. In this role, he networks with businesses in the Bank's six-state region and gives frequent speeches on economic conditions. Follow him on Twitter @RonWirtz.