Using housing regulation as a community-engagement tool: A conversation with Nuria Rivera-Vandermyde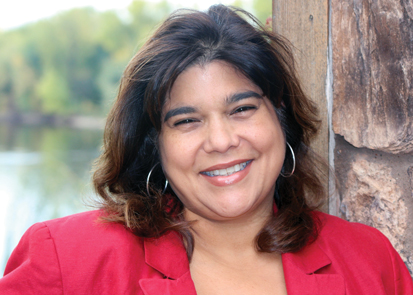 To a casual observer, a housing inspection might seem like little more than a routine regulatory exercise. But to Nuria Rivera-Vandermyde, it's an opportunity to build a stronger community. Rivera-Vandermyde serves as director of the City of Minneapolis Regulatory Services Department, which oversees the safety and condition of the city's housing stock—including more than 85,000 rental housing units that must be inspected on a regular schedule. Since taking the helm of Regulatory Services in May 2013, she has launched new programs and initiatives aimed at shifting the department's focus from, in her view, collecting fines and pursuing those who were not complying with housing codes to establishing meaningful and sustainable partnerships with communities.
An attorney by training, Rivera-Vandermyde has nearly two decades of experience in organizational management, administration, regulatory compliance, public-private partnership building, and statistical analyses. In her wide-ranging career, she has held senior positions with the Puerto Rico Departments of Justice and Corrections, served as president and CEO of a not-for-profit corporation that delivered health care services to prison populations, and consulted on legal and operational matters.
Community Dividend recently spoke with Rivera-Vandermyde about her directorship of Regulatory Services in Minneapolis and the role that her department plays in neighborhood stability.
Community Dividend: Let's start with your department's name: "Regulatory Services" could mean lots of different things, depending on the context. What exactly do you and your colleagues do?
Nuria Rivera-Vandermyde: In general, much of what Regulatory Services does revolves around issues of livability and public safety. More specifically, we're in charge of building inspections, traffic control, and animal control. In our building-inspections role, we conduct visual or physical inspections of nearly all residential and commercial buildings in the city, including thorough inspections of the interiors and exteriors of the city's rental housing stock. For these assets, we're essentially helping preserve the actual physical structures—the homes themselves—and we're helping protect the tenants in those homes. We do this by regularly inspecting the properties to ensure that they comply with city codes regarding safety, security, and habitability.
With traffic control, we manage the flow of traffic around large construction projects and major events, and we oversee and enforce parking meters. We're also charged with animal care and control, including protecting residents from dangerous animals, such as violent dogs, and protecting animal welfare by looking out for hoarding or animal cruelty cases.
CD: On the housing inspections side, what role does the department play in creating safer, healthier neighborhoods?
NRV: We play a critical role. There are few departments in the city that can effectively stabilize—or destabilize—neighborhoods like Regulatory Services. For instance, if we're not careful in how we pursue our policies, we can cause evictions, which often punish tenants for the actions of a landlord. Or, we can cause landlords to screen tenants too strictly, which effectively restricts affordable housing options for some of our city's residents. On the flip side, if we don't do enough proactive inspections and complaint-based inspections, then we allow some tenants to fall prey to landlords who are not doing appropriate or adequate jobs of managing their properties.
The effects of our work with rental properties extend to owner-occupied homes as well. Rental housing whose tenants are a drain on public resources—who have multiple police calls to the property, for example—or that is in disrepair and looks unkempt on the outside may negatively affect market and property values on the owner-occupied homes that are nearby. These types of rental properties can destabilize a neighborhood. So our inspection and enforcement work really impacts a neighborhood's housing environment. At the end of the day, housing that is in good quality should lead to a more stable environment. That can lead to more business investment in the area, which can lead to a stronger housing market. We really are positioned to be gatekeepers of neighborhood stability.
CD: What tools does your department have to help accomplish that?
NRV: People often talk about the "carrot" and the "stick," and I think we have tools that fit into both categories. We have some tools that can help landlords if they're doing the right thing and showing good faith and working with the city. Or, there's a variety of tools that allow us to punitively engage landlords to do the right thing. We're striving to employ all our tools with a balance that will ensure the greatest success.
With our "stick" tools, we can assess fines on landlords who are not code-compliant or who break other ordinances or laws, or we can schedule inspections more frequently. In our new tier system, the frequency of inspections reflects the quality and maintenance of the rental property. For instance, if you're a landlord who owns rental property with a lot of problems, you'll be slotted into our Tier 3 and we'll be out at your property every 12 to 18 months. [For more on the city's tier-based inspections system, see the accompanying article in this issue.] We can also issue what's called a "good cause" letter if a landlord fails to meet minimum rental licensing standards. That will put the property owner at risk for revocation of his or her rental license at that property. If a landlord faces a second revocation action for failing to meet our standards, we have the authority to revoke all of that landlord's Minneapolis-based property licenses for up to five years.
On the other hand, we have "carrot" measures that incentivize landlords. While some landlords get slotted into Tier 3 and therefore have their properties inspected often, landlords whose properties don't have any code infractions have inspections every eight years. That's a huge incentive for an owner to take care of his or her property. Moreover, if someone plans to convert a previously owner-occupied home into a rental, for which we assess a $1,000 fee, we'll knock off $250 if he or she takes a city-endorsed course on good property management. That's also a huge incentive.
If you own a home that's on the city's official Vacant Building Registration—which carries a nearly $7,000 annual fee—but you have plans to restore the home, you can work out a restoration agreement with us that outlines a credible timeline and financing for your restoration plan.*/ Then we can waive some or all of your fees to give you additional time to complete your rehab. Basically, if we see that there's a good faith effort on the part of a landlord, we can waive fines, extend deadlines, and really try to figure out a way forward.
CD: Are you looking at any new ways to encourage positive landlord behavior?
NRV: We are looking into adjusting our rental license fee structure to reflect the tier system, so that good landlords whose properties we inspect less frequently pay less for a rental license than landlords of problem properties. It hasn't been approved yet, but we're looking into ways to make that change. We're also looking at being able to show the actual tier rating on each particular rental license, but that's something that will have to wait until we implement a new land-management system the city is adopting.
CD: Due to the nature of its work, your department collects a lot of data on property conditions and other community indicators. How are you using the data?
NRV: To me, data is a narrative. It's a story. And the story tells us if we're doing our job right or if we could do it better. For example, we're examining data around snow emergencies from the winter of 2013–2014. In a snow emergency, the city tows away any vehicles that are parked on snowplow routes. We noticed that during last winter's snow emergencies, we had an inordinate amount of parking violation citations in North Minneapolis. This is an area where a large portion of the residents are low-income and can ill afford the fee to release their vehicles from the city's impound lot. We asked ourselves, why aren't we reaching these residents? To answer this question, we're looking at even more data and information: How many of these residents live in places with garages? Do people here have access to the Internet, and can they access messages about snow emergencies that go out from the city? How many residents in this area rely on public transportation rather than a car? So we're really examining our findings to see if we need to alter our approach in how we issue notices or if there are any language barriers that we can overcome. Ultimately, it's really about interpreting the data and information and finding the story and seeing how we can adjust our procedures to serve the community better.
CD: How do you think the city's current approach to regulatory services differs from past approaches?
NRV: In the past, I think there was an emphasis on fining and pursuing landlords whose properties weren't in compliance with city codes. That's something that we still need to do, but we should also emphasize trying to actively help Minneapolis residents. To that end, one thing we recently created was the Homeowner Navigation Program. Think of an elderly woman who's living by herself and gets an order to clean up or fix her roof gutters. In many cases, she's not going to be able to do that. Is having an inspector repeatedly visit her property and fine her the best approach? No. With this program, we can stop that type of interaction and instead put the homeowner in touch with a "navigator" who will help her access different resources and find a solution to her problem. For instance, we can tap into a nonprofit partner, or even a neighbor, who might be able to do the work. This way we're helping her fix the problem with her property rather than just fining her until she complies. Right now, this program is just for owner-occupants, but our hope is to expand it to landlords as well.
The reality is that Regulatory Services can't do everything we'd like it to do. We have finite resources and limited staff, and there are a lot of homes in the city to monitor. So how do we increase the effectiveness of our work and demonstrate to neighborhood and community organizations that we're all in this together? One way is by listening to and learning from the residents themselves, so I've placed a big emphasis on community engagement. We've been going out and talking to a lot of community organizations to learn from them. We're being more open and transparent. And we're collaborating with them. Ultimately, I think that our openness and willingness to work with community groups is going to help us advance our goal of making neighborhoods safer and healthier.
CD: What's an example of how Regulatory Services has worked in partnership with community groups?
NRV: We've had some neighborhood organizations talk to us about language barriers and how this communication problem has inhibited our work. For example, when we plan to have an inspection, we have to mail out a little form that seeks to obtain consent to access a person's rental unit. The form is in English and has never been translated into any other language. Recently, we planned to inspect a block of homes whose occupants were native Spanish speakers. We learned from the neighborhood group that many of the residents found the consent form confusing. So we translated the notification into Spanish, and will continue to do that, not just for these consent forms but for everything, and we'll translate our forms and communications into whatever language necessary.
With all of the changes we're making in our communications and programs, I hope people see that Regulatory Services is opening itself up in a way that it hasn't before and that we're trying to create meaningful and sustainable partnerships with communities. It's really our goal to bridge the gap between residents of Minneapolis and the city government.
For more about the City of Minneapolis Regulatory Services Department and its work, visit www.ci.minneapolis.mn.us/regservices.
---
*/ The city conducts yearly status assessments of properties on the Vacant Building Registration (VBR) list to determine whether their owners will be charged the annual fee. A VBR property can be removed from the list if its owner enters a restoration agreement or otherwise brings the property up to code, or if the property is purchased for rehabilitation purposes or demolished.