Minneapolis Fed launches Center for Indian Country Development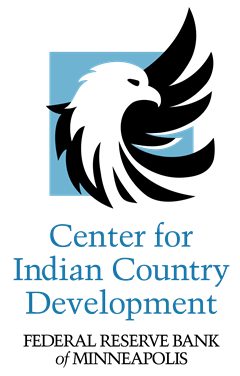 On April 3, Federal Reserve Bank of Minneapolis President Narayana Kocherlakota announced that the bank "will establish a new Center for Indian Country Development … to take the Federal Reserve System's long-standing work with tribal communities to a new level."
[*]
The Center for Indian Country Development (CICD) will build off of the Minneapolis Fed's 25-year history of working in Indian Country, which is rooted in the Federal Reserve System's legislative responsibilities to understand and promote economic growth. (For more on this, see the "New center builds on a long tradition" sidebar below.)
The CICD will provide an ongoing home for Indian Country-related experience and knowledge that Minneapolis Fed staff members have acquired. The CICD will also leverage this expertise by operating at a national level through partnerships with tribal organizations, other Reserve Banks, government agencies, nonprofits, financial organizations, and others. As President Kocherlakota stated on April 3, "This reflects our intent that the Center provide energy and coordination to Indian Country development initiatives across the Federal Reserve System and take a lead role in forging Federal Reserve partnerships with other national and regional organizations."
In keeping with the intent that the CICD work across all of Indian Country and its diverse tribal nations, the CICD's official mission statement is deliberately broad: To help self-governing communities of American Indians in the United States attain their economic development goals. To help the center prioritize its work within this broad mission, a Leadership Council of recognized regional and national leaders engaged in diverse aspects of Indian Country development will provide direction. (See below for a list of inaugural council members.) The council is a crucial resource meant to ensure that the center's work is focused, relevant, and based on demonstrated need.
The CICD will be staffed and funded mostly from existing personnel and resources. However, its leadership team of two co-directors will include both current and new staff. Sue Woodrow, who has led many of the Minneapolis Fed's Indian Country initiatives since the early 2000s, will serve as one of the co-directors, and Patrice Kunesh will fill the other co-director position. Kunesh, who is of Standing Rock Lakota descent and recently served as deputy under secretary of rural development at the U.S. Department of Agriculture, has a record of strong accomplishments in Indian Country. According to President Kocherlakota, this team "will give the center continuity as well as new energy and insights."
A CICD web site is in development and will launch later this summer in place of the Minneapolis Fed's Indian Country Currents site at minneapolisfed.org/indiancountry. In the interim, interested readers are welcome to direct any questions about the center and its scope to Sue Woodrow at susan.woodrow@mpls.frb.org.
New center builds on a long tradition


The Federal Reserve System features 12 independent Reserve Banks charged with understanding and staying in contact with their territories, or districts. The Minneapolis Fed's charge to know its Ninth Federal Reserve District, which consists of the Upper Peninsula of Michigan, 26 counties in northwestern Wisconsin, and all of Minnesota, North Dakota, South Dakota, and Montana, includes a responsibility for understanding the economies of the 45 federally recognized Indian reservations there.
This responsibility deepened with the passage in 1977 of the Community Reinvestment Act, or CRA. Congress passed the CRA to encourage federally regulated depository institutions to help meet credit needs throughout the communities in which they operate, including low- and moderate-income neighborhoods, consistent with safe and sound banking operations.[**] As a banking regulator, the Minneapolis Fed began examining banking organizations' compliance with CRA. In addition, Minneapolis and the other Reserve Banks established Community Development Departments to work with commercial banking organizations, community groups, and government agencies to facilitate CRA compliance and the flow of credit and financial services into low- and moderate-income neighborhoods, including many in Ninth District Indian reservations.
By the early 1990s, the increased attention on credit supply in low- to moderate-income communities had made the Minneapolis Fed's Community Development Department aware of the distinctive legal and institutional factors involved in investing on reservations. From that time, the department has engaged in a sustained effort to work with lenders, tribes, nonprofits, and other government agencies to facilitate economic development in Indian Country. Aspects of the effort include:
Assisting in the development of legal infrastructure to support commerce and lending on reservations;
Organizing Indian Business Alliances in several states, so that Indian entrepreneurs and others can advocate for good business laws and address financial and other barriers to business development on reservations;
Supporting research and improved data on tribal economic issues; and
Working with other Reserve Banks to organize periodic national listening sessions and conferences with tribal leaders, such as a series of events across the country in 2011–2012 that culminated in a national summit meeting at the Federal Reserve's Board of Governors in Washington, D.C., in April 2012.
As a result of its long engagement in Indian Country development issues, staff members in Community Development and several other bank departments have accumulated a core of relevant expertise. The bank's new Center for Indian Country Development will provide a platform for sustaining and leveraging their expertise in support of the Bank's regional and CRA-related responsibilities.
[**] Regulation BB (Community Reinvestment Act), Code of Federal Regulations, Title 12, §228.11. The text of the regulation is available at gpo.gov.
Center for Indian Country Development Leadership Council


Dante Desiderio
Executive Director, Native American Finance Officers Association
Sarah DeWees
Senior Director of Research, Policy, and Asset Building Programs, First Nations Development Institute
Miriam Jorgensen
Director of Research, Native Nations Institute for Leadership, Management, and Policy, University of Arizona; and Harvard Project on American Indian Economic Development, Harvard University
Elsie Meeks
Board of Directors, Federal Home Loan Bank of Des Moines; and Board Chair, Lakota Funds
Jacqueline Johnson Pata
Executive Director, National Congress of American Indians
John Phillips
Executive Director, First Americans Land-Grant Consortium; and Land Grant Program Director, American Indian Higher Education Consortium
Jaime Pinkham
Vice President, Native Nations Programs, Bush Foundation
Gerald Sherman
Vice President, Bar K Management
Cris Stainbrook
President, Indian Land Tenure Foundation
Sarah Vogel
Attorney, Sarah Vogel Law
"Indian Country" defined


"Indian Country" is a legal term that refers to all self-governing tribal lands in the United States, including American Indian reservations, dependent Indian communities, and Indian allotments, whether restricted or held in trust by the United States. See 18 U.S.C. § 1151(a)–(c).