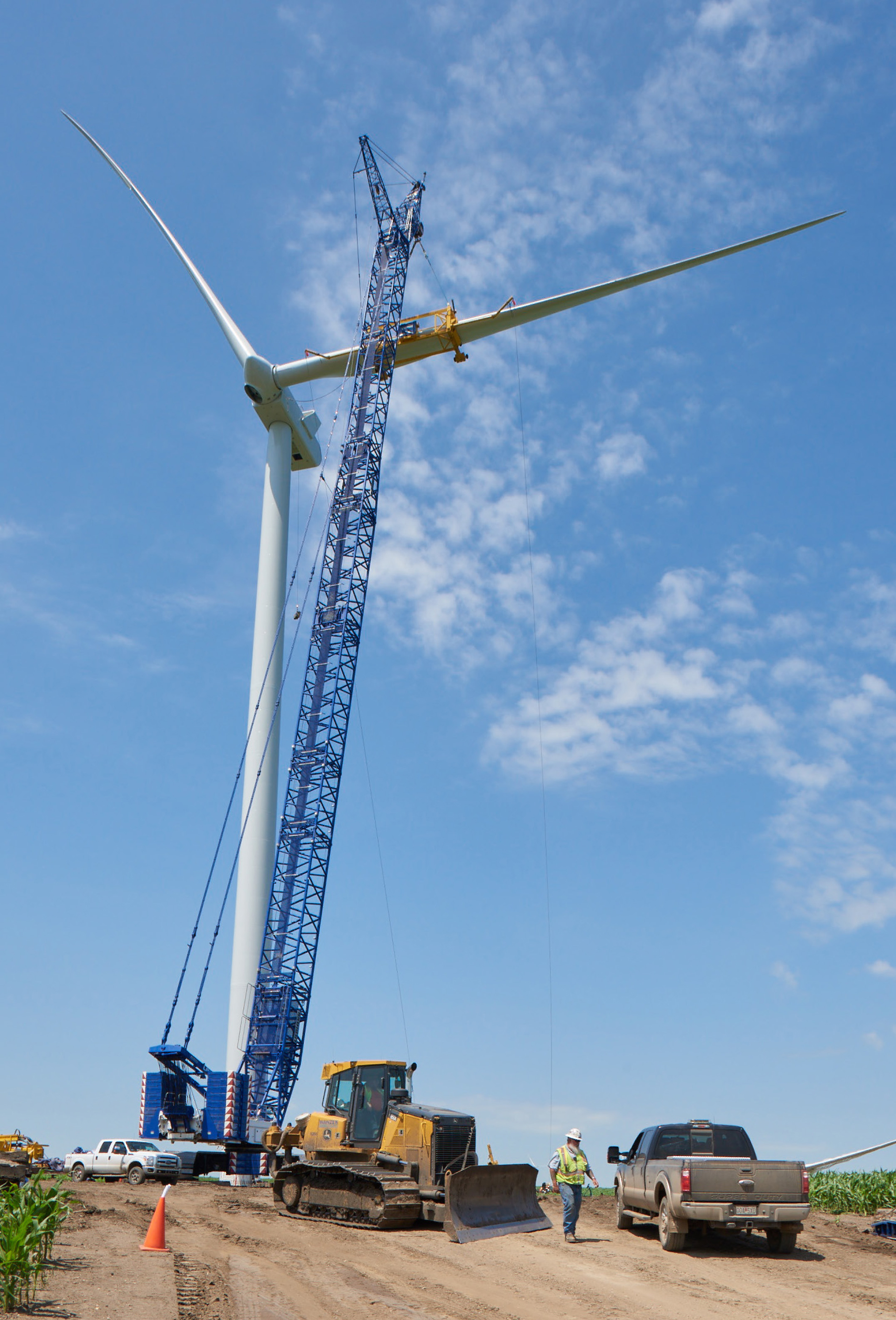 A wind turbine takes shape on the Odell Wind Farm, a 200 MW project in southwestern Minnesota for Algonquin Power Co., of Canada.Photo by David Bowman
A wind farm is under construction on farmland a few miles north of Tioga, in North Dakota's oil patch. Basin Electric, an electric cooperative based in Bismarck, has a contract to buy power from the Lindahl Wind Project, which will have a capacity of 150 megawatts (MW)—enough to power 50,000 homes—when it goes into operation later this year.
TradeWind Energy of Kansas is developing the $250 million wind farm. Chief Operating Officer Geoff Coventry said the Lindahl site is "perfectly situated" to serve the nearby cities of Williston and Watford City, still growing and power hungry despite a downturn in the oil industry. "The wind energy will flow onto the grid and go almost immediately to serving local demand," he said.
The wind farm is the first to be developed in northwestern North Dakota, an area awash in inexpensive natural gas used to fuel power plants across the country. Its existence testifies to wind power's status as a form of electric generation that has entered the mainstream after decades on the fringes of the electricity grid.
But TradeWind's Bakken venture would probably never have gotten off the ground if not for a federal tax credit for wind farms that reduces the price of wind-generated electricity.
The wind production tax credit (PTC) is a crucial driver of wind farm development in the Ninth District and across the country. The write-off against federal income taxes for electricity produced from the wind expired in 2014, but last December Congress renewed it retroactively for 2015 and extended it four more years.
A tax break for solar photovoltaics (PV), also extended by Congress, has contributed to the rise of the technology in the district by subsidizing the cost of producing electricity from the sun's rays.
The extensions raise the question of what happens when these carrots for wind and solar power development are withdrawn. The PTC is slated to start phasing out next year, and the value of the solar credit will lose two-thirds of its value by 2020.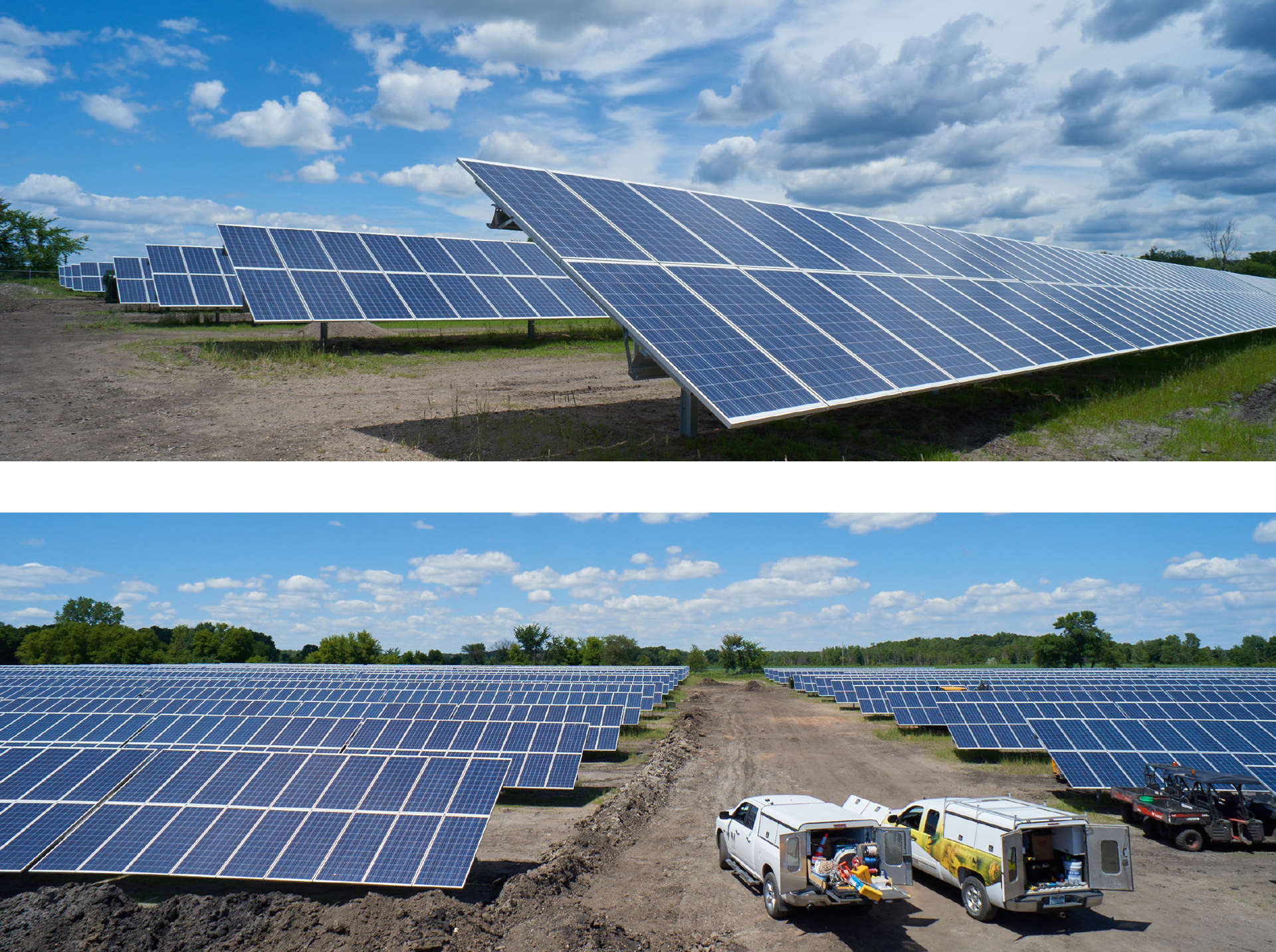 Great River Energy is building a 2.25 MW solar farm near Buffalo, Minn., for a member cooperative.Photos by David Bowman
Many stakeholders in the wind and solar PV industries see the next few years as a time of testing for both technologies; can they stand on their own without the support of federal tax subsidies?
Mark Bolinger, a research scientist at Lawrence Berkeley National Laboratory in California, said renewal of the tax credits "came as quite a surprise" because increasingly wind and solar are viewed as capable of thriving without taxpayer support. "Costs for these technologies have come way down in recent years, so there's some sense out there that these subsidies are no longer needed," he said.
Wind and solar industry growth in the district could stall if unsubsidized electricity from the wind and the sun cannot compete with power from other sources, such as nuclear reactors and plants fueled by coal and natural gas.
The best evidence suggests that wind power is much closer to weaning itself from major subsidies than is solar. However, gauging where these technologies stand in relation to the competition, with and without the forbearance of taxpayers, is a complex matter.
Weighing the cost effectiveness of wind and solar utilities must consider not only current market prices but also hard-to-quantify factors such as the cost of managing variable energy sources and the possibility of fossil-fuel price hikes.
A fair (tax) wind blowing
Tax breaks for renewable power generation are meant to give a leg up to technologies that Congress has deemed environmentally beneficial and so deserving of government support.
"These tax credits have been key in reducing the price of renewable resources enough to allow the technology to develop and to pique utility interest in purchasing the output of renewable generation projects," said Betsy Engelking, vice president of policy and strategy for Geronimo Energy, a Twin Cities-based developer of wind and solar projects.
Enacted by Congress in 1992, the PTC gives wind developers a credit of 2.3 cents against their income tax liabilities for every kilowatt hour of electricity produced. The credit offsets the cost of building and operating wind farms, allowing developers—or utilities that run their own wind farms—to charge lower prices for wind power.
The wind farm developer can use the tax credit for the first 10 years of a wind farm's operation or sell its interest in the farm to another entity with an appetite for tax relief. In the case of the Lindahl wind farm, TradeWind Energy sold the farm to Enel Green Power, a global renewable energy company.
Congress has let the credit lapse several times over the past 15 years. When developers of new wind farms can take advantage of the credit, wind farm development has blossomed; when it has expired, projects have been canceled or delayed. The power of the credit to spur development is evident from the record of installed wind farm capacity nationwide and in district states (Chart 1), although 2015 installations were relatively strong following the PTC's expiration the year before.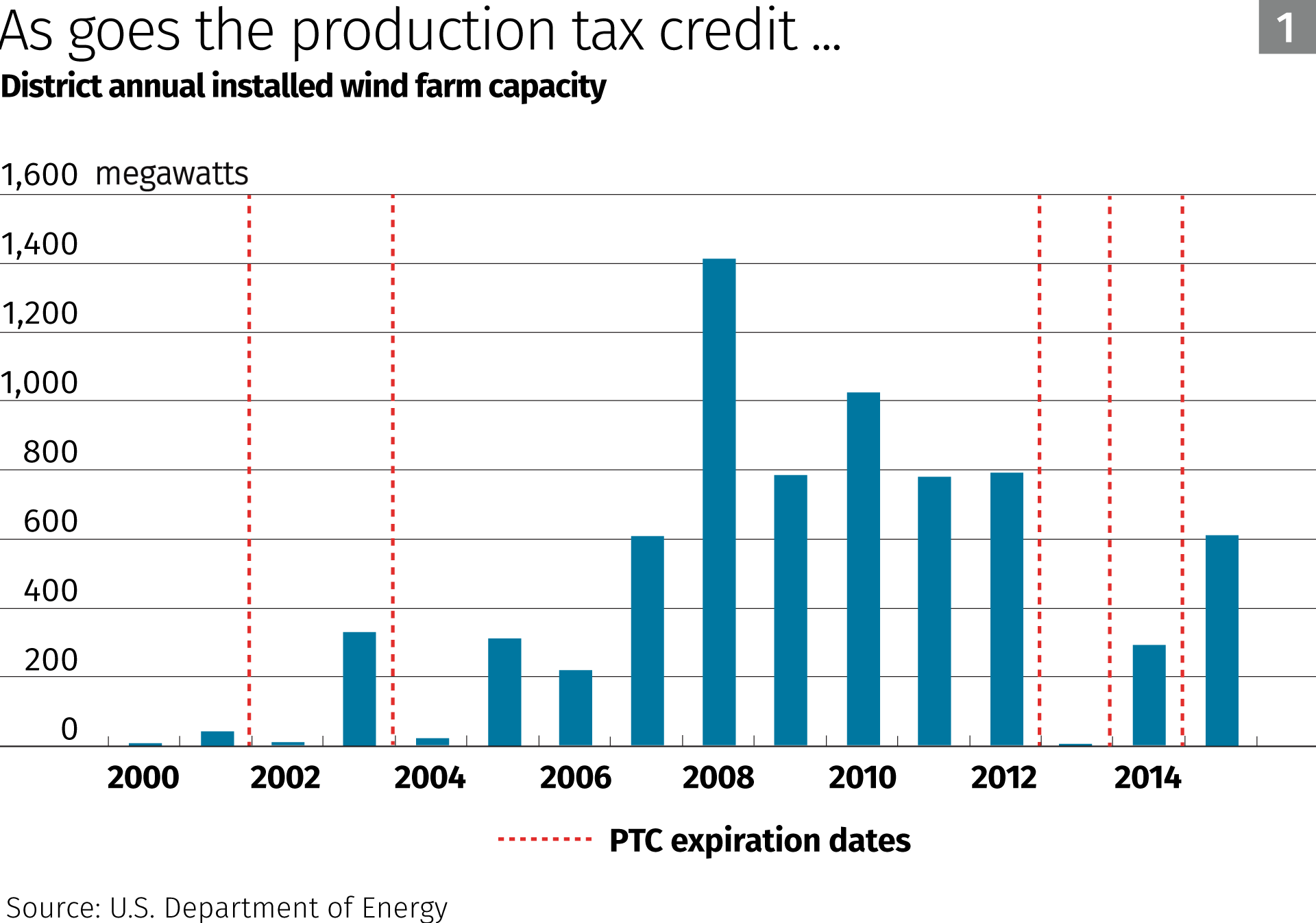 Last year, when renewal of the PTC seemed in doubt, energy analysts lowered their projections for U.S. wind development over the next few years. "When the PTC was extended, you saw a major tick back up [in the growth forecast]," said Chris Kunkle, regional policy manager for Wind on the Wires, an organization that advocates for Midwest wind development. "So you could say the PTC is the life raft of the industry."
In some states, wind power development has gotten an additional lift from mandates requiring utilities to produce a minimum share of their generation from renewable sources. Among district states, Minnesota has the strongest mandate; utilities must obtain at least one-quarter of their retail electricity sales from renewable resources by 2025. A higher and earlier renewable sales target applies to Xcel Energy, Minnesota's largest utility.
Federal tax policy has also given impetus to solar PV development. Over the past five years, solar installations have increased sharply nationwide and in some district states (Chart 2). The Energy Investment Tax Credit, introduced in 2005, has helped foster this growth by slashing the development cost and therefore the price of solar power. The ITC lets businesses and homeowners put 30 percent of the cost of a solar system toward paying their owed income taxes.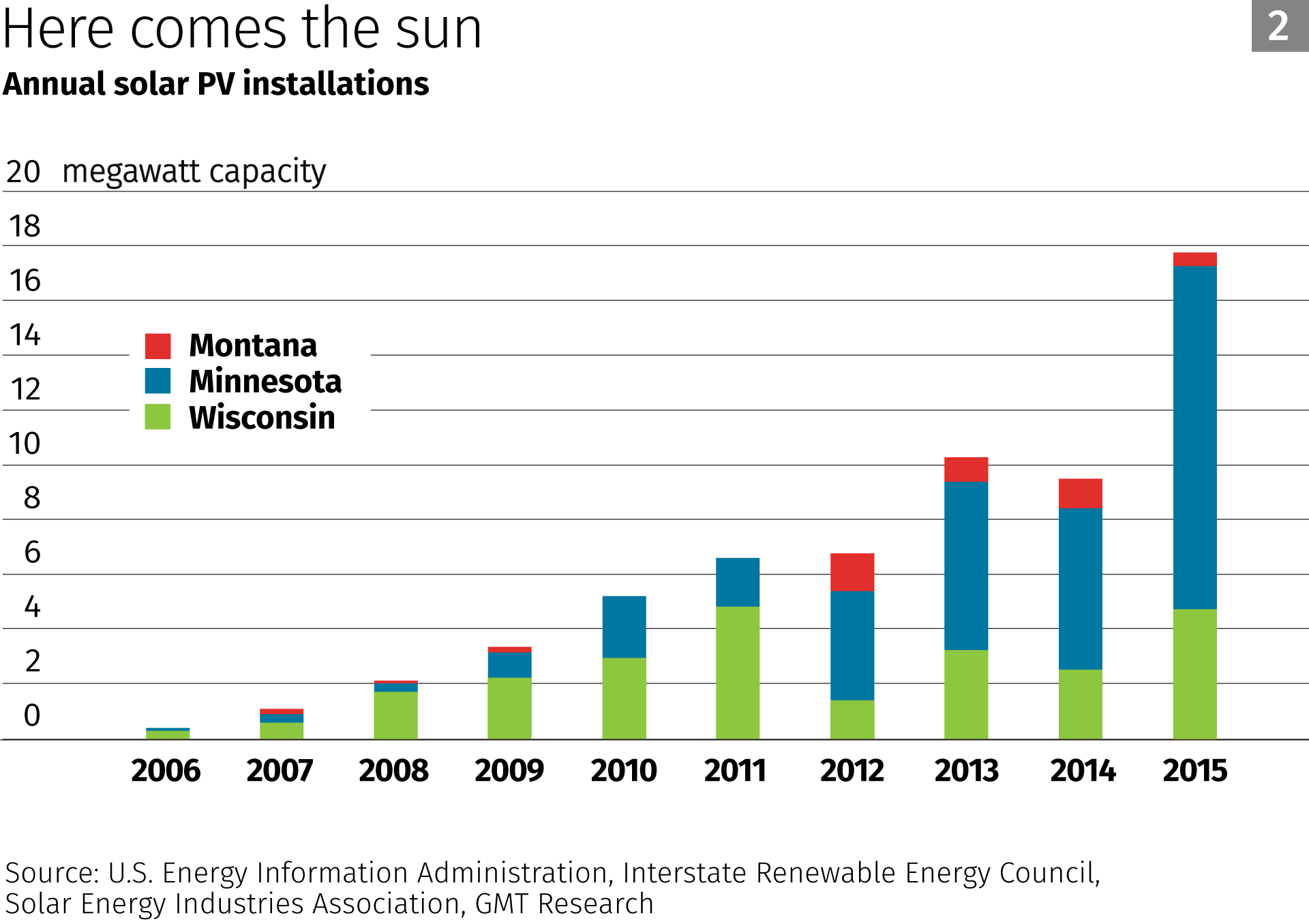 In addition, financial incentives available in some district states can be combined with the ITC to further lower the price of solar.
In the district, Minnesota has been the most welcoming to solar power, offering a number of incentives intended to encourage small-scale solar development. For example, the three-year-old Community Solar Gardens program subsidizes consumer subscriptions to solar arrays of up to 1 MW by requiring Xcel Energy to pay above-retail rates for the power they generate.
Minnesota, alone among district states, also has a solar mandate; under a 2013 law, investor-owned utilities must derive 1.5 percent of their retail sales from solar power by 2020.
Tick, tock
With the support of federal tax credits and other government incentives, wind and solar power have grown into industries that, while making up a small part of the energy sector, nonetheless have established an economic presence (see "Finally on the economic radar"). Renewal of the PTC has given wind energy development another shot in the arm. Over 1,000 MW of wind projects are under construction or slated to begin operations by the end of 2017 in district states, according to industry sources. "I think wind is poised for a big couple of years, particularly in Minnesota and North Dakota," said Kunkle of Wind on the Wires.
As for solar, the Minnesota Department of Commerce estimated earlier this year that over 400 MW of additional capacity was being developed in the state. Renewal of the ITC, the solar mandate and the Community Solar Gardens program all likely contributed to the surge.
Solar development also is up in Wisconsin, which doesn't have a solar mandate or a subsidized community solar program. In February, La Crosse-based Dairyland Power Cooperative announced plans to buy power from 12 new PV facilities to be built around the state this year. The 15 MW combined capacity of the arrays would increase the state's installed solar capacity by 40 percent.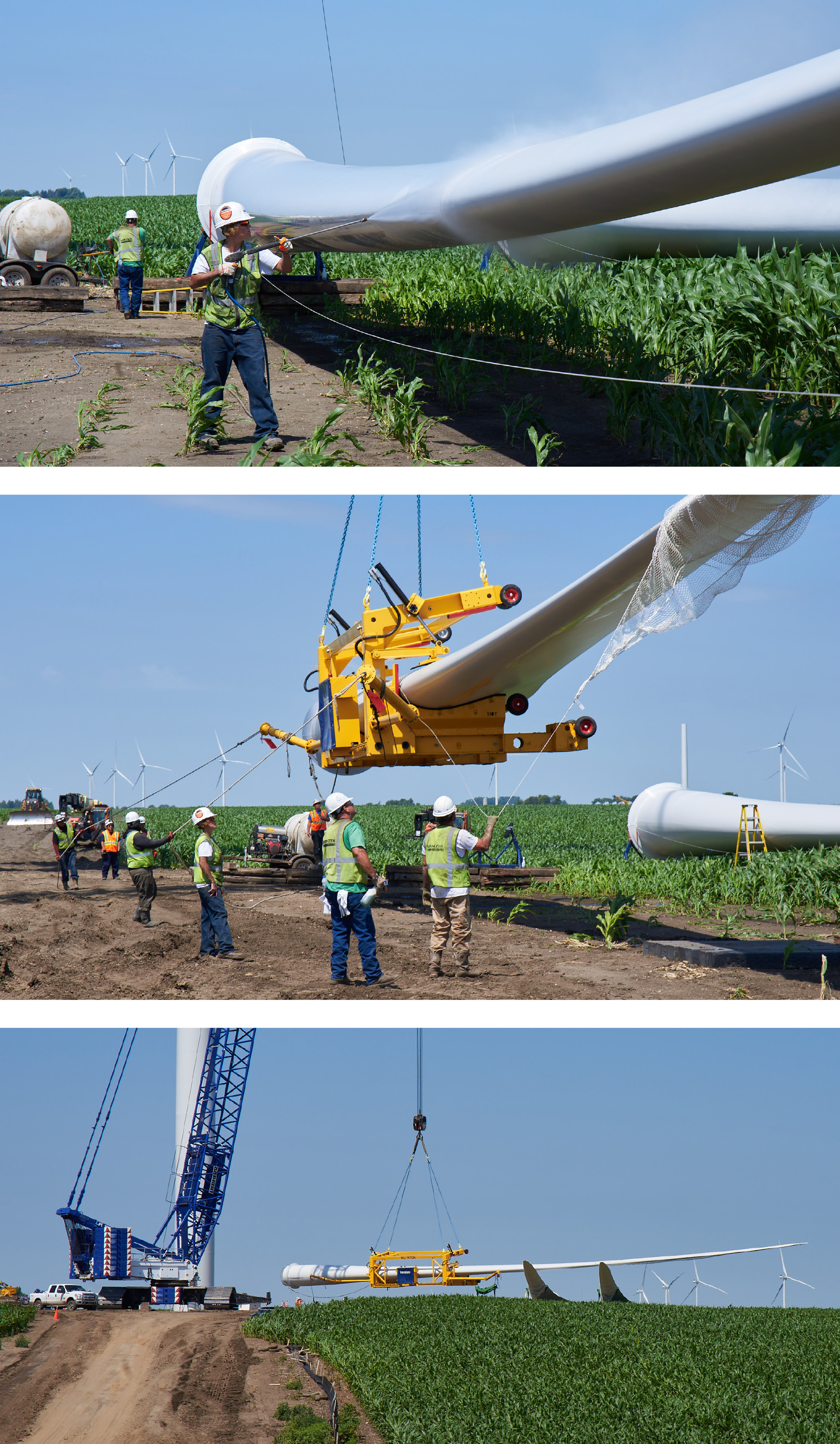 Workers with Wanzek Construction of West Fargo, N.D., install turbine blades at the Odell Wind Farm.Photos by David Bowman
But the clock is ticking for wind and solar power, in the district and across the country. Under last year's PTC extension, the value of the credit drops by 20 percent for wind farms started in 2017 (projects built in earlier years continue to receive the full 10-year credit) and falls another 40 percent by 2019 before expiring in 2020.
The 30 percent ITC is slated to fall to 26 percent in 2020 and 22 percent in 2021. In 2022, the commercial credit will drop to a permanent 10 percent, while the homeowners' credit will expire.
Many industry observers consider extensions of the credits unlikely. "I think this is kind of the last hurrah for these tax credits, given the fact that both are scheduled to phase out over time," said Bolinger of Lawrence Berkeley Labs.
Wind and solar may continue to receive support in some district states from renewables mandates and financial incentives for small-scale development. (Large wind farms and solar arrays would receive little financial backing besides minor incentives such as sales tax exemptions and low-interest loans.)
But if the on- and off-again pattern of wind power development in the district is any guide, without the PTC and a much smaller ITC, both technologies could stall or slow to a crawl, with fewer project starts and a drop in related economic activity.
Counting the cost of the wind …
Ultimately, if wind and solar power are to continue to grow without public subsidy, they must be able to compete with other, well-established forms of generation such as nuclear plants and coal- and gas-burning facilities.
(Arguably, renewables are handicapped in electricity markets—justifying subsidies—because prices don't capture the social costs of air pollution and other harmful impacts of conventional generation, but such environmental externalities are beyond the scope of this article.)
Comparative studies of generation costs, corroborated by industry sources, indicate that wind power in the region has progressed further toward economic independence than solar.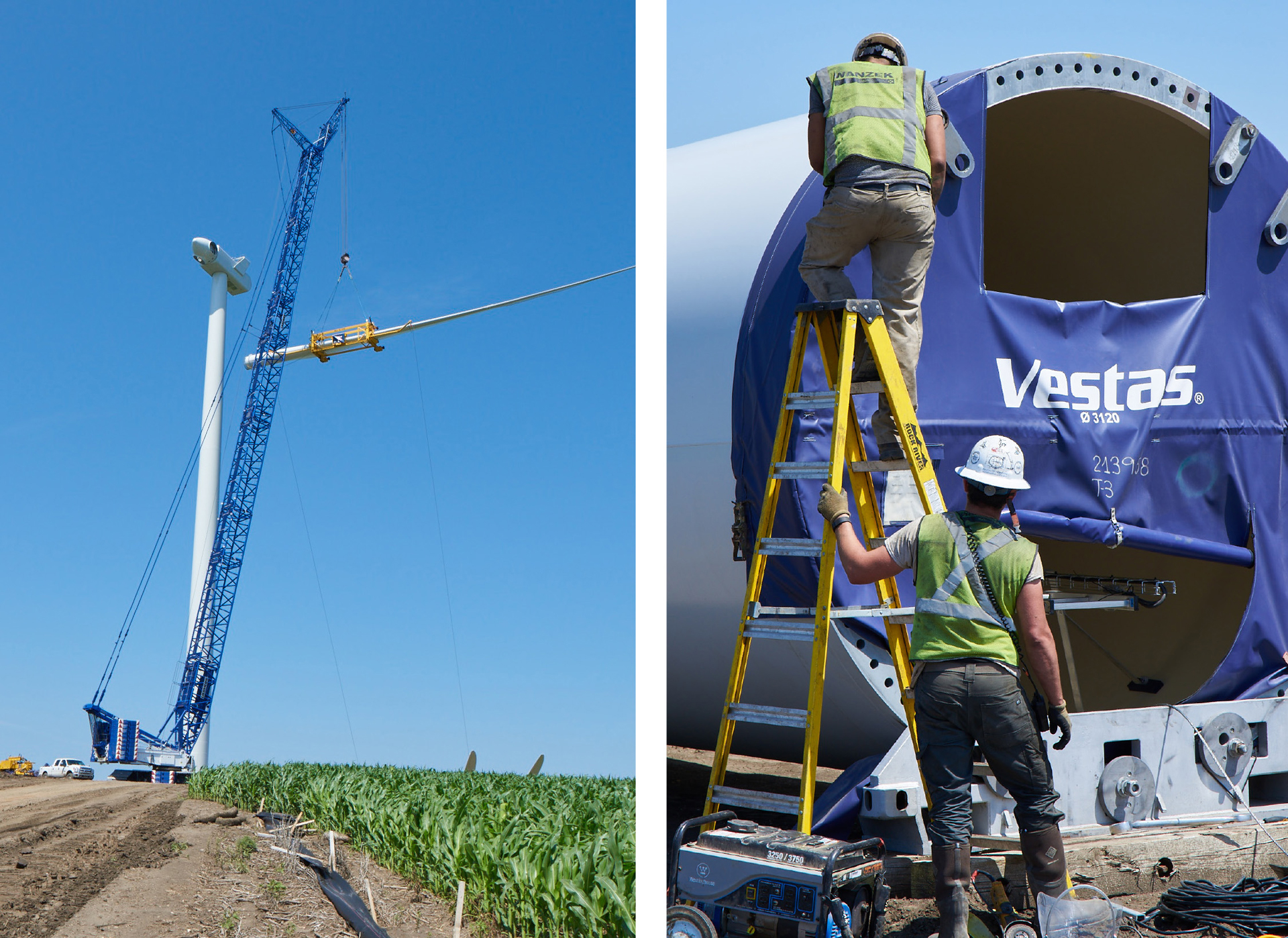 Wind farm technology has made great strides in efficiency over the past 20 years; turbines are much taller today, with wider rotor spreads that capture energy from the lightest winds. In addition, average installed costs of wind farms have fallen in recent years due to increased economies of scale in manufacturing, transportation and site development.
These advances have steadily driven down the price of wind power. A 2014 Department of Energy (DOE) report found that prices of long-term wind power contracts had reached "all-time lows"—on average, about $25 per megawatt hour (MWh), less than U.S. average wholesale electricity prices. In the central part of the country, a windy area that includes Minnesota, the Dakotas and Montana, the mean price of wind power purchases by utilities was even lower.
However, this study factors the PTC into prices; the DOE estimates that the credit is worth about $16/MWh, so without it, average wind contract prices would be considerably higher than average bulk power prices.
Electric utility executives interviewed for this article said that without the PTC, electricity harvested from the wind would be prohibitively expensive.
Basin Electric has aggressively pursued wind power purchases to help meet rising electricity demand, much of it in northwestern North Dakota. The cooperative has seen demand for its electricity in the Bakken region more than double over the past five years due to oil and gas development. An oil industry slump has curtailed power consumption, but the utility still expects demand in the Bakken to increase by about one-third through 2020.
In addition to its power deal with the Lindahl Wind Project, Basin Electric has contracts to buy electricity from the Campbell County Wind Farm, a new facility in north-central South Dakota, and three wind farms under development near Dickinson and Beulah, N.D.
Dave Raatz, Basin Electric's vice president of cooperative planning, sees wind power—"a cheap, assured, known energy resource"—as a wise investment with the PTC in place. But without the PTC, he doubts that Basin Electric "would have moved forward with the wind contracts that we have … especially today with low natural gas prices."
Since 2012, the cooperative has built two gas-fired power stations in the Bakken area and plans to expand their generating capacity.
Xcel Energy also has invested heavily in wind energy, partly in response to the state of Minnesota's renewables mandate, but also because the company considers wind a cost-effective replacement for power from coal-fired plants slated for retirement over the next decade. But Kurtis Haeger, vice president of resource planning for Xcel, said, "I don't believe that wind could stand on its own currently without the production tax credit."
A widely cited study by Lazard, a global financial advisory and asset management firm, appears to counter the view that wind power couldn't compete without the PTC.
The study estimates the cost of electricity, without subsidies, from different types of newly built generation facilities. Typically, this cost is much higher over the life of a plant than the wholesale price of power generated by preexisting facilities. Lazard's analysis finds that power from new wind farms, on average, costs less than that produced by other types of new plants using conventional technologies (Chart 3).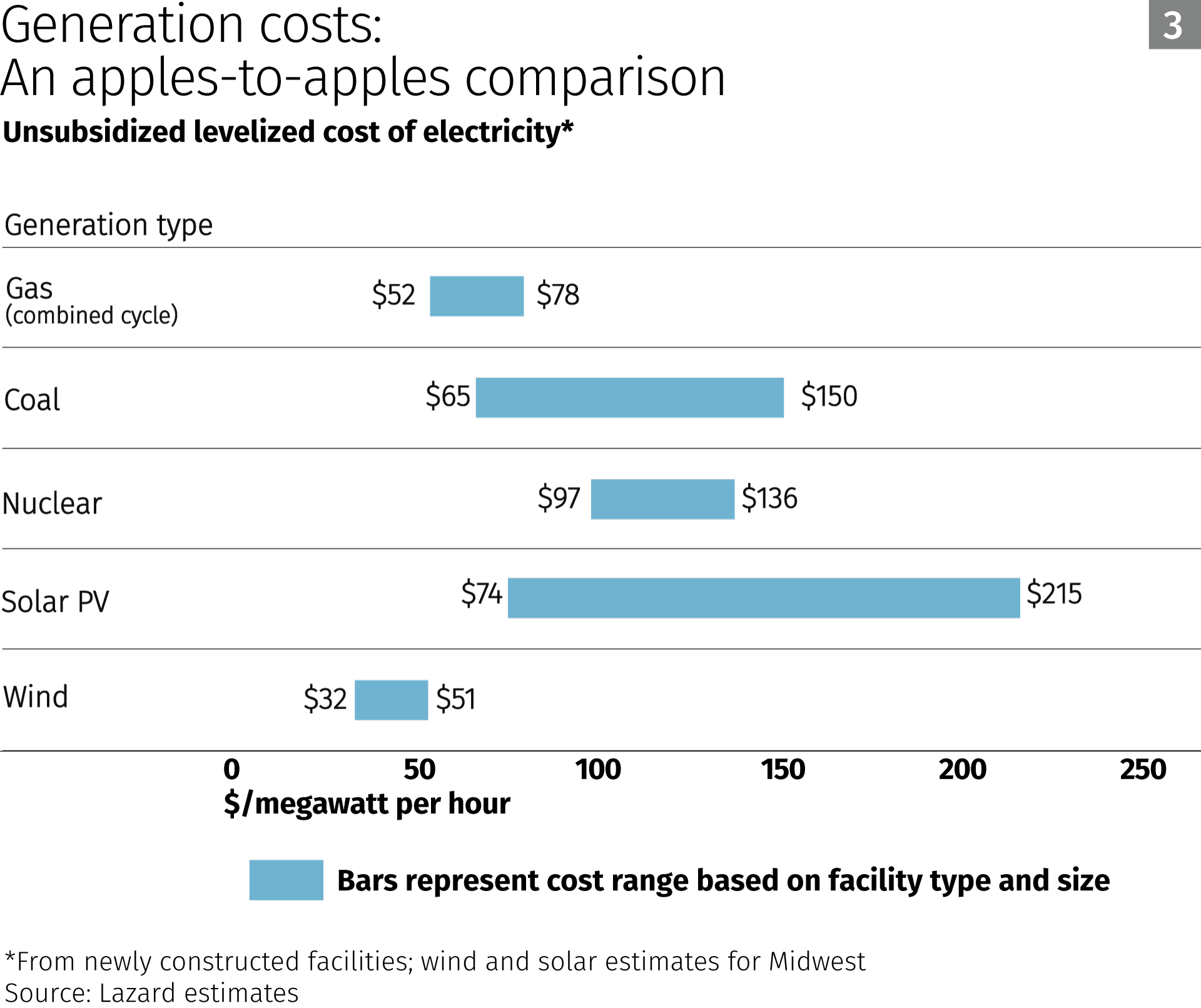 But neither the Lazard study nor the 2014 DOE report accounts for the cost to utilities of managing a variable energy source that must be backed up by other generation facilities when the wind doesn't blow. "There are definite costs associated with integrating wind into a utility portfolio," Raatz said. Estimates of integration costs vary widely in the energy industry.
Spending on new or upgraded transmission may also be required to transport wind power from rural areas to cities where most power is consumed.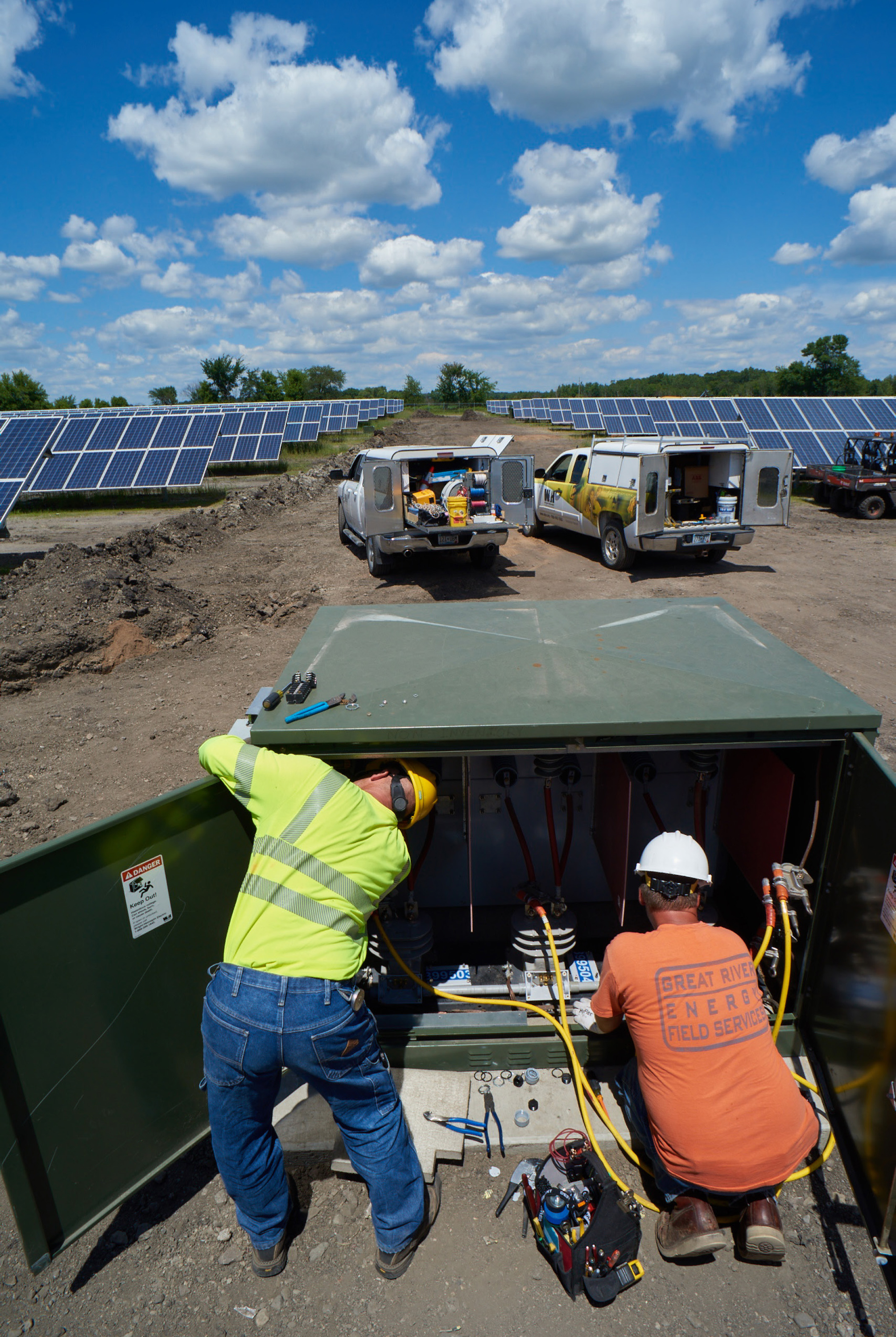 Workers for Great River Energy install electrical equipment at the new solar facility.Photo by David Bowman
… and of the sun
Over the past decade, solar PV technology has also achieved major efficiency gains. Since 2006, average development costs per kilowatt for solar in the United States have fallen over 70 percent, according to the Solar Energy Industries Association (SEIA), a trade group for solar manufacturers and suppliers.
"We've seen a pretty steady decrease in the cost of solar, and the projections are that costs will continue to go down," said Lynn Hinkle, policy director for the Minnesota chapter of SEIA. Cost savings have come mostly from price cuts on components such as solar panels due to more efficient production and global competition among manufacturers.
But solar power in the district still is probably years away from competing on a level playing field in energy markets.
Utility-scale solar—large projects designed to serve utility customers rather than individual businesses or households—is the most efficient form of power generation from the sun. Electricity produced by these expansive ground-mounted facilities costs less than half that from a typical commercial rooftop system because developers can leverage economies of scale in procurement and assembly.
Utility-scale systems in the district include North Star Solar, a $180 million, 100 MW solar farm planned near North Branch, Minn., to serve Xcel Energy customers; and Geronimo's Aurora Distributed Solar Project, which will deploy multiple solar arrays scattered across Xcel's service territory to produce a similar total amount of electricity.
Prices of utility solar contracts have dropped to $35 per MWh in sunny regions of the country such as Texas, Southern California and the desert Southwest, according to SEIA and GTM Research, a renewable-energy market analysis firm.
But utilities operating in the district say that solar is their most expensive power option, even with the ITC (the primary financial incentive for large solar projects) in place. "In the Upper Midwest—say, in Minnesota and North and South Dakota—the cost of solar generation is on the high side, compared with other parts of the country," said Raatz of Basin Electric.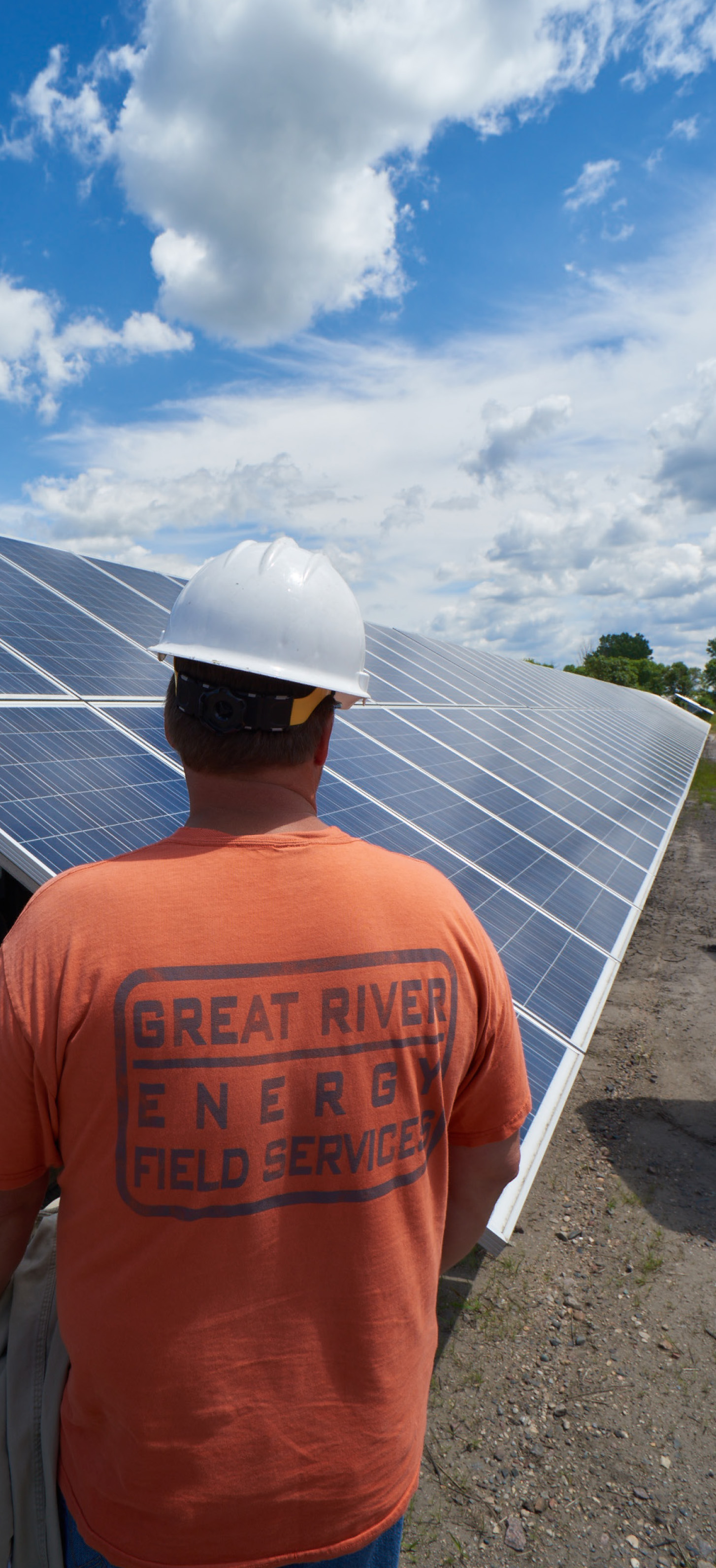 And without the ITC and other subsidies? The Lazard study (Chart 3) found that in the relatively cloudy Midwest, solar PV is pricier than wind power and most other forms of new generation.
For utilities covered by Minnesota's solar mandate, the ITC reduces the cost of compliance; for those not subject to a state mandate, it may reduce solar costs sufficiently to justify investing in a technology that many in the energy industry believe holds great promise. For example, solar panels produce the most power during the daytime, when electricity demand and prices peak. And solar lends itself to distributed generation close to cities, reducing the need for new transmission.
In some parts of the district, utilities are also turning to the sun in response to demand from customers willing to pay a premium for solar power. Great River Energy, a Twin Cities-based cooperative utility not bound by the state's solar mandate, was building a 2.25 MW solar farm west of Minneapolis for a regional cooperative, a wholesale customer. "This is our first foray into [large solar], driven by member interest," said Laureen Ross McCalib, GRE's manager of resource planning.
Grasping for the grail
Many in the wind and solar industries anticipate that by the time the federal tax credits start phasing out, the technologies will have achieved grid parity—the price point at which they can compete sans subsidies with other forms of generation.
Confidence runs high that this goal—the holy grail for renewable energy—has already been attained or is just around the corner for wind power in the central part of the country, at least for new generation. "We're very bullish on the long-term growth of wind energy" after the PTC expires, said Coventry of TradeWind Energy. "We think it will continue to get built in the windy part of the country."
But the time horizon for achieving solar grid parity in the district may be longer, beyond the life span of an effective ITC. While utility-scale solar in Southern states appears to be on track to achieve grid parity by the mid-2020s, "in the Upper Midwest, maybe it won't quite be there by that time," Bolinger said.
The quest of wind and solar to thrive without subsidies depends in large measure on continuing technological advances that boost efficiency and reduce costs. GTM Research projects in a recent report that, driven largely by reductions in "soft" costs such as labor, marketing and permitting, development costs of utility-scale solar will fall another 30 percent by 2020.
Competitive forces and government regulation will also shape the fortunes of wind and solar power over the next decade.
Many energy experts see natural gas prices, currently at historic lows, rising in coming years. Kunkle of Wind on the Wires notes that utilities are already concerned about gas price hikes. "Utilities increasingly view wind and solar as providing hedge value," he said. "They see a lot of value in stability—being able to sign a contract knowing the exact price for 20 or 25 years. They can't do that with natural gas."
If gas prices do rise substantially, wind power—and perhaps utility-scale solar feeding the grid at peak periods—would offer an attractive alternative, even without the tax credits. Future carbon regulation could also help push wind and solar toward grid parity by making coal- and gas-fired generation more expensive.
The Obama administration's Clean Power Plan, which proposes restrictions on greenhouse gas emissions from power plants, was expected to drive wind and solar development once the PTC faded away. However, in February the U.S. Supreme Court put implementation of the plan on hold.
In light of these market and regulatory uncertainties, Haeger of Xcel Energy said the utility would continue to invest in wind and solar power. "It's very difficult to know how things will play out over the next 30 years, but we want our portfolio to be well balanced so that regardless of which direction the world takes, our customers will see long-term, stable electricity prices."