Firms optimistic about employment, less optimistic about workers
When it comes to job growth, does making a good effort count?
In a May survey of business contacts by the Federal Reserve Bank of Minneapolis, many firms said that they were hiring. But they also reported trouble filling open positions and retaining their current workforce.
The poll, which received almost 150 responses from a random sample of business contacts across the Ninth District, found that among firms anticipating employment change in the coming year, those expecting to add positions outnumbered those likely to cut jobs by a two-to-one margin (Chart 1).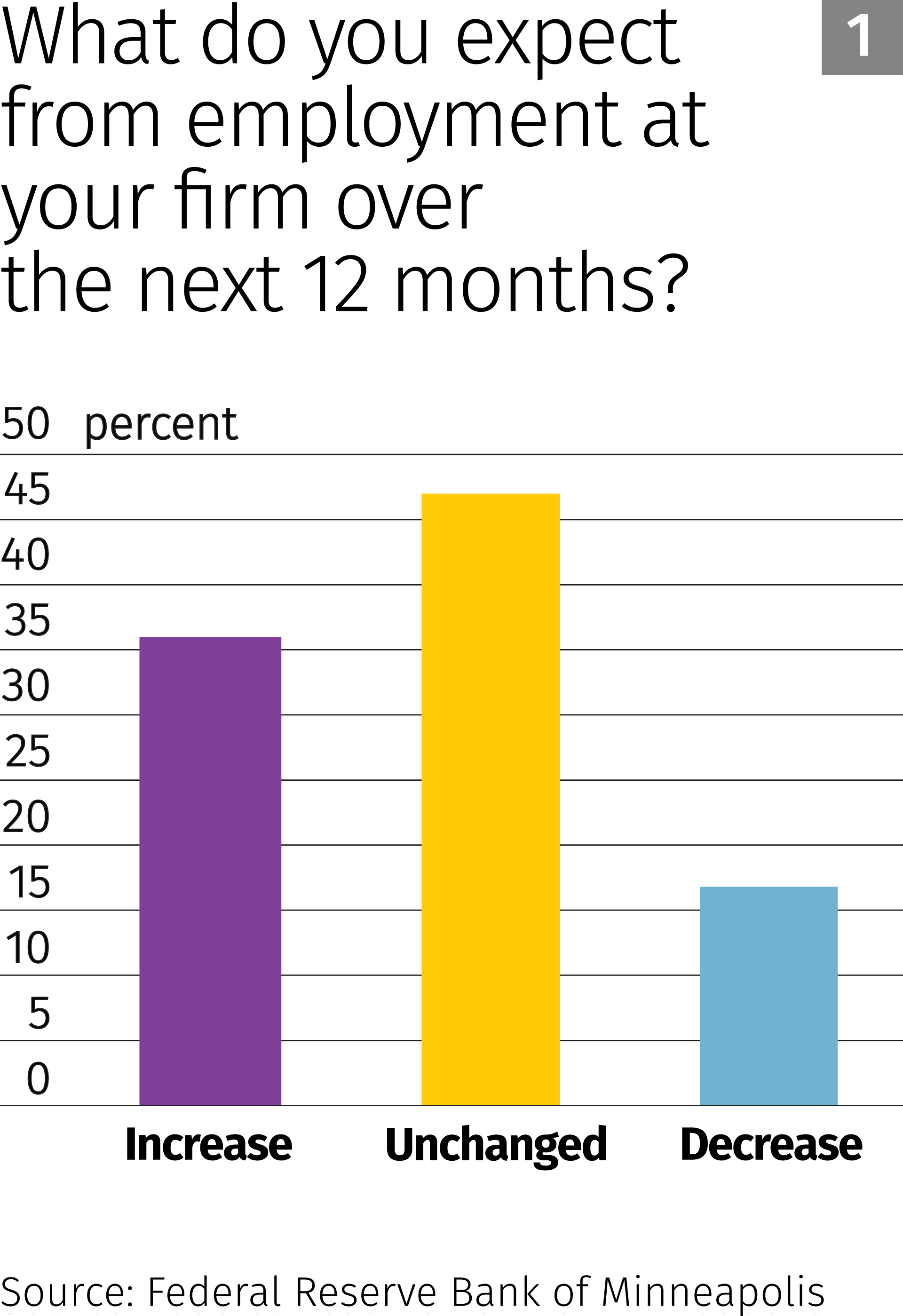 But openings are only potential jobs, and two of three respondents reported difficulty finding qualified candidates for at least some of their positions (Chart 2).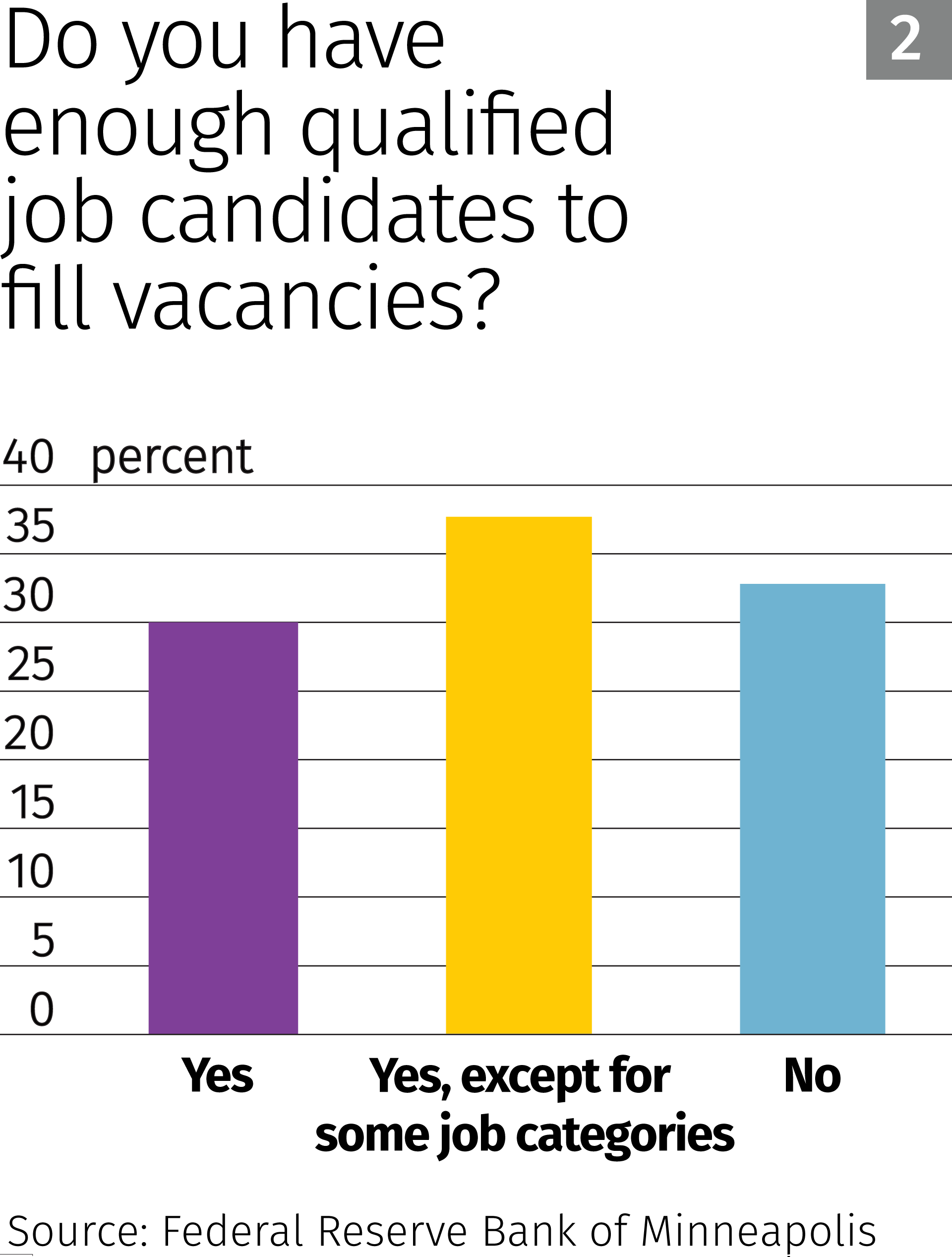 There are myriad reasons for this apparent misalignment of demand and supply, but a few factors rose to the top in the survey. Roughly two-thirds of respondents said that not enough candidates applied for the positions, and a similar proportion said that applicants lacked the experience or specific skills necessary for the job, including "soft" skills like getting to work on time and dressing appropriately.
"We find many candidates refuse to do manual labor like stacking bags or boxes on pallets or filling bags on the production lines. People will work a few hours and walk off the job," one respondent said.
Another reason cited by respondents for a lack of qualified candidates was high compensation demands.
Compounding labor challenges, employers also said that keeping their current workforce had become harder over the past year (Chart 3). Forty percent of respondents said that retaining employees had become more difficult—four times the number who believed retention had become easier.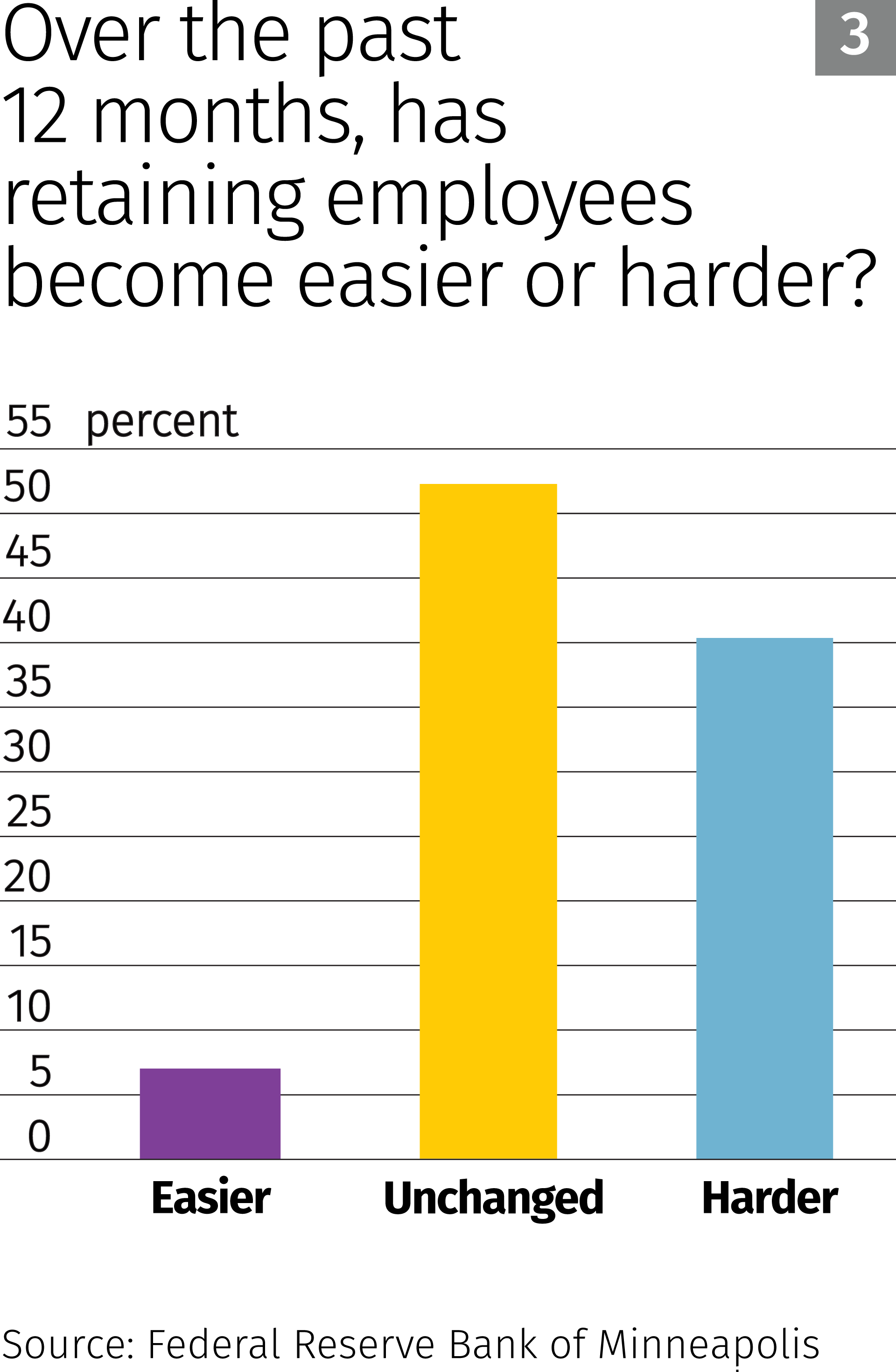 Summing up the labor situation, one respondent said: "For direct labor manufacturing jobs paying between $12 and $25 an hour, the labor market feels very tight. Many [workers] don't show up for job interviews due to other opportunities. Many abandon their jobs within six months for another opportunity. Most applicants receive multiple job offers from which to choose."
Another said that "recruitment and retention is especially challenging at the lower end of the pay scale." A third respondent commented, "It is definitely a candidates' market at this point, and candidates are being lured away with more money and more flexible work environments and schedules."
The good news, at least for workers, is that about one-third of respondents said that, more so than in previous years, wages were rising for most positions; another third said this was occurring for select jobs.
"Unskilled and skilled labor are both seeing significant increases in wages compared to the past," said one respondent, while another firm remarked that it has taken "a very close look at starting wages for our entry-level positions. It's where we've seen the biggest increase."
A third business remarked that wages were increasing for production workers assigned to less desirable shifts "in order to attract more reliable workers."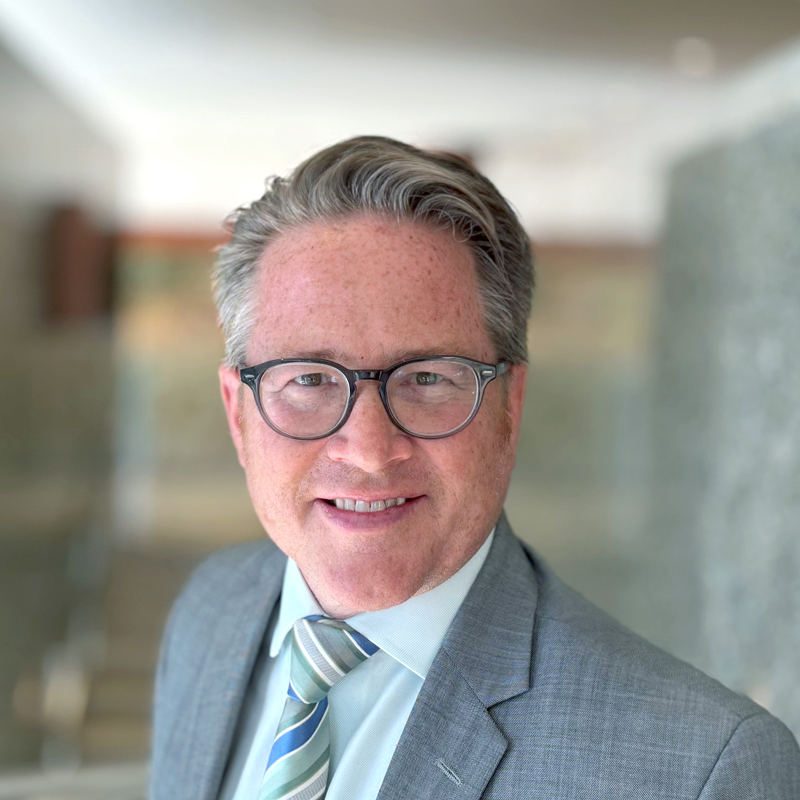 Request as a speaker
Ron Wirtz
Director, Regional Outreach
Ron Wirtz is a Minneapolis Fed regional outreach director. Ron tracks current business conditions, with a focus on employment and wages, construction, real estate, consumer spending, and tourism. In this role, he networks with businesses in the Bank's six-state region and gives frequent speeches on economic conditions. Follow him on Twitter @RonWirtz.