District spotlight: Mankato finds its big-city legs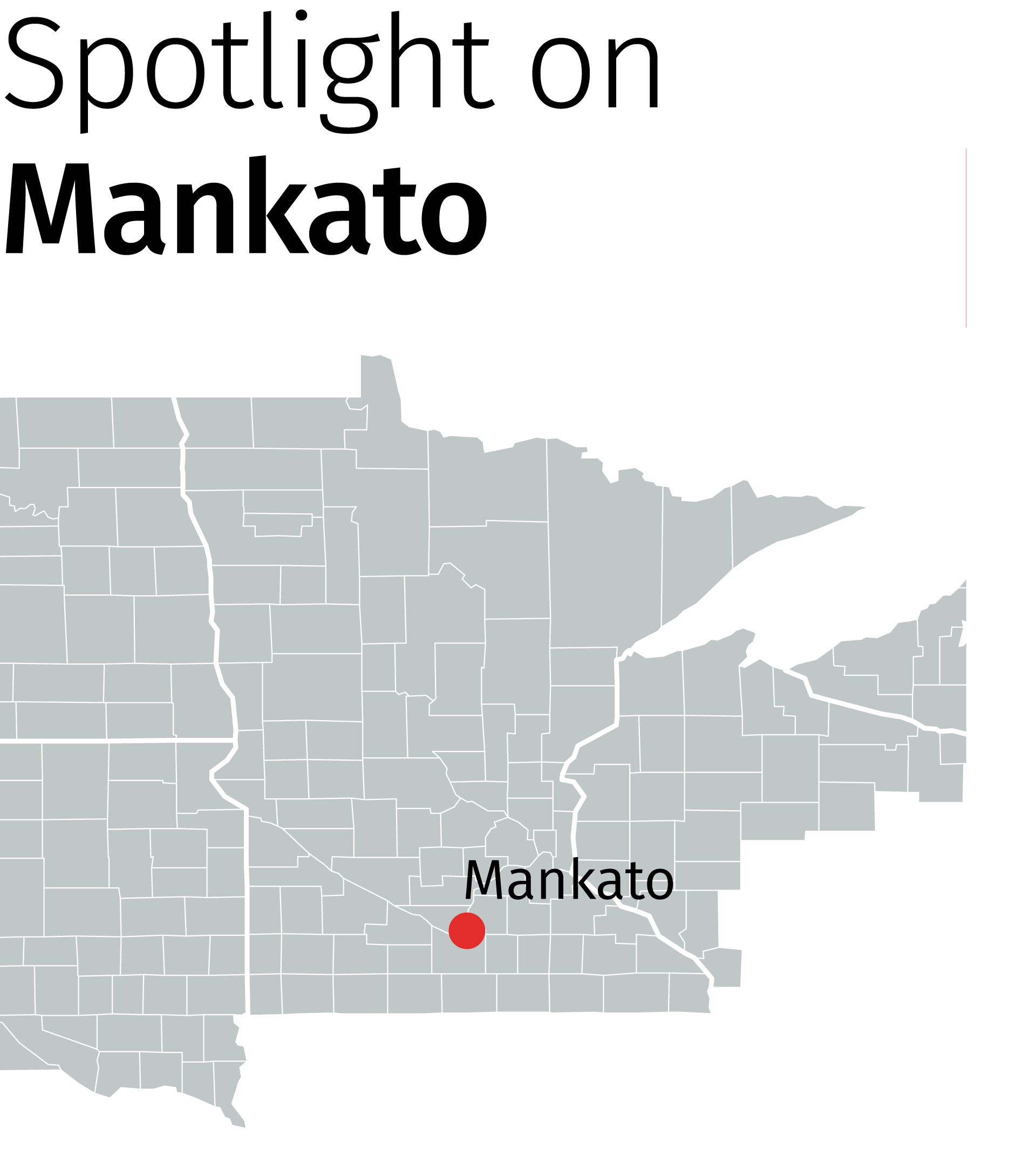 What makes for a "big city"? Those attributes may be hard to pin down, but in recent years Mankato, Minn., has come to fit the description. The city is shedding its image as a small college town and starting to look and act like its bigger siblings in the district.
Mankato, a community of 40,000 on the Minnesota River in the south-central part of the state, is an emerging regional center for commerce, including restaurants, entertainment and shopping. Construction activity has been strong, particularly for apartments and commercial developments, over the past several years.
The region got its first big-city boost from the U.S. Census in 2008 when its core—Mankato and the neighboring city of North Mankato—crossed the 50,000-person threshold and officially became a metropolitan statistical area. The designation affords the region more opportunities for federal assistance, like community block grants, and gives the area a higher profile by virtue of the fact that it appears in a lot of government databases with other large cities.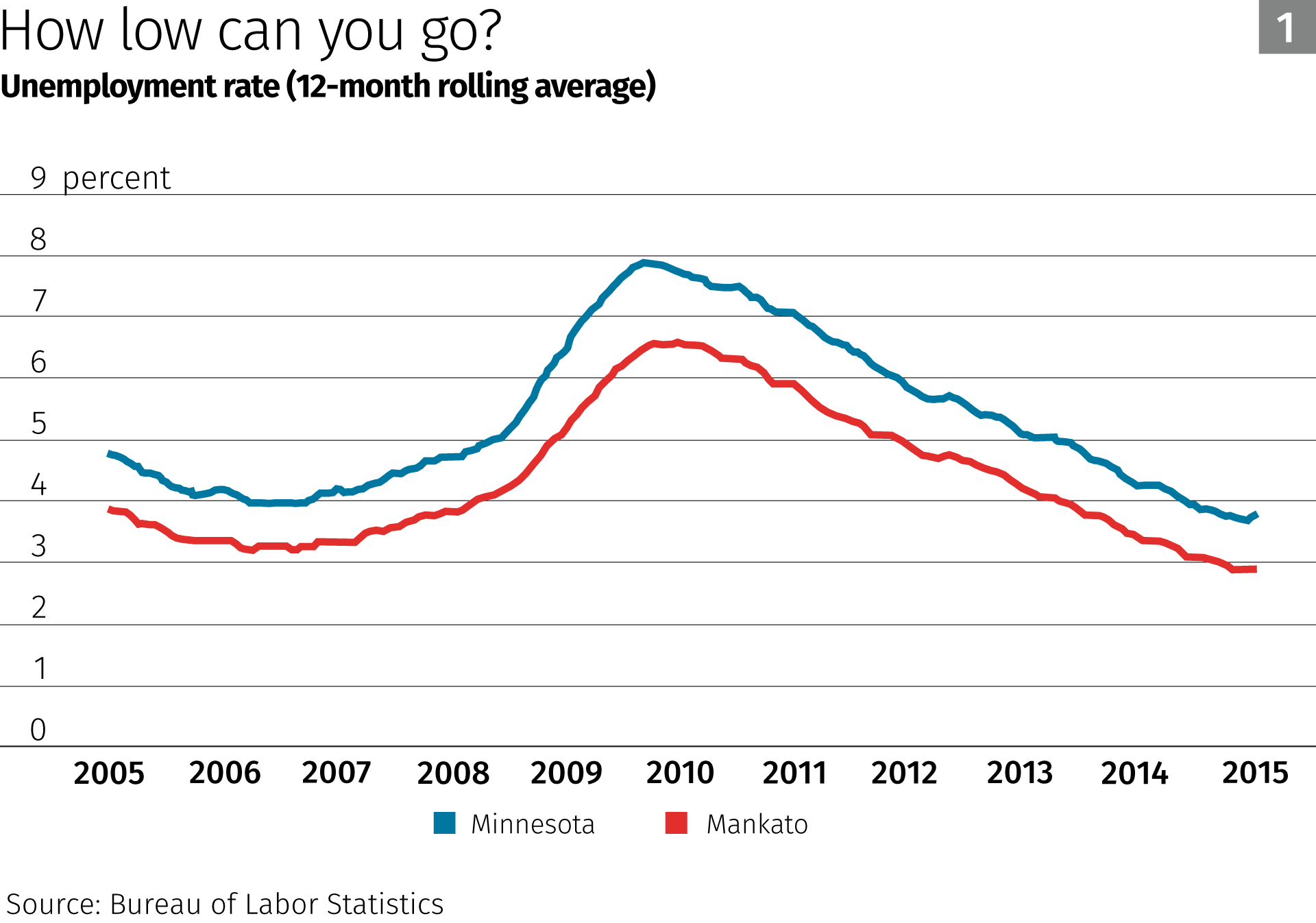 More broadly, the Mankato regional economy has been outperforming that of the state as a whole on a number of measures tracked by the federal government. Since 2005, the region's unemployment rate has been well below the state rate, which today is among the lowest in the country (Chart 1).
And over the same period, Mankato has outpaced the state in population, employment and labor force growth by sizable margins (Chart 2).
Nowhere is Mankato's big-city feel more evident than downtown, which has seen several years of steady redevelopment. Last year, construction started on a $30 million expansion of the city's civic center, roughly half of it paid for by the state. Other recent projects include two major new commercial office buildings and a mixed-use development, the first such downtown projects in decades, according to local reports.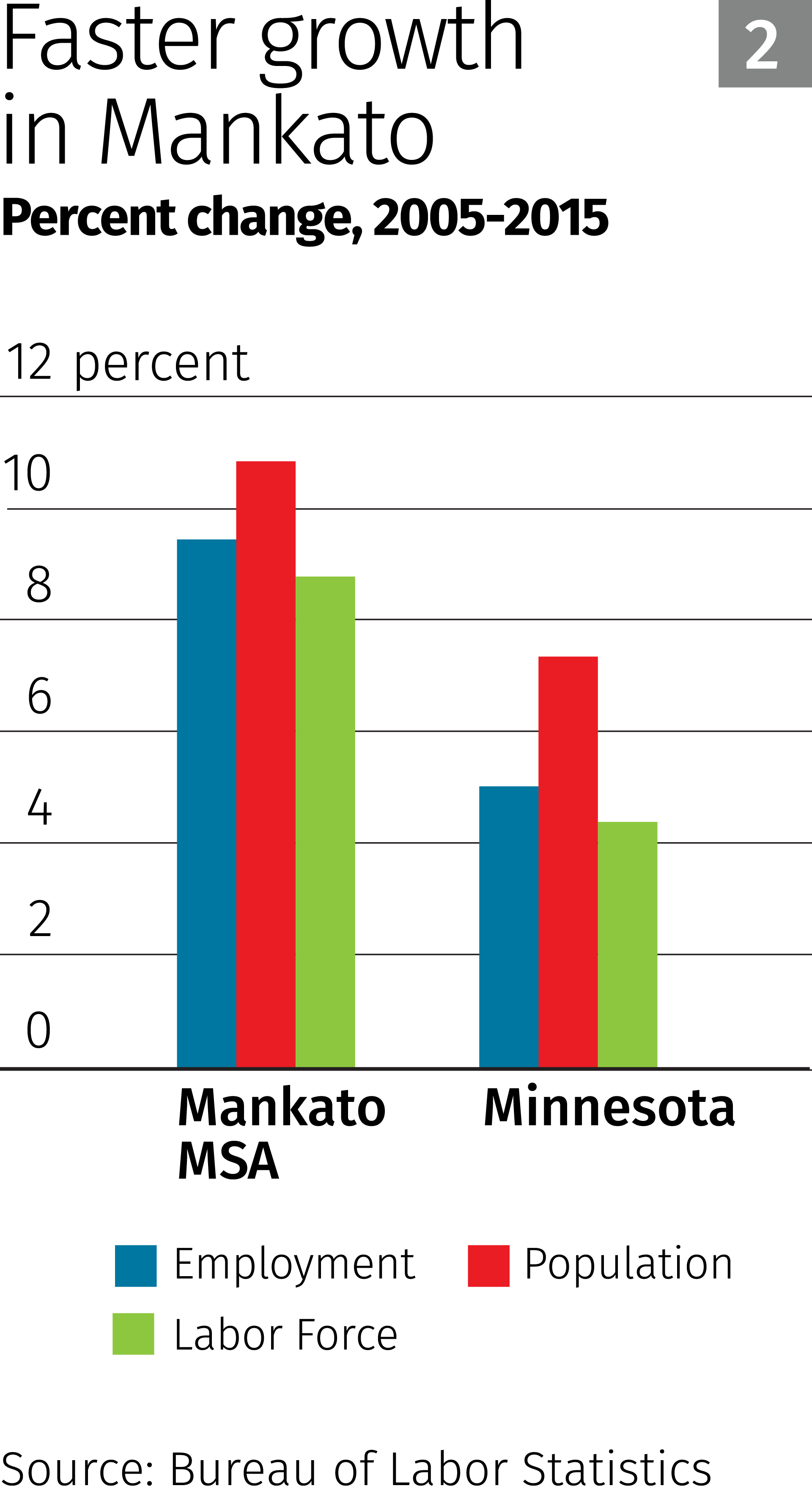 Those developments are expected to spur economic activity and job growth in areas outside the city's economic mainstays: manufacturing, agriculture, higher education and health care. The region is home to five higher education institutions, the largest being Minnesota State University-Mankato. The region is also a growing health care hub, with the established Mankato Clinic now competing with an expanding Mayo Clinic presence.
The Mankato region does have its challenges. For example, although the region is a manufacturing stalwart—the sector represents 17 percent of employment, well above the state average—that share has shrunk over the years (Chart 3). A recent slowdown that has prompted layoffs at several local manufacturers and a flattening of regional output has contributed to this drop, part of a long-term trend in the state and in the nation.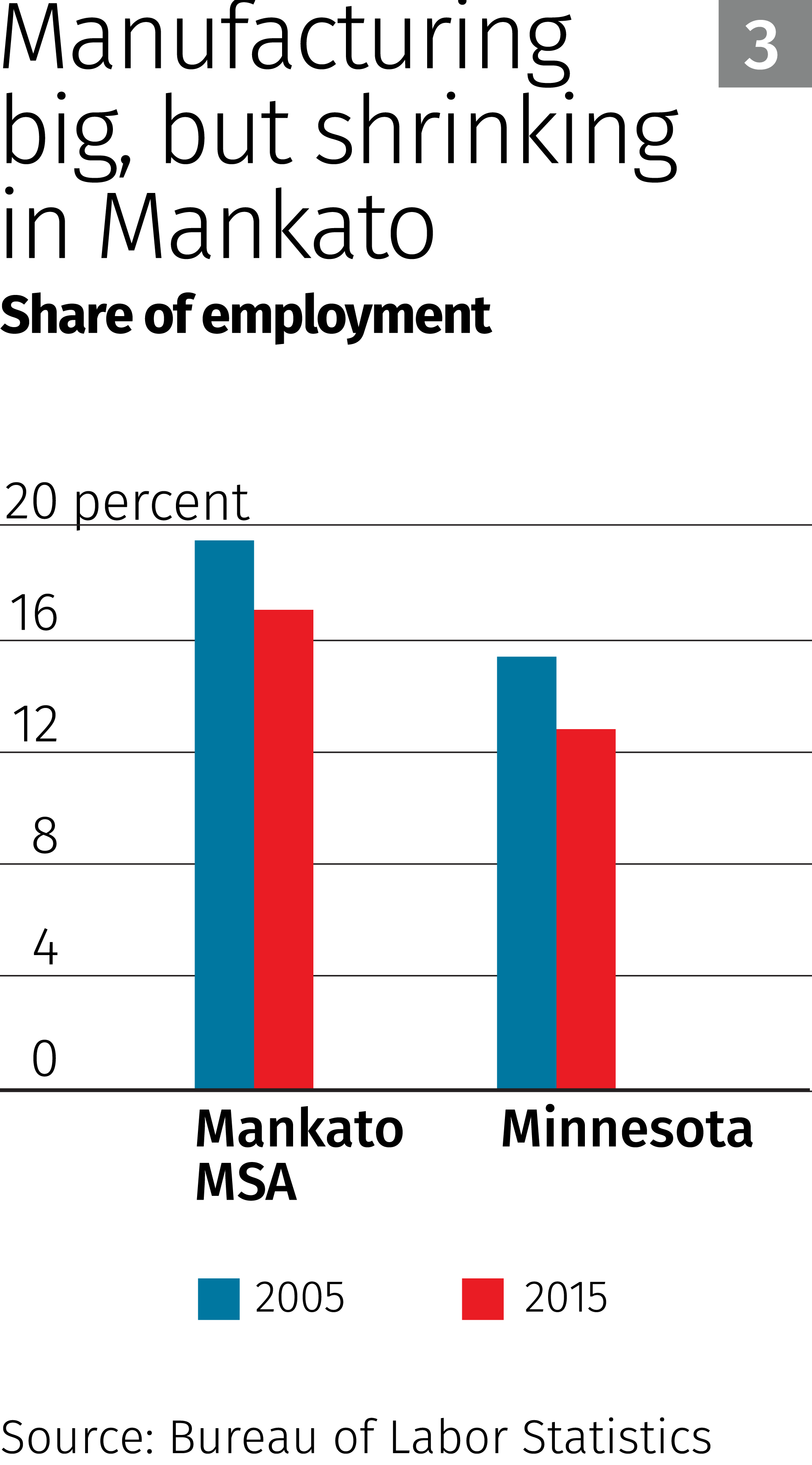 The region is also a major player in agriculture, being seated in a fertile region that produces large amounts of corn and soybeans (among other crops), as well as swine and other livestock. This has spawned value-added opportunities, such as meat processing and a dozen or more ethanol plants within a 50-mile radius of Mankato. But the downturn in crop and livestock prices has taken a severe toll; the U.S. Bureau of Economic Analysis estimates that farm income plummeted last year to the lowest levels in more than a decade.
One of the hallmarks of big cities is their ability to attract more people, especially young people. But a slowdown in Mankato-area labor force growth over the past five years—despite over 1,000 job openings recently listed with the state job service—suggests that the area may struggle to attract more residents and workers in coming years. Growth has also slowed in surrounding rural communities, historically a source of youthful workers for Mankato.
Local leaders hope that the recent downtown redevelopment, which has increased entertainment options, will make the region more appealing to those seeking urban amenities, putting it on par with other mid-sized metros such as Rochester and Duluth (Minn.), Fargo, N.D., and Sioux Falls, S.D.
The region also has an underappreciated asset that might help to enhance Mankato's image as an up-and-coming metro: MSU-Mankato. International students are flocking to the university, which is ranked 29th in the nation among institutions offering master's degrees, according to the 2015 Open Doors report. That's up nine spots from 2012, with the number of international students growing 60 percent to 1,228 over this period.
Local sources said that the university is attractive to foreign students because of its high-quality programs, relative affordability and perceived safety. Most of the growth has come from word-of-mouth advertising—current students telling family and friends back home about the university.
In addition, a growing number of Somali and Sudanese families in Mankato—now totaling about 700, according to one source—have made the city a more diverse, cosmopolitan community.
Taken together, these developments in Mankato are evidence of newfound urban maturity. The community, said one local businessman, "has realized [Mankato] is a major player in the region and state. … Now we realize we're a regional hub, and we're acting like it."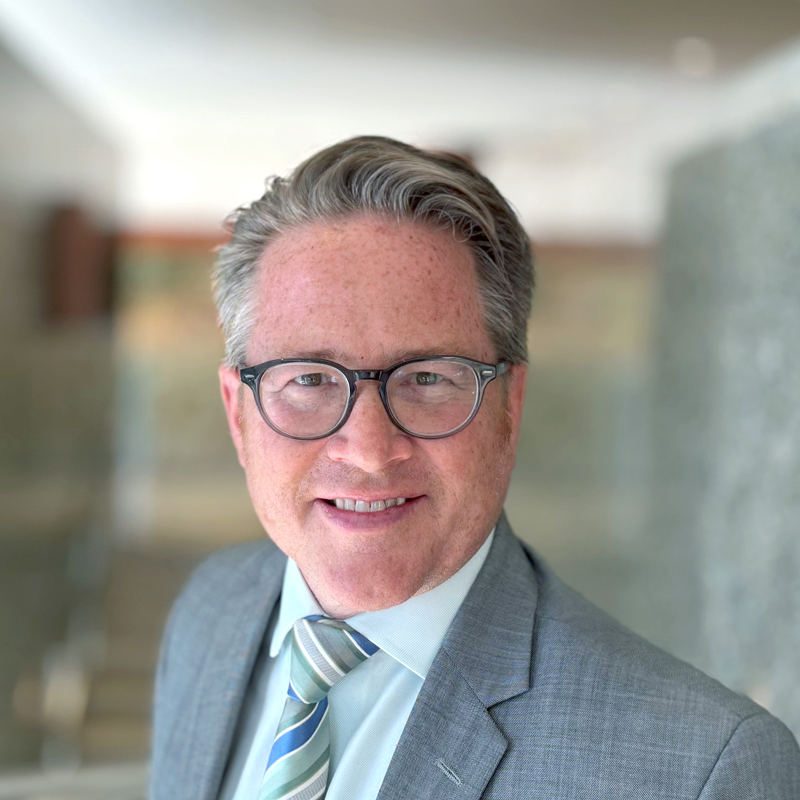 Request as a speaker
Ron Wirtz
Director, Regional Outreach
Ron Wirtz is a Minneapolis Fed regional outreach director. Ron tracks current business conditions, with a focus on employment and wages, construction, real estate, consumer spending, and tourism. In this role, he networks with businesses in the Bank's six-state region and gives frequent speeches on economic conditions. Follow him on Twitter @RonWirtz.