La Crosse picks up the pace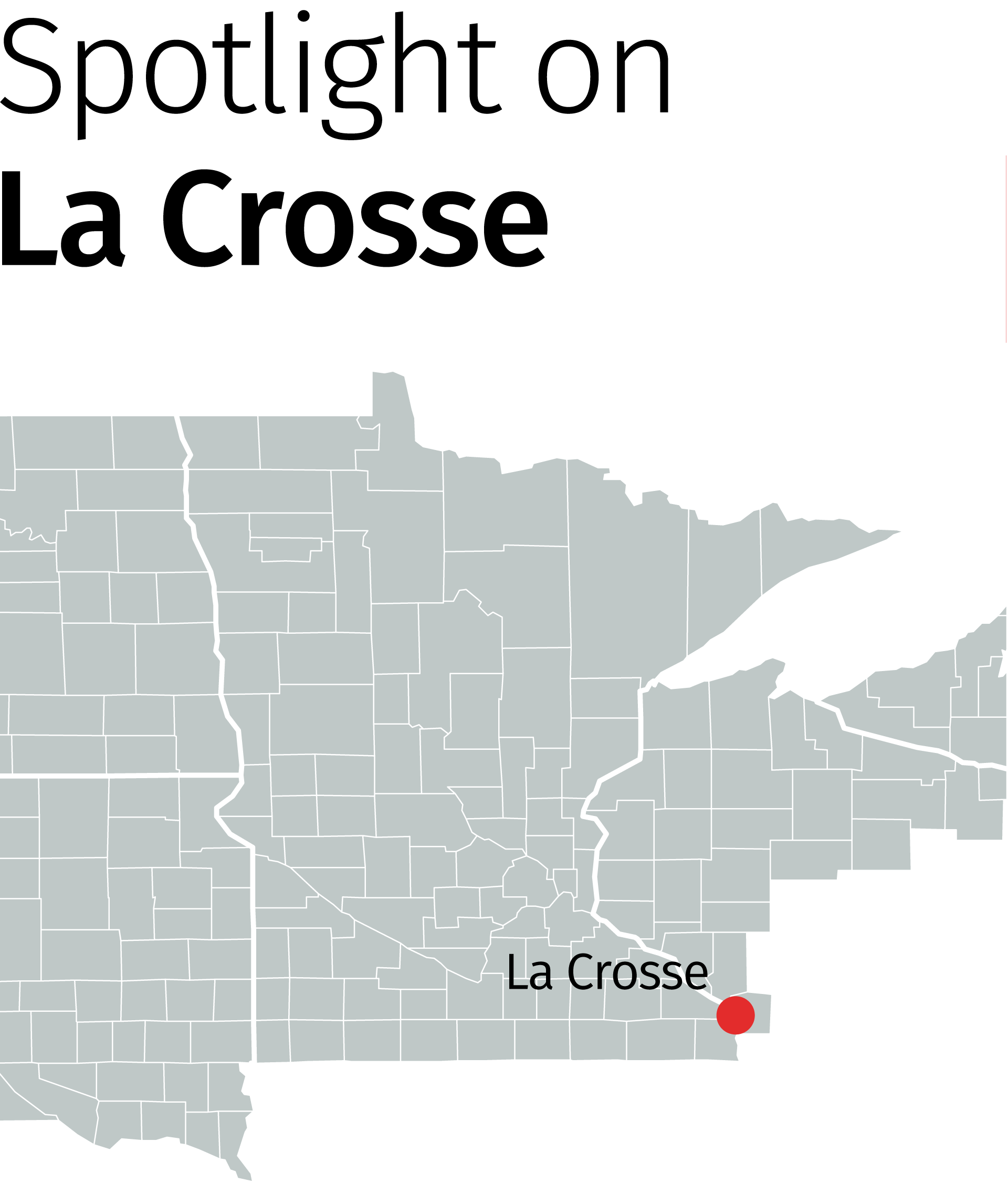 "Spotlight" is an occasional feature about Ninth District communities in which the Minneapolis Fed has held private meetings with businesses to gauge regional economic conditions. To maintain confidentiality, individuals and their businesses are not named.
If slow and steady wins the race, then regions that have seen robust economic growth since the Great Recession might want to look over their shoulder for up-and-coming La Crosse, Wis.
Economic growth in the city on the Mississippi River has been fairly modest over the past decade or longer. But recently, numerous indicators have turned upward, along with public sentiment about the region.
For now, signs of a quickening economic pace are not obvious. The La Crosse metropolitan region, with a population of 137,000 in La Crosse and Houston (Minn.) counties, has grown slowly for some time. In 2015 (the most recent year with metro-level data), the region's real gross domestic product grew a shade below 1 percent, well below inflation-adjusted rates approaching 3 percent for nearby Eau Claire, Wis., and Rochester, Minn. (see Chart 1).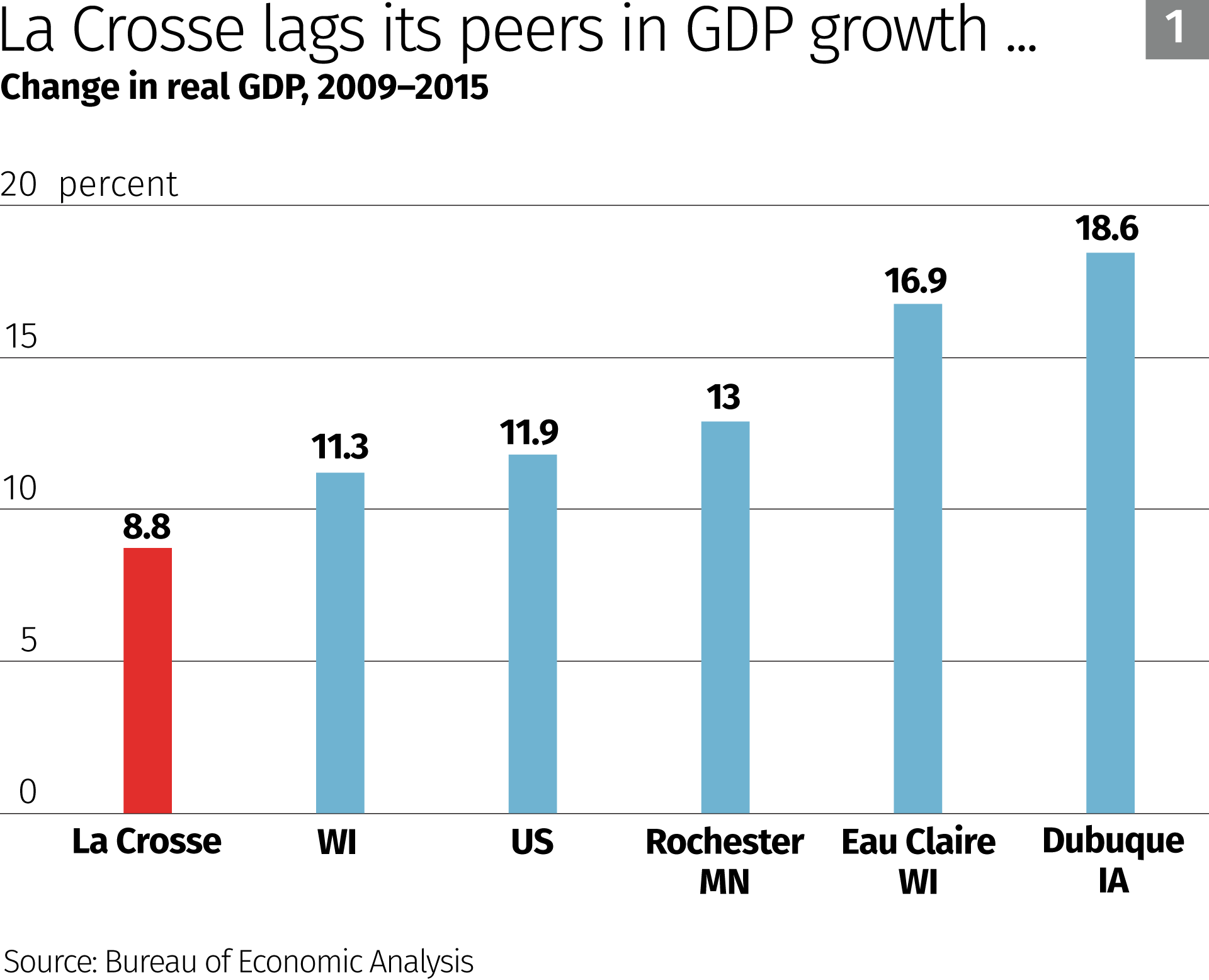 Incremental growth has been the norm for La Crosse since the end of the recession; from 2009 to 2015, real GDP in the region increased 9 percent, lagging the likes of Dubuque, Iowa (19 percent), and Eau Claire (17 percent) over this period, and even falling short of the modest state rate of 11 percent.
Though unemployment has declined and is below the state average, job growth (Chart 2) has been slow for some time, especially compared with nearby, similarly sized metros. This sluggishness is largely due to difficulty in the "goods" economy—namely, construction, manufacturing and natural resources (Chart 3). From 2001 to 2015, a 13 percent decrease in jobs related to goods production—which provide about a third of regional employment—partly offset a comparable increase in service jobs.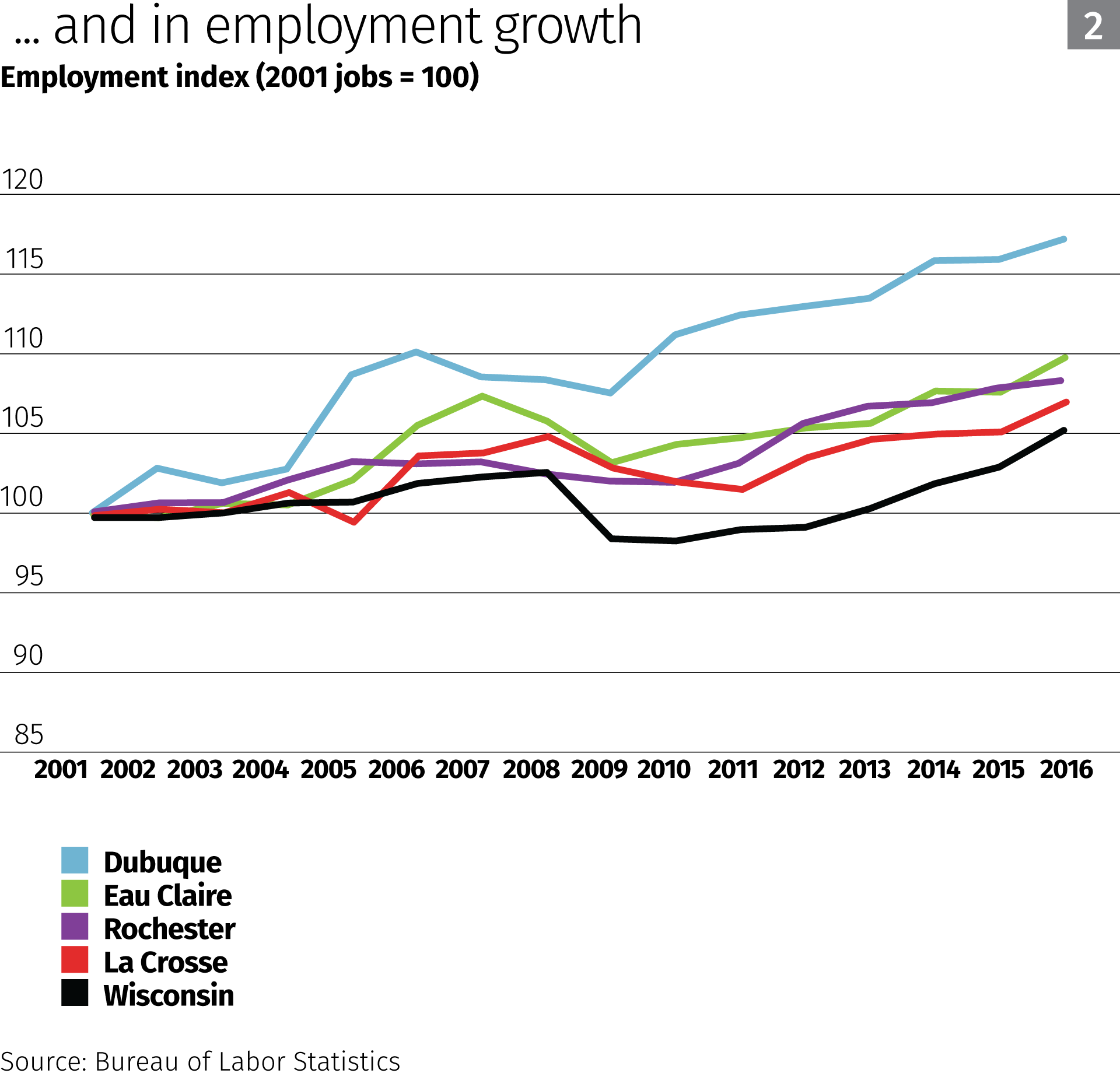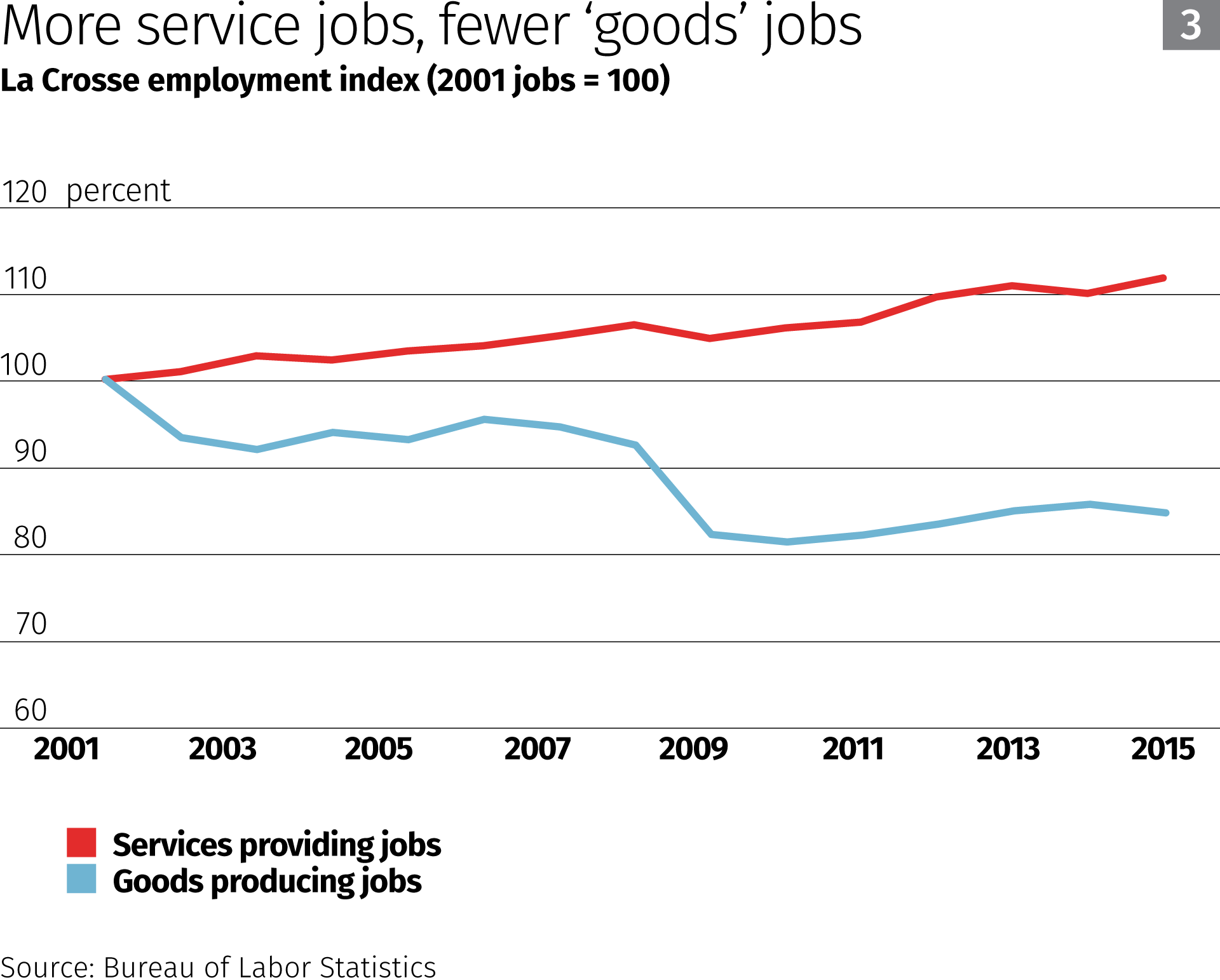 A new day?
Today, La Crosse has a different economic feel. For example, employment in the region grew 1.7 percent in the 12 months ending September 2016—faster than any of the other cities mentioned.
In mid-November, health care company Logistics Health Inc., announced that the U.S. Department of Veterans Affairs had awarded it $3 billion in contracts to provide medical services to veterans. The contracts are expected to create 300 new local jobs, with potentially hundreds more to follow.
The downtown retail area is thriving, according to local officials; previously vacant storefronts have filled in, and a new retailer that opened in June was reportedly surpassing early sales expectations. In November, local retailers were optimistic about holiday sales, and a special events planner said bookings over the next few months were strong. "All indicators are that [2017] will be better than ever," she said.
The city also has seen significant investment of late, including an $80 million upgrade to its two-year Western Technical College. The city is about to embark on a $35 million to $50 million (depending on state support) renovation and expansion of its convention center. To accommodate conventioneers and other visitors, four new hotels either have been built or are under construction in La Crosse. Before these hotels were built, attendees of large events would sometimes have to stay up to 30 miles away.
Lodging firms reportedly had a strong fall and were "expecting a strong 2017," and visitor spending has increased as well, according to a downtown source.
Housing is one area in which the region still appears to be looking for footing. Permits issued for single-family housing have steadily declined over the past decade (Chart 4), and although construction of apartments and other types of multifamily units have had a few decent years, only 20 multifamily units were permitted in the La Crosse metro in the first 10 months of 2016, according to government figures.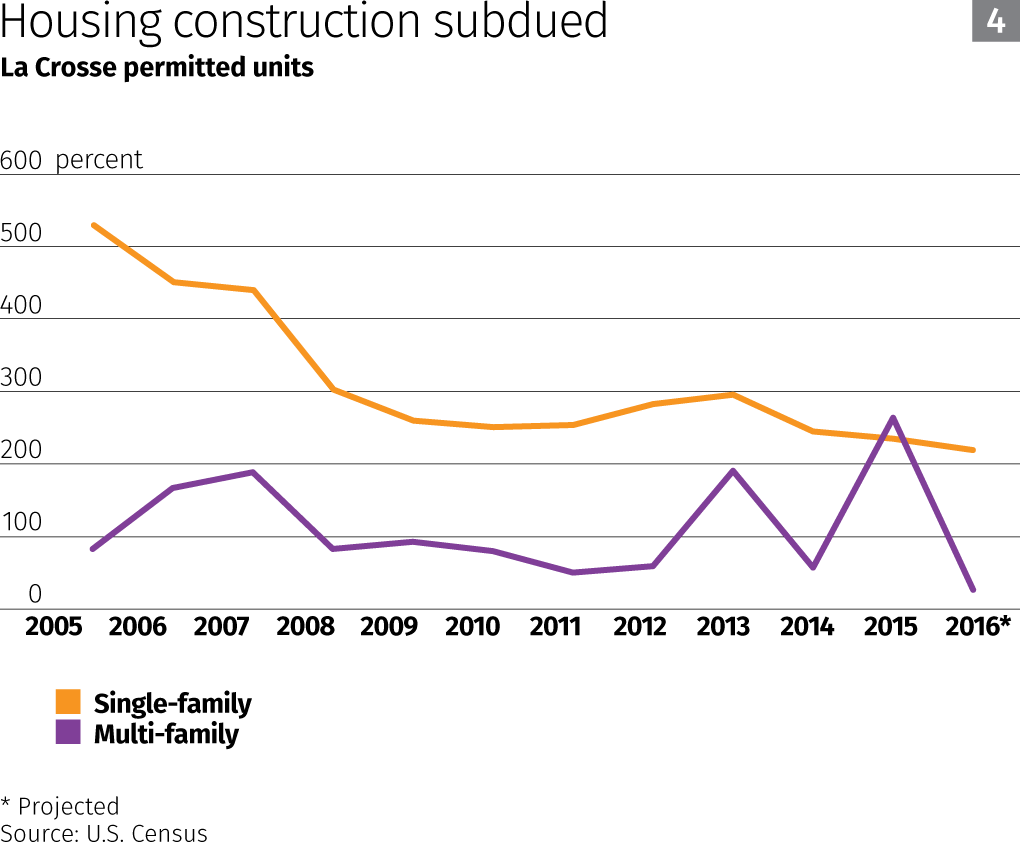 To put that in perspective: Through last October, Rochester was on pace to approve as many multifamily units in 2016—roughly 1,000—as La Crosse has permitted in the past 10 years. If that happens, it would mark the second consecutive year Rochester has accomplished the feat.
Like many areas of the Ninth District, the La Crosse metro faces a tight labor supply. A restaurant owner said that five or six years ago, she would hire new college-age workers every semester; now she is "constantly hiring" because of high turnover. Many students at local colleges such as the University of Wisconsin-La Crosse job-hop to earn an income, she said. When spring break comes, they leave, regardless of their obligations to an employer. "They'll find a new [job] when they get back."
Numerous local sources said employers are working harder to attract and retain employees. Flexible working hours, clearer career pathways and generous benefits (such as reimbursement for child daycare) are becoming the norm. "The creativity of hiring has never been higher," said one business source.
For all of these challenges, La Crosse appears bullish on its economic prospects. Voicing an oft-repeated view around town, a local business contact said, "You can sort of feel the optimism. The confidence is in everything."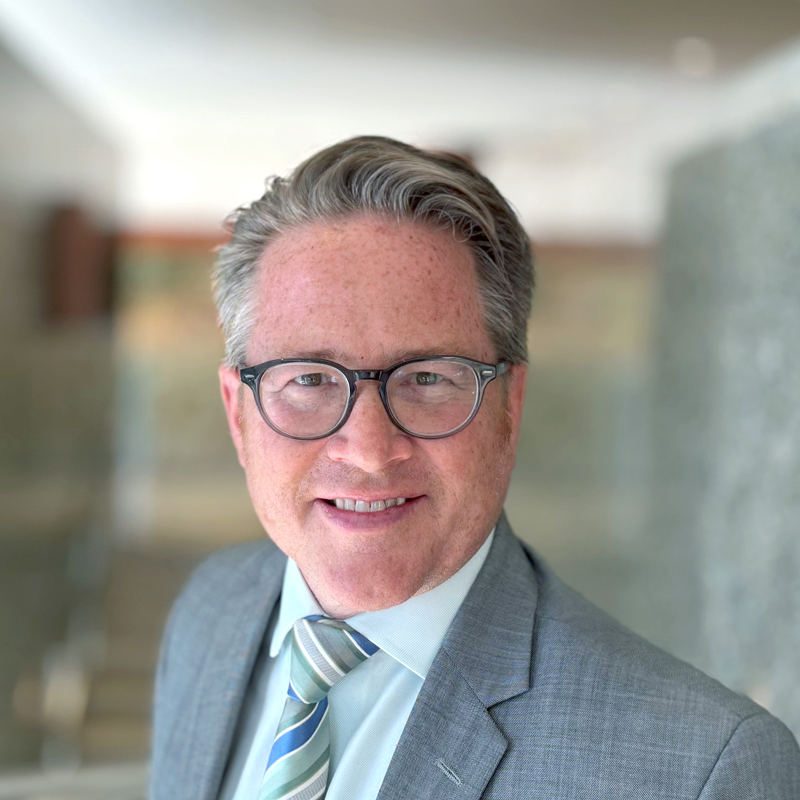 Request as a speaker
Ron Wirtz
Director, Regional Outreach
Ron Wirtz is a Minneapolis Fed regional outreach director. Ron tracks current business conditions, with a focus on employment and wages, construction, real estate, consumer spending, and tourism. In this role, he networks with businesses in the Bank's six-state region and gives frequent speeches on economic conditions. Follow him on Twitter @RonWirtz.