Things are looking up in the U.P.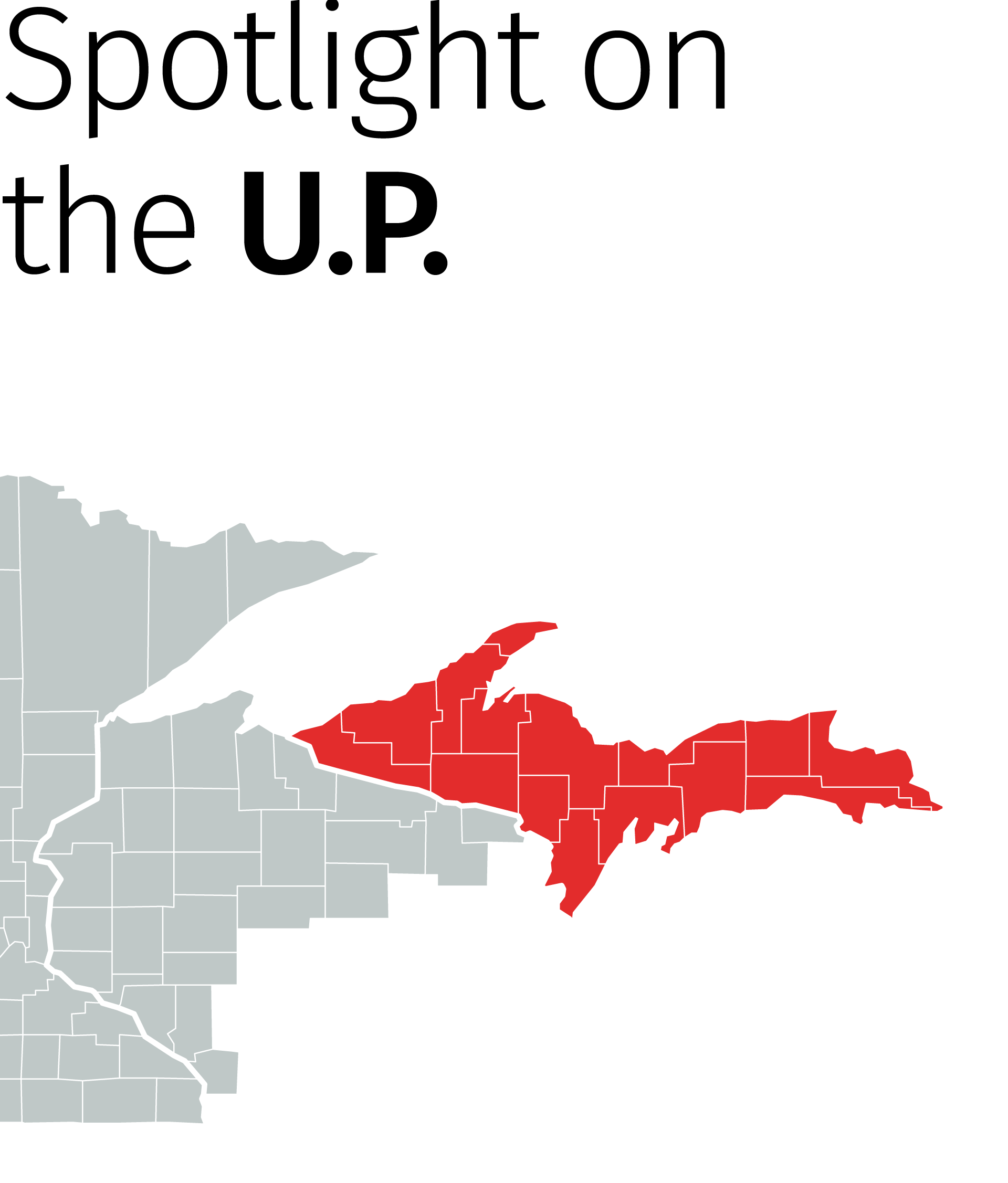 "Spotlight" is an occasional feature about Ninth District communities in which the Minneapolis Fed has held private meetings with businesses to gauge regional economic conditions. To maintain confidentiality, individuals and their businesses are not named.
When it comes to the regional economy, whether things are good or bad is often a matter of perspective. It depends, at least in part, on comparisons with other places.
So it is in Michigan's Upper Peninsula. Though some standard economic indicators suggest that the U.P. might be struggling, in fact, the trajectory of many of those indicators of late has been positive. It could be argued that the U.P. hasn't looked this good since well before the Great Recession.
It's not just the data telling that story. Local businesses and community officials express optimism as well. A food retailer in Ironwood, on the western edge of the U.P., said, "Demand is out there"; sales over last year's holiday season were surprisingly strong, and January revenues were up 40 percent year over year. A contract manufacturer near Houghton at the northern tip of the U.P. also commented on increased demand, saying that "hours have picked up. There's a nice pulse going forward." In 2016, the firm saw sales rise more than 30 percent over the previous year and is forecasting a 25 percent to 30 percent increase in business this year.
To understand the U.P.'s current optimism, it helps to know something of its recent economic past. In the depths of the recession, the unemployment rate reached over 13 percent in almost half of U.P. counties, according to the Bureau of Labor Statistics (BLS). In Mackinac County, on the far eastern side, unemployment still stands at 11 percent. But seven years ago, it was 19 percent. Unemployment levels today remain above the national average for the majority of the U.P.'s 15 counties, but only marginally so for many.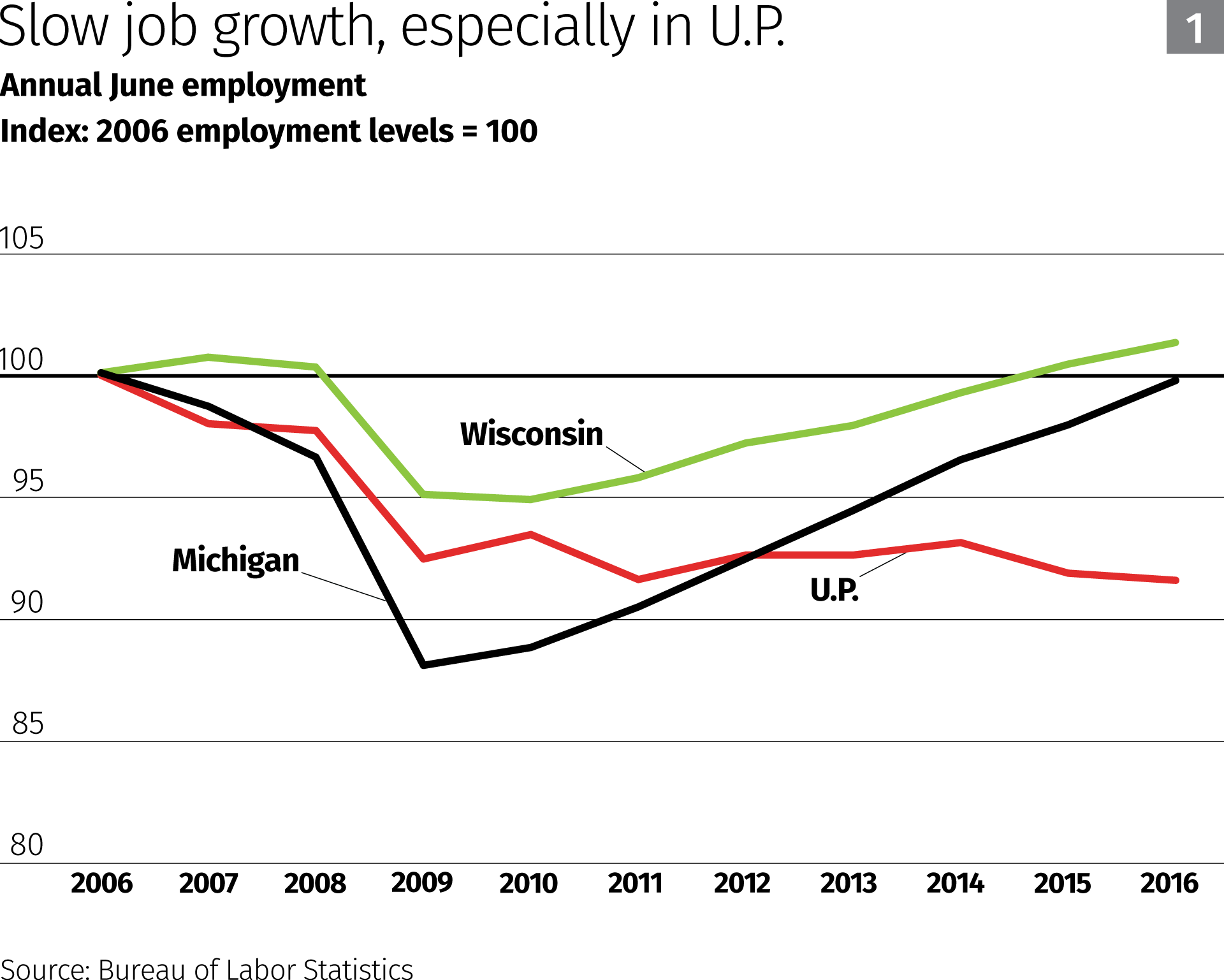 Job growth in the U.P. has also been slow to recover from the recession (see Chart 1). In fact, rather than rebounding after job losses were finally stanched around 2009, total employment in the region has stayed virtually flat. While that might sound dire, zero job growth in the U.P. qualifies as a glass half full.
That's because the region had been shedding people and jobs since well before the recession, the result of state and national economies moving away from the natural resource base that built and long sustained the U.P. The region's population peaked decades ago and has steadily trundled lower.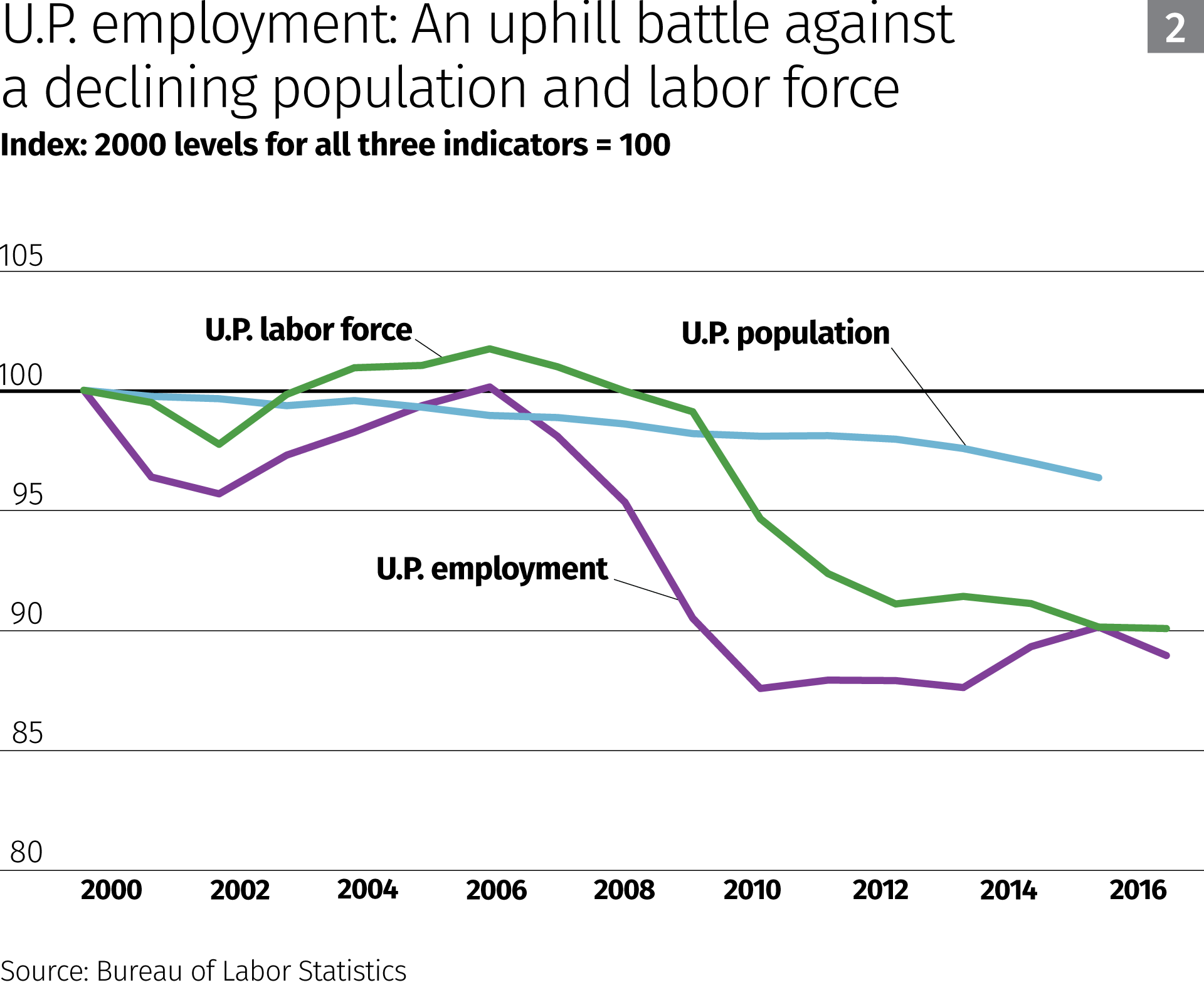 More notably, the region's labor force—the number of people either employed or seeking work—has shrunk by 18,000 (12 percent) over the past decade (Chart 2), a trend that persisted even during economic recovery elsewhere in the Ninth District. This decline stems from a low birth rate, net outmigration, an aging workforce and a marked increase in enrollment in federal disability programs. From 2000 to 2013, the number of working-age people on Social Security Disability Insurance rose almost 80 percent to about 13,000.
Signs of revival
For all of these daunting headwinds, there are recent signs of new momentum in the jobs market. For example, the number of jobs posted and filled in the U.P. increased considerably in the second half of 2016 compared with the same period a year earlier (see Chart 3), according to Michigan Works, a statewide workforce development system. These data aren't as comprehensive as BLS employment figures, but they do indicate an increase in labor demand by employers in the region.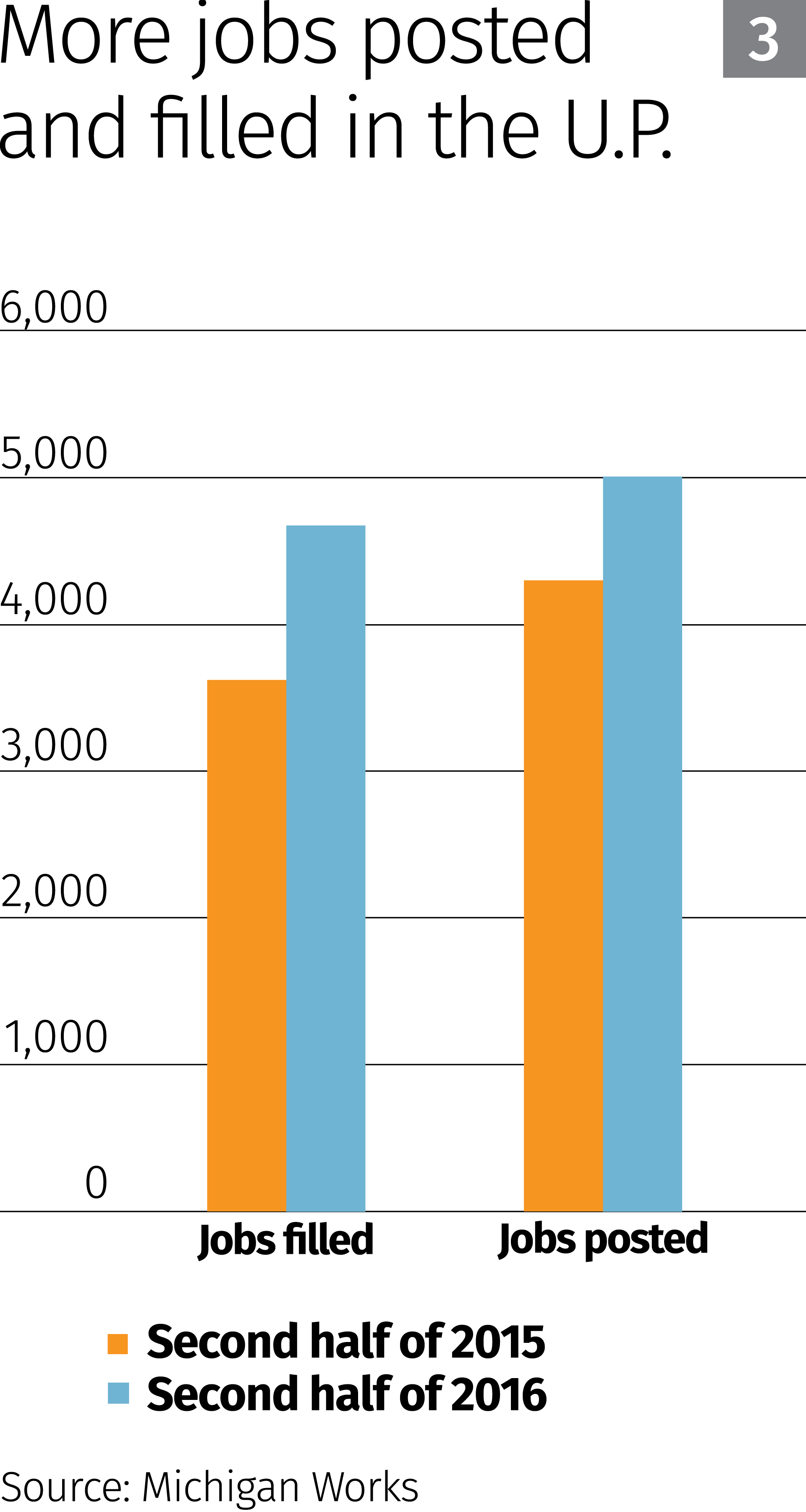 And the past year has seen a significant amount of positive news for the overall economy of the region. Last May, UP Health System broke ground on a $300 million medical campus in Marquette, two casinos in the northern U.P. are expanding, a $40 million engineering and health technologies complex has been proposed for Michigan Technological University in Houghton and two new power stations are slated to replace a coal-fired plant near Marquette at a cost of about $280 million.
There are even signs of a modest revival in the natural resources sector. Despite the loss of 200 jobs last year when an iron ore mine in Marquette County closed, mining activity appears to be on the upswing; the White Pine copper mine in Ontonagon County is expected to reopen this year, and exploratory copper drilling is under way in neighboring Gogebic County. A gold mine is also under development in Menominee County.
Wages are also on the rise, according to available data and local employers. After years of stagnant and even falling incomes, many U.P. counties have seen a notable increase in median (inflation-adjusted) household income over the past year or two. Whether directly or indirectly related to rising incomes, disability enrollments in the U.P. fell slightly in 2014 and 2015 after a decade and a half of rapid growth. (Chart 4 shows trends in Marquette County, the largest county in the region.)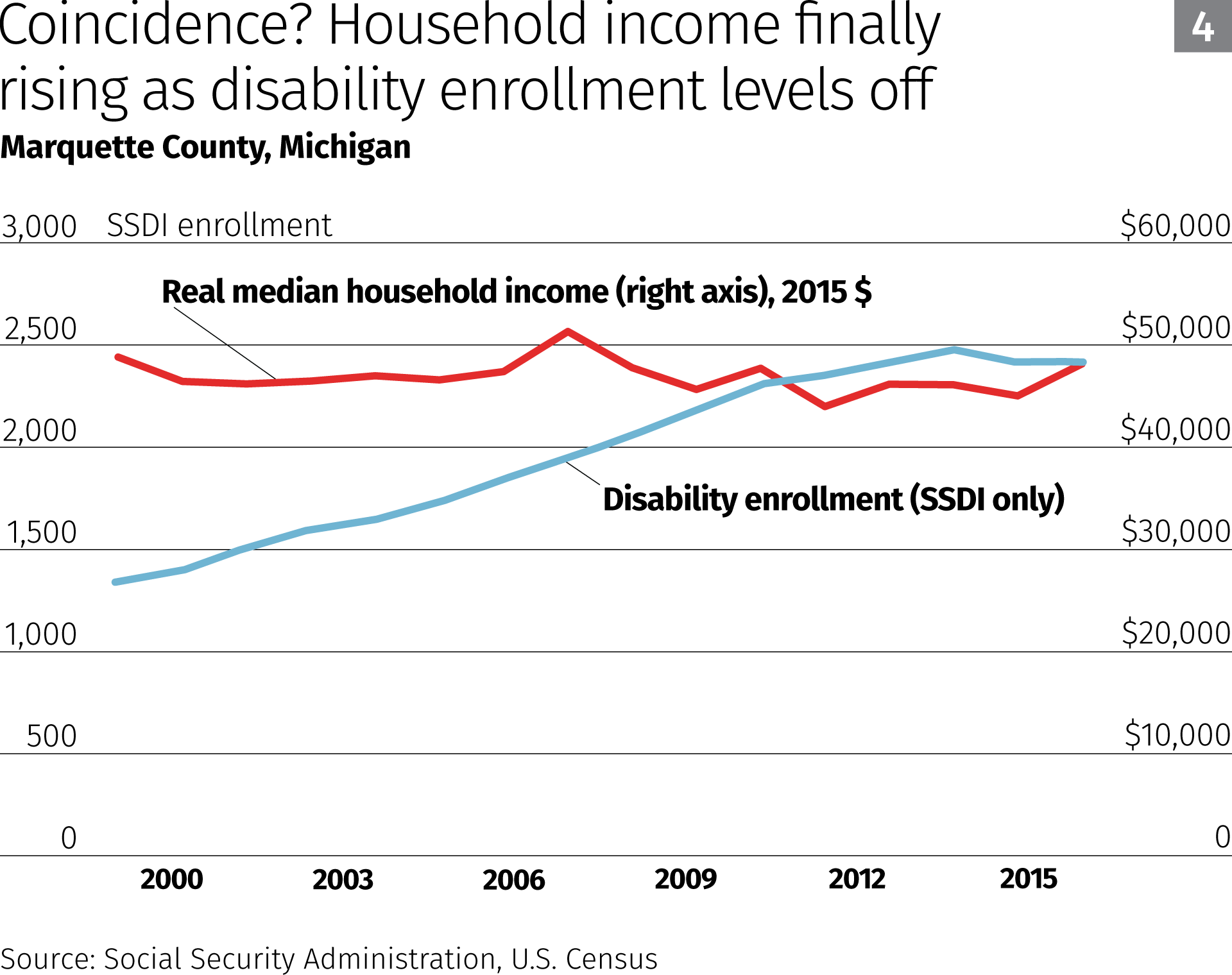 All of this good news doesn't diminish the ongoing struggles of many U.P. businesses and residents. The closing of several sawmills has hurt loggers, while still-operating mills are "stuffed with wood" and aren't buying much, said one contact. Owners of small businesses such as accountants' and dentists' offices looking to sell are having difficulty finding buyers because of a dearth of young professionals moving to the region.
While wages are rising, average wages are still low compared with the U.S. average, while the cost of living is comparatively high; electricity prices, particularly in the north, are among the highest in the country.
Nonetheless, the business outlook in the U.P. is sunnier than it has been for some time. In a February ad hoc survey by the Minneapolis Fed of employers in Houghton and Ironwood (55 responses), 70 percent anticipated higher 2017 revenues this year than in 2016, while less than 5 percent expected a decline. One in five said they expected an increase in employees this year, and half said they were hiring to fill positions vacated by retirements and turnover. Only 9 percent expected headcounts to fall.
"The overall atmosphere is that things will be better this year," said a business contact in Houghton. Another business executive in the city agreed, but with a caveat based on long experience in the region. "I'm encouraged right now. But I've lived here all my life and seen the ups and downs. We need something to keep the sustainability of what we've got going here."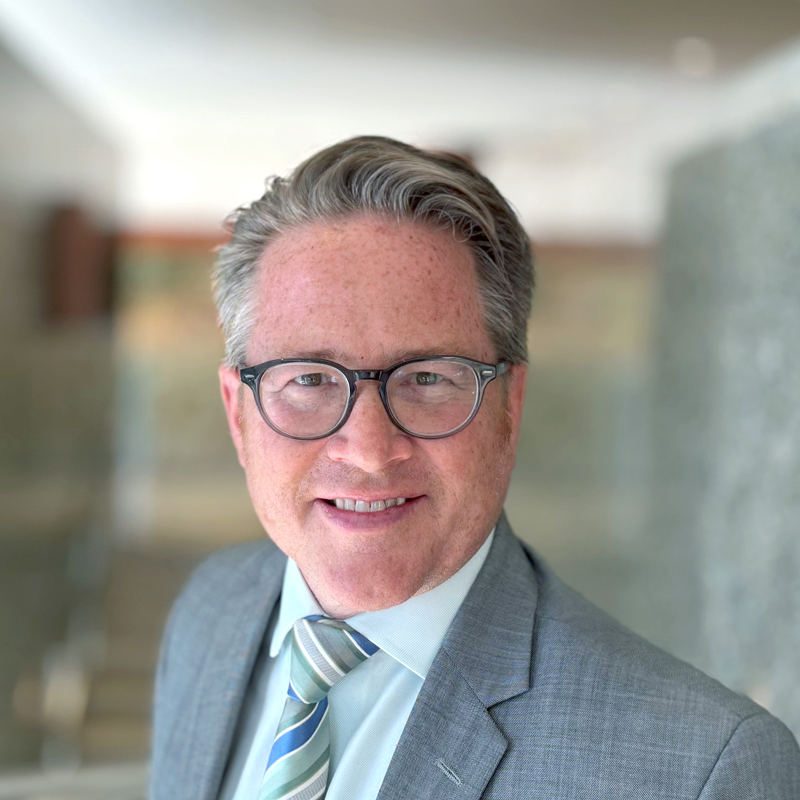 Request as a speaker
Ron Wirtz
Director, Regional Outreach
Ron Wirtz is a Minneapolis Fed regional outreach director. Ron tracks current business conditions, with a focus on employment and wages, construction, real estate, consumer spending, and tourism. In this role, he networks with businesses in the Bank's six-state region and gives frequent speeches on economic conditions. Follow him on Twitter @RonWirtz.