Identifying opportunity occupations
A worker's occupation and geographic location may impact whether he or she brings home a paycheck large enough to pay the bills.The Opportunity Occupations Monitor, a new resource from the Federal Reserve Bank of Atlanta, provides state- and metropolitan-level data on the relationship among occupations, related education requirements, and wages.
The monitor builds on past research within the Federal Reserve System on the availability and characteristics of "opportunity occupations," defined as occupations that are typically open to workers with less than a bachelor's degree and that pay at least the national annual median wage, accounting for local cost of living differences. The national median annual wage was $37,040 in 2016, according to the Bureau of Labor Statistics (BLS).
In the monitor, occupations are broken down by their median salary and typical education-level entry requirements. The monitor labels jobs that do not require a high school diploma as "low-skill" occupations and jobs that require a four-year degree or more as "high-skill." Everything in between is considered "middle-skill." Data are available from 2010 to 2016.
State-level data show significant variation in availability of jobs in opportunity occupations across the Ninth District
As one might expect, jobs that do not require a high school diploma often offer lower wages. In Ninth District states, 27 percent of jobs do not typically require a high school diploma. Of these, only 6 percent are considered high-pay opportunity occupations (see chart).
Occupations requiring a four-year degree or higher, on the other hand, are more likely to offer high pay. Across the Ninth District, 25 percent of jobs available are in occupations that typically require at least a bachelor's degree. Of these, 96 percent are in high-pay occupations.
The remaining 48 percent of jobs represent middle-skill work; about 61 percent of these jobs offer high pay. Combining the low- and middle-skill job categories, 41 percent of these jobs are opportunity occupations.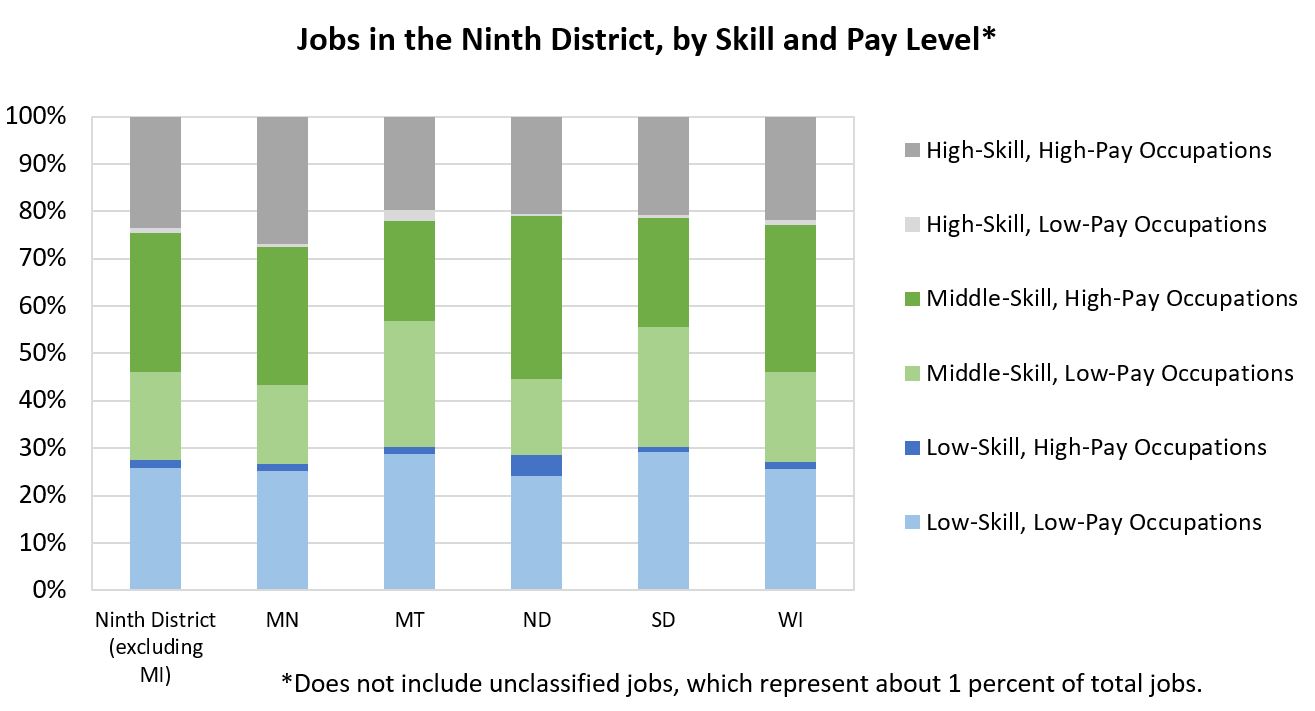 The breakdown of occupations and opportunity varies within the District. In North Dakota, 49 percent of low- and middle-skill jobs are in opportunity occupations. Across the border in South Dakota and Montana, only 30 percent and 29 percent of jobs requiring less than a four-year degree meet the same criteria, respectively.
Local variations carry implications for workforce policy
There are important differences in the distribution of occupations in Ninth District states by both skills and pay. Out of about 440 occupations that are tracked in every state in the Ninth District, approximately one-quarter differ in their opportunity categorization. For example, in Minnesota and Wisconsin, customer service representatives are working in an opportunity occupation; in the Dakotas and Montana, this is not the case. State and local development agencies, as well as new and prospective entrants to the labor force, can use these data to consider the opportunity occupations available in a local labor market.
In addition, occupational characteristics are not set in stone. From 2010 to 2016, the BLS changed the entry-level education requirements for 172 occupations, with 33 moving up the skills ladder. For example, in 2014, the typical education required to become a registered nurse was changed from an associate's degree to a bachelor's degree, from middle-skill to high-skill. Only 7 occupations moved down the skills ladder over the same time period.
An additional caveat comes with the national job-classification information used for the monitor: At the local level, employers may frequently look for education requirements above or below the national norm. The Federal Reserve Banks of Philadelphia and Atlanta looked at education requirements in job postings for four occupations across hundreds of metropolitan areas. Depending on the metro, as few as 8 percent and as many as 63 percent of job postings required a bachelor's degree for registered nurses, with similar variation in the other three occupations.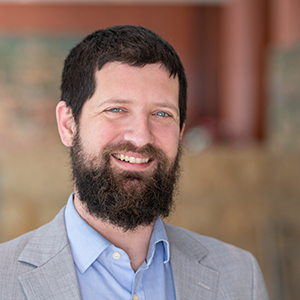 Ben Horowitz
Project Director, Community Development and Engagement
Ben Horowitz writes about policies and programs impacting affordable housing, early childhood development, and investments in low- and moderate-income communities.