People of color more likely to live in CRA-eligible areas
In the Federal Reserve's Ninth District,* people of color are about twice as likely as white people to live in a census tract where certain bank activities are eligible for consideration under the Community Reinvestment Act (CRA). As a result, people of color make up a larger share of the population in CRA-eligible tracts than in the district on the whole. Of the Ninth District's 9 million residents, 16 percent are people of color. However, 27 percent of people residing in CRA-eligible tracts are people of color. These areas include low-income, moderate-income, underserved, or distressed areas.
Passed more than 40 years ago, the CRA empowers examiners at institutions like the Federal Reserve to periodically rate banks based on the CRA's criteria. The ratings process encourages banks to serve the credit needs of their local communities, including low- and moderate-income (LMI) communities. For some banks, the ratings also incorporate an assessment of a bank's responsiveness to community development needs—for example, of LMI people and in LMI areas and certain middle-income areas that are distressed or underserved. Bank examiners consider a range of activities, including affordable housing, community services, economic development, and revitalization and stabilization, when assessing a bank's community development activities.
Among other things, the rating criteria rely on factors relating to how well a bank meets the needs of LMI customers and census tracts in its local community, which is called an assessment area. For more information on how an assessment area is defined and what income levels are considered "low" and "moderate" for the purposes of the CRA, see the recent Community Dividend feature, "Defining 'low- and moderate-income' and 'assessment area.'"
More detail on the CRA rating process can be found in "Fair lending laws and the CRA: Complementary tools for increasing equitable access to credit," another recent Community Dividend article. As explained in the article, the CRA doesn't consider a borrower or business owner's race. This makes it distinct from other federal efforts to expand access to credit, like some of the Civil Rights-era fair lending or fair housing laws. Nevertheless, the population distribution within the Ninth District highlights the potential for the CRA to have a disproportionate impact in communities of color, as a larger share live in a CRA-targeted census tract (see chart). Across the Ninth District, South Dakota has the largest difference between the percentage of people of color and that of white, non-Hispanic people living in CRA-eligible areas, while northwestern Wisconsin has the smallest difference.
For further information on the CRA, visit our CRA Resources page.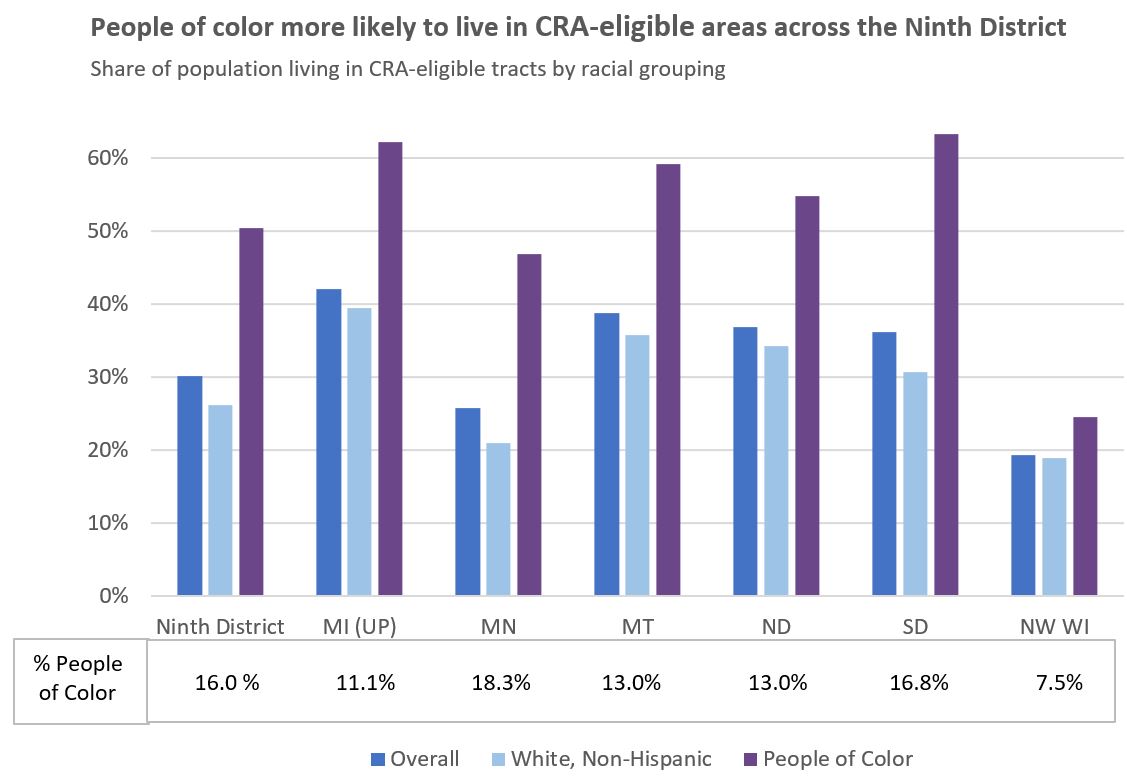 Source: Author's analysis of data from the Federal Financial Institutions Examination Council Online Census Data System. About 0.2 percent of the Ninth District's population lives in a census tract where tract-level median family income is undetermined; this portion of the population was excluded from the analysis.
*The Ninth District includes Minnesota, Montana, North Dakota, South Dakota, 26 counties in northwestern Wisconsin, and 15 counties in the Upper Peninsula of Michigan.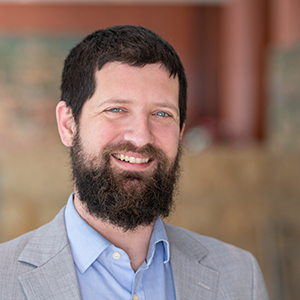 Request as a speaker
Ben Horowitz
Project Director, Community Development and Engagement
Ben Horowitz writes about policies and programs impacting affordable housing, early childhood development, and investments in low- and moderate-income communities.