Federal Reserve Bank of Minneapolis Senior Research Economist Alessandra Fogli has spent much of her career trying to understand the economic implications of women in the workplace, and she brought her data, thoughts, and views on that to the Bank's recent panel discussion, "Gender Equity, the Workplace, and You."
In her presentation at the Minneapolis Fed, Fogli explained that the uptick in women's labor force participation from the late 1940s through the 1970s may have been brought about by the proliferation of household appliances. These inventions reduced the number of hours women spent on housekeeping. Is it possible vacuum cleaners and washing machines "liberated" women from household duties just enough to send them into the workforce?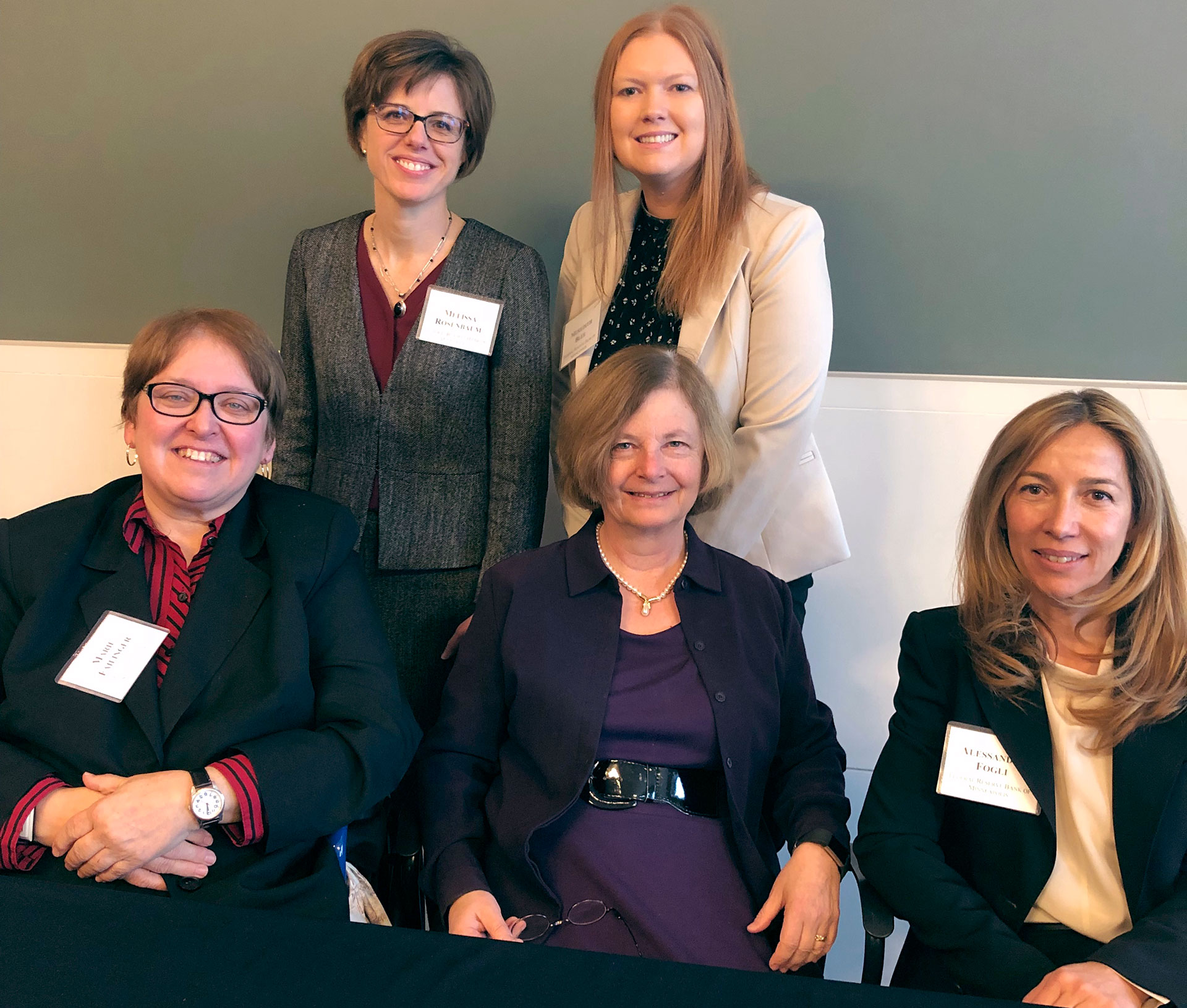 Minneapolis Fed senior counsel Melissa Rosenbaum and attorney Meredith Blee (standing) organized a discussion on gender equity, and presenters included Marie Failinger, June Carbone, and Alessandra Fogli (L-R)Minneapolis Fed
"Apparently, men weren't suited to push the button on the dishwasher," Fogli said with a laugh.
Even in 2018, gender equity remains a hot button issue. Recent legislation and news coverage, along with the Minneapolis Fed's ongoing commitment to diversity and inclusion, prompted the Bank's Law department to host the panel discussion about the issues many working women face.
"It's beyond basic fairness," said Fogli, who is also assistant director of inequality research and monetary advisor at the Bank's Opportunity & Inclusive Growth Institute.
There are economic implications to having a diverse workforce: The data show that having highly skilled women and minorities in the labor force—an "improved allocation of talent"—has a direct and positive effect on GDP.
Despite this, there remains a significant gap in men's and women's earnings, and women are vastly underrepresented in high-status, high-income jobs. Data from Fortune 500 companies show that on the path from entry-level to executive, "we lose women along the way," Fogli said.
The gender gap is not just a drag on output and available mentors to young workers; it can also have a self-perpetuating effect on workplace culture and management styles. June Carbone, University of Minnesota law professor, explained a formerly popular management model called "rank and yank"—in which managers rank their employees and then "yank" the lowest performers—that fosters a culture of competition. This model creates environments that select for narcissistic traits, which reinforce gender stereotypes, and, so, fewer women apply for jobs in that organization, and the cycle continues.
Marie Failinger, professor at Mitchell Hamline School of Law, highlighted the lack of gender diversity among the nation's appellate courts, including the Eighth Circuit Court of Appeals, and why it matters for everyone. Equitable legal outcomes are best served by diversity in the courts, explained Failinger, who is also a co-founder of the Infinity Project, where she and her colleagues work to "have a bench that reflects the society as a whole so that judicial decisions take into account differing life experiences and points of view." Quoting Minnesota Supreme Court Justice Rosalie Wahl, Failinger summarized the importance of supporting highly qualified women through the judicial confirmation process: "Any lasting change in the position of women in our society will be reflected in greater numbers of women beyond the level of tokenism in the judiciary and the legal profession."
Fogli pointed out that the same mechanism that promotes male-dominated cultures in many workplaces can generate and promote successful inclusion of women. The continued presence of women in the workplace generates positive information for others. Over time, Fogli said, the beliefs take hold "as new generations of women change."