Beige Bonus: Ninth District economy sees some bounce
Earlier this year, national and Ninth District economies appeared to soften modestly. Businesses cited growing uncertainties surrounding trade, widespread flooding, and other weather elements, and agriculture was still feeling for the bottom of a long downturn; some signs of employment softness were also showing up.
Those issues haven't disappeared exactly—particularly for agriculture—but recently the Ninth District economy saw a modest bounce higher, according to current business conditions reported by the Federal Reserve Bank of Minneapolis in its most recent Beige Book, released July 17 (and covering a period from mid-May to very early July). In particular, it noted that commercial and residential construction in the district rebounded after several slower months. Employment grew modestly, while wage and price pressures remained steady.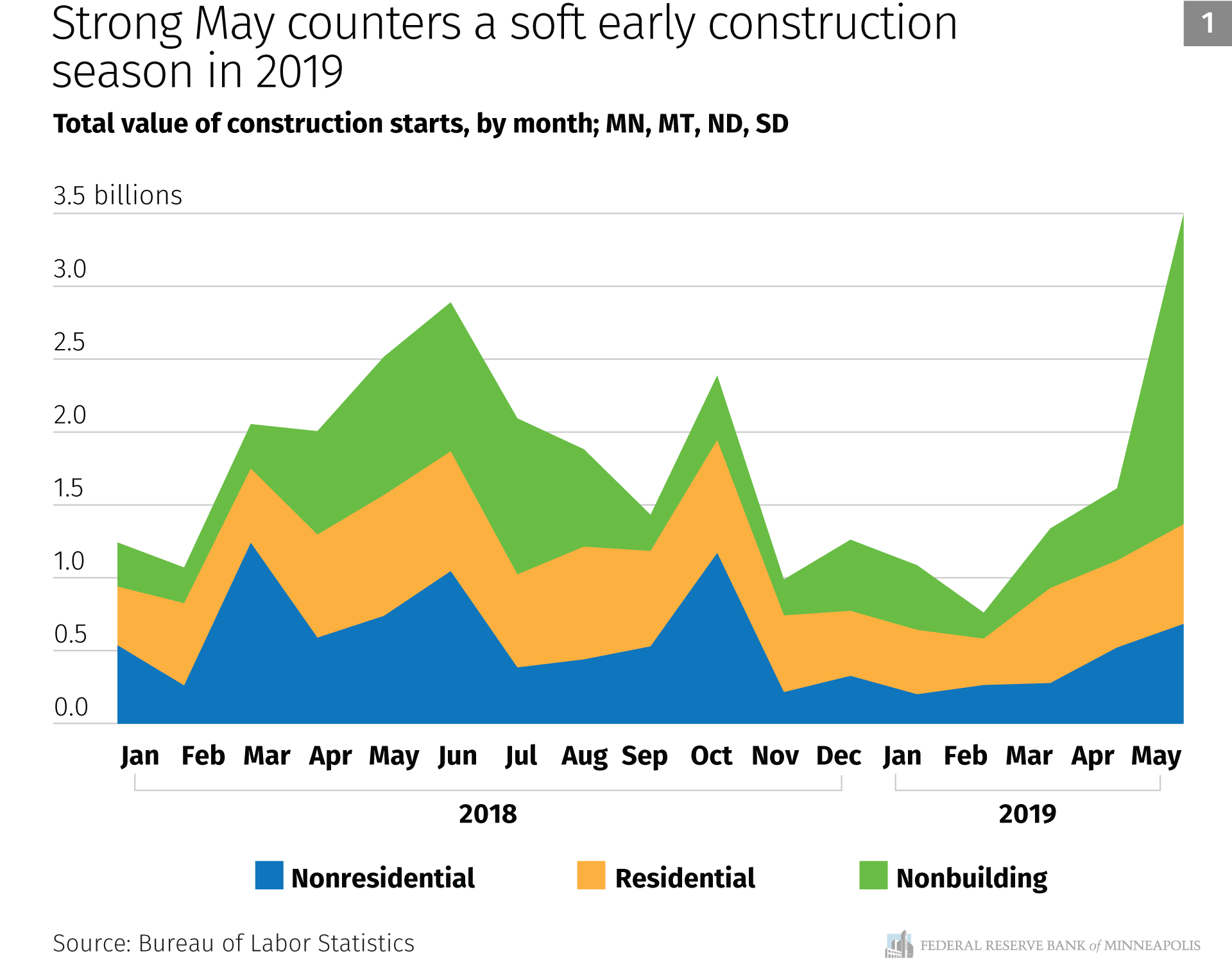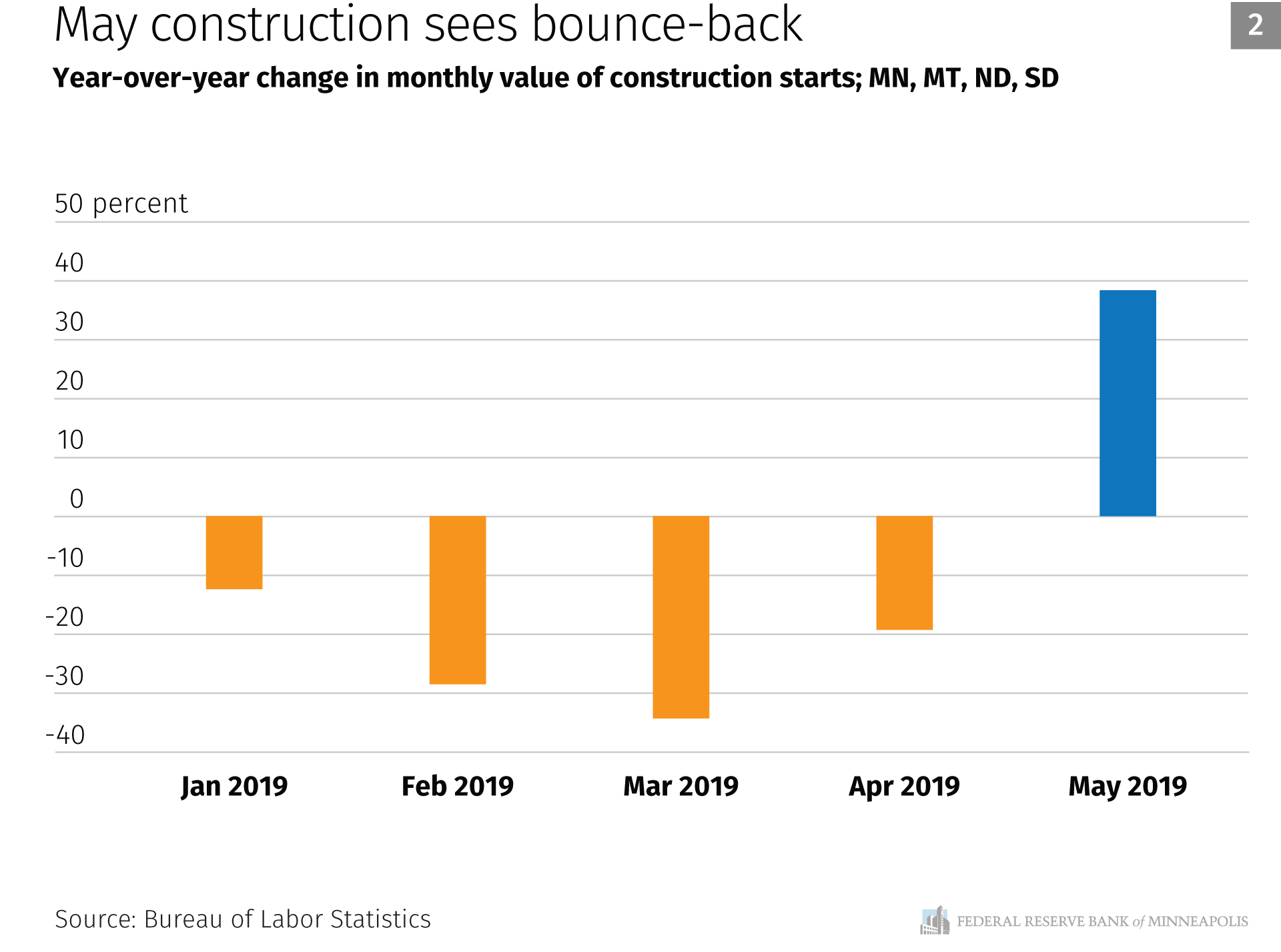 The first four months of the year were somewhat soft for construction in the Ninth District. Overall levels have been relatively healthy—most industry contacts confirmed that they have solid backlogs—but total activity has been below comparable periods in 2017 and 2018. That changed in May, when the value of construction starts saw a notable uptick (Charts 1-2).
Residential real estate also saw some bounce-back. The first four months were slow in many markets compared with last year, which was a strong one for many. But May home sales rose across much of the district, including Minnesota, northern and western Wisconsin, Sioux Falls, S.D., and Bozeman and Helena, Mont. (Unfortunately, that uptick may be temporary. Preliminary data on June home sales, available after Beige Book deadlines, suggested that year-over-year home sales last month slowed again in many district locations.)
There were also signs that previous uncertainties still lurk. For example, a struggling ag sector also took more salt to the wound as wet fields kept farmers from planting on time in parts of the district. In manufacturing, most contacts reported stable demand but expressed concerns about a slowdown. A staffing firm in Montana said recent job orders had declined among manufacturing clients, and a major client was "retrenching." (Similar to the Beige Book policy, all sources remain anonymous to protect confidentiality.)
Still, recent sentiment was more upbeat overall. Professional services firms reported solid growth in sales and profits over the past year, and their outlook for the coming 12 months was similarly positive, according to a recent joint survey by the Minneapolis Fed and the Minnesota Department of Employment and Economic Development.
Maybe the most positive—and to date, steady—economic signal has been hiring demand. In Michigan's Upper Peninsula, a staffing contact said job orders were higher. "The U.P. is booming. Tourism is up and life is good." She noted that the region was seeing some large construction jobs wind down, and a large manufacturer was also laying off some employees. Though not necessarily "good" news, especially for affected workers, the source said those layoffs were "freeing up some candidates" for other available jobs.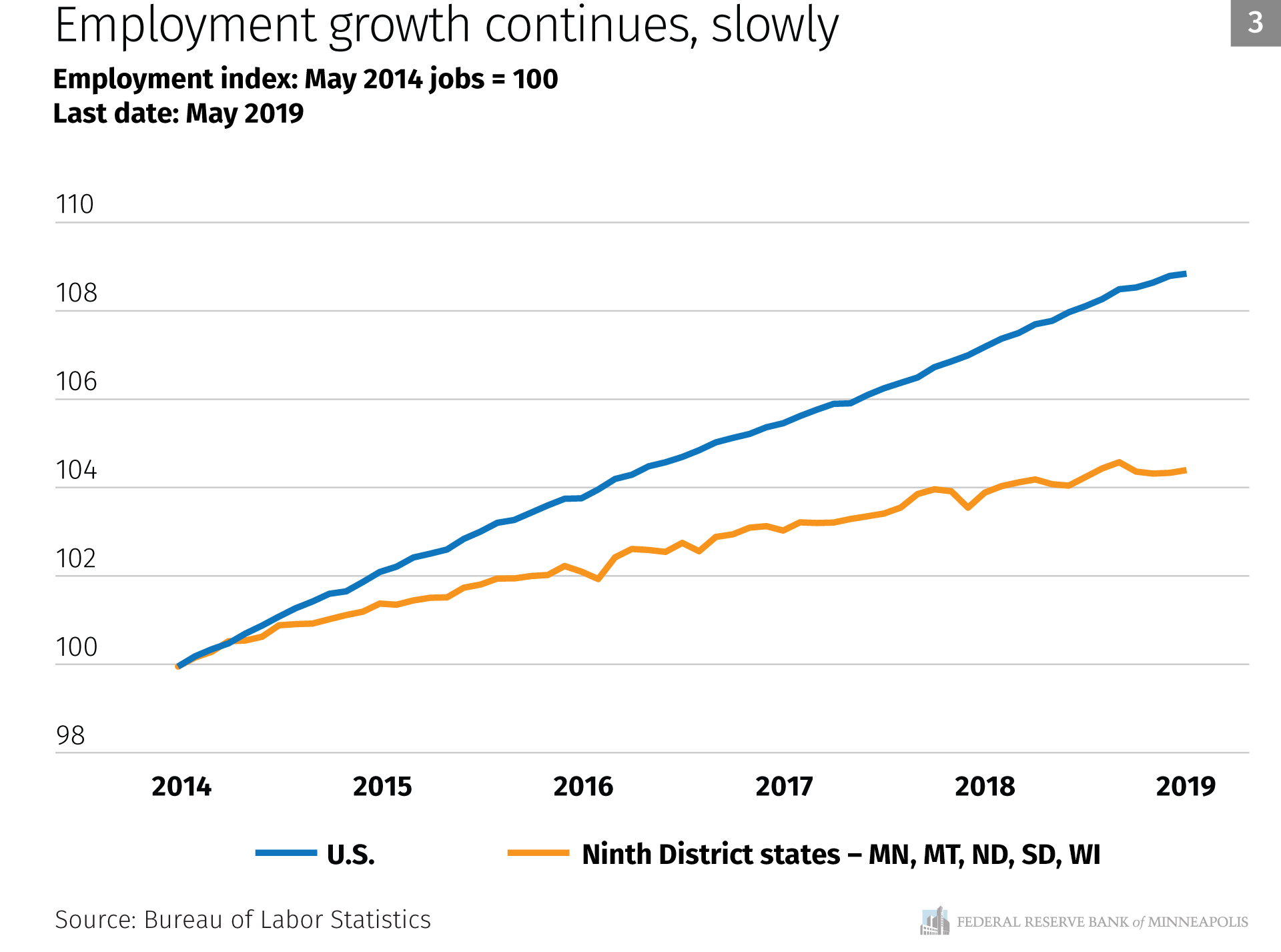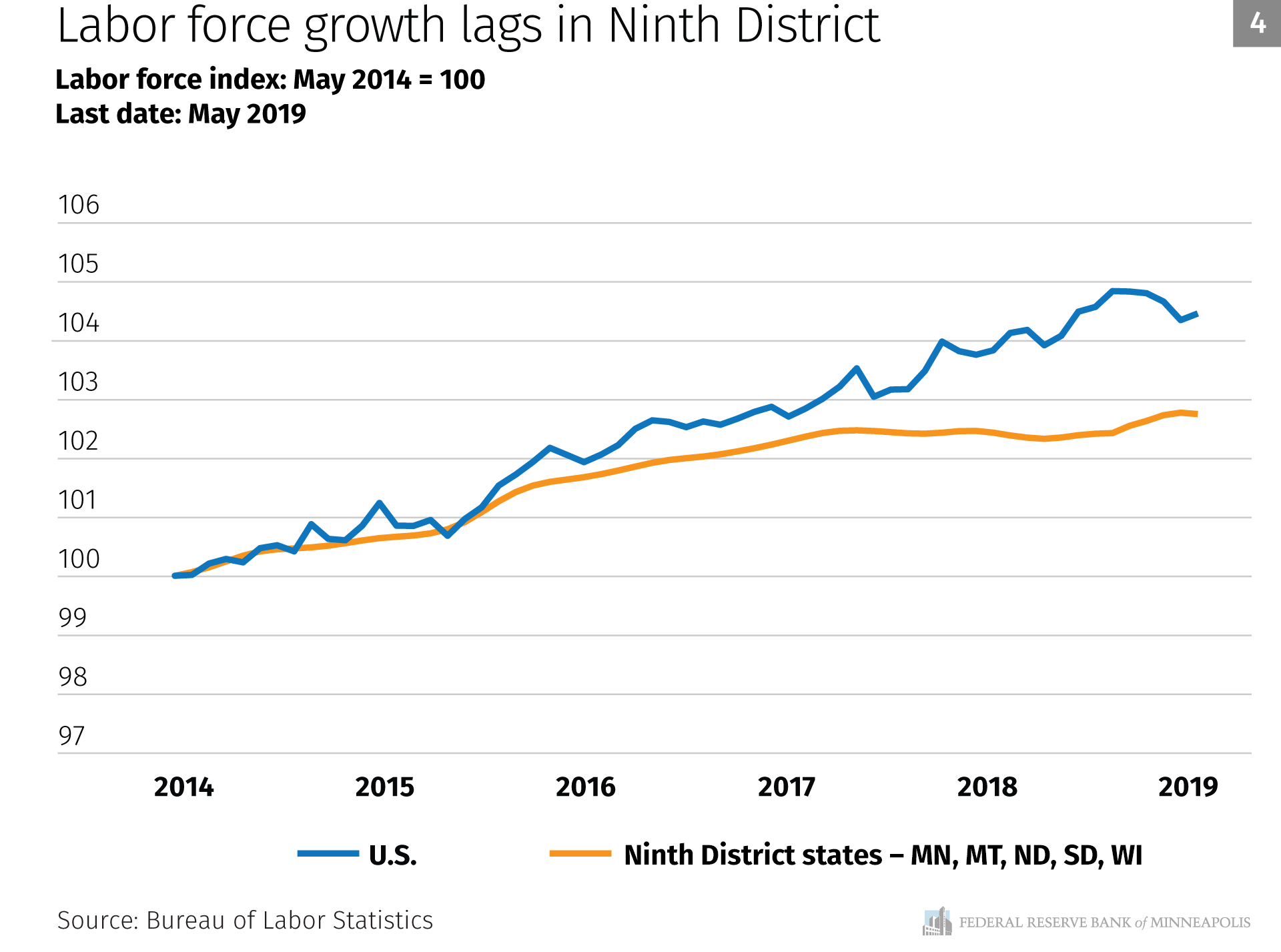 Total employment growth has been fairly flat of late in the Ninth District, consistently lagging the national average, largely because district unemployment rates were lower and its labor force was growing at a slower rate (Charts 3-4). Together, the two factors mean it's harder for employers to find available workers for open jobs.
The Montana staffing contact noted that aside from some manufacturing softness, "everything else is full steam ahead … if we can find them the people" they need for open positions. A southwestern Minnesota contact said, "If we could find qualified technicians, we could easily double our staff and our sales. The work is waiting at the door, [we] just don't have the help to get it all done." Another Minnesota contact said the company has advertised job openings "many times and do not get applicants. Most of the time we have unfilled positions." A Montana health care executive said the organization has 150 job openings and is "constantly" hiring.
Tight labor conditions meant turnover continues to plague many companies. "Our clients are seeing worse turnover because applicants have tons of job opportunities available, so if they don't like a place, they just leave and find something new," said a Minneapolis-St. Paul staffing contact. The Montana staffing source said turnover "has been rampant across all sectors. People are moving jobs like mad. I'm hearing that all the time." The U.P. staffing contact said, "Money talks right now, with the competitive market. We will often have someone all set to work, then they will call last minute that they are going to go next door for a dollar more an hour."
Sources also suggested that employers were continuing to ramp up and otherwise adjust their hiring approach and expectations. Several staffing contacts noted that they were seeing more "temp to perm" hiring (temporary hires brought on full time) as well as job orders with longer durations. More staffing clients were also skipping temp hires in favor of more direct-hire positions in hopes of attracting higher-skilled applicants.
Most contacts said wage pressures remained, but several noted something of a lull or modest easing. A survey of greater Minnesota firms (almost 200 respondents) found that wages at one-third of firms were generally flat or worse, with 5 percent saying wages had fallen. A June survey of staffing firms found that when job orders went unfilled, clients were more than twice as likely to hire additional staffing firms to fill positions as to raise wages for unfilled jobs.
It remains to be seen if this modest uptick in the Ninth District will continue and to what degree. But for now, the employment outlook appears steady and positive. Staffing firms were modestly upbeat about job orders over the remainder of the summer. Professional services firms reported higher expectations for total employment over the coming 12 months compared with the previous year, according to the Minneapolis Fed's recent survey. Finally, a quarterly outlook survey by Manpower released in mid-June also found that district employers had a strong overall hiring outlook for the coming third quarter. Minnesota, Montana, and Wisconsin were at levels similar to a year earlier, while net hiring sentiment in the Dakotas was notably higher.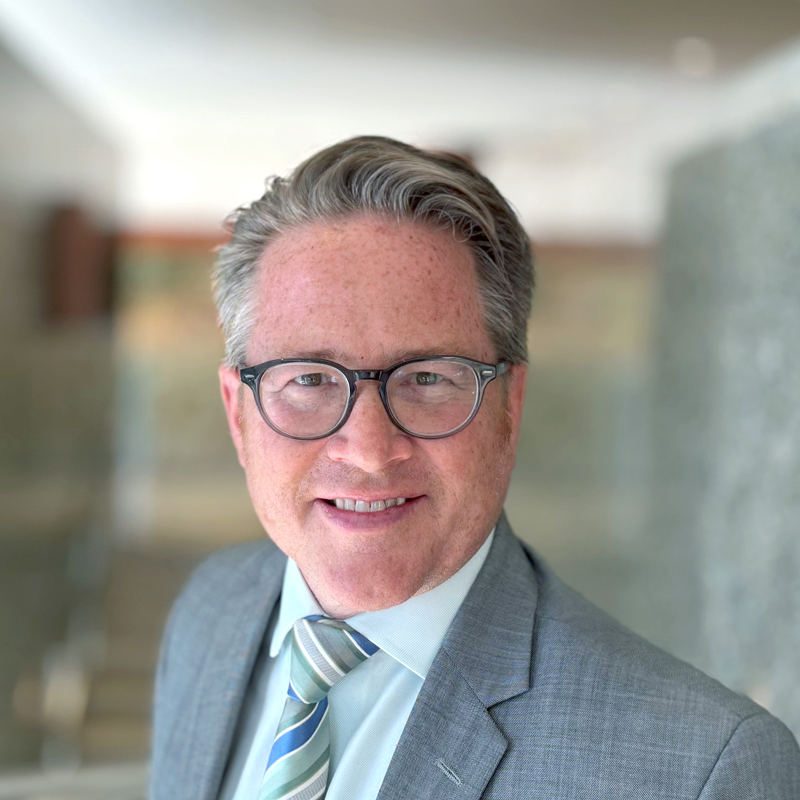 Request as a speaker
Ron Wirtz
Director, Regional Outreach
Ron Wirtz is a Minneapolis Fed regional outreach director. Ron tracks current business conditions, with a focus on employment and wages, construction, real estate, consumer spending, and tourism. In this role, he networks with businesses in the Bank's six-state region and gives frequent speeches on economic conditions. Follow him on Twitter @RonWirtz.