Collaborating to create business spaces in North Minneapolis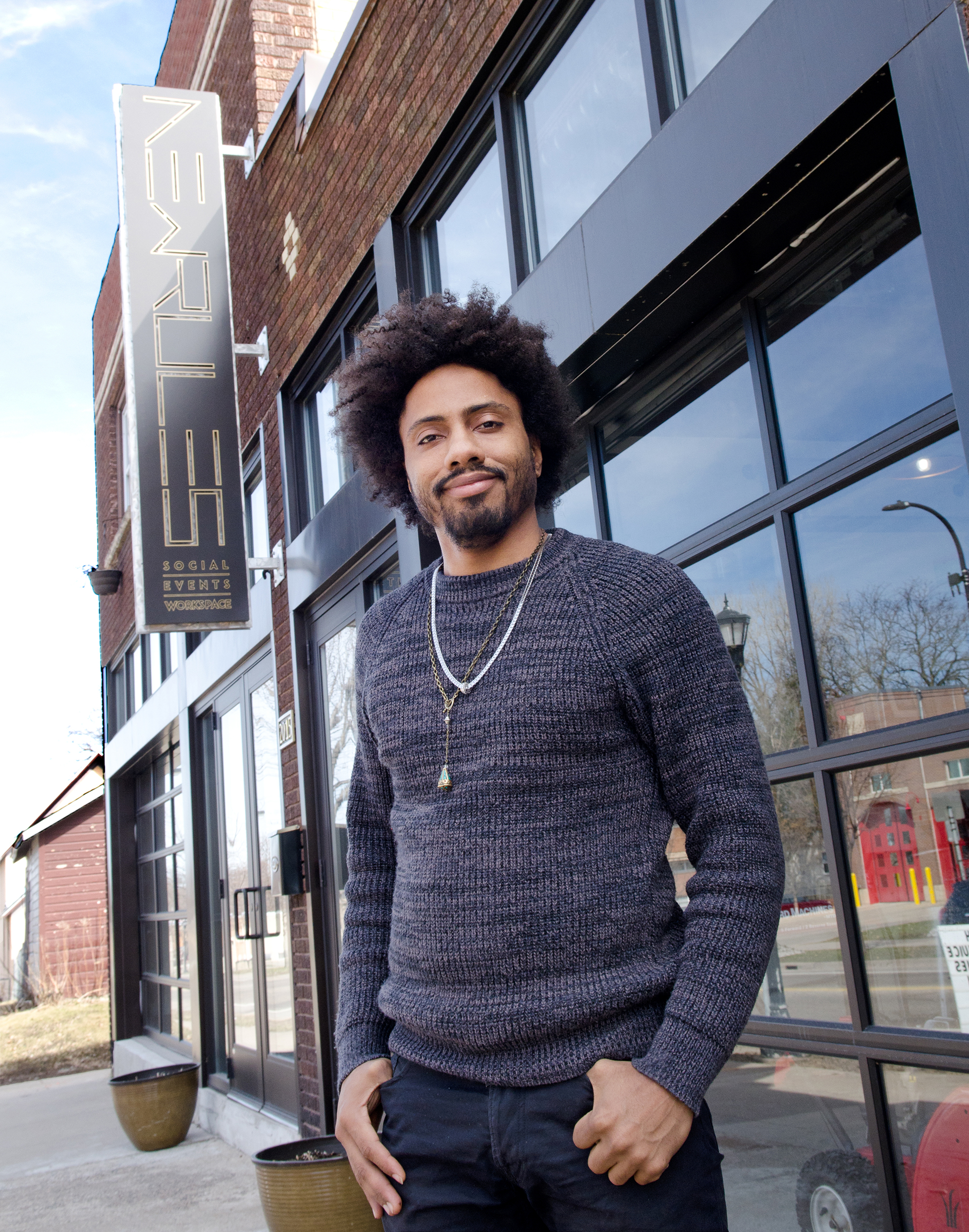 Christopher Webley, founder of NEW RULES Benefit Corporation in North Minneapolis, is part of a cross-sector group that is developing its own work spaces on the Northside.Paula Keller for Minneapolis Fed
Longtime residents of North Minneapolis often begin a conversation about one of the area's central thoroughfares, West Broadway Avenue, by mentioning the street's past as a thriving shopping and dining destination. If you hang around long enough, they'll probably start to tell you about the street's potential to hum with that same level of activity once more.
After all, some small businesses and nonprofits are making things work on West Broadway, despite decades of disinvestment in the predominantly African American neighborhoods along the corridor. But it's hard to travel down the street without noticing boarded windows, an overabundance of parking lots, and vacant storefronts. What's preventing today's Broadway from becoming the bustling byway envisioned by hopeful Northsiders?
Entrepreneurs often cite two barriers to locating or expanding in North Minneapolis. One is a lack of suitable commercial space. The area's existing commercial spaces tend to be old and require significant investments to be brought up-to-date, and building to suit on a vacant lot is usually too expensive for a small business owner to pursue. Commercial space in newer developments is often too large for new or small businesses, as developers look to reduce property management costs by focusing on a few key tenants.
According to some community leaders, the dearth of commercial space is connected to the second barrier: a lack of well-established real estate developers with roots in North Minneapolis. Traditional lenders aren't providing products that can overcome the start-up costs for commercial space. Developers from outside the area who have deep pockets still self-finance projects on the Northside, however. And some Northsiders fear that those developments will proceed without any concern for the current residents, leading not just to gentrification but to displacement.
At least two groups of business owners hope they can make a difference in the future of the Northside by building their own spaces and capacity to act as developers. They're finding partners and resources in the philanthropic and public sectors as they strive to make a mark on their neighborhood.
927 West Broadway
Obstacles and opportunities
Jim Terrell is a principal project coordinator in the Community Planning and Economic Development Department (CPED) at the City of Minneapolis. According to Terrell, who is in his third decade of community development work in the Twin Cities, the city can play an important role in ambitious projects by coordinating applications for federal or other funding streams, connecting people to resources, and building social capital in the community development world.
"The city can be patient and work with business owners with a dream," he said. "But a lot of people misunderstand the resources we have, thinking we can provide them with grants, when our capacity is currently limited more to smaller, low-interest loans."
For Terrell, few projects have been as exciting as the redevelopment of two city-owned properties on West Broadway, which he sees as the potential anchors for the future of the corridor. One of the projects will renovate the Capri Theater, a historic movie house. The other will bring at least three tenants who have been trying to find new homes in North Minneapolis—TRI-Construction, NEW RULES Benefit Corporation, and the Jay and Rose Phillips Family Foundation of Minnesota—into a building located at 927 West Broadway.
"West Broadway has so much going for it. The buildings there have a character and history that can be a great asset," Terrell said. "When you walk into the basement of the 927 building, where NEW RULES wants to build out a music venue, you can practically hear the jazz playing."
West Broadway has so much going for it. The buildings there have a character and history that can be a great asset.
—Jim Terrell, City of Minneapolis
The corner building at 927 West Broadway was built in 1901 by the Grand Lodge Minnesota Independent Order of Odd Fellows. Its stately historic façade is marred by bright green wood that covers most of the windows. For a while, the first floor was used by a tax preparation firm and a wireless phone business. Now, it sits as empty as the top two.
If people looking for commercial space aren't put off by the boarded-up windows, they might be dissuaded by the city's recent request for proposals (RFP) to develop the site and a few nearby parcels. The RFP contained pictures of the desolate second and third floors, and also included a lengthy list of repairs that would be necessary for the building to be usable again. An appraisal reports that the building actually drags down the value of the land underneath it.
For the leaders of the three organizations that aim to occupy the 927 space, these conditions pale in comparison to the opportunity the building presents. Calvin Littlejohn is a partner in TRI-Construction. He'd been eyeing the 927 building for years and has a track record of finding opportunity where others might see only obstacles.
When his first start-up business failed to get off the ground, Littlejohn found work in the then-booming construction business. During a layoff when construction work was slow, he started a handyperson business with his coworker, Lester Royal. They grew it into a home-renovation business, which eventually blossomed into TRI-Construction. Littlejohn and Royal decided to risk scaling up, entering the drywall business. The change was a difficult one.
"We struggled to turn a profit at first," Littlejohn recalled. "We had work, but we were losing a lot of money. A lot of people probably would've folded at that point. We didn't know how to make the transition from being a small general contractor to self-performing work on large jobs."
With the help of more established mentors in the construction industry, Littlejohn and Royal were able to salvage their business. But later, when they decided they wanted to branch out into site development, they encountered a comparative lack of resources for people of color who are looking to become real estate developers.
"In the construction world, there are pathways people can take and mentors to be had," noted Littlejohn. "Doing real estate development has been completely different. There are no big developers based in North Minneapolis, and I'm not aware of any pipelines that exist to try and change that fact."
A partnership comes together
By the time the city released the RFP, Littlejohn and Royal had learned they weren't the only ones interested in redeveloping the site. Leaders of the West Broadway Business and Area Coalition (WBC), an organization that offers technical assistance and facilitates cross-sector partnerships with a goal of revitalizing West Broadway, connected TRI-Construction with NEW RULES and the Phillips Foundation, which both had visions for the 927 space. The three interested parties decided to work together, and the result is a promising site plan that has the potential to transform the corner.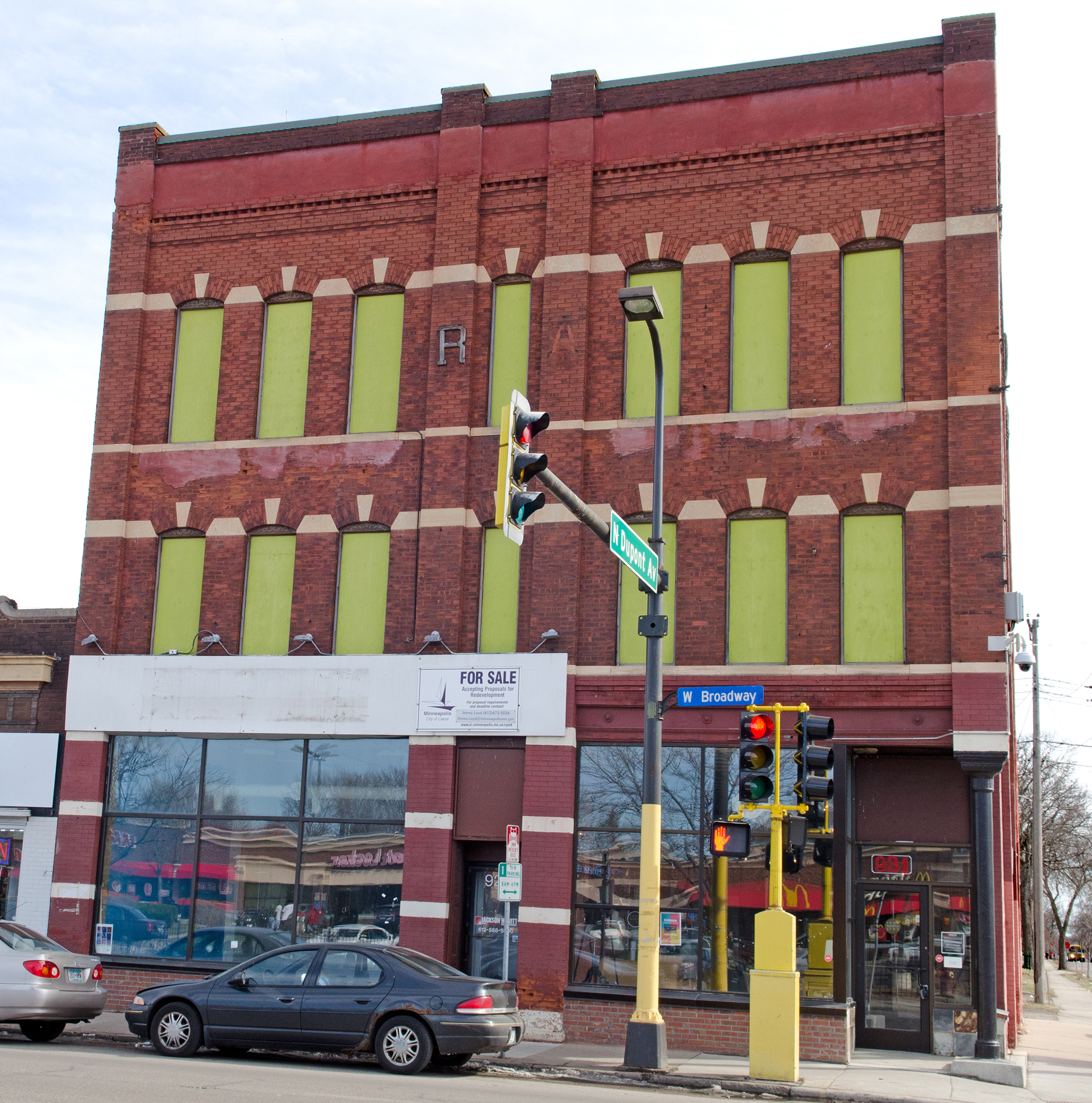 The 927 West Broadway property, which Webley and his partners will remodel to create an office, retail, event, and performance space.Paula Keller for Minneapolis Fed
NEW RULES was founded and is led by Christopher Webley, a Northside entrepreneur who, like Littlejohn, turned a layoff into a launching point. After leaving Target in 2015, Webley used his savings and severance package to invest in a building in North Minneapolis. At various points in the past, the building housed a neighborhood grocery store, an aquarium sales room, a television repair shop, a laundromat, and a pub.
Webley now uses the upper floors of the building to provide housing and runs NEW RULES out of the ground floor. NEW RULES is a firm with many faces. Webley hopes to grow its capacity to act as a real estate developer while providing creative and community development consulting services to other developers. The firm also operates PESCA—House of Fresh, a new café addition, alongside shared workspace, retail, and event space.
According to Webley, the guiding principle that connects all of his work is community engagement, "A lot of developers look at community input as a box they need to check as they move through their process," he said. "At NEW RULES, the community is our ultimate bottom line."
Before he renovated the NEW RULES headquarters, Webley hosted community meetings and heard from hundreds of residents. The building's ground floor reflects the diverse needs the community expressed: visitors can attend an educational workshop, order a drink from a juice bar, buy artwork and clothing from local producers, rent the space for their own purposes, or visit during a restaurant pop-up or social event.
Webley hopes to replicate his NEW RULES success at 927 West Broadway. In fact, he looked at the building for his original project, but he couldn't make the math work after factoring in all the necessary renovation costs. The third partner brought to the table by WBC—the Phillips Foundation—is playing a critical role in changing that.
As part of a 2015 strategic planning process, the foundation decided to focus on North Minneapolis and began making plans to relocate to the neighborhood from its current home in the Northeast neighborhood. Patrick Troska, president of the Phillips Foundation, says shifting the focus to North occurred for two major reasons. First, members of the Phillips family are Jewish and have roots on the Northside, giving them a connection to North Minneapolis's early history as a Jewish enclave. Second, the focus on a particular geographic area helped the foundation move beyond what Troska called a "letting a thousand flowers bloom" approach to philanthropy.
"We were funding a lot of great work," he said. "But we realized if we wanted to really move the needle on the issues that we care about, we were going to have to be more intentional and change the way we approached our philanthropy."
The trio of organizations won the RFP with its shared vision for a remodeled 927 West Broadway: second- and third-story offices for the foundation and construction firm, flexible community event space and a gallery on the first floor, and a maker space and performance venue in the basement. The plan involves adding on to the existing structure, and, in the long term, could involve the construction of mixed-use buildings on the adjoining lots that were also part of the RFP.
The trio of organizations [NEW RULES, TRI-Construction, and the Phillips Foundation] won the RFP with its shared vision for a remodeled 927 West Broadway: second- and third-story offices for the foundation and construction firm, flexible community event space and a gallery on the first floor, and a maker space and performance venue in the basement.
The partners estimate that the renovated property will be worth $2 million, a big increase from its current $40,000 appraised value. But the cost to create that value is $5 million—even with the city essentially giving the property away. That gap creates too much risk for conventional lenders, even in light of optimistic assumptions about the rents and long-term value of commercial property in North Minneapolis.
That's why the foundation's resources—and some public investments like a potential New Markets Tax Credit* —are critical.
"We're providing a long-term, low-interest, no-payments-until-refi loan of upwards of $1 million to the project," said Troska. And the Phillips Foundation is getting more out of its involvement than a new office space. In the short term, all three partners will share ownership of the building, but according to Troska, that arrangement will change over time.
"After ten years, the project will be refinanced, and the intention is that TRI-Construction and NEW RULES will buy us out at that point and become the proprietors," he said. By making the renovation possible, the foundation is achieving a key philanthropic goal: it is using its money to generate wealth creation in North Minneapolis.
"We didn't want to be another white-owned organization coming in and using our assets to build wealth in a community that's predominantly home to people of color and then keeping it all to ourselves," said Troska.
Sector 612
Not far away, another group of Northside entrepreneurs is hoping to turn a city-owned property into a suitable location for their businesses. They call themselves Sector 612 and their first interaction with CPED occurred when they approached the city about available public land.
Tabitha Fischer, a business development specialist who does outreach work at CPED, says that's pretty common. "A lot of people approach us because they think the city is sitting on a lot of valuable land, which isn't really true," she said. "But it can be a good way for us to talk to them about the resources that are available for entrepreneurs."
One of those resources, Fischer said, can be a nonprofit partner to help entrepreneurs develop a business plan. But Troy Parker at Gardner-Lee's Workforce and Opportunity Solutions, Inc., a consulting firm that mentors the partners of Sector 612 and has coordinated the partnership's efforts, said that nonprofit business development institutions may fail to accommodate entrepreneurs who don't already fit a particular profile.
"Oftentimes, the programs that are aimed at supporting entrepreneurs are designed in such a way that they make it impossible for many entrepreneurs to participate," he said. He pointed to high revenue requirements, inconvenient meeting times, and other program particulars that present a formidable barrier for business owners whose enterprises are established but struggling to grow.
Fischer and Parker agree that getting around barriers like the lack of commercial space in North Minneapolis often depends on combining multiple resources, developing a solid business plan, and adapting creatively to overcome short-term problems. These are the same ingredients that have led to the current success enjoyed by Sector 612's other partners.
Getting around barriers like the lack of commercial space in North Minneapolis often depends on combining multiple resources, developing a solid business plan, and adapting creatively to overcome short-term problems.
One of those partners has found its success by using unconventional ingredients in both its creations and its business model. Most people don't associate egg rolls with collard greens and macaroni and cheese—unless they've enjoyed a meal from Wendy's House of SOUL, the deli inside K's Grocery and Deli, a convenience store on West Broadway. In the early 2000s, Wendy Puckett invented a culinary delight when she began packing nutritious veggies into wraps as a way to sneak healthy food to her young children. Years later when she opened her business, the concept transformed into her signature SOULROLLS, which are packed with tasty soul food and other unexpected fillings. Puckett's kids are now adults who work the counter and serve at catering events that buoy her second career as a restaurateur.
Rave reviews for the House of SOUL are easy to find. When the Super Bowl came to Minneapolis in 2018, the event's organizers ordered SOULROLLS by the thousands. So, after more than four years in business, why does the House of SOUL occupy a corner of a convenience store instead of a full-blown, sit-down restaurant space all its own?
The reason isn't a lack of interest on Puckett's part, according to Heather Warfield, who is Puckett's sister and the business's chief financial officer.
"We searched all over North to try and find a suitable place to open the business," she said. "We couldn't find anything. Places for sale were too expensive, and places that were for rent needed too much work to bring them up to our standards."
But they aren't resigned to staying in the convenience store forever. Along with Troy Parker's community development firm, Puckett and Warfield are working with three other businesses involved in Sector 612 that are all Minneapolis-based: Burton Transportation, a luxury chauffeur and limousine company; Four Design, a firm that offers branding, product design, and interior/exterior commercial and residential design; and Crunch Time, a new family-friendly food and beverage start up.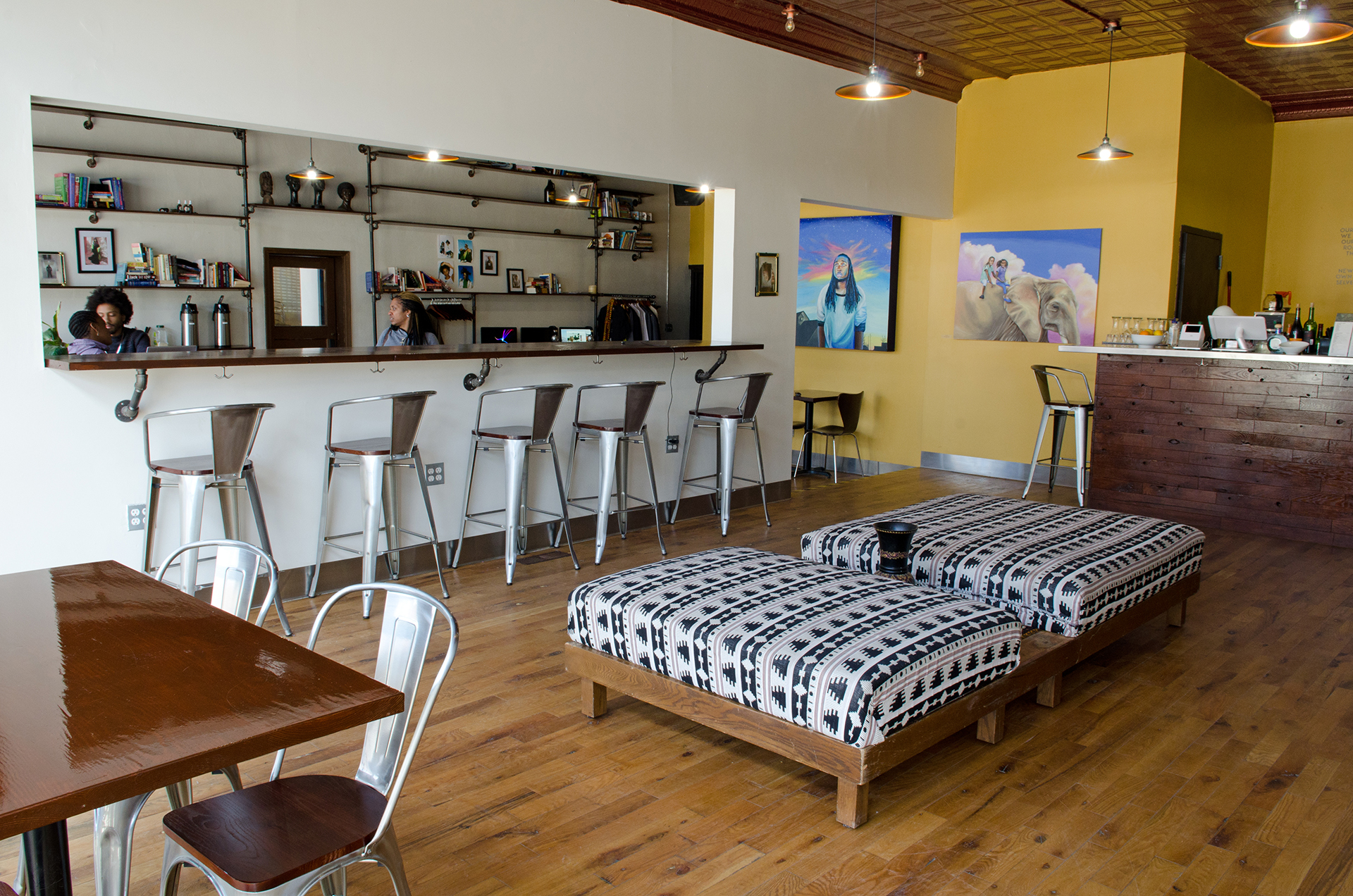 Webley aims to preserve the community-oriented feel of NEW RULES' current space—picture here—when the organization relocates to the renovated 927 West Broadway building.Paula Keller for Minneapolis Fed
The partnership started organically because the businesses already worked together, or knew each other through neighborhood connections, said Luis Santiago, who runs Four Design along with his sister, Courtney Jones. And even though the four partner entities are still finalizing plans for their shared headquarters, Neal Burton of Burton Transportation said that participating in Sector 612 has already been beneficial.
"When you get people from different generations in the same room, with the same goals, you can really learn a lot from each other," he observed.
Aside from convening the business owners, Parker's role in Sector 612 has been to seek financing for their ideal building from public, philanthropic, and private interests. The group is close to finishing a deal, he said, and hopes to break ground later this spring. Once the building is open, Gardner-Lee Workforce and Opportunity Solutions plans to seek funding for the operation of an onsite community development training center inside the Sector 612 complex that will expand the partnership between Gardner-Lee and Sector 612.
A shared belief in investing in North
All of the partners who are developing the 927 West Broadway building or are members of Sector 612 share a deep belief that investments in North Minneapolis will benefit a neighborhood that they love in ways that go beyond their own balance sheets.
TRI-Construction already leases office space in North Minneapolis, just a few blocks away from Littlejohn's home, and employs a number of Northsiders. Both approaches are intentional.
We want to stay in North Minneapolis, but more importantly, we want to own. I look at West Broadway and I see so much potential for transformation. Unless the community owns the land, that transformation isn't necessarily going to benefit the people who already live here.
—Calvin Littlejohn, TRI-Construction
"We wanted to work where we live," said Littlejohn. "We want to use our success and talents to build up the neighborhoods where we have our roots." He points to Royal's background as an educator who prepared workers for jobs in the construction industry. Royal's experience gives TRI-Construction an understanding of how to recruit and train workers of color who are often marginalized within the building trades.
"We want to stay in North Minneapolis, but more importantly, we want to own," said Littlejohn. "I look at West Broadway and I see so much potential for transformation. Unless the community owns the land, that transformation isn't necessarily going to benefit the people who already live here."
For Warfield, the lack of options for expanding her family's restaurant is a symptom of years of disinvestment in North Minneapolis—something that's reflected everywhere from the corner outside the convenience store to the business loan offices of banks around the metro area.
"I see people throwing trash on the street on West Broadway, and I know it's from takeout they got at our place," she said. "When I see people doing it, I go and give them a talking-to." She said she'll often walk the whole block around the restaurant and pick up trash.
"It makes me so sad. But I also understand why they feel like it is okay to do it. For a long time, there has been so little investment in our neighborhoods. People start to internalize it."
Warfield thinks that opening a stand-alone Wendy's House of SOUL will start to change that.
"Where can people go in North Minneapolis right now to sit down and enjoy a nice meal with their family, or have a meeting over lunch?" she said. "Right now, their options are really limited. That sends a message about our neighborhood that we want to change."
So, rather than move outside the neighborhood, Wendy's House of SOUL somehow continues to churn out inconceivable amounts of food from its tiny space in the corner of K's. Santiago looks forward to the day when he can enjoy a sit-down meal from the House of SOUL—and also thinks having his design firm close by will send a message.
"Kids growing up in North right now don't see a lot of businesses like ours when they walk down West Broadway," Santiago said. "If we're open in North, kids might see our office and wonder what kind of work designers do. It will open their minds to possible career paths they might not otherwise know about."
Kids growing up in North right now don't see a lot of businesses like ours when they walk down West Broadway. If we're open in North, kids might see our office and wonder what kind of work designers do. It will open their minds to possible career paths they might not otherwise know about.
—Luis Santiago, Four Design
Changing perceptions, one building at a time
John Francis Bueche, the current executive director of the WBC, hopes efforts like those at Sector 612 and 927 West Broadway will further his organization's work to change perceptions about the corridor.
"People think the only enterprises that will do well on West Broadway are nail salons, nonprofits, tax preparers, and cell phone stores," said Bueche. "We're working with a lot of partners who are trying to change that."
WBC's survey and data work show that there's both spending power and an expressed preference among Northsiders for a change to West Broadway. But Bueche and others in North Minneapolis believe that a critical mass of new businesses is necessary to change the perceptions of both locals and outsiders. Bueche points to the examples set by two recently established, locally owned restaurants that have managed to thrive on West Broadway.
"Places like Sammy's Avenue Eatery and Breaking Bread Café are pioneers in some ways," he said. "They're doing the heavy lifting of proving that residents really mean it when they say they want a place to sit down and enjoy a meal."
At CPED, Terrell agrees—and thinks that the scope of the Phillips Foundation's investment can be something the city and other institutions learn from. Public and philanthropic partners need to increase the size of the loans that they offer, he said, and do so without taking on an irresponsible level of risk.
"The community development sector has been trying incremental change for a long time in North Minneapolis," said Terrell. "It's time for us to attempt change at a truly transformational level."
Transformational work involves community ownership, according to Webley. For him, the fact that both efforts are organized around creating more community ownership in North for Northsiders is a refreshing change of pace.
"North Minneapolis already has a long history of broken promises," he said. "We're hoping this is a new beginning—one that results in actual equity held by members of the community."
Endnotes
* New Markets Tax Credits (NMTCs), which are administered by the U.S. Department of the Treasury's Community Development Financial Institutions (CDFI) Fund, promote private-sector capital investment in underserved areas by providing federal tax credits to individual or corporate taxpayers who make qualified investments in low-income communities. For more information, visit the CDFI Fund's NMTC page.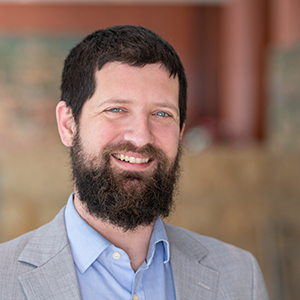 Ben Horowitz
Project Director, Community Development and Engagement
Ben Horowitz writes about policies and programs impacting affordable housing, early childhood development, and investments in low- and moderate-income communities.