Making high-quality education a civil right included in Minnesota's constitution could unlock benefits that extend far beyond the classroom.
That's what supporters of a proposed state constitutional amendment stated on Jan. 13, 2020, at the Minneapolis Fed-sponsored "Children First: A Community Conversation on Educating All Children."
"You talk about great equalizers, this is one tool that will help any child achieve whatever their hopes and dreams are," retired state Supreme Court Justice Alan Page said of a constitutional amendment. "It is one tool that will allow every child to be put into the position to choose what their future will hold as opposed to having a criminal justice system that chooses that future for them."
Page, along with Minneapolis Fed President Neel Kashkari, has proposed the amendment to the state constitution's education clause with the goal of closing some of the largest achievement gaps in the nation.
By making a high-quality public education "a paramount duty" of the state, the proposed amendment would go further in compelling lawmakers to address achievement gaps than does the current constitutional language.
A broad cross section of business, civic, and education leaders, plus many elected officials, joined Page and Kashkari at the "Children First" forum and said they see the amendment driving gains beyond education.
Ecolab CEO Doug Baker said reducing socioeconomic disparities in education—which affect low-income students across Minnesota—would reduce rising disparities in income. "We are trapping people in this endless cycle," Baker said. "Because, if you're poor, you don't get the education, and the only way to get out of being poor is through an education."
There's so much potential to be unlocked, according to Minnesota Attorney General Keith Ellison, who was the conference's keynote speaker. He said the solutions to society's vexing problems, such as climate change, racial harmony, and income inequality, could be locked up in the mind of a preschooler in a homeless shelter right now, and education is the key.
Kashkari and Page both said the expansion of civil rights in the past has led to broader benefits to society than just the rights themselves. Though the U.S. Supreme Court's Brown v. Board of Education decision was focused only on school desegregation, Page said, it was the beginning of the end of Jim Crow laws.
The need
In October 2019, Minneapolis Fed economists Anusha Nath and Rob Grunewald examined standardized test scores, high school graduation rates, and college readiness among students throughout the state.
They found a profound gap between white and minority students and between students from higher-income and lower-income families, in both urban and rural areas. This gap has persisted for more than a decade and, in some instances, is widening.
For example, between 2002 and 2018, the analysis shows white fourth graders scored 20 percent higher on the National Assessment of Educational Progress reading test than black fourth graders and 18 percent higher than Hispanic fourth graders, on average. The gap between white and American Indian fourth graders grew by 19 percent in that time period.
The gap in graduation rates has improved, but the gap in college readiness of those graduates has not, and this in spite of schools with higher minority and low-income students spending more on their students.
"There were many policy changes that have been tried over the last several decades and, if you look at the data, nothing has moved the needle," Kashkari said.
Catalyst
In looking for a solution, Kashkari and Page found that many people say they want to put children first but then insist that only their own solutions will do. "What this proposal does is to literally put children first and outcomes for children first in the eyes of the law," Kashkari said. "And then let's allow all the solutions that can actually deliver those outcomes to be available."
That's the clear focus of the amendment they've proposed, which starts out: "All children have a fundamental right to a quality public education."
Page and several allies described it as a "catalyst" they hoped would finally result in meaningful change. Sondra Samuels, executive director of the Northside Achievement Zone in Minneapolis, called it an "educational-status-quo abolitionist movement."
Kashkari said that some people have asked him and Page to remove the word "public" from the amendment so that religious and private schools could be included, but the two refused. "That's why it says 'public education,' 'paramount duty for quality public schools.' This is about supporting public education. Anybody who misunderstands that has an agenda," Kashkari said.
By making quality public education a civil right, parents and students would be empowered to demand that the state improve schools and, failing that, to take the state to court, according to Page. "The proposal that we've made creates not only the civil right but a means to have that right vindicated."
The amendment also would require districts to meet "uniform achievement standards," which would add a level of accountability that is currently missing, Page and Kashkari said.
Nath, who also analyzed education clauses in state constitutions around the country, said several case studies show amendments do trigger policy changes that can move the needle on educational disparities. Florida, for example, passed three amendments, that, among other things, helped to lead to more support for teacher training, free, high-quality preschool, and scholarships for students in failing schools, she said.
In 2003, Florida was 33rd in the nation for its achievement gap in fourth grade reading. Today it's sixth, Nath told the "Children First" audience.
More resources
Some supporters of the education amendment shared similar hopes for more resources for students and their schools.
They spoke of higher pay and more training for teachers and other school staff to prepare them for the challenges of teaching disadvantaged students, who may be homeless or suffer from other trauma at home. They hope schools will hire more minorities as teachers so minority students have authority figures they can relate to.
"If we invest in teachers, treat teachers like professionals, give them the appropriate time to prepare just like we would an engineer at a company, then we would be better off with our teachers," said Carlton Jenkins, superintendent of Robbinsdale Area Schools.
Much of this reflects the current understanding that inexperienced teachers frequently end up at schools with high proportions of disadvantaged students.
Political fight
Getting state lawmakers to put it on the ballot will be a tough political fight this year, amendment supporters said.
Part of the reason is timing, according to Charlie Weaver, executive director of the Minnesota Business Partnership, and Kathleen Harrington, president of the Rochester Chamber of Commerce, which has not taken a position on the proposal.
With other major issues before the Legislature in a presidential election year, to get lawmakers' attention, Weaver said, amendment supporters need to have a broad coalition that includes different political alignments. One unexpected alliance already formed is Weaver and Ellison.
Said Weaver: "We haven't agreed on anything for 20 years, right? But I love Keith Ellison, and we are shoulder to shoulder on this, and that's what it's going to take to put this above all the other scrum."
There will have to be many "Nixon goes to China" moments, Harrington said, meaning the issue is so important that it brings traditional foes together to fend off entrenched interests that will oppose the amendment.
"Political will to stand up to strong forces, that's what's going to have to change, political will," Harrington said. Then, echoing questions that filled the three-and-a-half-hour-long conversation, she asked: "Whose needs do we need to meet? Are we meeting the educators' needs? Are we meeting the management's needs? Or are we meeting the children's needs?"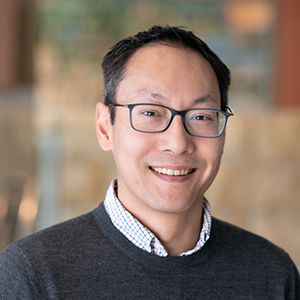 Tu-Uyen Tran
Senior Writer
Tu-Uyen Tran is the senior writer in the Minneapolis Fed's Public Affairs department. He specializes in deeply reported, data-driven articles. Before joining the Bank in 2018, Tu-Uyen was an editor and reporter in Fargo, Grand Forks, and Seattle.