COVID-19: Significant, ongoing disruption to communities, latest Fed survey finds
Six months into the pandemic, COVID-19 and the many efforts to slow it continued to be a significant disruption to communities across the Ninth Federal Reserve District and nation. So say findings from the third round of a Federal Reserve System survey collecting information on the effects of COVID-19 on communities, fielded from August 5 through August 12, 2020.
Overall, the survey found that among Ninth District respondents:
Over half (53 percent) indicated COVID-19 was a significant disruption to the economic conditions of the communities they serve and that they expect recovery to be difficult. Less than one-third of respondents (30 percent) think that the disruption to communities caused by the pandemic is manageable or minimal.
When asked about the top impact of COVID-19 on the people and communities they serve, three out of five respondents (60 percent) indicated either impacts on businesses, such as business closures and reduced demand, or job losses. Over one-third of respondents, 35 percent, identified the effects on businesses as the top impact, while 25 percent identified individual job losses. While the pool of survey respondents changes with each round, the August responses are noteworthy for the rise in importance of education as the top concern for nearly one in five respondents (18 percent).
Overall, respondents indicated that the conditions around business impacts, job losses, and education had become modestly or significantly worse over the last eight weeks for the communities they serve.
Community development stakeholders expect communities to return to pre-pandemic conditions no sooner than 2021. More than half (56 percent) indicated it will take more than 12 months for their communities to return to the conditions they were experiencing prior to the disruption from COVID-19. Only one in ten (10 percent) expect their communities to recover in six months or less (that is, still in 2020).
Half of respondents (50 percent) indicated that COVID-19 is currently a manageable disruption to the entity they represent. Just over one quarter (27 percent) indicate that COVID-19 is having a significant disruption on the entity they represent and that they expect recovery to be difficult, while another 17 percent expect to bounce back quickly after recovery begins.
Three in five respondents (61 percent) indicated demand for their services has moderately or significantly increased, while two in five respondents (42 percent) noted a corresponding decrease or anticipated decrease in their ability to provide services. Over half of respondents (56 percent) are seeing an increase in their expenses.
One in nine (11 percent) indicated their entity could only operate for less than three months in the current environment before exhibiting financial distress, while another one in six (16 percent) expect to be in financial distress in three to six months. More than one in four respondents (27 percent) expected to be able to operate for at least a year before being in financial distress, and another one in five (20 percent) reported no effect on their financial health.
See the national report, Perspectives from Main Street: The Impact of COVID-19 on Low- to Moderate-Income Communities and the Entities Serving Them, for results from across the country.
Loading chart 1...
Loading chart 2...
Loading chart 3...
Loading chart 4...
Loading chart 5...
Loading chart 6...
Loading chart 7...
All 12 Federal Reserve Banks and the Board of Governors of the Federal Reserve System fielded the survey from August 5 through August 12, 2020, resulting in 1,465 responses nationally. Of those responses, 173 were from organizations working in the four full states of the Ninth District (Minnesota, Montana, North Dakota, and South Dakota; due to the structure of survey responses, it is not possible to separate out respondents who work in the Ninth District portions of Michigan and Wisconsin). This follows two previous surveys administered from June 3 through June 12, 2020 (a summary of Ninth District responses is available here), and April 8 through April 10, 2020 (a summary of the Minnesota-specific responses to that survey is available here).
Among Ninth District survey respondents in the August round, 55 percent are from nonprofits, 20 percent from financial institutions, 10 percent from private industry (including those who provide services to government and nonprofits), 8 percent from government, and the remainder from other sectors. The composition of the respondents has varied significantly across the three rounds of the survey, making comparisons between the survey rounds impossible.
Responses were collected through a convenience sampling method that relied on Federal Reserve Bank and Board of Governors stakeholder contact databases to identify representatives of nonprofit organizations, financial institutions, government agencies, and other entities that serve communities. These representatives were invited by email to participate in an online survey.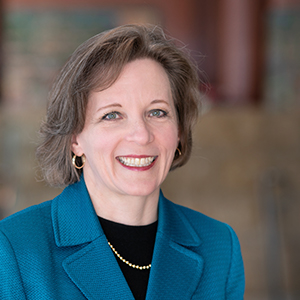 Request as a speaker
Libby Starling
Director, Community Development and Engagement
Libby Starling is the Minneapolis Fed's Community Development and Engagement director. She is responsible for the Bank's efforts to promote the economic resilience and mobility of low- to moderate-income individuals and communities across the Ninth Federal Reserve District.