Fed's "Racism and the Economy" series explores racial inequity in the education system
When Geoffrey Canada thinks about equity in America, there is no more important issue than education.
"My challenge to America today is to confront the fact that we do not value all children equally in this country," said Canada, president of the Harlem Children's Zone. "It's time for us to really rethink our ways to approaching education."
Canada was among education leaders from across the country and across sectors to discuss structural racism in our education system and its impact on economic outcomes for all Americans. The series, sponsored by all 12 Federal Reserve Banks, examines structural racism, its impacts, and ways to dismantle it.
Investing in children
The Jan. 12 conference focused on investment not only in the education system, but in children, in families, and in teachers. Speakers noted the need to frame education gaps as opportunities for reform and investment, rather than simply continuing to respond to their consequences.
"People say we can't afford it," said Canada. "We've afforded the expansion of jails and prisons. We can afford to invest in children, early on and consistently … so that we begin to level the playing field."
Speakers also called for a holistic approach. Education reform requires thinking about children within the context of their families and communities, and not solely as students. Children are products of their environment, and some suggested the most effective approach to education starts well before children ever set foot in a kindergarten classroom.
Proposing solutions
Codifying policies to increase families' economic security: Myra Jones-Taylor, chief policy officer of ZERO TO THREE, said children benefit immensely from stable home environments that come from economic security. Jones-Taylor proposed giving parents paid family leave and predictable work schedules to leave them better able to support their children. Most babies born last year were of color, "[and] if we don't address the racism and the family economic security issue—those huge, yawning gaps that we see—we make it so much harder on educators."
Create conditions for student success: Michael Thomas, superintendent of the Colorado Springs School District, said an important way to address disparities is by changing the culture among the adults in schools. "Not every student comes to our campuses equally prepared," said Thomas. "We have to make sure that every adult in our schools actually believes that every student has equal and intrinsic worth." Native children and children of color stand to benefit the most from this increased visibility, both in schools and in the community.
Making quality education a civil right: Alan Page, retired Minnesota Supreme Court justice, said the proposal to amend state constitutions to provide every student with a quality public education would make it a paramount duty of the state, ensuring that the state is responsible for educational achievement. It would also elevate children and families as stakeholders in the system, "giving them a voice in their own futures," Page said. "By making education a civil right and giving children the opportunity to reach their highest selves, we can bring about change, we can bring about justice." 
Why education equity matters to the Fed
The presidents of the Atlanta, Boston, Dallas, and Minneapolis Feds all pointed to the key role the education system plays in the nation's economic success. Dallas Fed President Robert Kaplan explained that investments in our educational ecosystem are "essential to improving GDP for our country, to greater employment and greater prosperity for our country."
Atlanta Fed President Raphael Bostic talked with Khan Academy founder and CEO Salman Khan. Bostic asked how services like Khan Academy can play a role in addressing racial disparities.
"There was an opportunity where the very same resources used by affluent people can be used by the least affluent people," said Khan. Technological innovations can play a role in educating children more equitably and leveling the playing field. But, he said, it won't be a silver bullet, as the digital divide made clear by COVID-19 remains.
Takeru "TK" Nagayoshi, 2020 Massachusetts Teacher of the Year, said opportunity gaps are only partially due to the education system. Many children reckon with larger structural problems, such as poverty, lack of access to technology, and housing instability. Also, teacher salaries make it less likely for Native American children and children of color to see themselves in their teachers, he argued, because young adults of color have higher debt loads, making teachers' salaries unworkable.
"Education is a great equalizer—that's only true if there's a great and equal education for all," Nagayoshi said.
Boston Fed President Eric Rosengren connected racial disparities to the way education is funded. "If we're really thinking about this as an investment in people, we need to fund it in a way that is not so dependent on locational choice."
While changes to education policy may not solve every problem, when it comes to racial equity, Minneapolis Fed President Neel Kashkari said, "Helping kids get a better education is the most powerful tool we have."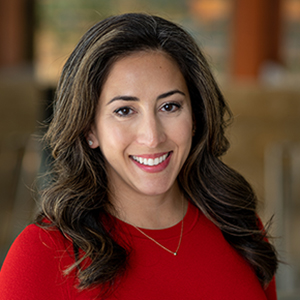 Alyssa Augustine
Content Strategy and Engagement Supervisor
Alyssa Augustine oversees social media and digital engagement, leads the Bank's content strategy, and manages media relations for President Neel Kashkari and other Bank leaders. An experienced TV journalist, Alyssa also contributes articles to the Bank's website and publications.