Making a difference as an economist
On Feb. 17 and 18, the St. Louis Fed hosted its fourth Women in Economics Symposium, an annual event intended to inspire young women to pursue economics by connecting them with accomplished women in the profession and by highlighting how economists can impact public policy. Opportunity & Inclusive Growth Institute Director Abigail Wozniak, Assistant Director Alessandra Fogli, and advisory board member Lisa Cook participated in the event.
Wozniak and Cook, who delivered the symposium's two keynote addresses, both emphasized how economists can make a difference in the world. The COVID-19 pandemic and the protests for racial justice of the past 12 months have prompted a reckoning in the profession, Wozniak said: Are economists doing enough that is productive and useful? The answer that emerged over the two evenings of presentations is that by being curious, asking creative questions, and then using theory, data, and observations, economists can do an awful lot.
"I think data is powerful, and I think it's something we can use to change minds and help us know we're on the right track and think critically about the situation and questions facing us," Wozniak said in her opening remarks. She gave three examples of data that changed minds—others' and her own—including research by Institute visiting scholar Milena Almagro and her co-authors last summer, which helped to change the conversation about why Blacks and Latinos had tested positive for COVID-19 at much higher rates than Whites.
"I think data is powerful, and I think it's something we can use to change minds."
Wozniak then gave aspiring economists three pieces of advice. First, she said, economists need to think more about the constraints than about the optimum when analyzing public policy. Policymakers often operate under significant constraints that make theoretically optimal policy unobtainable, and economists should study what those constraints are and incorporate them into the analysis.
Second, Wozniak advised, "Work with people who support you in tackling the questions you want to ask." Graduate school has a tendency to move students to answer the questions and use the techniques that their advisers are comfortable with. The result: "We end up continuing to look at the same questions in the same way for a longer period of time than is necessary."
Finally, Wozniak said, communication matters. "Thinking harder about how we can communicate more broadly and in a clear way, I think, will serve the profession well," Wozniak concluded.
In her keynote, Lisa Cook described how she aims to make a difference as an economist by studying puzzles that would improve people's lives. "I am trained as a macroeconomist, and macroeconomists think about the overall health of the economy—how all the pieces of the economy connect. We are also interested in living standards and how well each country or family or person is doing," Cook said. This desire to identify interventions that make people better off is what sparked her interest in economics and continues to animate her research. Cook described one such project in which she looks at the effect of violence on innovation. Understanding this relationship matters, Cook explained, because innovation is instrumental in raising standards of living.
Alessandra Fogli's path to economics was almost accidental: As an 18-year-old, she was excited to gain experiences abroad, and so she chose which university to attend in her native Italy based on its robust international network. It was only later that she learned the only major the university offered was economics. But, happily, Fogli said, she loved it. "It's a wonderful intersection between a hard science and a social science," she said, describing economics as "the most social of the quantitative sciences and the most quantitative of the social sciences."
Fogli spoke on the panel showcasing "A Day in the Life of a Federal Reserve Economist." At the Fed, Fogli said, she can follow her interests as they evolve—and the Fed has been evolving too. While the Fed has always collected and analyzed aggregate statistics, a great deal of attention is now paid to how those statistics vary across different segments of the population. This means, for instance, looking at the overall unemployment rate as well as the unemployment rate for Black workers and White workers, for men and women, for unskilled and skilled workers.
Working at the Fed, Fogli said, gives economists the opportunity to be in the middle of current events, informing public policy in a relevant way—in other words, making a difference.
Watch recordings from the Women in Economics Symposium.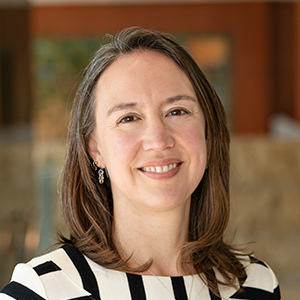 Lisa Camner McKay
Writer/Analyst
Lisa Camner McKay is a writer/analyst with the Opportunity & Inclusive Growth Institute at the Minneapolis Fed. In this role, she creates content for diverse audiences in support of the Institute's policy and research work.