Stories from the pandemic economy
More than 1,000 business owners and managers responded to a recent Minneapolis Fed survey asking them to explain how the economy is affecting them. Some were straightforward responses to multiple-choice questions, but many also used open comments to tell stories that were, at times, very personal.
The smallest businesses, especially sole proprietors, continue to struggle the most from the pandemic and the accompanying recession, the survey found. The stories in the comments speak to those struggles and sometimes the mental toll they take.
Below are some stories we've compiled from survey comments told primarily in the voice of survey respondents. We've edited the comments where needed for conciseness and clarity, and to remove information that may identify the respondent or their business.
Flooring contractor, a sole proprietor in Greater Minnesota
We live in an older community, and most older people don't want contractors in their home. Most people are very tight on money, so not spending extra money remodeling or building in my area.
I'm still trying to come back from losses in the spring when no one wanted me in their home due to COVID. Then in the fall, I got COVID and got real sick and was out for about a month.
Businesses are hurting. Not just the bars and restaurants. The outstate sole proprietors have had no relief. No Paycheck Protection Program loans, only $1,000 in Economic Injury Disaster Loan money. The money we get has to go to pay our personal bills, and so it can't sustain our business.
Getting a $1,200 check in the spring and $600 now doesn't pay much. We also have two kids in college with many college bills, and they got nothing both times. College kids need this money. They lost their part-time jobs when things closed, and it's difficult for them to survive as an undergrad and a grad student now without jobs.
I have been frugal over the last nine months, but it's hard to stay in business. Yet there are no jobs available in my field either.
In-home service provider, a sole proprietor in Wisconsin
I can only see one client per day due to sanitation and exposure recommendations; whereas, before the pandemic I could see two or three. My niche clients, elderly people or those with health issues, continue to be afraid to have people working in their homes, and I am receiving more cancellations because people are afraid they may have the virus.
My niche clients, elderly people or those with health issues, continue to be afraid to have people working in their homes.
Every time I'm exposed to COVID-19, I can't work for 14 days. The COVID-19 practices that I have to employ are inconvenient and expensive. It's a lot of emotional responsibility to be so self-health aware so as not to infect my clients. It is taking a toll.
I am surviving on unemployment, stimulus checks, grants, and government assistance. I just received a grant to build a shopping cart on my website so that I can transition to teaching online classes.
I want nothing more than to get back to work doing what I love and serving my clients. With the advance of the vaccine targeting my niche, I am expecting revenue to increase by the end of this first quarter.
Dog recreation center, a sole proprietor in North Dakota
I worked on my business plan for over a year. I cashed in my 401(k), put up my house, sold my lake camper, and gave up my permanent campsite—basically put up everything I own to open my business. It's the only facility like this in the whole Midwest.
I worked on my business plan for over a year, I cashed in my 401(k), put up my house, sold my lake camper and gave up my permanent campsite – basically put up everything I own to open my business.
I opened the end of January 2020. Seven weeks later, I closed for two-plus months due to COVID-19. When I reopened, I was $11,000 behind in rent, no bills got paid. I eliminated everything I could (cable, website host, accountant, my service for rubber mats, and sold some equipment). I run the threat of getting my internet, electricity, and phone cut off.
I was very excited when I heard there was some relief on the way. I applied for everything I could. I did not qualify for anything. I had only seven weeks open but needed a year of revenue with a profit. I have not hired employees yet, but I needed to have employees. Round 2 [of the Paycheck Protection Program] comes out, and I still don't qualify for anything.
I feel I really got cheated. How can this be right? I go bankrupt and lose everything in my life because of a virus. With all the government money, not even $10,000 can be spared for my recently opened business. Millions go out, and the rich get richer. Homeless, here I come.
Music school run by a sole proprietor in Greater Minnesota
Physical lessons are affected policy restrictions, which I fully support; I even required masks before the state mandate. But people don't really want to sign up for online lessons, so it's a mix. I need extra cushion between in-person classes to clean and reduce crowding through the entrance, which means I can't get as many people in per day. Class size is limited to one unless I have sibling groups or some of the students elected to be only online.
Less revenue means less left for my salary as rent, business insurance, and other costs haven't gone down.
I lost students in the spring. Some returned in the fall, and it's stayed that way. More inquiries have been coming in recently than in the past 10 months, so hopefully some will sign up! But I still have a cap that is 10 to 15 students below pre-COVID times. I'm glad there is a vaccine, but that is taking too long; hopefully, new federal directions will speed the process.
Less revenue means less left for my salary as rent, business insurance, and other costs haven't gone down. I now pay to offer classes online, which I didn't before.
Federal stimulus programs have had no effect on my business. It was and is hard to get all the paperwork to qualify and to be certain I wouldn't need to pay it back as a sole proprietorship. It was super confusing, and given the overall smaller effect COVID had, I ended up not applying for anything. General stimulus checks have gone toward health care premiums and my car payment.
Gift shop run by a sole proprietor in North Dakota
Retail always suffers the first quarter but, combined with COVID, the capacity is down markedly. We have tapped our personal savings to keep things afloat but are unsure how much longer we can sustain that. We have cut our personal expenses as far as we can. We are also very apprehensive about taking out a business loan, considering the economic situation.
We received an Economic Injury Disaster Loan last spring and do not qualify for the Paycheck Protection Program. The EIDL money got us through a couple of months, but it soon ran out.
We only have until March 2022 left on our current lease and would love nothing more than to finish it. Beyond that, we will take a serious look at the economic situation nationally as well as locally. Our focus is to get into the second quarter as a minimum.
If I wasn't very optimistic, I would have checked "Likely to go out of business" in the survey. I have faith that somehow we will make it.
Fashion accessory wholesaler and retailer employing fewer than 10 in the Twin Cities
We are in the fashion industry and, with all the "stay at home" mandates and closures because of COVID, our products are being hit particularly hard. People are not going out to socialize, so they do not buy our dress-up products.
Prior to the start of COVID, in January and February 2020, we were seeing a nice increase in our business. Then we were forced to close. And it changed the lifestyles of the customers. Our company could not change as quickly because we import our products. Fashion products have a very limited life, so what we had in inventory quickly became dead stock. We have had to heavily discount our products.
Many trade shows where we meet buyers have been canceled. Trade shows that are taking place are only receiving about 30 to 40 percent of normal traffic.
If we had not received a Paycheck Protection Program loan, we would not have been able to survive. We initially were mandated to be closed, which means a negative cash flow. We are changing our product line because of COVID. However, we needed capital to pay our employees and our rent in order to make changes.
Our revenues will continue to decline until more people are going out into the world and will wear a bit of fashion again. I would like to be in the liquor business, as I understand their sales are crazy good.
Auto repair shop run by sole proprietor in Greater Minnesota
Business has been on a gradual decline since last March. I went from about 50 vehicles a week to about four. COVID has changed how people work. Many people have been working from home and will now continue. Work isn't available to pay for my expenses and salary.
The demand for parts is higher than the supply, so the suppliers are demanding more for their products.
I have worked hard for 10 years to have a successful business. I worry about my future. I've had to turn off lights and lower the heat to keep my business open. I take home less pay and am looking to sell my house to keep my business open.
A local heating and plumbing business nearby received over $1 million, even though they are busier than ever, while my business received $11,000 that hardly helped. I pay so much in taxes and don't feel like my business matters. I'm tired of working in the cold with the lights off so I can survive what I have put my life on the line for. I'm tired of the sleepless nights and the stress that this has put on my body, mind, and soul. The stimulus check that I didn't receive because last year I made more than the cut-offs really sucks! I sure do need every dime.
Please remember the small businesses in this country. A repair shop about 15 miles away from me has just closed up for good. I fear that I will be close behind.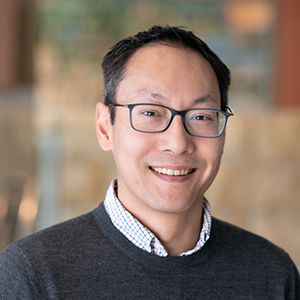 Tu-Uyen Tran
Senior Writer
Tu-Uyen Tran is the senior writer in the Minneapolis Fed's Public Affairs department. He specializes in deeply reported, data-driven articles. Before joining the Bank in 2018, Tu-Uyen was an editor and reporter in Fargo, Grand Forks, and Seattle.