Non-compete contracts prompt state actions and employer responses
On June 22, the Federal Reserve Bank of Minneapolis hosted What We Know About Non-Competes and How States Are Addressing Them, a virtual event that focused on how non-compete agreements—contracts that prohibit employees from taking a similar position at a new employer or starting a competing business—affect low- and moderate-income workers. In addition to expanding upon previous research conducted by Minneapolis Fed staff, the event featured policy experts from Illinois and Colorado, who described impacts of recent non-compete reforms within their states.
New quantitative and qualitative findings
The event opened with discussions of data-based and interview-based findings about non-competes. Minneapolis Fed Data Scientist Tyler Boesch presented an analysis of new data on the prevalence of non-compete contracts collected through the Federal Reserve Board's annual Survey of Household Economics and Decisionmaking (SHED). As detailed in a previous article, the analysis found that non-competes are more common in certain regions of the United States and for mid-career workers, and examined the relationship between non-compete agreements and financial resilience.
Minneapolis Fed Senior Policy Analyst Mary Hogan then presented findings from qualitative interviews she and other team members recently conducted with workers in the Twin Cities who either currently had a non-compete or did with a previous job. Importantly, the interviews offered what the SHED data could not: insight into who the workers really were and how their lives were being shaped by non-competes and non-compete policy. Themes that emerged from the interviews were:
Timing and transparency. Workers were often presented with non-competes late in the hiring process and discouraged from taking time to review them.
Broadness of the agreements. Some workers had extremely broad non-competes that, had they been brought before a judge, may not have withstood judicial scrutiny.
Costs of compliance. Workers detailed the stress and uncertainty of trying to understand and fully comply with non-compete agreements.
Happenings at the state level
Recent state and federal efforts (including by the Federal Trade Commission and National Law Review Board) to address non-compete agreements have contributed to questions about how the changes will affect workers and businesses. To address these questions, a panel of experts discussed the impacts of the changes in their home states, which had recently passed similar non-compete reforms. Jane Flanagan, director of the Illinois Department of Labor, spoke first; followed by Jeff Glass, a partner at Amundsen Davis in Rockford, Illinois; and David Seligman, executive director of Towards Justice in Denver.
Recent state and federal efforts ... to address non-compete agreements have contributed to questions about how the changes will affect workers and businesses.
The panelists described how Illinois and Colorado have used income thresholds to restrict the use of non-compete agreements. For example, the Illinois General Assembly amended its Freedom to Work Act in May 2021 with a new provision banning non-competes for workers earning $75,000 or less per year and non-solicitations—that is, contracts that prohibit an employee from taking their employer's clients or contact lists—for workers earning $45,000 or less per year. And in June 2022, the Colorado General Assembly passed the Restrictive Employment Agreements Act, which made non-competes void and unenforceable for individuals earning less than $101,250.
As state laws change, employer behavior may shift
When asked about the immediate effects of Illinois' new law, Flanagan noted that it will take time to understand the full scope of the law's impacts. Yet there are signs that employers are beginning to react to the legal changes. Prompted to comment on changes in employer behavior, Glass, whose firm represents employers, explained that his clients are taking note of two components of the new law: its 14-day requirement and fee-shifting provision. Specifically, the new law requires that employers give employees the non-compete 14 days before they start work and alert them that they can have their own attorney review the document. In addition, if the employer loses a non-compete case in court, it is liable for the employee's attorney fees.
Flanagan noted that the income thresholds in Illinois' new law might also prompt employers to be more thoughtful about which workers need a non-compete. "I think some of these thresholds pause or prompt an employer to evaluate, 'What do different categories of workers do, at what level are they compensated, and what level of protection do I need for the kinds of information and client relationships that group of workers has?' ... These types of reforms prompt the employer to say, 'Who do I need this non-compete for?' It prompts a more nuanced analysis."
Employers' use of other restrictive covenants continues
Although states may have restricted or banned non-compete agreements, employers are still able to use other types of restrictive covenants to protect their interests, such as non-solicitations and non-disclosures, which are also known as confidentiality agreements. Seligman cautioned that to an average worker, other restrictive covenants can have similar impacts to a non-compete if they are written broadly. "I do think that [these] agreements ... can amount to a covenant not to compete that substantially undermines worker mobility, and that strips workers of one of the key components of their bargaining power, which is the ability to leverage the threat of exit," he said.
Glass agreed with Seligman that any form of a restrictive covenant can limit workers. But he noted that while non-compete agreements, non-solicitation agreements, and other forms of restrictive covenants can appear to be similar in description, the dissimilarities in the ways they are written will impact workers differently when they are enforced. For the average worker, said Glass, that could mean facing "'I can't work within 50 miles in the industry, period' versus, 'I can go work at the competitor across the street, I just have to stay away from my accounts for 18 months.'"
Understanding the new landscape
The Minneapolis Fed's quantitative and qualitative research and the expertise of the panelists added dimension to the larger picture of what is happening with non-competes locally and nationally. The SHED data analysis illuminated the variety of ways that non-compete agreements are used nationwide. And Minneapolis Fed staff found through interviewing workers in the Twin Cities that non-compete agreements resulted in restricted career movement and the potential for long-term financial consequences. The limitations that non-compete agreements can place on the financial and occupational opportunities of workers, especially those who may be low- or moderate-income, are a central component of the broader discussion about these agreements. As evidenced by the changing landscapes the panelists described at the state level, policymakers are now asking fundamental questions about non-competes' effects on workers and employers alike.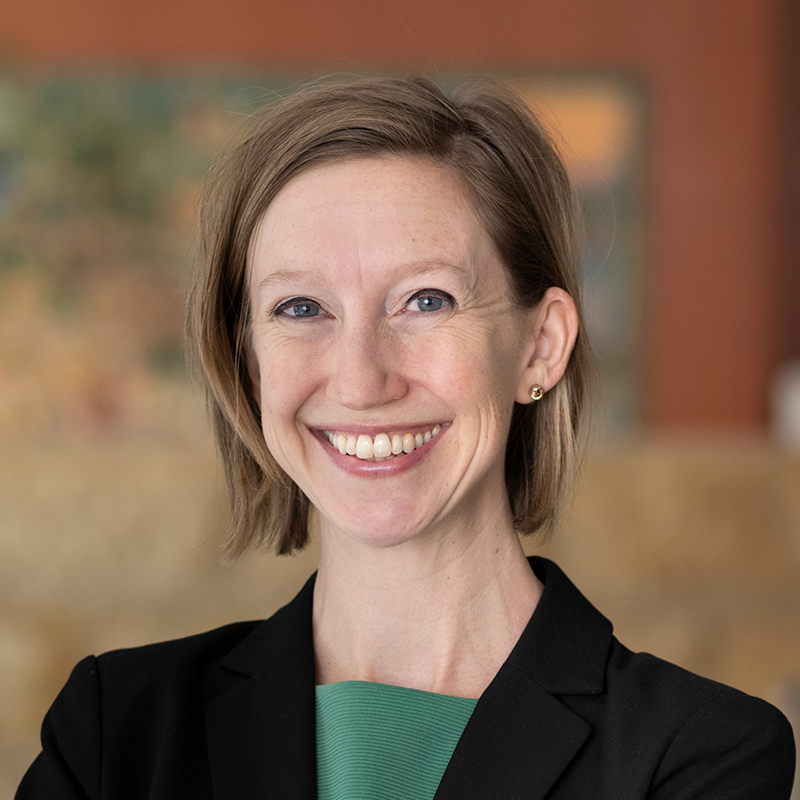 Mary Hogan
Senior Policy Analyst, Community Development and Engagement
Mary Hogan is a senior policy analyst in the Community Development and Engagement Division at the Federal Reserve Bank of Minneapolis, where she focuses on labor market institutions and policies.