Call it an early Christmas present for the city of Fergus Falls. In March, the community of 14,000 in west-central Minnesota is cutting the ribbon on a new $3 million, 20,000-square-foot convention center.
The gift part was a $1.5 million state grant the city received in 1998. An earlier referendum for a half-cent sales tax to pay for a variety of community projects in Fergus Falls, including the convention center, had failed. But with state money in hand, the city leveraged matching money from local businesses and foundations in less than two months.
The convention center is part of the city's larger tourism strategy to attract more visitors who "will stay the night and spend their money," according to Judy Stringer, executive director of the Fergus Falls Convention & Visitors Bureau. Already the facility has 65 events scheduled for the rest of the year "basically without even trying," Stringer said. "People are looking for a new place to go. ... It's a huge money bringer-inner."
That argument can be cut and pasted around the Ninth District. At least a dozen cities have used tax dollars to either build new convention centers or expand existing ones—or both—in the last decade, and most within the last five years. At least seven others have recently considered similar actions, and only one has formally decided not to pursue such a project.
"It's an economic development tool," said Chris Hagelie, city administrator for St. Cloud, Minn. "This is even breaking down to very small towns. Everyone wants one."
But total space in the convention center market is on a steep rise, and it's not guaranteed that such facilities will deliver on their tourism potential. A saturated market could also put cities on the hook for operating deficits.
North American Trade Show,
Convention & Meetings Market
1999 Attendance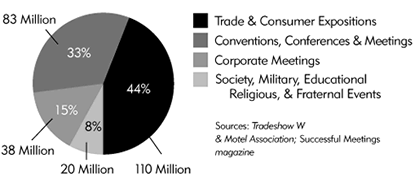 Pie-eating contest
Fergus Falls is a mere sliver of the district's convention center pie, and more cities are positioning themselves to get a piece of it.
The motivation behind convention centers is pretty straightforward, according to John Kaatz, director of convention industry services for Conventions, Sports & Leisure, International of Minneapolis. "The theory is, they [tourists] come, they spend money, generate taxes and income and go home," Kaatz said. At the same time, these tourists exert little pressure on public goods like roads, schools or police that require local taxes. Using many of the same arguments, "you saw small markets start to get into that act" in the last five or 10 years, Kaatz said. "They're talking the same tune."
Nowhere is that more evident than Minnesota, where the state has played an active role in helping communities of all sizes build new or additional convention space. The granddaddy is the Minneapolis Convention Center, currently in the midst of a $200 million expansion that will more than double the square footage of the original facility built just a dozen years ago. It is being paid for by local taxes and an $87 million grant from the state.
In Duluth (pop. 85,000), the Duluth Entertainment and Convention Center was completed in 1990 at a cost of $17.5 million, all of which was paid for by a state grant, according to Todd Torvinen, city finance director. By mid-decade, the facility was already running at capacity, and officials were "turning away 35 to 40 larger conventions a year," Torvinen said. The facility is now seeing a $20 million expansion, paid for by another $12 million state grant and $8 million from the city.
In Rochester, a community of 70,000, the Mayo Civic Center has seen three major additions in the last 20 years, including two since 1997. The most recent is still under construction and will add 72,000 square feet at a cost of more than $15 million, paid for by local sales tax and a $2.8 million state grant.
St. Cloud, a city of about 50,000, opened its convention center in 1989 for a little under $12 million, paid for mostly by a one-cent food and beverage tax, and an increase in hotel room taxes from 3 percent to 5 percent, Hagelie said. The city is considering an expansion and has a fund balance to pay for at least some of it, thanks to higher than expected sales tax receipts. Hagelie said expansion plans were "really related to what's going on in Rochester and Duluth," whom he called "prime competitors."
About 50 miles from the Fergus Falls convention center is the city of Moorhead, population about 32,000. The city has been seeking a convention or conference center "for 13 or 14 years," according to James Antonen, city administrator. In 1994, the city sold $8.3 million in bonds to help finance a project which later fell through. The city is now considering another hotel-conference center proposal and still has $7 million in bond proceeds remaining that it could put toward construction and long-term debt costs.
Antonen said lack of meeting space causes the city to miss out on hosting the "regular circuit" of association meetings—like the Minnesota League of Cities—that go to different cities. There are plenty of accommodations across the Red River in Fargo, N.D., but state-based groups "want a Minnesota site," Antonen said, and not having one "is a source of irritant to our pride."
The long boom, or a hard landing?
Ninth District cities are not alone in their desire for a new or bigger convention center. Tradeshow Week Inc., an industry news and information publisher, said the industry is in the midst of a "boom" in new space. From 1995 to 2000, the industry added roughly 4 million new square feet, and has just over 65 million square feet today.
But there were 20 brand new facilities under construction in the United States in 2000, according to Tradeshow Week's annual directory, including two in the Ninth District. The Alerus Center in Grand Forks, N.D., will open this year with 150,000 square feet of exhibit and meeting space, and the Xcel Energy Center in St. Paul offers 50,000 square feet of exhibit space while fronting mostly as a professional hockey arena.
Equally notable, 67 venues nationwide were in preliminary or active stages of expansion last year. Not all new and expansion footage will come online this year, but total space is projected to hit 82 million square feet by 2005, an increase of 25 percent in just five years. Tradeshow Week's information tracking also focuses on larger markets, and did not include either the expansion in Rochester or the new facility in Fergus Falls.
Michael Hughes, director of research services for Tradeshow Week, said there are a number of factors driving the growth, including municipalities and local convention and visitors bureaus (CVBs) that "have placed an emphasis on attracting business tourists to their cities." Trade shows have also been growing in terms of square footage needs, and the competition among venues for these and other large events "is intense," Hughes said. "Downtown redevelopment is also driving some new venue projects."
But following this five-year boom, "the exhibit space market may reach overcapacity," Hughes said. As a result, he expects that smaller and midsize venues "will slow their expansion pace, mainly because the political will to finance these projects will cool from what must be considered the current overheated market."
Paper (non)profits
Complicating matters is the fact that most convention centers are lucky to break even on annual operations alone, to say nothing about paying off construction costs, which are typically met by local food, beverage and room taxes collected by the city.
Rapid City, S.D., spent almost $5 million for a 28,000 square foot addition to Rushmore Plaza Civic Center in 1997. Brian Maliske, the center's business director, said there was demand for additional space, although that demand doesn't easily translate into a healthier bottom line.
"You will never make a dollar off [convention facilities]," Maliske said. Instead, the return on that investment goes directly to local businesses. "We create so much in the city. ... People go to conventions to spend money. ... We bring in thousands to go in motels, buy meals, and go to movies and to tourist traps."
Operating deficits are not uncommon among convention facilities. Last year, the Mayo Civic Center in Rochester ran a deficit of just over $200,000, according to Donna Drews, Mayo executive director. A slowdown in convention bookings for the coming year, coupled with the opening of additional space, means "our deficit could be as high as $500,000" this year, Drews said, adding that the center "has always had a deficit, but this is strictly on paper."
Mayo brings over 500,000 visitors to downtown Rochester who eat, sleep and shop in town, Drews pointed out. The facility receives no revenues from either parking or the city's 3 percent sales tax on hotel rooms. The hotel tax alone brought in over $2 million in 1999, though not all of it came from civic center visitors. Nonetheless, "the city looks at our budget shortfall as civic windfall," Drews said.
The La Crosse Center in La Crosse, Wis., recently added 50,000 square feet of exhibit and other space at a cost of $14 million. The center was "turning a lot of business away," according to director Art Fahey. "With the expansion, we've got the ability to bring in larger events," and host multiple smaller events simultaneously.
But thanks to slower bookings and lower than expected revenues, the facility—which also hosts dozens of concerts and sporting events annually—has run into operating deficits of $300,000 in 1999 and $100,000 last year. Still, Fahey said, "that's frankly pretty cheap" considering the tens of thousands of people the center brings to downtown every year, whose "ricochet dollars" end up in restaurants, bars and shops in La Crosse.
Whether running an annual deficit is appropriate "depends on how you do the accounting," said Kaatz, the convention consultant. "One community might look at a $300,000 (operating) deficit and say what a bargain, and another [might say] it's a complete waste of money. I've been in both places. That's a fundamental question for that city. ... Is it worth funding that gap for the community benefits?"
More small and midsize communities might be facing these difficult decisions as the trade and convention market matures. Success of individual facilities "must be judged venue-by-venue, city-by-city," Hughes said. But he added that success generally depended on "the right mix of exhibit and meeting space, hotel and transportation infrastructure, professional demographics, climate and cultural amenities"—a full recipe that some municipalities overlook in their eagerness to encourage local economic development.
"I'm afraid that some municipalities do not fully grasp the competitive nature of the convention, trade show and meetings business," Hughes said. For example, trade shows "tend to be the most important events for venues and CVBs because they draw the largest number of attendees from outside of the region, and the exhibit setup and tear-down requirements fuel additional job growth."
But small and midsize cities often are not well positioned to compete for trade shows because the surrounding region has a small professional base. "Cultural and environmental amenities will always draw meeting attendees, but [business to business] trade show organizers are forced to draw high numbers of qualified attendees to keep their exhibitors happy. Thus, the largest cities have a significant demographic advantage, not just one of infrastructure."
Just a fad?
Most sources acknowledged that convention centers came with financial and other trade-offs. But most also believed it was a good swap.
Hagelie of St. Cloud admitted that when it came to cities and economic development, "there is a tendency to jump too quickly" to get a piece of the action or try out the latest strategy. Not long ago, he pointed out, every community wanted an industrial park, and a lot of money was spent for roads, utilities and other items to attract new business to town. But today, some of those industrial parks are "weeds and cornfields and not a lot of businesses."
But by the same token, local business and development problems need to be addressed. St. Cloud officials hoped the convention center would revitalize an ailing downtown. "Attracting people and businesses downtown, God knows, is an uphill problem, and an ongoing public policy question," Hagelie said. The convention center "has tangibly affected the downtown," including two new hotels, refurbished storefronts and "has put people in the streets."
Stringer of Fergus Falls is hoping for similar results. "Anything a smaller community can do to keep viable" is worth the effort, she said. "You want to keep building and not dying."
See also:
Unconventional wisdom
District convention centers weathered the recession,
but the outlook is cloudy. fedgazette, January 2005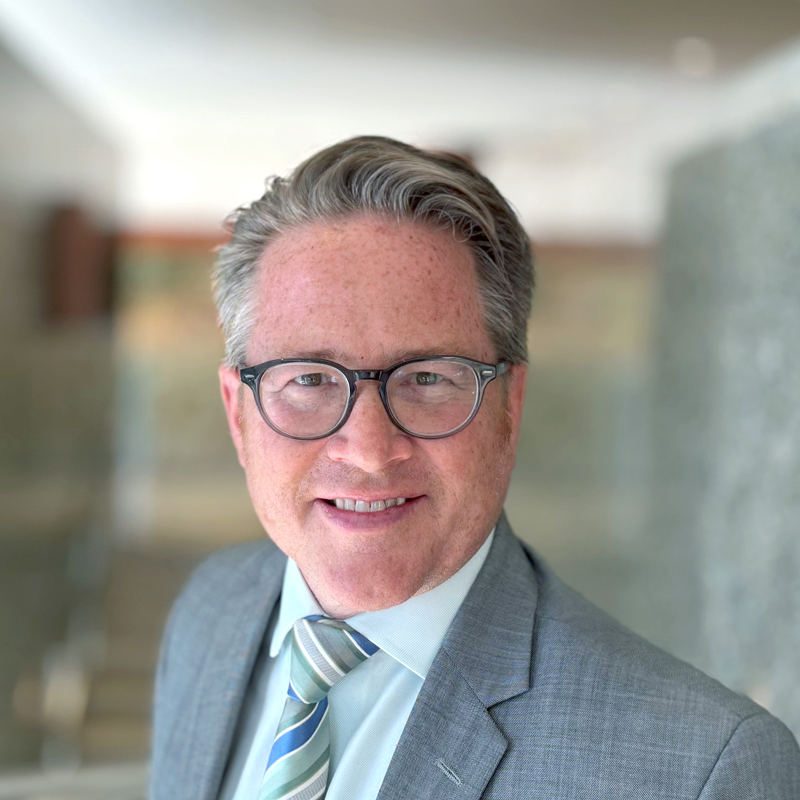 Request as a speaker
Ron Wirtz
Editor, fedgazette
Ron Wirtz is a Minneapolis Fed regional outreach director. Ron tracks current business conditions, with a focus on employment and wages, construction, real estate, consumer spending, and tourism. In this role, he networks with businesses in the Bank's six-state region and gives frequent speeches on economic conditions. Follow him on Twitter @RonWirtz.